Engine
5.6-Litre 32-valve V8
Horsepower
416 hp @ 6,000 rpm
Torque
414 lb-ft @ 4,400 rpm
Transmission
7-Speed Auto w/Adaptive Shift Control
Fuel Consumption (City/HW) (lt/100km)
15.0/10.2
Have you ever wondered what it feels like to be that spiffy looking executive dude with slicked back hair, that flawless suit, stylish tie, and a perfect yet polished appearance? Well I haven't but if you really want know I think you can start to feel that way after a day at work with a drive home in the 2015 Infiniti Q70L. It's your executive class car on a budget; that doesn't mean it is cheap, but it is cheap-er than its competitors like the S-Class, 7-Series, A8 and XJL. Of course, It is lacking a few amenities that you would typically see in this class of car but perhaps not the really important ones. The base Q70 takes-off after its  predecessor, the M56X, with things like all-wheel-drive and a well fitted V8 engine.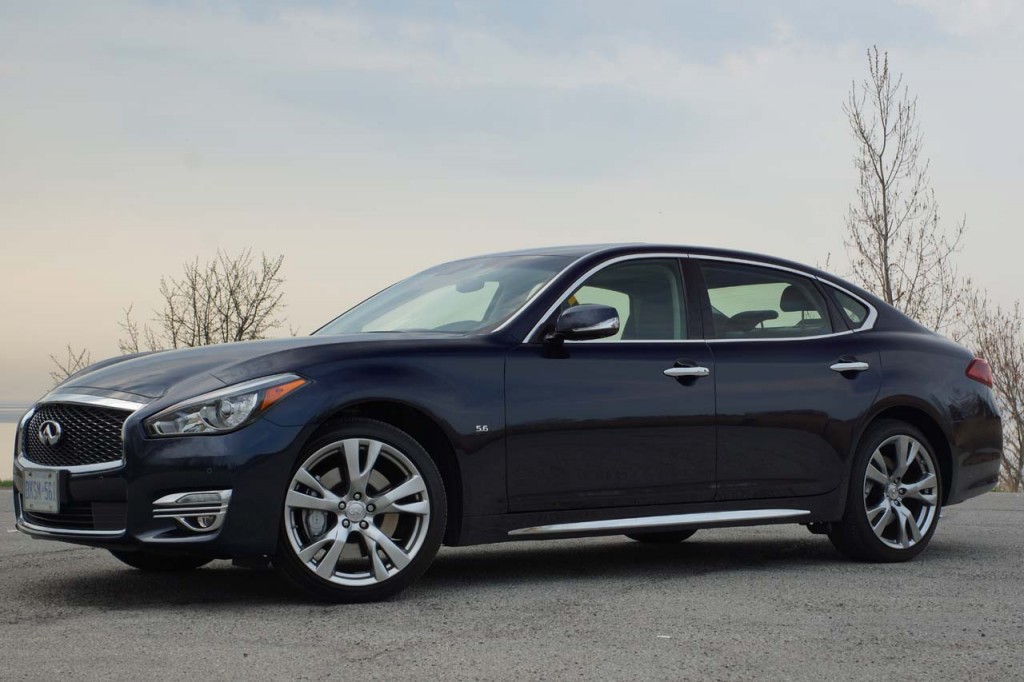 Prices start at just over $56,000 and for that, it offers a 330HP 3.7L V6 with 270 lb-ft of torque mated to a 7-speed automatic transmission. The next level brings you to the Sport model which adds the sport tuned suspension, 4-piston brakes, some additional tech, 20" rims and more. The Q70L however starts at $68,400 and comes with a 5.6L V8 with a 7-speed automatic transmission putting out 416 HP and 414 lb-ft of torque. This shares some of the features with the sport model, like the 4-piston braking system and 20" rims.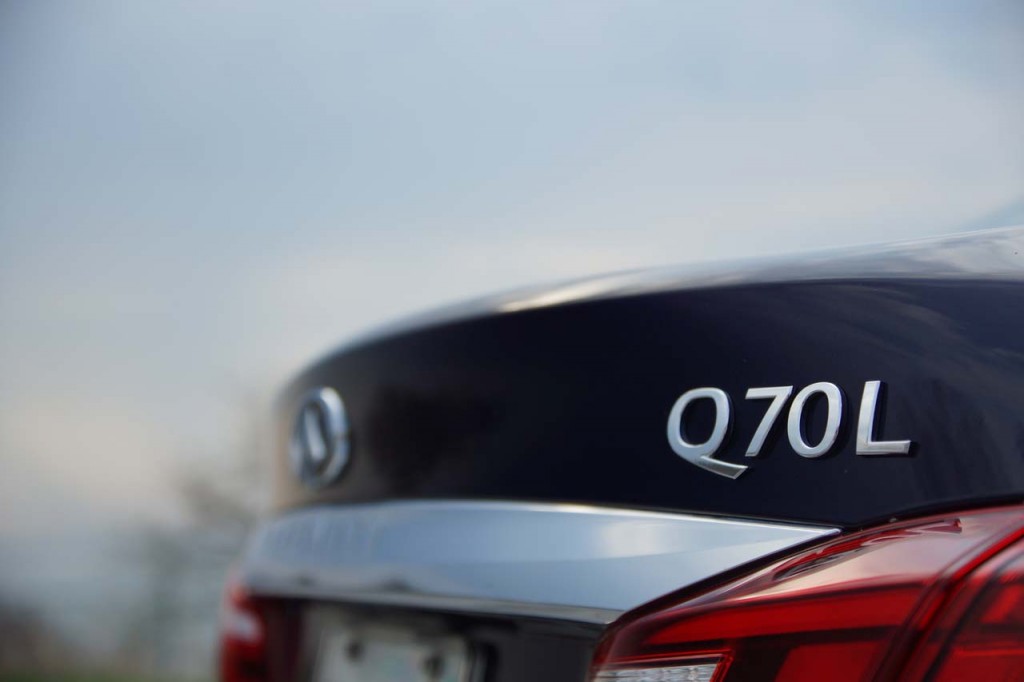 The Exterior styling, in my opinion, is one of the most attractive luxury sedans. Aggressive yet sleek and curvy lines; characteristic of the Infiniti line-up. Also, LED powered angel eyes for daytime running lamps, a big yet charming chrome accented front grille and a classy chrome accented rear with LED tail light. The big 20" 5-spoke rims really inject the sporty appearance that impresses most folks and says this ride isn't going to be boring. But to top it off, it stands with an aggressive and wide stance as well.
There's one thing this Infiniti has that its little brothers don't have and that's more space for the rear (no pun intended). The Q70L (Long wheel base model) adds an additional 5.9 inches of space to the rear seating area making it feel like that polished executive class sedan. It might feel a bit out of place if you are pulling out a toddler from the back seat, but if you are a tall dad like myself and hate being crammed in the back seat yet also enjoy being driven around in a nice ride, then this is a car to consider. Your knees would never touch the front seat and you have plenty of room to even cross your legs to read the local news paper and ignore your wife driving the car (not that any of us gentlemen would ever do such a thing!). Fit and finish is great with soft to the touch materials used all around, no rattling is heard even on hard bumps and exterior sounds are well isolated from the cabin.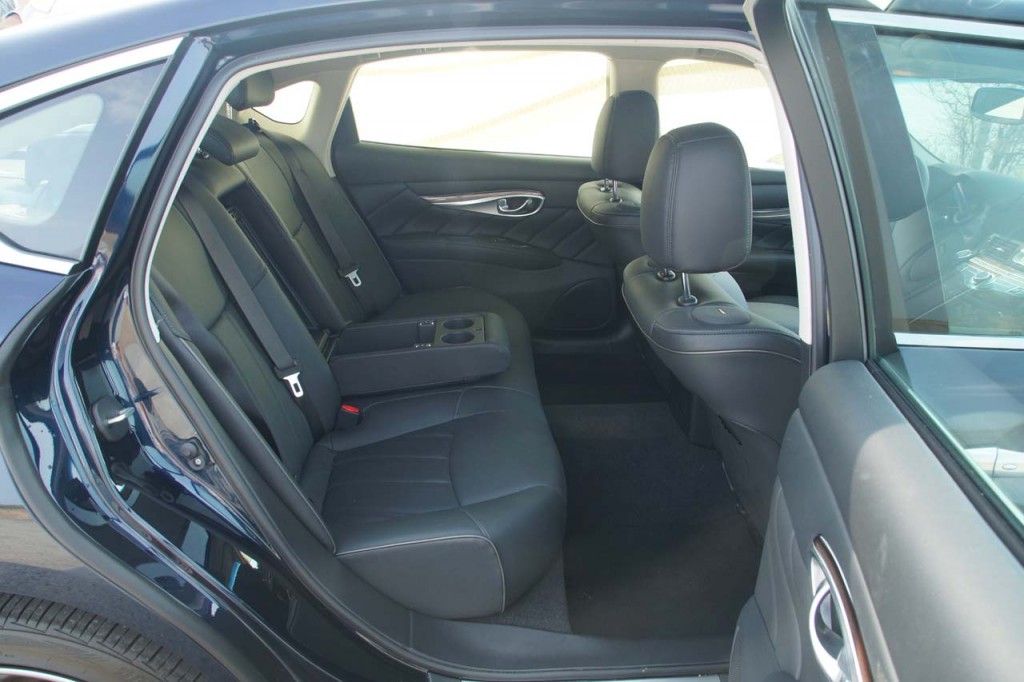 Don't expect any real extended luxury features here as there is no screen mounted on the headrest or an available foot rest on the base of the front seat to put your feet on as you would find in a Jaguar XJL nor would you see the likes of cooled seats that massage you in the rear. The back seats are heated but the controls for them are awkwardly hidden in a compartment of the rear centre armrest where your cup holders are also found. The pure executive experience was slightly lacking but for the price point and comfort, I'd take it. The test car I was provided had the deluxe touring and technology package which included things like the a suede like headliner, adaptive lighting, forest air system which helps maintain air quality inside the cabin via sensors inside and outside the car. This helps prevent things from happening on the inside of the car like your windshield fogging up or the air getting to dry.
Getting into driving position is quick and easy, not to mention pretty roomy and comfortable. The 10-way power driver and passenger seats with 2-way power lumbar make it easy to get you in the right position. They also keep you dry on hot days, as apart from being heated, they are also ventilated. The Bose surround sound was a pretty decent sound system with 2 mounted speakers on either side of the headrest for added effects. It sounded fairly flat compared to other factory fitted systems, but with a bit of EQ tuning, it became much better. The infotainment menu did feel slightly awkward to figure out initially but after a few days you will adapt and quickly change your settings on the fly without crashing into a pole.  The added convenience of the Infiniti Intelligent Key system detects when you approach the car and lights up the surrounding area at night making the ground more visible. The extended wheelbase had no effect on the trunk capacity, and at 422 L it is nothing to write home about.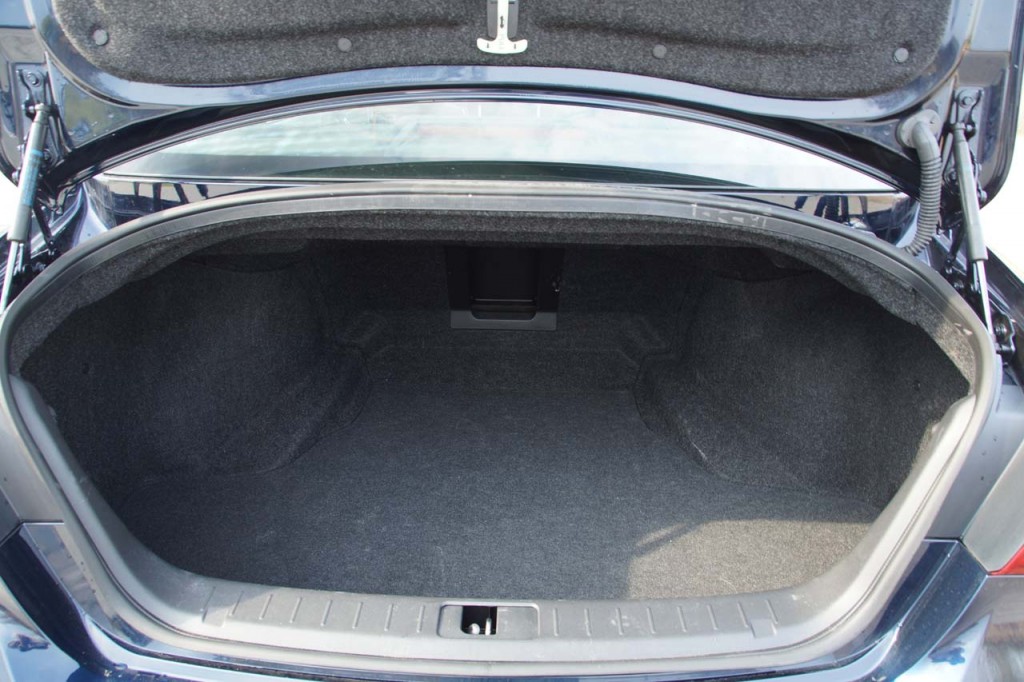 Safety of the Q70L is a highlight as it has been awarded the Top Safety Pick+ by the IIHS. Also, Infiniti makes this car almost impossible to crash with the added features in the deluxe touring and technology package. This package features things like an active Eco pedal that pushes back at your foot when in ECO mode. The problem is, that with the ECO mode on, it is so dulled down that you can barely accelerate forcing you into Normal or Sport mode in a hurry.  There is also a snow mode to wrap-up; out of all, I found sport mode to be the most satisfying drive as the throttle is more responsive and delivers the power of the V8 much better than any other mode. Lane departure warning with Lane departure prevention monitors your driving and cars around you and gives you a nudge if you're moving into another lane when your not supposed to. The adaptive cruise control comes with distance control and the support for assisting in stop and go traffic.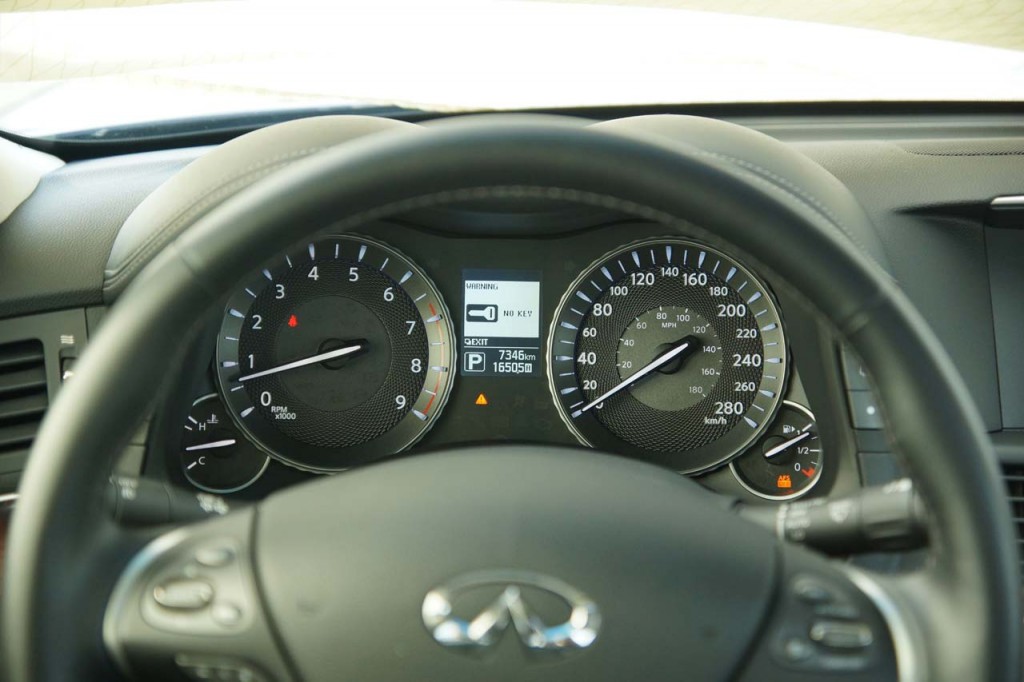 Driving the Q70L is a whole different experience than being driven in it. While your boss is in the back seat enjoying a ride to an outing, you get to enjoy the drive behind the wheel and really understand what driving an Infiniti is all about. The power of the V8 is quickly delivered in sport mode and delivers power to all four wheels smoothly and accelerates quite quickly when pushed hard, giving you a nice throaty exhaust note to kick your excitement to the next level. With the independent double wishbone front and multilink rear suspension, cornering yielded a little lean but the car maintained its balanced composure very well on quick to fast turns without much understeer despite the weight and size. The steering felt smooth and did provide some feedback helping me feel a bit more in control near the grip limits. Pulling out of parking spots, the around view monitor with moving object detection worked great and would notify you of objects moving around the car so you don't kill anything or anyone. A full 360 degree view is presented to the driver so you can prevent curb rash on your rims or figure out if you really can fit the Q70L into the last parking spot that's tighter than JLO's jeans. Being in the rear seat, while I consciously limited my executive expectations, I could't help thinking that the suspension was a bit firm. The setup surely benefits the driver providing good driving dynamics, but in a car meant to be driven in as well, a softer setup would've been more appropriate. I am not for a minute suggesting that the car is uncomfortable, but it is just not as comfortable as it should've been.
 With the big V8 under the hood, the car can easily do 0 – 100km/h in under 6.3 seconds and come to a complete stop in just 42m with the 14" 4-piston front brake and 13.8" 2-piston rear vented disk brakes. Breaking felt very grippy and confident and the brakes resisted fade quite well. Average fuel consumption was observed to be an average of 13.8L/100km of equally combined city and highway driving which keeps Infiniti pretty close to being honest in its calculations of its advertised fuel economy.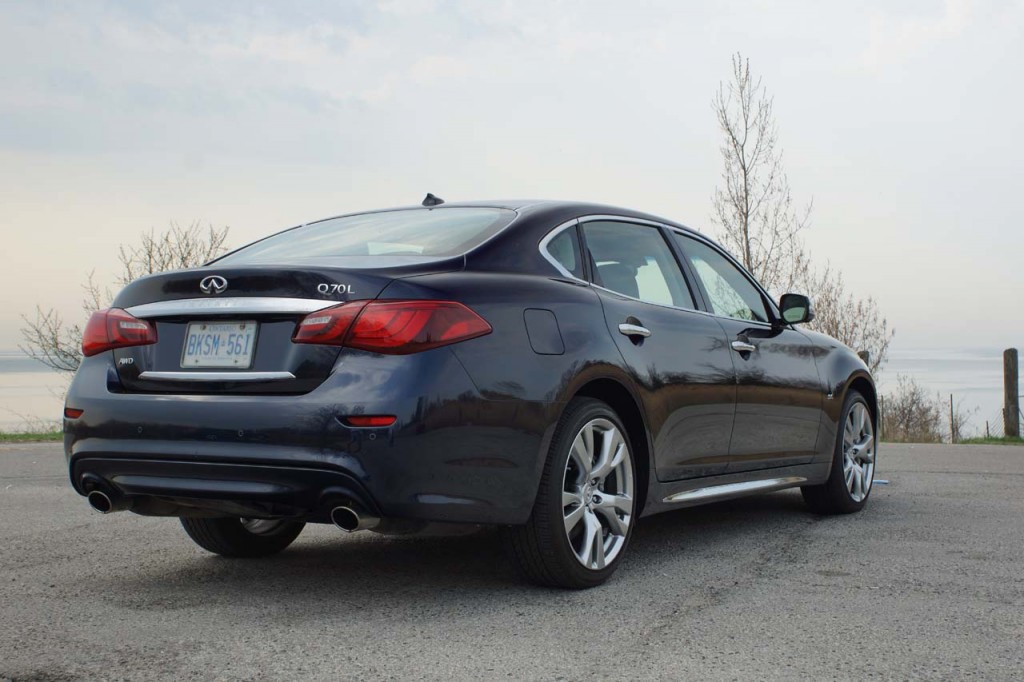 With a lot of good things going for it and not necessarily screaming "boss in the back", the Q70L is a vehicle you should consider as a roomier alternative to executive sedans like the BMW 5-Series. Its driving and performance characteristics definitely belong in that class and price-wise it is bang on. An S-Class owner will never upgrade to it, but for a newcomer to the segment it is a fine first step.
The Good
Interior Quality
Features
Safety
Driving Dynamics
Rear Legroom
The Bad
Firm Ride
Not Really a V.I.P. Car
There is no room for a dead body in the trunk and the exterior doesn't shout "despicable boss inside", so at least you know that the owner is a normal person.