2016 Volvo XC90 T6 AWD Inscription
Engine - Transmission
2.0 L I-4 Supercharged & Turbo - 8-speed Geartronic
Horsepower
320 hp @ 5,700 rpm
Torque
295 lb.ft. @ 2,200-4,500 rpm
Fuel Consumption (City/HW) (lt/100km)
11.5/9.5
Cargo Area (L)
249 - 615 - 2,427
Before we talk about how good looking the new 2016 Volvo XC90 is (inside and out!), let's pause and praise the company's safety R&D department. They have a goal; to eliminate the number of people killed or even hurt in a Volvo vehicle by year 2020. They are looking way passed passive safety systems and active collision detection and prevention ones. They are looking into every single factor that can lead to an accident, including the single second you take your eyes off the road to adjust your climate control. As such, they have optimized it to work so well, adjustments should not be required.
So delivering the new XC90, is an unprecedented challenge for Volvo, as the new SUV needs to stand up for the great outgoing model and at the same time, live up to all the promises.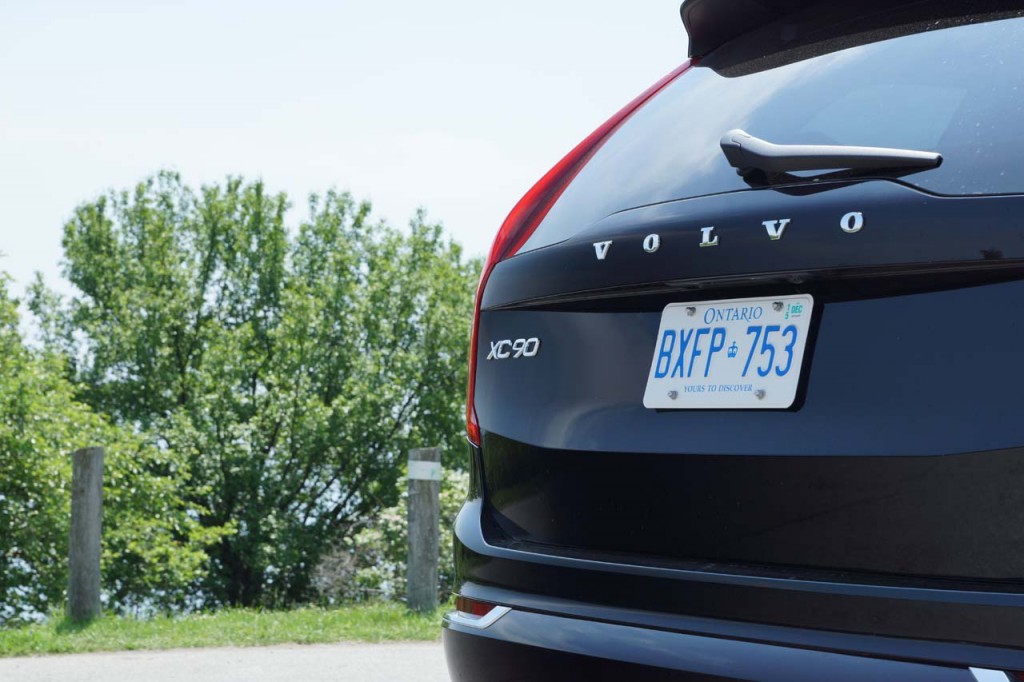 Pricing starts at $60,700 for the T6 AWD, the R-Design trim is $4,500 more while the top of the line Inscription like our test vehicle starts at $66,800. The sample we had for testing was fitted with some optional features, like dimming mirrors, retractable side mirrors, blind spot monitors with cross traffic alert, visual park assist, heated rear seats (second row outer seats only), heated steering wheel and washer nozzles, metallic paint, booster cushion ($325!), Bowers & Wilkins Premium Sound system, 4-corner air-suspension and 21" alloy wheels. All that, bumped the total value of the vehicle to $77,650. Standard features include Nappa soft leather upholstery, power side support for the front seats, leather dashboard and upper door panels, ventilated front seats, linear wood inlays (AKA wood trim), leather wrapped key fob, 12.3" full graphical instrument cluster, full LED headlights and daylights with high pressure jet sprayers, road-edge and barrier detection with auto steer, interior air quality system with CleanZone software, driver collision prevention alert, road sign information, lane departure warning, pedestrian and cyclist detection, power tail gate, park assist for in and out of tight spots, Volvo Sensus 9.3" screen, two tone leather steering wheel with audio controls, adaptive cruise control with pilot assist, keyless entry, panoramic sunroof, 4-zone climate control, stability control with sport mode, bluetooth with voice control and navigation.
While the rear end of the new SUV looks like an updated version of the previous model, the front fascia is totally new, and seriously appealing. The large grille and LED daylights that strike through the headlights have created a front end very unique to the XC90, making it easy to recognize. The side profile is dynamic and sits on 21" alloy wheels that fill up the wheel arches well.
Inside, the design is simplistic, the materials used are high-grade and soft to the touch, while the accent open pore wood trim and brushed aluminum frames look very upmarket. Fit and finish is very good and ergonomically the number of buttons has been reduced to below bare minimum. Almost all of the controls have moved into the touchscreen, that is essentially a portrait oriented tablet integrated in the dashboard. You can swipe sideways to move between functions like climate control, driving aids, radio and navigation, pull down notifications or press the home button to go back to the main screen. The high resolution display looks crisp, the graphics are nice and the system responds very quickly. The only problem is, that on the go, some of the icons are small and hard to target. The only real push button controls are for Bowers & Wilkins sound system, which is very loud but fails to deliver audiophile level sound quality. Also, in a very odd way, you need to turn the volume to at least 40% by the time you can actually hear something.
The front seats are incredibly comfortable and fully power adjustable, and when we say "fully" we really mean it; height, tilt, reach, lean, lumber, side and lower leg support. The driving position is very car like and visibility is really good. Reversing out of tight spots is a breeze, as the bird's-eye camera implementation is excellent and you can pick on demand to view any of the four cameras available. Parking near the curb has never been easier. Roominess up front is ample, a feeling that continues to the second row as well. Legroom is enough for even tall people and so is the available headroom. The seats are individually foldable and can also slide and recline to further customize positioning. Take note, that the early production car we had for testing had many issues with the second row. Sliding forward meant getting stuck there, and then took quite a lot of force to slide back. The air vents underneath kept coming loose and the handle for the booster seat was on the floor when we received the car; we put it back and it looked ok afterwards. The middle seat can also be transformed to a booster seat, a great feature if you ever need to carry someone's kid cause for carrying your own kid, an after market booster seat will cost much less. Note, that if you fold the middle part, the only way to release it is by pulling a strap accessible only from the passenger side, which makes you wonder how they did something so inconvenient. The third row is roomy enough for two adults to sit, as long as their height is limited to 6ft tall. There are some neat features present, like folding the rear headrests with the push of a button and the ability to adjust the passenger seat using the controls located on the driver's seat.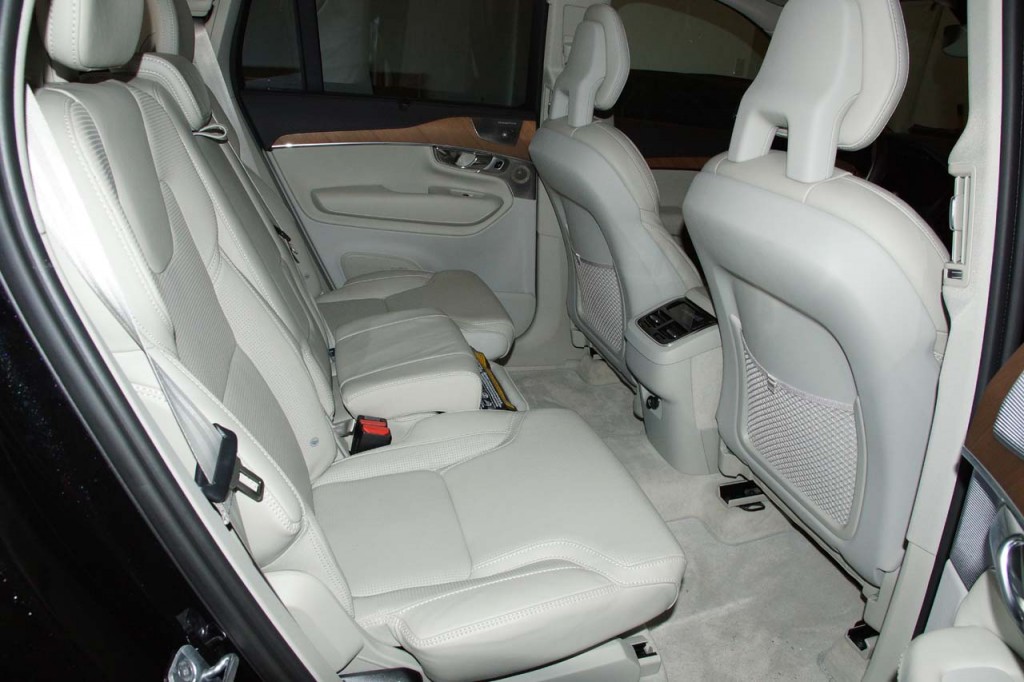 The cargo area is shaped for maximum utilization and satisfies with its size. With all seats up, it is a very handy 249 L, while folding the 3rd row alone will increase it to 615 L. Maximum capacity with all seats down is 2,427 L. It also has a built in separator, so if you are carrying smaller items, you can secure them from moving around. The power tailgate comes with a set of buttons to lower the car, so thanks to the air suspension, you are not required to lift heavy items that high.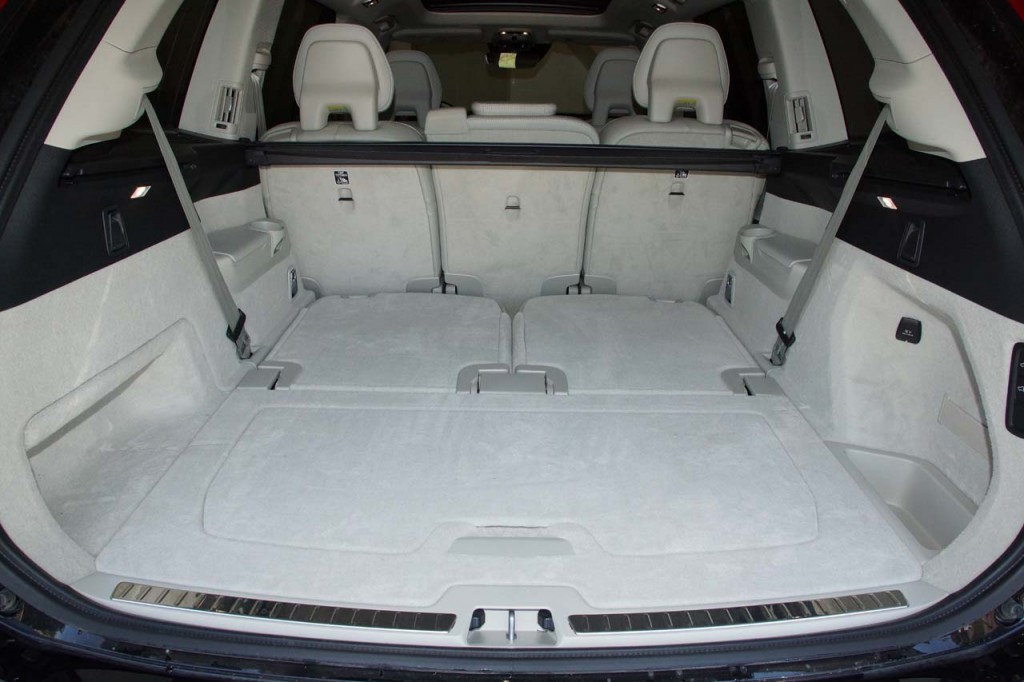 The nearly two ton body is propelled by a 4-cylinder 2.0L engine, that is both supercharged and turbocharged. Maximum output is an impressive 320 HP and torque peaks at 295 lb-ft and since both technologies have been used, there is no hugely noticeable turbo lag. Right off the line, throttle response is good, especially in dynamic mode where the 8-speed GearTronic transmission keeps the revs higher and shifts between gears faster. Zero to 100km/h comes in 8.3″ and the reverse procedure takes 43m; not blazing fast, but swift enough to get you where you are going. Also, fuel economy can suffer if you keep on gunning it, but settle down and you can average about 12.3lt/100km of premium unleaded.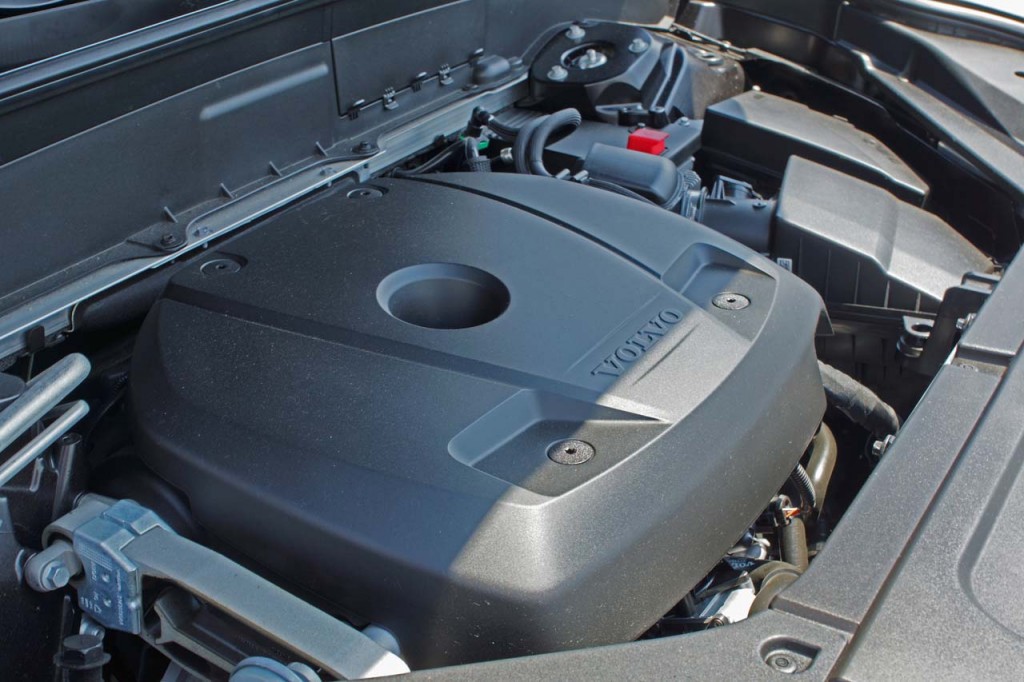 Off-road is a place this new XC90 does not want to be, we tried taking it through a rather mild path to try out its "Off-Road" mode, but the knocks produced from the suspension and vibration that made it to the wheel where clear signs to stop what we were doing. On the road however, it is much more refined, quiet and smooth. On the highway, you can barely hear or feel anything showcasing the vehicles ability to be a long distance cruiser. On twisty back roads, there is tons of body roll, the stability control works overtime even in sport mode and most importantly, as awesome as that two tone steering wheel looks, it returns very little in terms of feedback. So it might not be quite up there with the BMW X5 or Audi Q7 when it comes to driving charisma, but at least over bumps and bad tarmac it is very comfortable.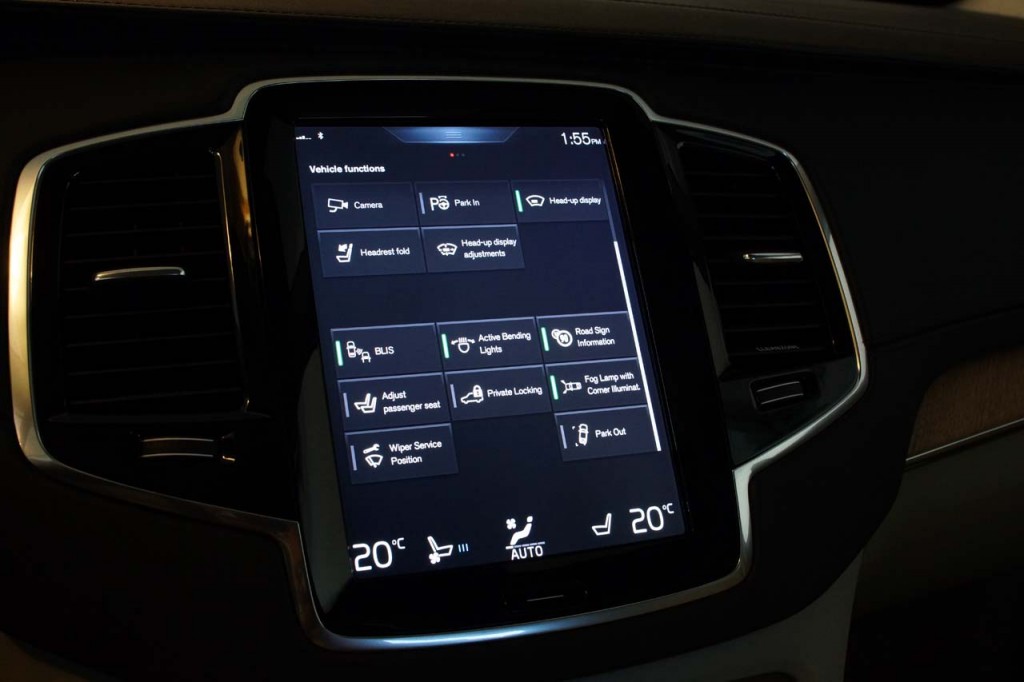 Loaded with tech, safe as a vault, comfortable as a five star hotel and with real room for seven, the all-new Volvo XC90 encapsulates all the above skills in a very handsome package. Should it be your next SUV, a test drive will tell.
THE GOOD
Design Inside and Out
Comfort
Space
Technology
Safety
Practicality
Innovation
THE BAD
Second Row Quality Issues
Body Roll
You'll struggle to find another SUV that offers more space, safety and technology at this price.