2015 Mercedes-Benz GL 350 BlueTEC
Engine - Transmission
3.0L V6 Turbo Diesel BlueTEC - 7G-Tronic Auto
Torque
455 lb-ft @ 1,600 - 2,400
Fuel Consumption (City/HW) (lt/100km)
13.6/10.0
Cargo Area (L)
295 - 680 - 2,300
Low-Range/Diff-Lock
No/Auto
Mercedes-Benz is extremely well known for their luxury sedans but they also make one of the most "bad-ass" off-roader that is even used by the military and it is no other than the G-Wagon. So if you've ever wondered what happens when you mix a G-Wagon with an S-Class, the answer is the GL-Class.
The GL-Class is a large 7-seater SUV with serious off-road pedigree but at the same time features "Rodeo Drive" worthy curb appeal. As a matter of fact, it is built in the U.S.A, alongside the smaller ML. Available models include the GL 350 Bluetec ($78,500), GL 450 ($79,600), GL 550 ($100,900) and the crazy GL 63 AMG ($128,400). All models come with the 4MATIC all-wheel-drive system as standard. The 350 Bluetec we tested came equipped with the premium and sport packages as well as upgraded almond beige upholstery, reaching a total price of $87,490.
The list of features is anything but short, including 21"AMG wheels, AMG exterior package, the excellent COMMAND Online Navigation system with apps, panoramic sunroof, THEMATIC climate control, soft close doors, power tailgate, power EASY-ENTRY 2nd row, heated front and rear seats, power adjustable front seats and steering column, parking camera with 360-degree view, AIRMATIC air-suspension with adaptive damping and Comfort/Sport modes, Diesel Particulate Filter (DPF), heated leather multifunctional steering wheel, 4MATIC permanent all-wheel drive, ATTENTION Assist, Active Bi-Xenon headlights, Passive Blind Spot Assist, COLLISION Prevention Assist, Downhill speed regulation, stability control, driver knee airbag and a lot more.
The exterior design is dynamic, angular, a bit boxy towards the rear but overall very classy and all the way Mercedes. It is unmistakably a member of the three point star family, with elegant touches found at every corner of the body. The imposing 21" AMG wheels look outstanding and the sheer size of the vehicle tells a story of its own when on the move. Especially welcoming are the exterior lights that turn night into day, as you approach your vehicle passed the sunset.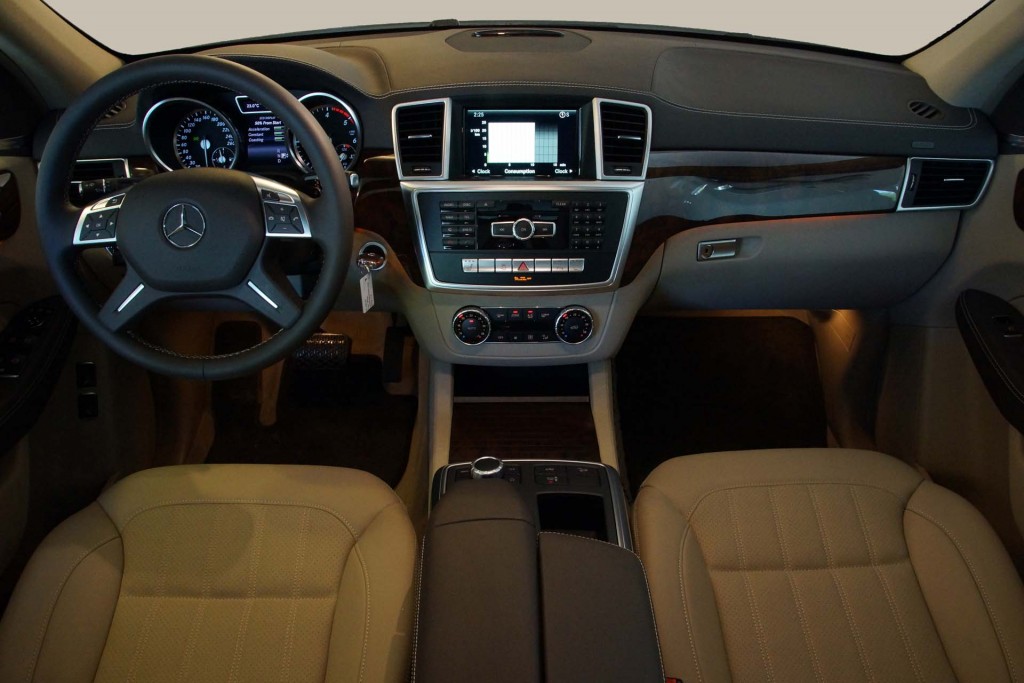 Inside the large cabin, there is room for five adults of any height plus two more limited to under 6ft tall. Four seats have the latches for hooking up baby seats, so families of six or seven will appreciate this feature. All seats are big, plush and very supportive and come trimmed in high grade perforated leather that keeps body temperature regulated. The front seats enjoy ample space and soft armrests, while the second row of seats are also adjustable and very roomy. The third row, even though not as roomy, is still very capable of fitting sub-6ft passengers with ease. With all seven seats up, the trunk is 295 L that is barely enough for a large sports bag but with the third row stowed away it becomes an impressive 680 L. All seats are power foldable, and with all of them stowed away, the maximum cargo space is 2,300 L.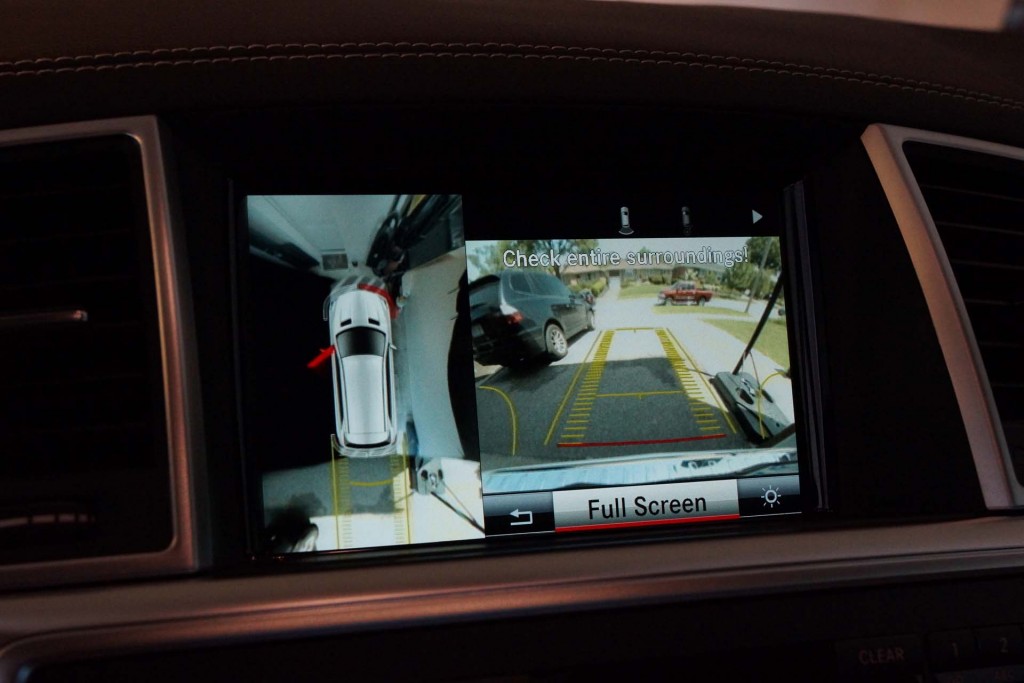 The dashboard design is a bit conservative but very luxurious and functional. All materials used are soft to the touch and very high grade, fit and finish is excellent and over bumps, there are no unwanted noises to report. Stitched leather covers the upper part of the dash, while upmarket wood trim finishes-off flat surfaces and accent points. Ergonomically it scores lots of points and with switchgear that scream expensive, the GL is a very easy SUV to drive despite its size. Visibility is good and the reverse camera with top surround view is amazing, making it incredibly easy to park in tight sports. The blind spot indicators are clearly visible even under direct sunlight, the infotainment system controls are very easy to learn and with the commanding view from the upright driver's seat, there is very little left to worry about.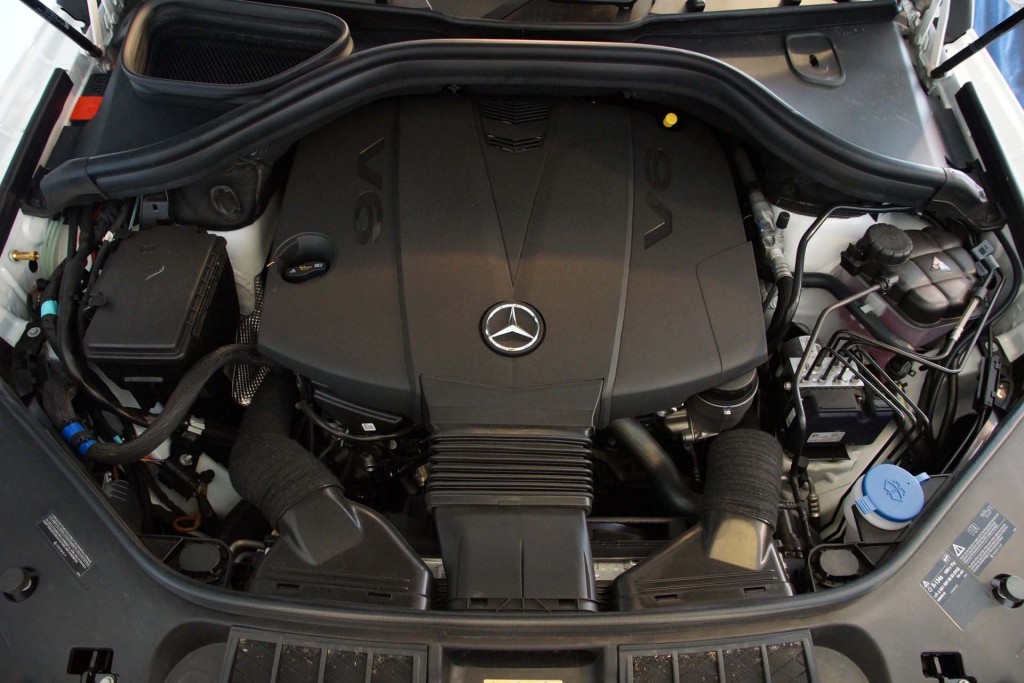 As much as I like big V8 engines under the hoods of large SUVs, I do realize that the best and most sensible option is to go for the Diesel powered versions. The 3.0L V6 Turbo Diesel engine under this hood is one of the nicest and most economical diesel units on the market. The maximum output of 240 HP comes at only 3,600rpm and torque peaks at 455 lb-ft between 1,600-2,400 rpm, making the vehicle feel feather light and quite quick off the line. Zero to 100km/h comes in 8.9 seconds and if you keep your foot on the right pedal you will reach the top speed of 210km/h. The motor always provides enough passing power and in a comfort oriented vehicle like this one, wanting more power was the last thing on my list. A major accomplishment really, since the curb weight is as high as 2,455kg, something that becomes evident only when you step on the brakes. It is no fluke that the front ventilated disks are also cross-drilled, since a lot of stopping force is required to beat the amounts of inertia this beast carries. From 100km/h, it came to complete stop in an incredibly short 40m, while the brake pedal was linear and felt good.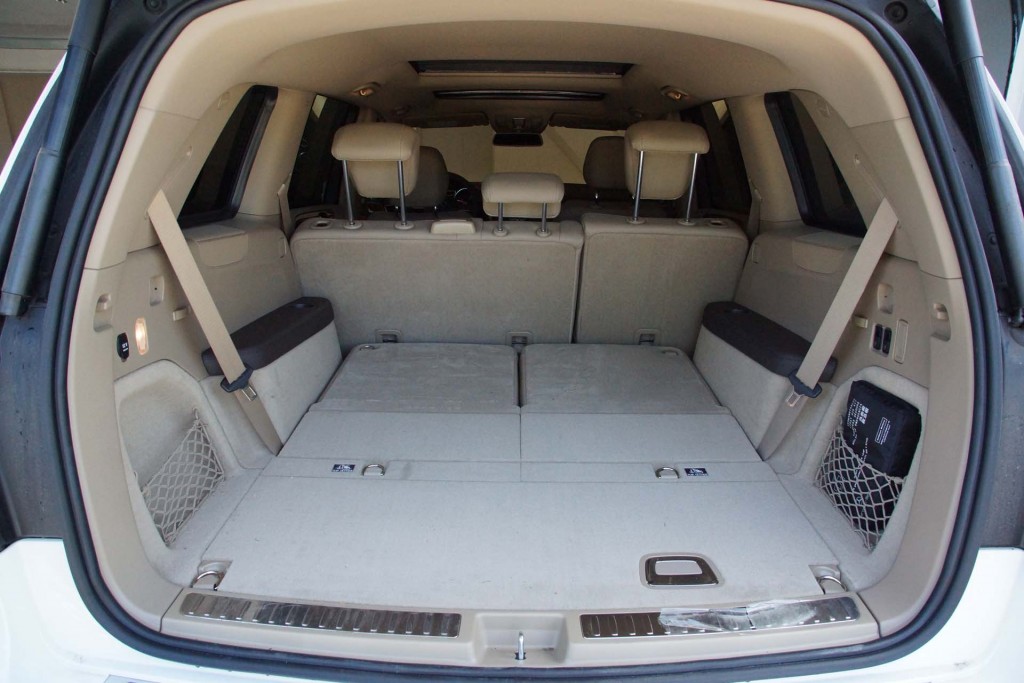 In theory, being a diesel, fuel economy should be much better versus the petrol powered versions and in practice, of course it is. We averaged 10.4lt/100km over the week-long loan, something petrol versions can't even match with highway driving alone. Also, payload is an impressive 795kg and the maximum towing capacity is 3,402kg. So regarding the choice of engine, my pick would be this one, hands down.
All engines are mated to the smooth 7G-TRONIC 7-speed automatic transmission and power is delivered to all-wheels via the clever 4MATIC all-wheel-drive system. The vehicle favours the rear wheels till the moment it detects some slip and the need to send power to the front. It is quick to react and feels rugged while at it, making the GL a breeze to drive in any weather or terrain variation. I am totally "SOLDMATIC" with the AIRMATIC air-suspension. It is adjustable for height and stiffness and off-road its ability is only compromised by the owner's fear of damaging the gorgeous body. Narrow unpaved challenging paths are not a problem as long as the ground clearance is adequate. The air suspension in comfort mode literally creates what feels like a hovering magic carpet, but in the corners you can tell it takes a bit longer for the body to level out. In sport mode however, it stiffens up keeping body movements under stricter control but as well tuned as it might be, the massive weight does not allow anything further than safe, predictive handling within reasonable limits.
The most impressive characteristic of the GL is the transition between off-road and the open road because it does both equally well. On the highway, with endless miles to cover, it can cruise at speeds way beyond any known speed limit and with style very few can compete with. It is so refined that on perfectly paved roads you might measure zero vibrations, even at highway speeds. Wind noise is minimal and combined with its brilliant all-weather potential, this vehicle is truly ideal for people that live in rural locations with long variable condition commutes.
It is big, strong, luxurious and comes with a variety of talents that on any given day can totally demolish any concept of existing boundaries. It will equip you with the required confidence to take one step further than your reach, a feeling only the much more expensive Range Rover can match.
THE GOOD
Curb Appeal
Roominess
Refinement
Comfort
Air-Suspension
Fuel Economy
THE BAD
Heavy
Bulky
Not exciting to drive
Together with the Range Rover, the GL can transition between paved and unpaved roads with amazing ability.