Horsepower
283 HP @ 6,400 rpm
Fuel Consumption (City/HW)(lt/100km)
14.1/9.5
Cargo Area (L)
930 - 2,340 - 4,100
We all hate minivans, don't we? I mean come on, they are sluggish to drive, boring as hell, ugly little buses that drive up and down the streets carrying kids, pets, tools or anything else you can imagine. Come to thing of it though, as a father of two, when I drive with the kids in the car, I drive carefully, so sluggish or not, it makes no difference to me. Also, with all the screaming and kicking, boring is something my journeys never are. So maybe, those minivans are not as bad as you and I thought after all.
Indeed, that prejudiced stance against minivans ends the moment you step inside one, just like the 2015 Chrysler Town & Country Limited. "Ahhh" is the universal reaction, as we suddenly realize that we've been missing out on some serious family wheels.
No one beats the Americans when it comes to features built into a car to make parenting more convenient. They are just light years ahead in predicting what the next most useful feature will be for a family and manage to squeeze it in. Chrysler in this case, for 2015 has released the  Limited trim level that brings an army of new tricks with it.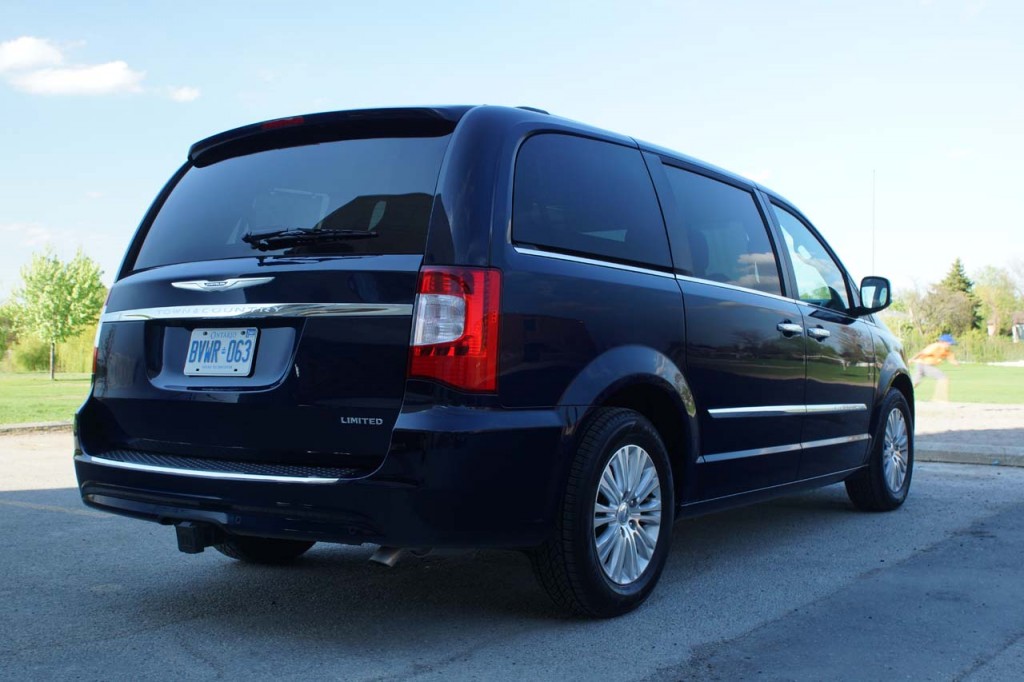 The exterior design is very familiar to us Canadians, since a Dodge Grand Caravan can be seen  on the roads more frequently than snow flakes. The Town & Country however, is a luxurious edition that costs a little more. Quite a bit more actually; Limited models start at $39,395, but our test vehicle came with the trailer tow package, the rear entertainment package, power sunroof and power folding 3rd row seats bumping up the price to a grand total of $53,915. That might sound expensive for a minivan, but the features that are included are mind-blowing. Also, its competitors, similarly equipped are not any cheaper. You get the remote starter, power sliding doors, power lift gate, flexible removable seats, a ton of safety gear and luxury that extends to the wooden bit on the steering wheel, and don't forget that classy analog clock. Standard features also include a billion storage compartments, 3-zone climate control with airplane style vents, rear view camera, blind-spot monitors, tire pressure monitor, keyless entry, 115V power outlets, heated steering wheel, heated front two rows, 17" polished rims, navigation and bluetooth connectivity. Ultra cool are the AV plugs for the kids to hook up their personal gaming or entertainment systems.
Under the hood, the front wheel drive commuter is powered by the famous 3.6L Pentastar V6 engine that outputs 283 HP and 260 lb-ft of torque. Despite the hefty 2,115kg the whole thing weighs, mated to a very smooth 6-speed automatic gearbox, the engine delivers good performance and plenty of pulling power to haul or tow. Little does it matter, but from a standstill it can hit 100km/h in 9 seconds while slamming on the brakes at that very speed, it will require 44m before it comes to a complete stop. Throttle response is a bit numb and gets further destroyed by enabling the ECO mode, but being that way saves you from spilled milk or forced vomit so at the end of the day you just get used to sending the pedal to the medal when you really mean it. Fuel economy however is not great, as at the end of the week, we were averaging 14.2lt/100km.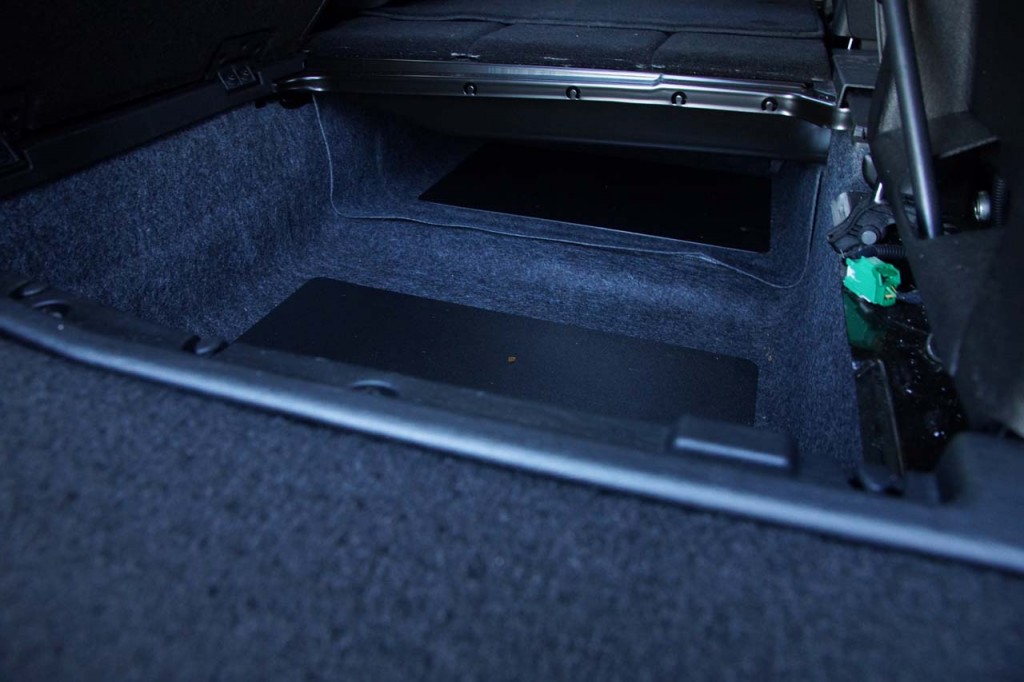 Handling is not really important in such a vehicle, but dynamic tuning can't be ignored as in the event of an abrupt change of direction, it should help you maintain control. The front independent MacPherson struts keep it relatively flat while cornering and also keep it stable at highway speeds, minimizing requirements for heading corrections. The rear twist-beam axle is great for saving space and allowing all the magic that happens in the cabin, but on the road it is a bit sensitive to continuous bumps, especially mid-turn. Being tuned with extreme comfort in mind, there is absolutely no room to complain about handling, which is very safe overall; I have to admit, it grips well passed any expectations I had for it. Ride comfort is exceptional; as mentioned, the suspension has been tuned to soak up all the road's imperfections and allow your babies to enjoy a smooth ride, or perhaps, a nap.
The magic that happens inside is a dream come true for most parents and kids, as the Town & Country really redefines what versatility and practicality means. The seat layout is 2-2-3 front to back, and the middle row gets captain chairs just like the driver and passenger. All coolness begins with the huge pockets on the floor, right in front of the middle row seats. Lift the covers and you'll find space equal to the trunk of a sports car on each side. What is seriously amazing about those pockets, is that the seats can actually fold and get stowed away in them leaving an absolutely flat floor above. You can fold one of them or both of them, depending on your needs and you can asymmetrically fold or stow the third row too. There are three positions you can put the third row in; stowed away, tailgate mode or up-right. Splitting is done in the typical 60:40 way.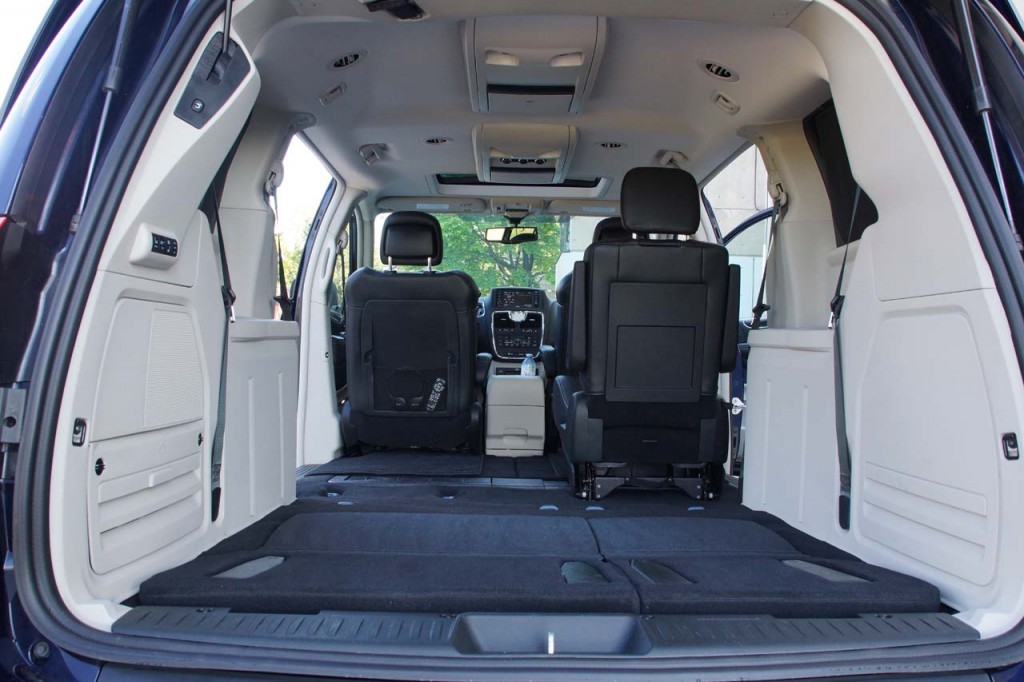 With all the seats up, you have a 7-seater with 930L of cargo space, plus the two seat pockets to fill. With the third row stowed away, the cargo area becomes a mind-blowing 2,340L and by  stowing away all the seats the maximum of 4,100L is reached. If you could fill that up with water, we'd be talking about 4 tons of it.
In all honesty, I do believe that 55 grand is a lot of money for a vehicle to be destroyed by kids. I would not cheap out on any safety feature, but to keep the price down I could perhaps pass on the rear entertainment system ($2,000). As a family vehicle, the Town & Country has one of the best cabins in terms of versatility, roominess and cargo capabilities. It is also a very acceptable drive, absolutely comfortable and the only downside is the fuel economy. So lesson learned; you'd be doing your self a favour by going to test drive one of these even if 10 minutes ago you hated them as much as I used to.
THE GOOD
Refinement
Ride Comfort
Features
Flexibility
Practicality
Roominess
THE BAD
Expensive when loaded
Expensive, but really amazing.