2013 Ford FLEX Limited AWD EcoBoost
Engine - Transmission
3.5L V6 DOHC EcoBoost
Torque
350 @ 1,500 – 5,250
Fuel Consumption (City/HW) (lt/100km)
12.2 / 8.6
Cargo Area (L)
566 minimum
"First comes love, then comes marriage, then comes daddy with the baby carriage" goes that popular playground song but in the automotive world, that baby carriage is usually a bland mini-van or some other comfortable but seriously uncool baby hustler. It is a fact that to date, the mainstream family vehicles are not the best for automotive enthusiasts when they become parents. So is there a vehicle out there that is cool but at the same time fit the whole lot inside with comfort and tons of practicality? Well, Ford seems to have an interesting proposition and it is known as the FLEX.
It is a really large family oriented vehicle with seating for six or seven depending on the second row layout you go for, as instead of a middle seat, you can get a nice cooler box. It is built on the CD2 platform and it is an elongated relative of the Volvo XC70, which is an all-road station wagon exactly like what the FLEX is.
Assembled here in Canada in Oakville Ontario, the FLEX is 5.125m long and weighs a whopping 2,109kg and comes packed with features leading me to think of it as "Pandora's Box" since it also looks like one. The styling surely does not agree with everyone; it is a love it or hate it design that brings back memories of old domestic wagons.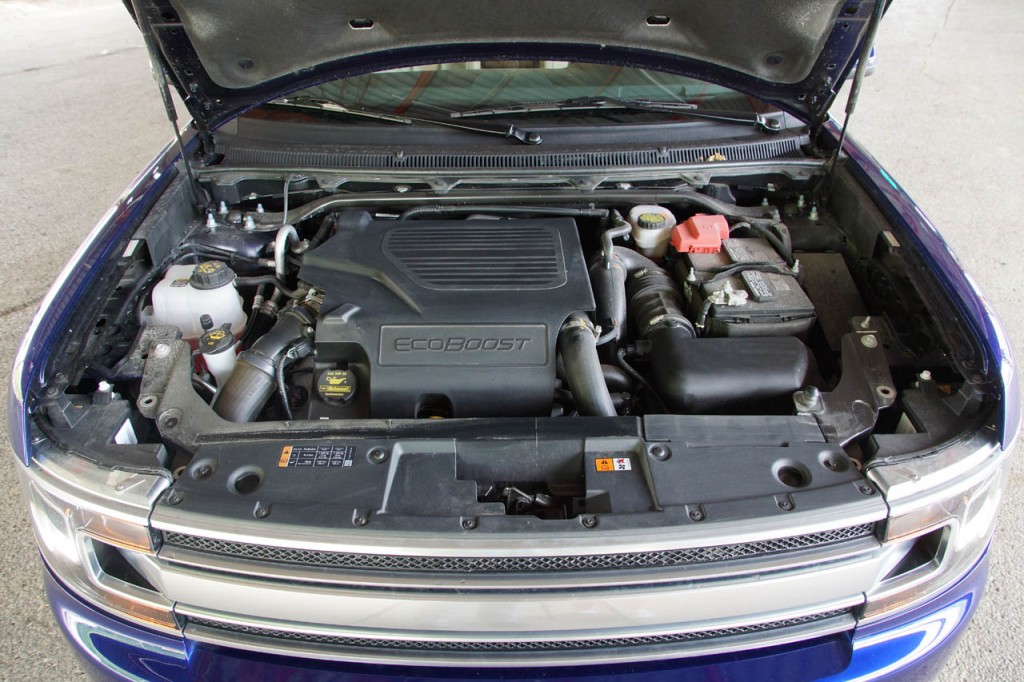 There are two V6 engine options to choose from, a 287bhp 3.5lt DOHC Duratec or a 365bhp 3.5lt DOHC twin-turbo EcoBoost. Pick the Duratec engine and you can have the FLEX in either front-wheel-drive (FWD) or all-wheel-drive (AWD), but to get the EcoBoost engine under the hood you need to stick with all-wheel-drive. Both engines are mated to a super smooth 6-speed automatic gearbox and prices start at $30,499 for an SE FWD and go all the way up to $44,399 for a Limited AWD. Our test vehicle was equipped as well as in the brochure and was priced at $59,499 (with transport and PDI).
The FLEX is very unique on the road and for 2013, some new design updates include the word FLEX written on the hood Range Rover style, new ultra-cool headlights and an updated rear end. The interior is funky and build-quality is very good. Soft-to-the-touch materials have been used everywhere that matters, the Ford MyTouch infotainment system looks nice and the latest touch button centre console adds elegance to the whole package. The door panels on the other side, look like they came off a truck, but trimmed in equally good materials, they oddly blend in well.
Our test vehicle was equipped with a second row centre console so it was only capable of accommodating six occupants instead of seven. All the seats are very wide and comfortable and resemble seats usually found in business class airliners. The top notch leather upholstery, overhead air vents and massive headroom also endorse that feeling. The second row seats fold with the push of a button in a way that creates a very wide path to the third row of seats so getting in and out is a blast. Once back in place, you can slide them forwards or backwards to give or take space for the third row's legroom. An impressive thing, with the second row seats as front as possible, both rows enjoy very decent legroom so even people taller than 6 ft. can sit in the far back no problemo. Another cool and useful feature is the ability to set the third row in tailgating mode to watch your little ones play soccer. Visibility is great as all the windows are large enough to be cleaned with a squeegee, and overall, the atmosphere inside the cabin is very hospitable and luxurious.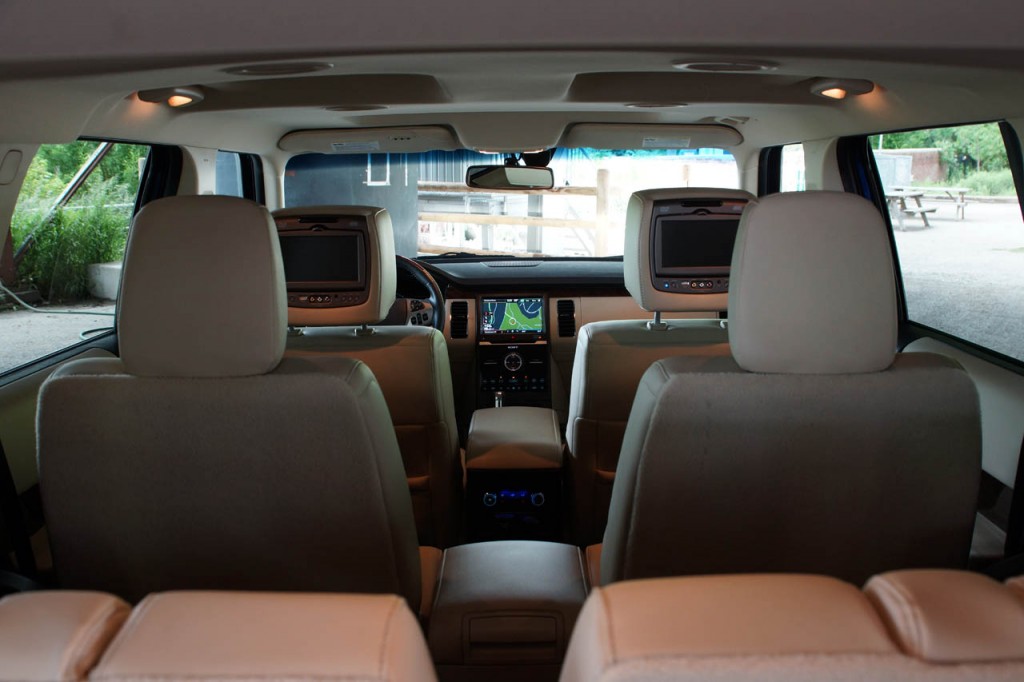 The cargo area with all seats up is enough to fit a slim-line stroller and a few diaper bags (566lt), but stow the rear seats away and a massive loading area is there to fit half of IKEA's inventory(1224lt). In our test vehicle, it was not possible to also stow away the second row due to the fixed centre console which was a shame as I wanted to snap a shot of a FIAT 500 parked in there (2355lt).
The list of features is very long, but what really stands out are things like adaptive cruise control, MyTouch infotainment system, collision warning, blind spot monitoring system, rear view camera, four sunroofs, the rear inflatable seat belts, 20" rims, headrest integrated DVD players and the power rear seat positioning.
The V6 twin-turbo 3.5lt DOHC EcoBoost engine is huge fun. It produces 365bhp and 350lb-ft of torque and makes the heavy FLEX feel feather light. The noise produced is one of the best V6 growls I've heard and it pulls really well from low revs. The 100km/h mark is 7.4 seconds away but so is the gas pump. During our test in a combined cycle, we averaged 16.2lt/100km which in the long run could be a deal breaker. The problem is that the FLEX is way too heavy and the EcoBoost engine is perhaps unnecessarily powerful for the occasion.  The drive though is really smooth and refined and the 6-speed automatic gearbox works with scientific precision while paddle shifters to manually take over are also available.
The truth is that with so much power, paddle shifters and the sub-zero cool looks, I was hoping the FLEX would handle much better than a mini-league transporter. On the highway and through high speed turns, the FLEX is very stable and remains flat, which is a point won. Grab it by the scuff and try to thrash it through tight corners and the heavy body proves to be a burden for the front and rear independent suspension to handle. The steering has good weight to it but feedback is very limited and when pushing hard, the stability control works overtime. The FLEX and its AWD system leave me with no doubt that tackling severe weather will not be a problem however, I was expecting more in terms of setting itself apart from the crowd handling wise.
What really matters though is ride comfort which you get plenty of as the FLEX glides over bumps and rough surfaces without disturbing the business class interior. Rattles, squeaks and other annoying elements are absent and every single detail suggests that this vehicle is made to swallow endless kilometers while the occupants enjoy the ride.
In the occasion of an unexpected event in front of you, the super strong brakes can save the day as the FLEX can stop from 100km/h in just 44m which is very impressive given its weight figures.
To summarize, if you belong to the group of people that like the FLEX and at the same time you need space for six or seven, you really need to make sure you take one for a test drive before you commit to buy something else that in a few years will not only be old but would have been lame to begin with.
THE GOOD
Looks
Space
Practicality
Built Quality
Comfort
THE BAD
Fuel Economy
Dull Steering
The best looking alternative to a minivan. Period.