2013 Hyundai Accent GLS Auto
Engine
1.6L L4 DOHC 16-valve
Transmission
6-Speed Automatic
Fuel Consumption (City/HW) (lt/100km)
7.2 / 5.2
Getting from A to B can be done in various ways. If it's close enough you can walk it and if it's within the city limits you can take public transit. If it's a bit further away you can take the train or the plane. All of those transit ways though compromise your sense of freedom since you are forced to follow a set departure/arrival schedule.
The 2013 Hyundai Accent is one of the most affordable ways to get around with privacy, freedom and convenience. Prices start at $13,749 and I bet that you are already thinking that what you get in return is a piece of crap. Well yes, after all you do get what you pay for, but add a few more dollars and get a GLS Automatic like our test vehicle and oh boy are you in for a surprise. At $18,949 you get in return a car with features that not too many years ago were optional extras even on big luxury sedans.
All the previous generations of the Accent were dreadful. They were as fun as root canals and their drivers were stigmatised for life. The latest one though is a bit different. First of all, it looks nice. It is easily one of the best designed sub-compact cars out there today. Inside, the cabin is comfortable and the features available are those that once upon a time were considered revolutionary even for an S-Class Mercedes. The driver's seat is height adjustable and the leather wrapped steering wheel is as well. It has electronic climate control and a CD player with MP3 playback, Bluetooth connectivity and XM satellite radio. It also has a sunroof, heated front seats, 6 Airbags, ABS, Stability Control, Cruise Control and all-round disk brakes. It even comes with alloy wheels.
The dashboard is well put together, fit and finish are relatively good and the pattern on the hard plastic dash cover makes it interesting to look at. The blue lighting and soft push buttons add points to the ergonomics and overall settling in the Accent is done quickly and trouble free.
Visibility to the sides and front is good, but the rear window is very narrow limiting the view to the rear. The back seats are comfortable for 2 or occasionally 3 adults and the legroom and headroom are similar to what you get in other, bigger hatchbacks. The trunk size is impressive for the class and capable of carrying more than just the weeks' worth of shopping.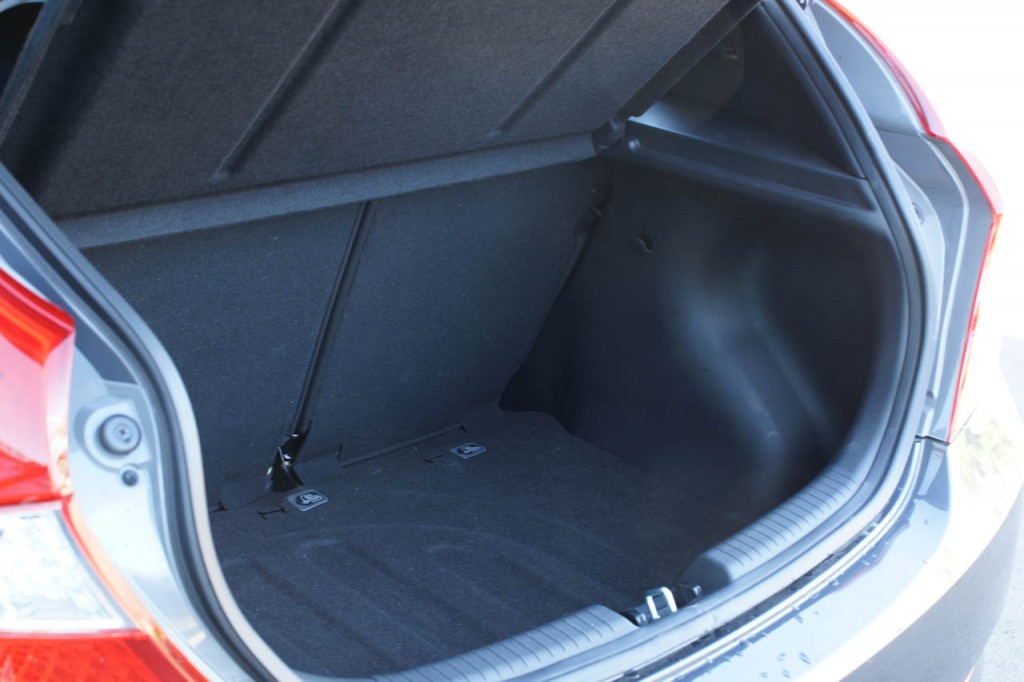 Under the hood, there is a spirited 1.6lt 4-cylinder Gamma engine that is capable of converting regular unleaded to 138 BHP which is no doubt very impressive. The maximum torque of 123 lb-ft comes a bit high (@4850 rpm) but throttle response is very good and overall the Accent feels nippy and joyful. 0-100km/h takes 10.4" and the 6-Speed automatic gearbox proves to be smooth enough and comes with well-set ratios. Fuel economy with the Eco Mode ON was just 7.9lt/100km combined and that was achieved without any real effort put in.
The rear solid axle suspension, in theory might imply that the handling will be catastrophic, but in practice the suspension has been tuned to be soft enough to hide the primitive layout. The Accent rides well through urban routes and will get you where you are going hustle-free. Push it hard in the corners or try to get sporty with it and you will soon realize that you are in the wrong car. The front antiroll bar is thin to allow early understeer and the result is a safe but slow paced car. Expect no drama when the stability control is on and if you decide to push it, it will understeer soon enough to stop you from getting any wrong ideas. The steering has good weight to it and feedback is adequate while the brake pedal feels just a bit on the spongy side. In case of an emergency though, the brakes bite well and bring the Accent to a complete stop in just 43 meters.
Overall, the Accent which represents the basic means of transportation showcases that they have come a long way. The Accent is no longer just the "upgrade from taking the bus" and driving one around no longer implies anything about you. It is actually a pretty good, affordable and safe little car.
The Good
Comfort
Brakes
Gearbox
Engine
Spacious Trunk
The Bad
Handling
Rear Suspension Dynamics
One of the most affordable ways to avoid the bus. And it's good.