Engine
2.0L I4 DOHC i-VTEC®
Horsepower
141 @ 6200 ( total 196 HP)
Fuel Consumption (City/HW) (lt/100km)
3.7/4.0
When Honda decided to create a sedan, they didn't have to build it for them to come but when Honda decided to build the Hybrid Sedan for those who wanted a fuel-efficient stylish and reliable family car, they literally stormed the front doors. The 2014 Honda Hybrid includes a new set of features from its predecessors such as:
Two-Motor Hybrid Intelligent Multi-Mode Drive (i-MMD) System
2.0L L4 Atkinson cycle engine
Electric Continuously Variable Transmission (E-CVT)
High-output Lithium-Ion (Li-Ion) battery pack
Electric water pump
Electric-servo regenerative braking system
Amplitude Reactive Dampers
The Two-Motor Hybrid Intelligent Multi-Mode Drive combined with the Electric Continuously Variable Transmission made the ride feel completely seamless. The smooth transition between battery and gas powered motor was really not noticed but when you really slam on the throttle, you notice a considerable increase in noise while the car pulls together enough power for the demand. Power was definitely what this car was not short of as the 196hp motor delivers 226lbs of torque and quickly pulls you to the speed you need when you need it.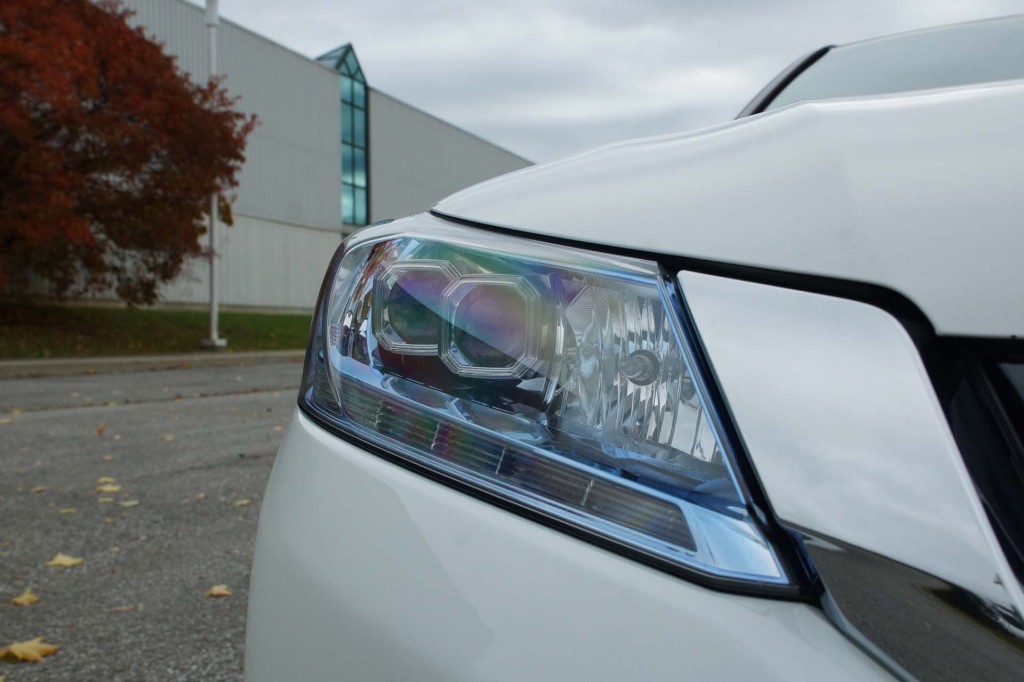 This car is really deserving of a luxury class sedan without the luxury sedan price tag. The jewel headlights give the Accord that wow factor with the blue tinted LED headlamps with matching blue chrome plated front grille, the chrome plated door handles that automatically unlock the automobile when nearby are something not just novel but part of a premium experience, and the white orchid perl paint job made this car feel right at home sitting along side something like a Lexus IS350. Those are features I would only expect on the more expensive and luxurious Acura line but instead were put on this new hybrid for killer looks and the premium experience. The body style was actually based on the 9th gen Accord sedan but included some updates to make the body stronger and more aerodynamic for efficiency reasons. At 4882 mm long, the Accord Hybrid is a bit longer and a bit lower compared to the conventional Accord sedan. Trunk space was slightly impacted, as they needed to put the battery somewhere although you still have plenty of space (348L) for your groceries and even 2 small carry on luggage bags or one medium size luggage.
The Interior is something I think Honda really nailed on the head. The Color combinations along with the electronic information systems come together very nicely. I didn't feel overwhelmed when sitting in the driver seat after hitting the ON button because the information was easy to understand and actually did present relevant information to me before I drove off (like when the car was ready to drive). The car has soft to the touch materials used throughout the cabin and not that cheap plastic material used in many cars today. The edges and contours of the car came together nicely and all corners and joints were in perfect alignment.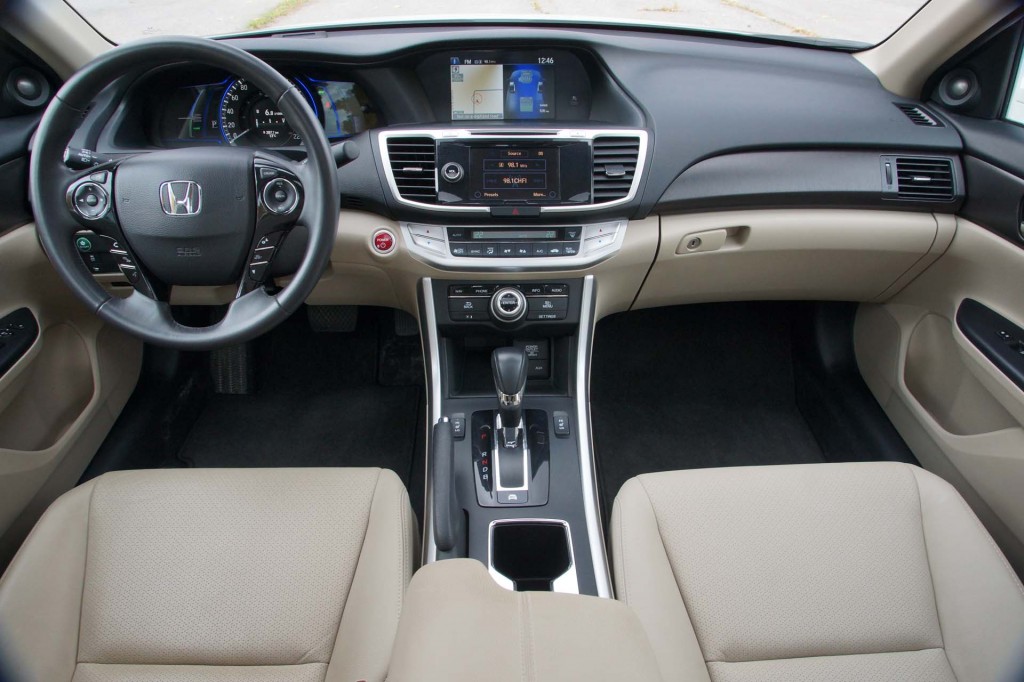 Sitting in the front seat of this Galaxy class road car (okay pardon the Star Trek lingo here) the captain's chair was built to contain even the widest of physique with some real comfort. The drivers side 1000 way adjustable seat (okay its really 10) even had power lumbar support as well so you didn't need to wrench your arm with that big round ridiculous knob to get your seat just perfect. The Touring model comes loaded with safety features and just to list a few are as follows:
Next-Generation Advanced Compatibility Engineering (ACE) body structure
High-tensile steel unit body
Dual-stage, multiple-threshold front airbags (SRS)
Driver and front passenger SmartVent side airbags
Side curtain airbag system (front and rear seats)
Front seat design to help mitigate rear collision injuries
Side-impact door beams
Vehicle Stability Assist (VSA®) with traction control
Anti-lock brake system (ABS), Electronic Brake Distribution (EBD) and Brake 
Assist
Tire Pressure Monitoring System (TPMS)
Acoustic Vehicle Alerting System (AVAS)
Lower Anchors and Tethers for Children (LATCH)
Child-proof rear door locks
Forward Collision Warning (FCW) (Touring)
Lane Departure Warning (LDW) (Touring)
Auto-locking doors
Lane WatchTM was something I found I had to get used to. This was an extremely useful feature that leverages a camera mounted on the passenger side mirror that displays your blind spot area. You can configure this feature to be on or off when signalling but essentially the camera turns on and shows you the brilliant driver who could be sitting in your blind spot waiting to cause an accident at your expense. It even has a button on the indicator lever where you can view it ad hoc to get a quick status check of your surroundings in case you need it.
Speaking of cameras, the day and night vision rear camera really came in handy as well and definitely provided visibility to the back side of this Accord anytime during the day. It provided visibility at night as well as the day so your wife avoids backing into a post.
The infotainment system was readily equipped to also read out your text messages so you can hear your wife's shopping list as she texts you while you drive by the local grocery store and realize you need to turn back around but not kill yourself reading that same text off the phone display. Voice recognition in this car worked unbelievably well even in a noisy child environment for those dads out there. It picked up the telephone number of the any number I was able to get the system to dial without issue but the only issue I found was the voice interface for dialling numbers was a bit clunky. The voice recognition also had other features outside of just dialling your booty call numbers such as switching sources, playing music on your device (which was great since my daughter kept playing Britney spears every ride we took).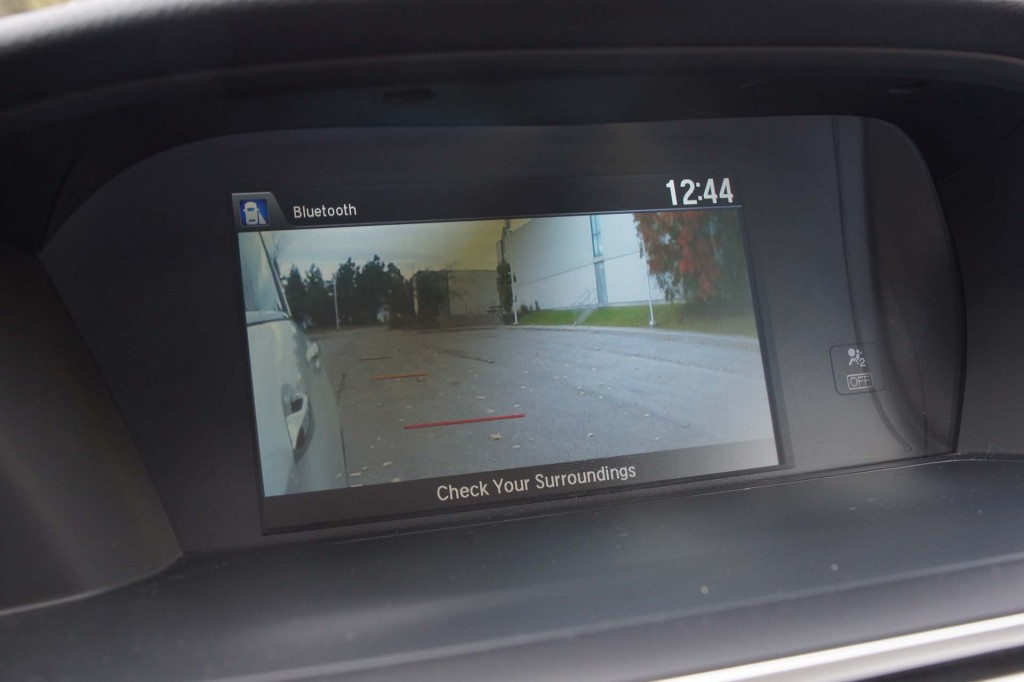 Another item you need to keep in mind here is that you will not get a spare tire from Honda as this vehicle is a EV vehicle and excess weight is your enemy in efficiency. You DO however get a temporary tire repair kit that includes an air pump so that you can get to the next service station without issue. I don't consider this a drawback but just simply wanted to make sure that readers understand why it isn't there and that Honda isn't the only one doing this.
Regenerative braking is a feature that charges the battery as you brake to leverage the inertia of the vehicle (energy in motion) to generate electricity so it can be stored for later use instead of always using the gasoline motor for that job. In some cases I've noticed other cars with regenerative braking feel a bit intrusive where you feel like you really aren't stopping and need to slam on the brakes but this car felt just like your regular day to day braking system and won't scare the heck out of you in the event of an emergency. The B mode on the shifter also helps regenerate electricity and provides extra resistance when your foot is off the gas pedal. This may feel a bit awkward so leaving the car in the D position provides a more realistic driving experience to a gas-powered automobile.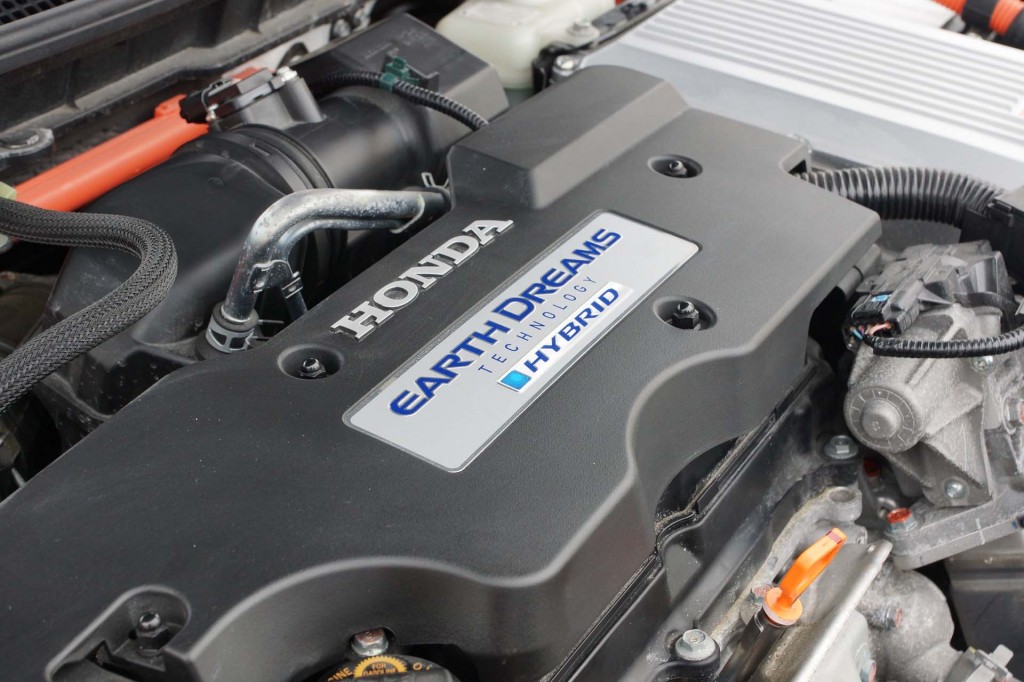 Performance was not something Honda forgot about in the design of this car; in fact I think they really understood what it means to want to own a hybrid and deliver power where and when its needed in this type of car. Honda equipped this car with a 1.3kWh battery pack, which equates to about 226lb-ft of torque from the battery and 122lb-ft from the gasoline motor. The total overall power delivered from this car is about 196 HP. The E-CVT transmission made the ride very smooth and the transition between electric and gasoline were seamless in this car. The car even leverages battery power on the highway and determines when its best to run off the battery for a while to save some gas. The listed range of this car was approx. 1083km however from the weeklong driving I had done I was averaging about 6.9L/100km in a majority of City driving and very little highway driving. I'm sure for a car this size that's still nothing to laugh about where I know I could have easily gotten 700km to the tank. It will do 0 – 100km/h in 8.9 seconds and will come to a dead stop from 100km/h in 43m, which is average.
The ride comfort was pretty impressive for this car especially when going over some rougher terrain on the road. Bumps and lumps in the road felt minimal, turning the corner gave some lean but overall a very tight steering response. The use of amplitude reactive dampers seems to have been implemented well which makes sense on the level of comfort I have riding in this car. This system is basically a 2 dampening piston system that works with respect to how much vertical distance you get when hitting a bump in the road. The small piston is for the small/short bumps in the road at lower speeds where you get less vertical distance (not including pot holes) and the larger one is for higher speed bumps which would increase the expansion of the pistons…it works great.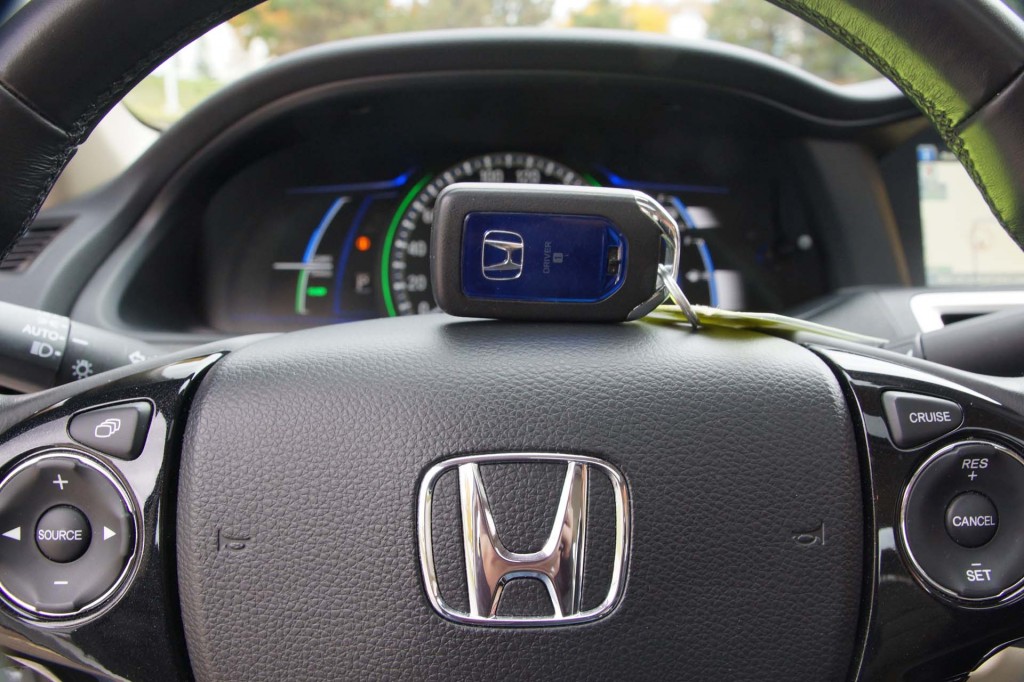 Turning the steering wheel felt effortless and added to my premium experience but at the same time I noticed how much more I needed to turn the wheel to make a tighter turn around a corner. The car was equipped with energy efficient and low resistance Michelin tires that generated very little road noise and left the cabin extremely quiet (again a premium experience). My body felt really cushioned against the beige leather seats and I never felt stiff getting out of the car after sitting in Toronto traffic for an hour so don't expect much back pain. The back seats are perfect for tall people as I fit nicely in the back seat (I am 6'2") with plenty of headroom to spare behind the driver (me again) with the seat extended all the way back. This car even had rear-heated seats to boot. Baby seats are actually a snap to put in the back seat and took me about 10 minutes (probably less) to install and secure.
The Hybrid Touring model comes in at $35,690 CAD plus taxes has all the essentials you need in a car along with an extended list of bells and whistles that I feel are a fabulous value add for a vehicle in this class. You get a premium experience without the premium price tag.
The Good
Comfort
Interior
Technology
Fuel Economy
Handling
Great fuel economy, packed with technology and soft comfy ride.