2014 Mazda6 GT
Engine
2.5L L4 SKYACTIV-G DOHC 16-valve
Fuel Consumption (City/HW) (lt/100km)
7.6 / 5.1
"Kodo" in Japanese means "Soul of Motion" and it is also the reason Mazdas like the new 2014 Mazda6 look so damn good. Its looks alone would've taken this Mazda6 straight to the top of the family sedan segment, but there is another damn good looking competitor which we also reviewed recently. The 2013 Ford Fusion. So since looks alone are not enough, let's dig a bit deeper.
This third generation Mazda6 has been built on Mazda's own SKYACTIV platform and since it's no longer shared with Ford, the stakes are pretty high. Unlike the Fusion, the 2014 Mazda6 is only available with front wheel drive and comes with only one engine option, leaving only the trim and gearbox choice to the buyer. Prices start at $24,295 for a manual GX and go all the way up to $32,195 for an automatic GT, while our test vehicle also included the Tech package which is a $2,000 option.
Standard equipment on the GT is impressive and the tech package adds insane for the class features. i-ACTIVSENSE includes nine safety systems. Yes, Nine. Mazda Radar Cruise Control which is an adaptive cruise control, Forward Obstruction Warning (FOW) which flashes a BRAKE sign if possible collision is detected, Lane Departure Warning, Rear Vehicle Monitoring which notifies the driver if cross traffic is heading his way or of a vehicle is in your blind spot, auto High-Beam Control, Adaptive Front-lighting, Smart Brake Control helps reduce the severity of a collision by automatically applying the brakes when a risk of frontal collision is detected while driving at speeds of 15km/h or more, Acceleration Control for Automatic which ignores kick downs if an obstacle is in front and finally Smart City Brake Control which can bring the car to a complete stop if an obstacle is detected while moving at speeds up to 30km/h.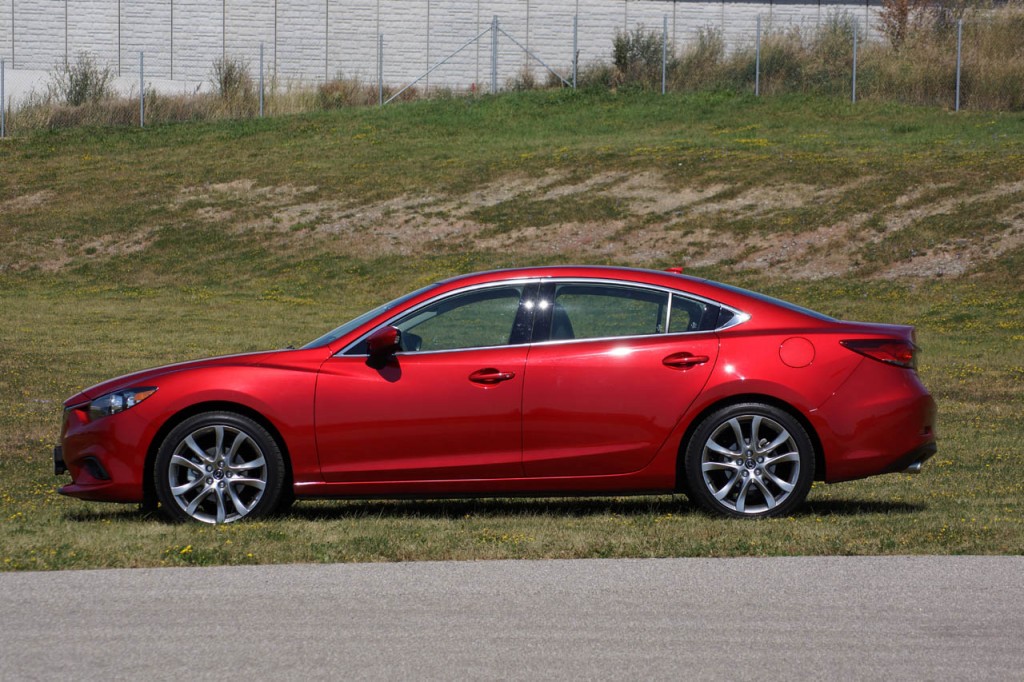 The all new exterior design is aggressive and makes the new Mazda6 stand out in a crowd. Especially in the Mica Red color like our test vehicle, all the sculptured angles and curves are highlighted to the point that it looks fantastic. The pointy nose, mad headlights, low roof line and long tail lights are superbly blended together and the 19" rims fill the wheel arches nicely.
The interior is rather conservative compared to the exterior but Mazda's effort to up their game has paid off. The excellent materials used, the tight fit and smooth finish compose a very impressive interior in terms of built quality. The design has been kept simple, the instrument panel fonts and background texture is similar to what Mercedes has and ergonomically the Mazda6 scores quite high. The centre top mounted entertainment system can be fully controlled via an i-drive type dial behind the gear lever so reaching up while driving is not necessary.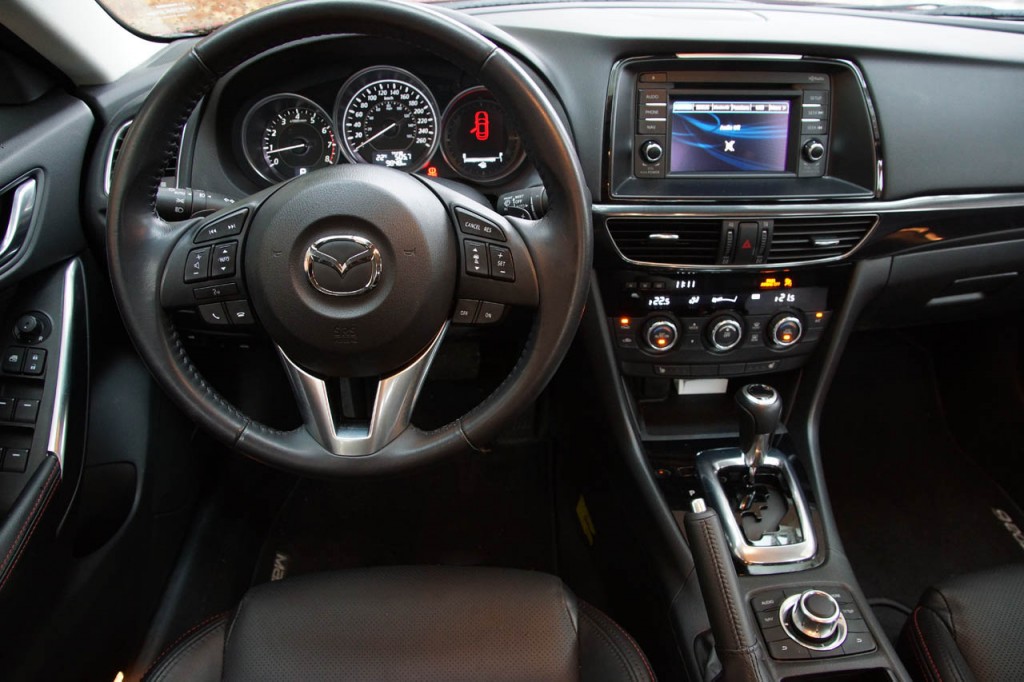 The driving position is low and snug while the driver's seat can be adjusted in many ways to help achieve the optimum posture. The thick leather wrapped steering wheel doesn't only come with most of the controls mounted on it but it is also adjustable for both height and reach. The seats provide good side support and during long journeys they are comfortable enough to keep you strain free.
Visibility despite the low roof line is very good and all the technology package goodies assist in never missing a thing. Of course, they cannot replace your eyes, but they do help a bunch.
The rear seats have adequate headroom even for 6ft+ passengers and the legroom is not bad either. The width of the vehicle isn't the best for throwing a third person in the middle, but occasionally you can with no intense complaints.
The trunk is spacious and shaped well so the 483lt can be fully utilized. If you ever need more space for longer items you will be happy to know that the rear seats are 60/40 foldable.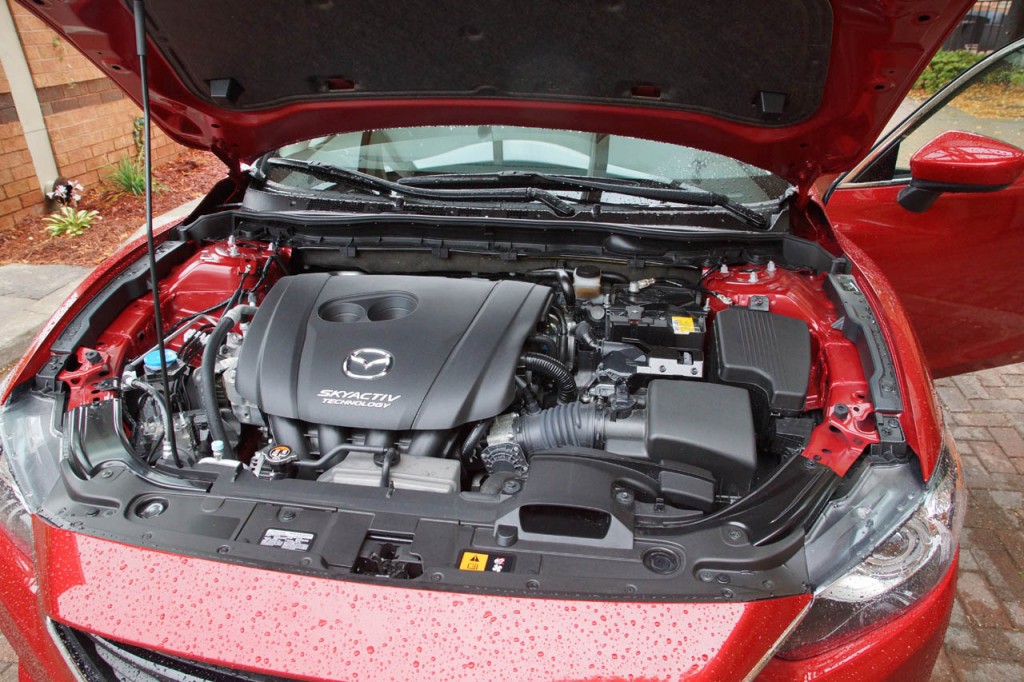 The 2.5lt 4-cylinder SKYACTIV motor, outputs 184 BHP and 185lb-ft of torque and it offers smooth and refined performance. The long gear ratios of the 6-speed automatic gearbox don't exactly complement performance figures but it still sprinted to 100km/h in 9 seconds flat. The paddle shifters are nice to have and work great but the absence of a sport drive (SD) mode is striking. During our test, we averaged 8.6lt/100km which is excellent for a conventional car.
Throttle response is excellent and the SKYACTIV motor is most of the time very smooth and refined, while when revved hard is produces a rather attractive noise. The gearbox is very smooth and has been tuned for optimal fuel economy, so responsiveness at kick-downs is slow if you are not determined.
The suspension layout on the Mazda 6 is amongst the most sophisticated in the class. All-round independent and tuned just a click towards sporty, driving dynamics are definitely a strong selling point. Mazda claim that they race everything they build and when it comes to the Mazda6, I believe them. On a straight line, the Mazda6 remains on track and shoots straight with no need for constant corrections while on twisty back roads it showcases agility and poised cornering. There is little body roll and the steering feels quite good providing enough feedback. Directional inputs are read with precision and the Mazda6 has a playful character. The rear end will not deny going a bit wide to help you steer and even if you exceed the high traction limits controlling the athletic body is done with ease. If you need to come to an abrupt stop, fear not as the brakes can bring the car to a complete stop from 100km/h in just 43m while the brake pedal remains firm and fade free.
Mazda6 comfort levels are impressive particularly in terms of refinement. With the 19" alloys it is a teeny tiny bit on the hard side but that is noticeable only over very sharp bumps. Don't forget this a Mazda and as a Mazda it values handling more than comfort.
It might seem a bit pricey at first, but what you get in return is one of the safest cars you can get (EuroNCAP, 5-stars). Packed with hi-tech gadgets and awesome looks that match its driving dynamics the Mazda6 wins our segment pick.
The Good
Steering
Handling
Looks
Interior
Comfort
Refinement
The Bad
A bit pricey as tested
Packed with hi-tech gadgets and awesome looks that match its driving dynamics the Mazda6 wins our segment pick.