2014 Toyota Corolla LE CVT
Engine
1.8L L4 DOHC 16-valve
Fuel Consumption (City/HW) (lt/100km)
6.8 / 4.9
If I was to show you a picture of the brand new 2014 Toyota Corolla and told you what it was, you would call me a liar. Indeed, when I first saw it, I had a pretty hard time believing it too.
The design might have gone extreme but prices remain down to earth making the Corolla one of the most affordable cars in the compact sedan segment. Prices start at $15,995 for the basic CE while our LE with the CVT and an upgrade package had an MSRP of $21,000 even.
The modern exterior says a lot about what Toyota is trying to achieve here, a complete revamp to the image of its best selling car. Sporty looking with really cool details like the carbon fiber texture, a younger audience is definitely targeted. Inside the cabin, simplicity to accommodate the typical Corolla buyer is combined with a touch of modern to satisfy the youngster that took the bait. Soft to the touch materials are used on the top of the dash to give it that extra quality feel. From that point on, materials get cheaper but at least the fit between them is nice and tight. Ergonomically it is easy to figure out what is where and visibility is best in class. The driving position can be set from very low to quite high, thus suitable for all and the seat despite being basic supports the body well enough.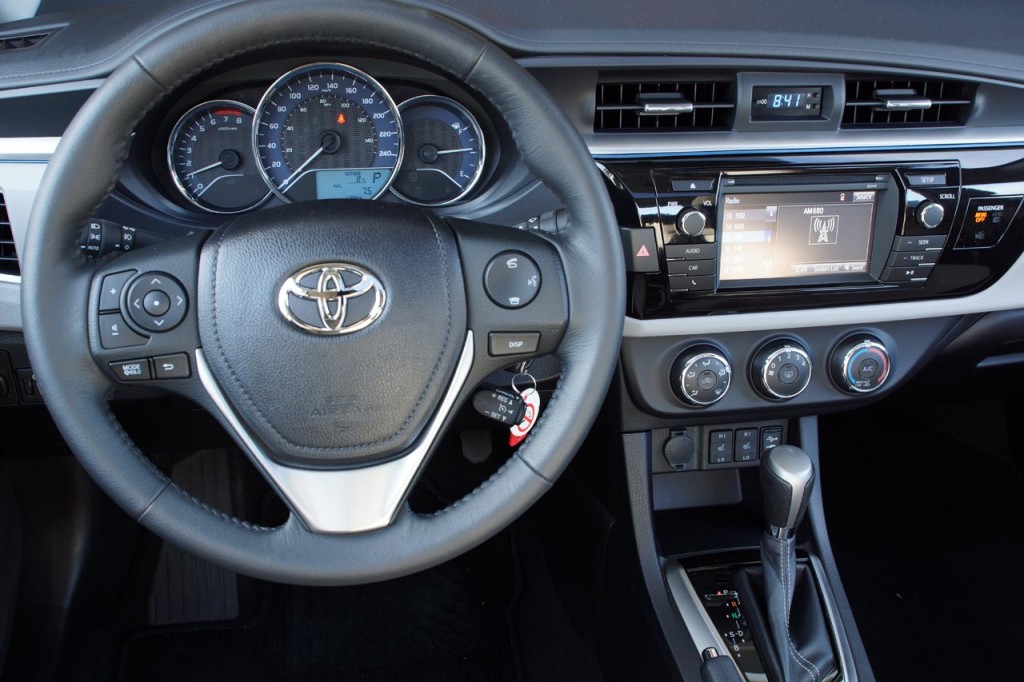 Passengers in the front have ample space while the rear seats are surprisingly roomy and comfortable too. Five adults will fit worry-free and rear facing baby seats will too. The trunk is also capable of eating up your luggage and the low and wide opening helps loading your stuff, while the folding rear seats add practicality points.
Equipment-wise, you get what you'd expect and perhaps a bit more. Antilock brakes, stability and traction control and a full set of airbags are there to save the day, God forbid. Projection headlights, rear view camera, heated seats, air conditioning, cruise control, Bluetooth connectivity, trip computer and the extra upgrade package ($1500) included a nice set of light alloy wheels, leather wrapped steering wheel, fog lamps and the power sunroof.
Under the hood, the 1.8L 4-banger VVT-i motor outputs 132 HP (@6000) and 128 lb-ft (@4400) and is mated to a CVT transmission that isn't horrible. Refined and very good on gas, the heart of the car is remarkably smooth and quiet under normal use. It packs the necessary punch to get you in or out of trouble but gets a little noisy when pushed hard. Zero to 100km/h is completed in 12.1" and on our watch it consumed an average of 7.9lt/100km of regular unleaded.
On the road there is only one way to describe how the Corolla feels; soft. Keeping it affordable and comfortable led to a torsion beam rear suspension that is tuned surprisingly well. Over broken pavement, forces are controlled well and passengers are kept quite happy, most of the time. The steering is crisp and the chubby steering wheel is very nice to grab. One remarkable thing is how low the centre of gravity feels. Tackling corners justifies that feeling, as it will go around much better than you'd think. The rear suspension makes it playful and disabling the stability control can be quite fun as the rear will go wide and help you steer. It doesn't necessarily enjoy being rushed into corners but at least it is sturdy and remains safe. The rear drum brakes might cause pain to your eyeballs but during our test, from 100km/h the car came to a complete stop in 42m, which is better than average while, the brake pedal had a positive feel to it.
Reliability, space, comfort and affordability are now wrapped in very attractive packaging. It is the best Corolla ever made and sales numbers will prove me right for believing so.
The Good
Fuel Economy
Refinement
Comfort
Space
Adjustable Cup Holder
The Bad
Noise when pushed
Cheap materials on lower trim parts
The Best Corolla Ever! But does that say much?