2014 VW Passat TDI Highline
Engine
2.0L L4 Turbo Diesel DOHC 16-valve
100-0km/h (meters)
46m (winter)
Fuel Consumption (City/HW) (lt/100km)
6.9 / 4.8
Yes, I am a diesel-lover. Why? For a very good set of reasons; the modern diesels produce similar power with their petrol versions but deliver a lot more torque. They are usually very quiet on the motorway and use as little fuel as Rob Ford eats vegetables. So, what better car to come in a diesel than the 2014 VW Passat.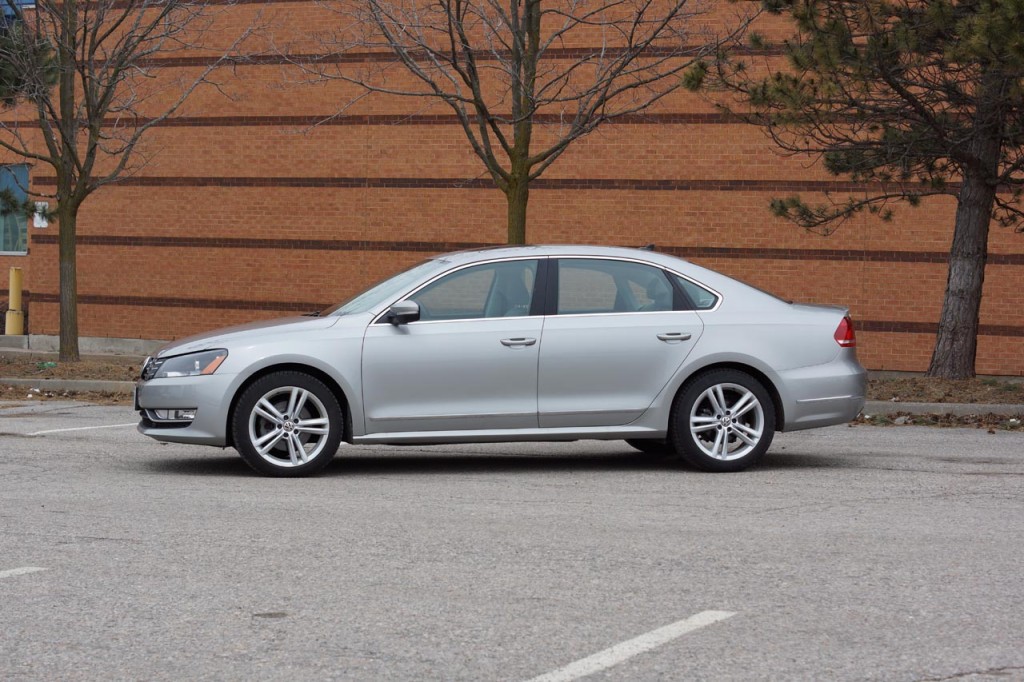 Prices for the TDI line-up start at $26.575 for the 6-speed manual Trendline and go up to $35,150 for the DSG Highline. Our top of the line test vehicle came with the $730 sport package option on top.
The list of features on the Highline is pretty good as it includes keyless entry, a full set of airbags and stability aids, dual zone climate control, moonroof, leather trim, rear view camera, navigation, Fender sound system with satellite radio, Bluetooth connectivity, cruise control, heated front seats, power adjustments, paddle shifters, fog lights and 18" alloys.
The exterior design is another conservative yet good-looking car. It won't be breaking any hearts as it rolls by, but the more technical people will glimpse to the back to check for the TDI badge. Yes, you can of course hear it before you see it.
Inside, the cabin is really spacious and simply laid out. The typical VW group design is the base theme and the expected high quality fit and finish is present. The materials used don't really impress but are a notch better than what you get in most rivals. The ideal driving position is rather easy to find, visibility is good and only the seat support could've been a bit better. Ample space is available for all 5 passengers that can be accommodated with little give. The trunk however falls short, as at 440 L it is smaller than the exterior dimensions could offer.
The TDI 2.0L engine might offer only 140 HP but the torque of 236 lb-ft is V6 territory. Yes, it does clutter a bit on idle but hey, it is a diesel. On the move it is very refined, quiet and pulls really well from idle to about 4k rpm. Passing power is plenty thanks to the torque, and if you are unfamiliar with diesel engines you would've thought that there are a lot more ponies under the hood. 0-100km/h comes in 11.3" but the car feels a lot faster than the number suggests. Also, guess what; pretty economical. Ultra low sulphur diesel is mandatory, but only 6.2lt of it per every 100km you do. The DSG gearbox is amazing; blazing fast and the paddle shifters on the wheel can make you want to speed a little. And don't be fooled, this car picks-up speed faster than you realize.
Refinement is where VW traditionally has its competition and the Passat is no exception. Road and wind noise are well suppressed, rolling quality is all there and comfort too. Over bumps and potholes little is felt and heard as the soft independent suspension works well. The steering has good weight and provides adequate feedback to enable corner tackling. The Passat goes around corners with finesse, poise and an increased sense of safety. It completed our cone slalom test with ease and the only complaint was the brake pedal feel. The brakes though do work well as from 100km/h it came to a complete stop in 46m while on winter tires.
The TDI Passat is the safe bet for the buyer. Fuel economy is truly amazing, refinement levels are top of the class and space and comfort are nearly as good as it gets.  So if buyer's remorse is something you fear, just get a 2014 VW Passat TDI.
The Good
Comfort
Refinement
DSG Gearbox
Fuel Economy
The Bad
Vibrations at idle
The comfortable and spacious Passat combined with the excellent TDI engine is a wonderful and sensible package.