Torque
295 lb-ft @ 2500-4400
Fuel Consumption (City/HW) (lt/100km)
12.4 / 8.7
It was 2009 when the project managers at GM started entertaining the idea of making a new Buick Regal. At that point, they looked across the atlantic and thought that the Opel Insignia would be a great place to start building the Regal. Actually, it turned out to be so good, that they only bothered changing the badge.
The odd thing about this decision was that prior to that, the initial thoughts were to sell the Insignia as a Saturn Aura above the (also Opel) Astra. So the question here is; was it  too good to be a Saturn or was it not mature enough at that time to be a Buick? Well, the answer to that question, has much to do with Buick's turn towards younger audiences.
In Europe, the Insignia is targeting young family men (and women), that seek a good mixture of sportiness, reliability and comfort. By tapping on the Buick badge, the firm is hoping to do the same thing in North America, but with one major burden to overcome; "Buick is for the elderly, Opel is not". So what we really need to find out is if the Insignia with the Buick badge is attractive enough for the young North American executive.
To achieve that, the exterior needed to be modern and as such the Insignia is a good fit since it has absolutely nothing "old" Buick about it. Hide the badge and ask someone to guess the brand and I am sure "Buick" will be about the 40th guess. Inside, despite the use of a brown colour similar to that of your grandpa's old couch and the wood trim that looks like peel from an antique dining table, it still fails to look like an old man's car.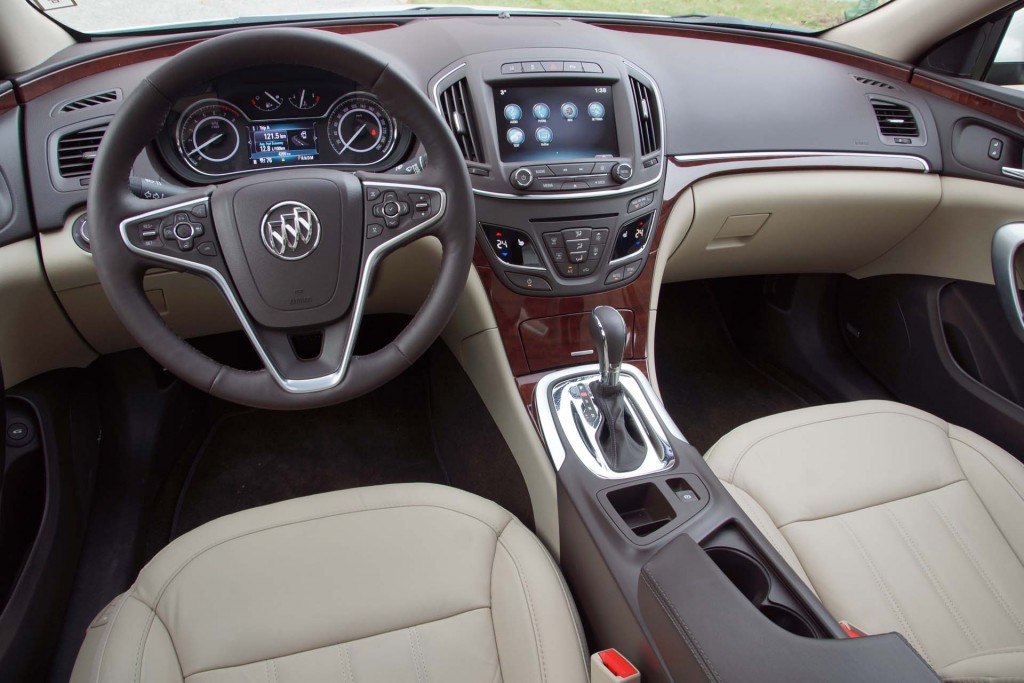 The interior is not only more modern with a hint of luxury, it is also very roomy and practical. It comes with features unheard of in a Buick; keyless entry, adaptive cruise control, forward collision alert, remote starter, rear view camera, BI-Xenon headlights, dual zone climate control, blind spot monitors, lane departure warning, sunroof and 18″ chrome plated alloy wheels. The front seats come with plenty of shoulder room and headroom, while the back seats are very comfortable as well. Three adults will fit with the appropriate levels of squish-understanding, while the centre tunnel for the rear axles does not invade the cabin too much. The trunk is also a respectable 402 L and has a descent opening for loading larger items. Points added for the 60:40 folding rear seats.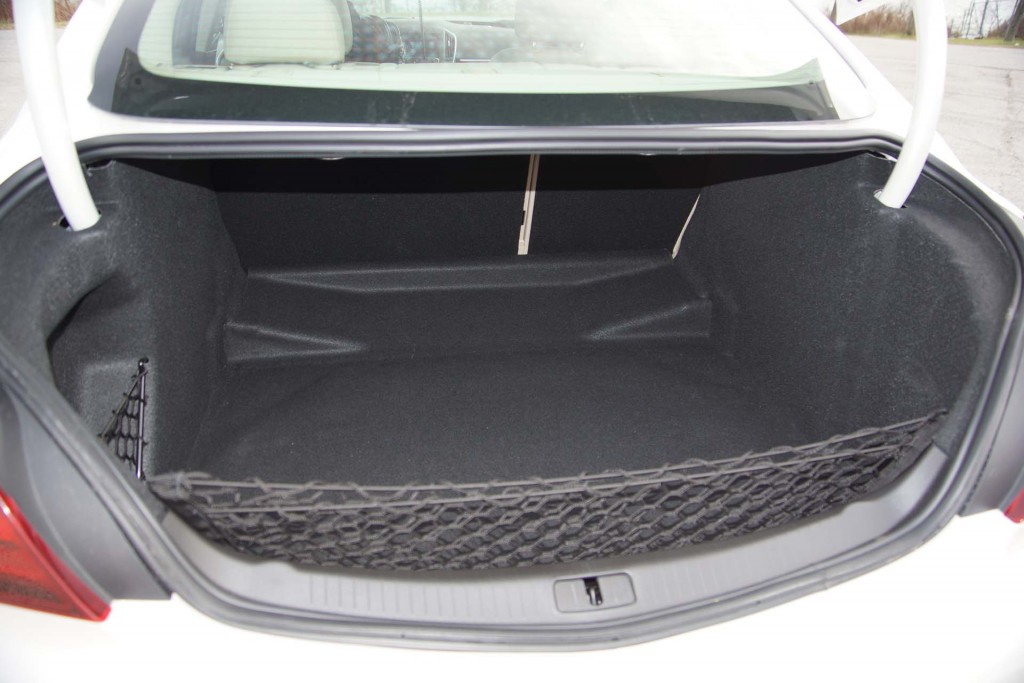 Fire it up, and it is then when you are really convinced that this car has landed under the Buick brand by a total fluke. It's got a turbo for God's sake and OMG does it go! Under the hood, there is an angry 2.0L Turbo 4-cylinder sending 259 HP and 295 lb-ft of torque to all four wheels. Mated to a smooth good old fashioned 6-speed automatic gearbox, performance is good, and at times, even a bit thrilling. 0-100km/h comes in 9.1" (vs claimed 0-60 in 6.8″) but the spirited motor is let down by the relaxed and comfort oriented 6-speed automatic gearbox. The brakes bite well and bring the car to a confident stop in just 43m from 100km/h. Driving fast, of course makes a dent in fuel economy, but drive it sensibly and expect a combined average of about 11.5lt/100km.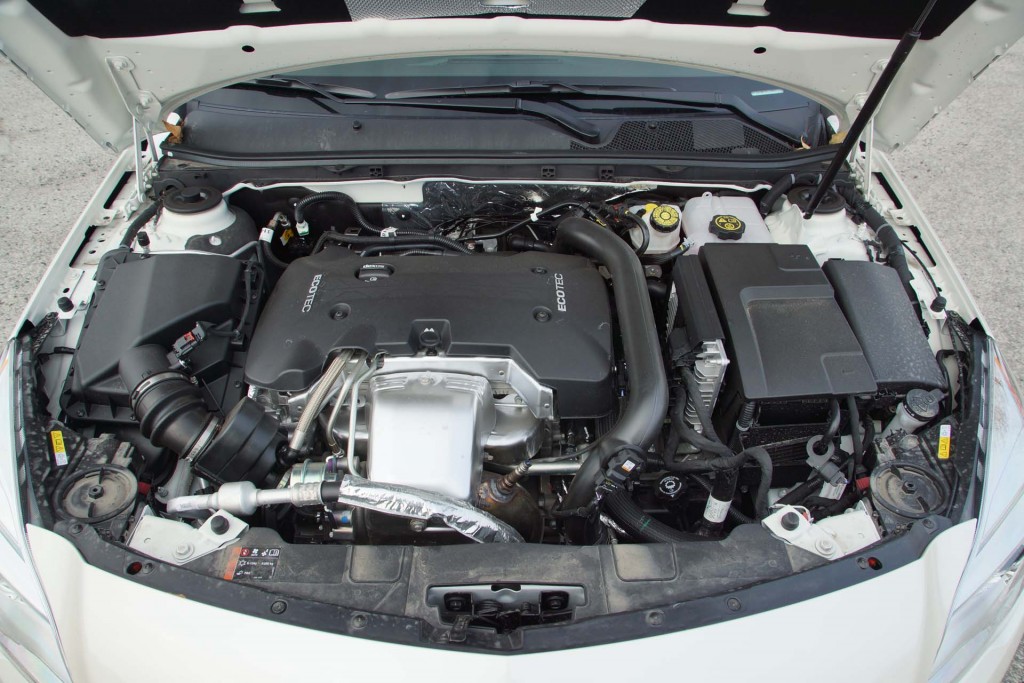 The drive, is not super soft, after all, there is some good power it needs to be able to handle and as such, it is stiffer than your typical Buick but still manages to feel pleasant and composed. The big wheels bounce over road defects very quietly, increasing the sense of comfort, while only some really sharp joints will create a thump that reaches your bottom. On the highway however there is significant wind noise that can become annoying on a windy day. The front high performance struts have a good effect on the steering, which unlike what we've come to know, feels well weighted and rather sporty. Actually, knowing it is an Opel, it is not a really big surprise.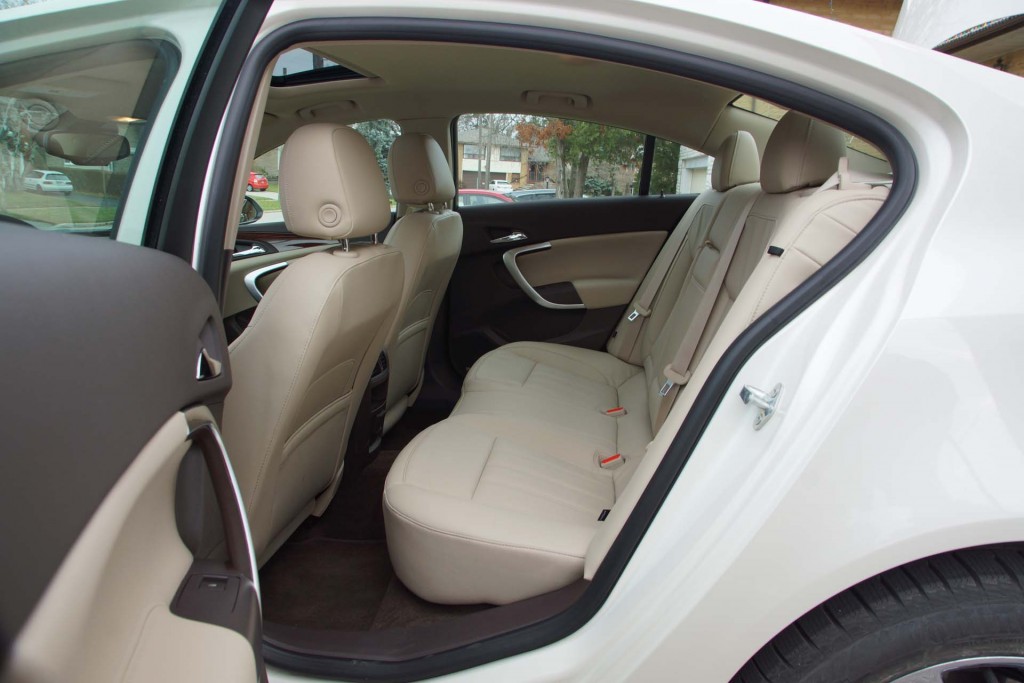 Turning in to a corner is a very involving and direct procedure, the car grips a lot and leans just a little, while exceeding its grip limits leads to progressive understeer that can be controlled easily via the good steering and AWD system. With a quicker transmission and seats with more side support, we would've been talking about a quite sporty sedan, but as is, it is just competent and agile without breaking grounds.
The 2015 Buick Regal is an easy car to like as for just $39,645 you get a very good car that is feature rich. As tested it was pretty expensive ($46,020) but the new age Buick that is no longer boring as hell and the cup holders can be for an iced-cap instead of meds. In a way, it feels like Pope Francis; you know he is the Pope but he is surprisingly cool. And he comes with AWD. 🙂
The Good
Handling
Steering
Features
Design
The Bad
Some minor finish issues
Colour theme inside
Hesitation off the line
Heavy
Do not be surprised when your gramps comes back from the dealer and gives the brochure to you.