Fuel Consumption (City/HW) (lt/100km)
8.8/6.6
This year we were really hoping the Toronto Maple Leafs would make the playoffs. But well, let's face it; they are just a team that's built to make money and return no joy. Nissan however took a different approach while making a car that came to me with the maple leaf on its roof. They made a car that in my opinion puts the maple leaf in a winning spot; in the sub compact segment of the auto industry that is. The fuss is about the all-new 2015 Nissan Micra, which is the cheapest car you can buy in Canada.
Starting at a price point of $9,998 this car really is a no brainer and puts whoever is in the driver seat in a very nimble and quality automobile. The car that was tested was the 2015 Micra KROM edition which features chrome accented side mirrors, chrome door handles, silver accented interior and enough features that provide the necessities of driving at a price of $15,496. The KROM trim package gets you the following features:
heated driver and passenger side mirrors
Bluetooth telephone connectivity
iPod interface
15" wheels
cruise control
power windows/locks
air conditioning
quality cloth interior that's not cheap looking
remote keyless entry
4 speed automatic transmission
Nissan really made styling key as the new exterior design was inspired by its European city car heritage with an aggressive and sporty new design. By no means does it look like the cheapest car in Canada, it is cute and not overly designed, keeping a nice balance between curvy, modern and functional.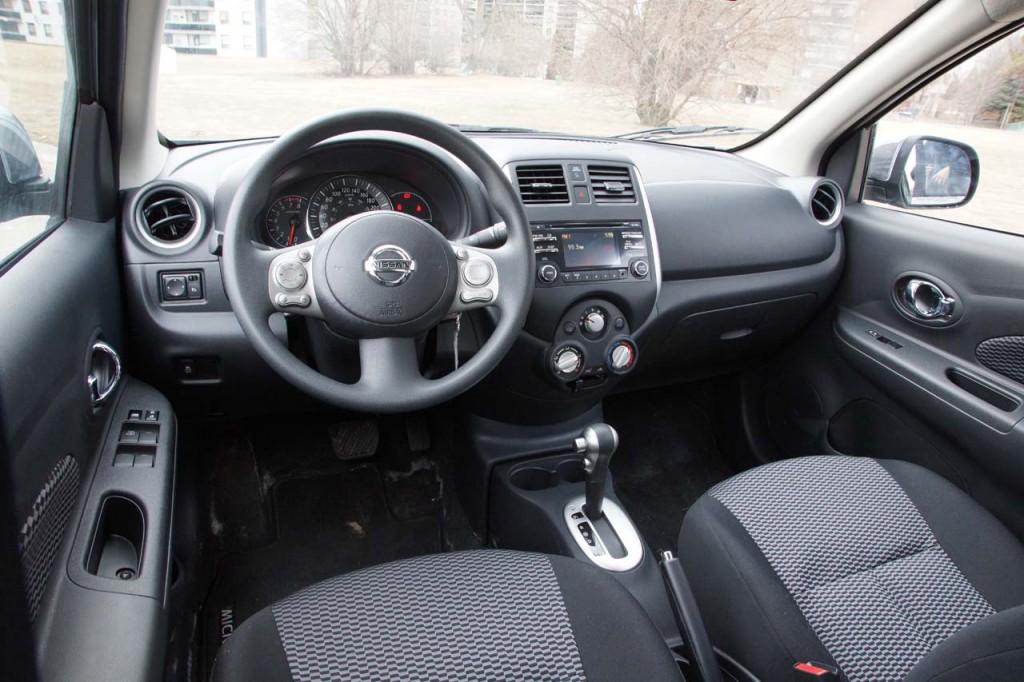 I must admit that initially, tall guys won't really appreciate this car much. I am 6'2" tall but oddly enough, I did find myself able to find a fairly comfortable driving position after a few attempts and even managed to have the right amount of space between me and the dash while keeping enough space for my head. Families may even consider using a car like this as a daily babysitter drop off and pickup car as I installed a 3 in 1 baby seat as well as a booster for my 5 year old without any issue. Behind me, my 1 year old had no gap to spare as I took essentially all the room Nissan engineered into this car.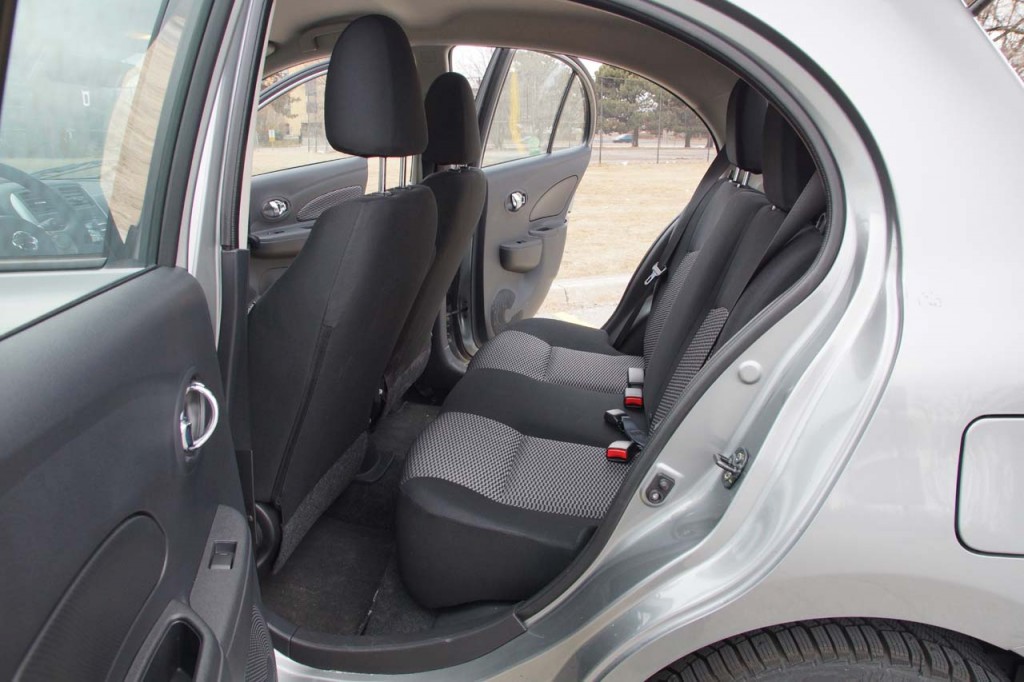 Environment, entertainment and other vehicle controls were really easy to find and easy to operate, visibility in the cockpit was very good with minimal areas blocking the driver's view (if any), and I must say the seats were comfortable as well as trimmed in a neat fabric. Fit and finish was pretty good with hard plastic used everywhere in the interior but squeaks and rattles are not something you will hear much while driving this car. Come to think of it, you really wont notice a lot of exterior noise in general in the Micra thanks to an acoustic windshield that Nissan has put standard on all models. Trunk space is something disappointing when you have 2 rear passengers in the car as you really only get 265 L of cargo space with the seats up but with the seats down and nobody in the rear seats, you can get an abundant 819.5 L.
The Micra sports a 1.6-litre DOHC 4-cylinder engine with dual fuel injection and Twin CVTC motor capable of producing 109 HP and 107 lb-ft torque. It comes in a standard 5 speed manual transmission (which I think would have been a lot more fun to drive) however the KROM edition I drove had the available 4-speed automatic gear box which was still kind of fun to drive. This is all you're getting in this little car but lets be realistic here… that's all you need with the power to weight ratio Nissan has designed. Performance in a car this size was oddly surprising overall as the Micra had plenty of power to move around without any difficulties and honestly felt fun to drive. Throttle response was lively and quick and was able to get you from 0–100km/h in 11.8 seconds while at the same time bring you to a dead stop within 47m from the same speed. Braking felt very confident and the steering wheel was light and easy to handle but felt disconnected from the car when you're really pressing the gas. The wheel maintained a light and easy turn feel throughout no matter how you drive, which to me wasn't enough in terms of feedback. For manoeuvring the car it was fine, and overall felt effortless and comfortable to drive. If you're into fuel efficiency stuff and are looking to see what fuel economy was like well you won't be surprised to hear that I achieved 7.9L/100km while driving as my usual led-footed self.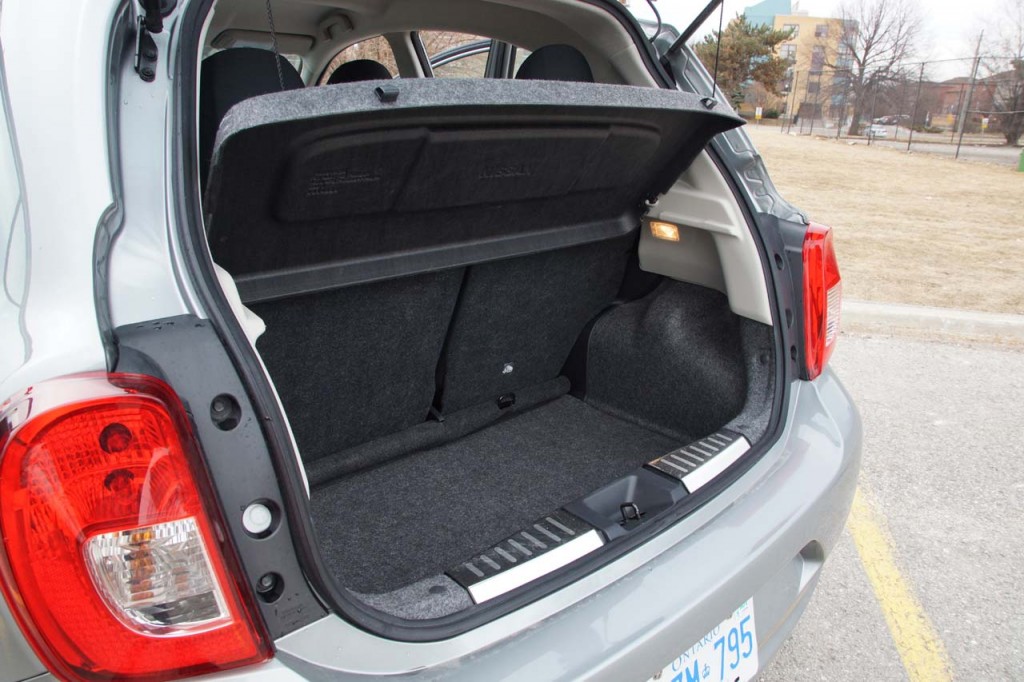 Despite the price point of the car, Nissan definitely didn't cheap out on putting together a quality car for us to enjoy. The suspension handled rough terrain surprisingly well for a car in this class thanks to Nissans proven V-Platform. They extended the wheelbase by putting the wheels at the furthest corners of the vehicle, which improved handling and control. Bumps were not very noticeable and cornering was pretty solid as the little Micra kept its ground with the aids only kicking in when needed.
So what's the final word here? You absolutely cannot beat the value Nissan has dropped into this car and it really shows. The car is fun to drive, cheap on the pocket book, has plenty of features, and nice to look at. Mission accomplished Nissan!
The Good
Fun to drive
Fuel Economy
Price
All the essentials are there
The Bad
Questionable value at higher trim levels
It's Canada's cheapest car, but it's a good one!