Fuel Consumption (City/HW) (lt/100km)
All electric 2.3/2.5
All gas 6.7/5.9
It was around Christmas time, back in 2010, when the world was presented with a revolutionary -series hybrid- vehicle that implemented the simplest idea ever; having a range extender generator onboard. As all EVs have the same range problem, some manufacturers went the plug-in hybrid way, while GM went the range extender way. The two ideas are almost the same, but with one significant difference. The Volt's gas engine never powers the wheels directly. It only generates electricity.
In a nutshell, there is a 149 HP electric motor that is also good for 273 lb-ft of torque right from the get-go. That translates to good pulling power at all times. On board, is also a 55kW motor (generator) which in turn is hooked up to a 1.4L gas engine (84hp) that produces the power. The 17.1KWH battery system weighs almost 200 kg on its own, so together with the three motors the total weight of this otherwise compact car is a massive 1,717 kg! Thankfully, most of it is near to the ground, so the centre of gravity is kept low.
At first glimpse, the Volt surely looks different but does not stand out as much as a fly in milk. It blends in nicely with whatever the backdrop is and it only attracts attention from people that know what it is. The number of thumbs up you get in this exceeds all expectations and that alone makes you feel cool, I must confess.
Inside the cabin, the trim on the dash could easily be recycled Imperial Stormtrooper armour with lots of touch sensitive buttons. The theme was clearly Camaro meets Star Wars and in my eyes, it looks quite nice. The instrument cluster is all digital and shown through a LCD display and there are many buttons to touch on the centre console, at the top of which another LCD screen is found. The second screen is touch enabled and is home to all the MyLink Infotainment stuff, navigation and trip information. The gear lever is a bit funny as it feels and looks like you are pulling on the Stormtrooper's private parts so for the first time ever I found myself not resting my hand there. The materials used look better than they feel, but thankfully fit and finish are well done, as in such a quiet car, every squeak or rattle would drill through your ears.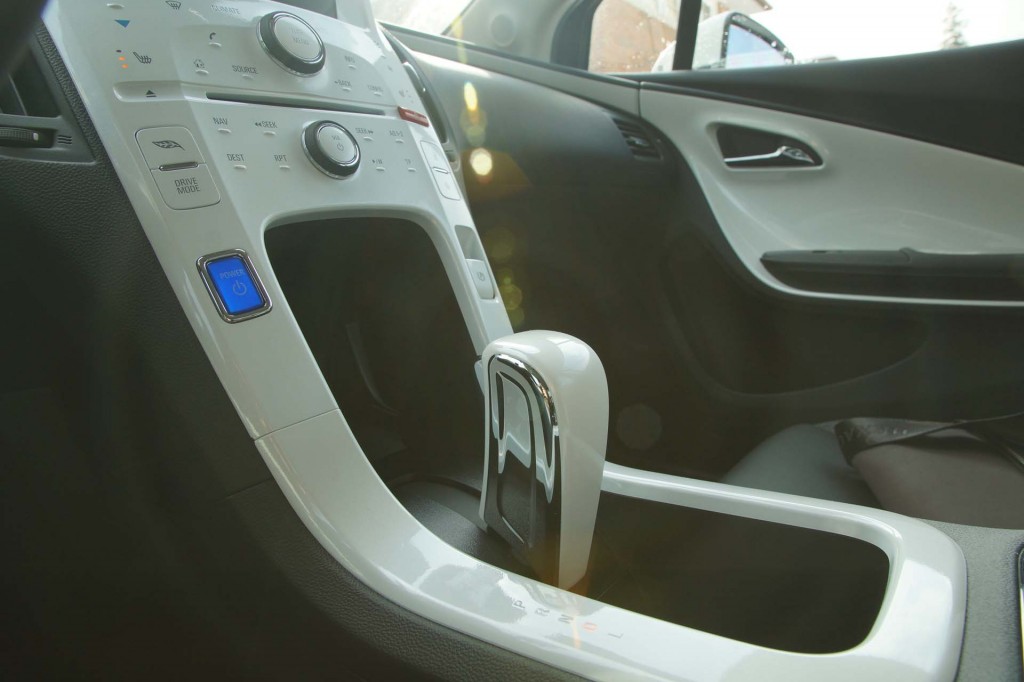 The features onboard are quite many, this is after all a futuristic vehicle and in terms of technology it needs to impress. As standard, the Volt costs $37,195 and comes equipped with the MyLink 7" infotainment system with USB, Bluetooth and voice control, satellite radio, dual zone auto climate control, cruise control, remote starter, 8 airbags, stability control, auto headlights, 17" alloys, pedestrian friendly alert, keyless entry, heated front seats, tire pressure monitor, leather steering wheel, tilt and telescopic steering adjustment and four driving modes (normal, sport, mountain and hold). Our test vehicle came equipped with some extra toys, including leather seats, tricoat pearl paint, navigation, parking sensors, rear view camera, a mighty Bose sound system, forward collision alert and lane departure control reaching a total of $42,350.
Expensive yes, but remember, you do get the rebate for driving "green", you also get the green plate which allows you to drive in most HOV lanes at all times. A vehicle like the volt is really more of a statement rather than cost effective transportation. Not that there is no financial benefit when operating a Volt, but it really depends on how much and where you drive it. Doing the math for my typical commute, led to the conclusion that for the week I spent with the Volt I used 16L of (premium!) gas for driving 280km (in -10C to -25C temperatures!). In the mean time, I also charged it 4 times fully while off peak rates were in effect, which cost an additional $5,30. So roughly $22 dollars for 280km; wouldn't a Mazda 3 be able to match that? A Golf TDI would even beat it.
I am not suggesting that the Volt is a pointless car, quite the opposite really, but it really needs to match you commute characteristics and most importantly, schedule. If you are planning to exceed its electric range (40km in winter, 60km in summer) on a regular basis, then it depends by how much to be able to classify a Volt purchase as reasonable or not. The cost seems to increase geometrically once you start exceeding its range. For example, if on average you plan to drive 50km every weekday and you're able to fully charge it off peak every night, it will cost you about $300-$400 per year to get you about. That is dead cheap. However, if you plan to drive 100km a day, the cost is tripled.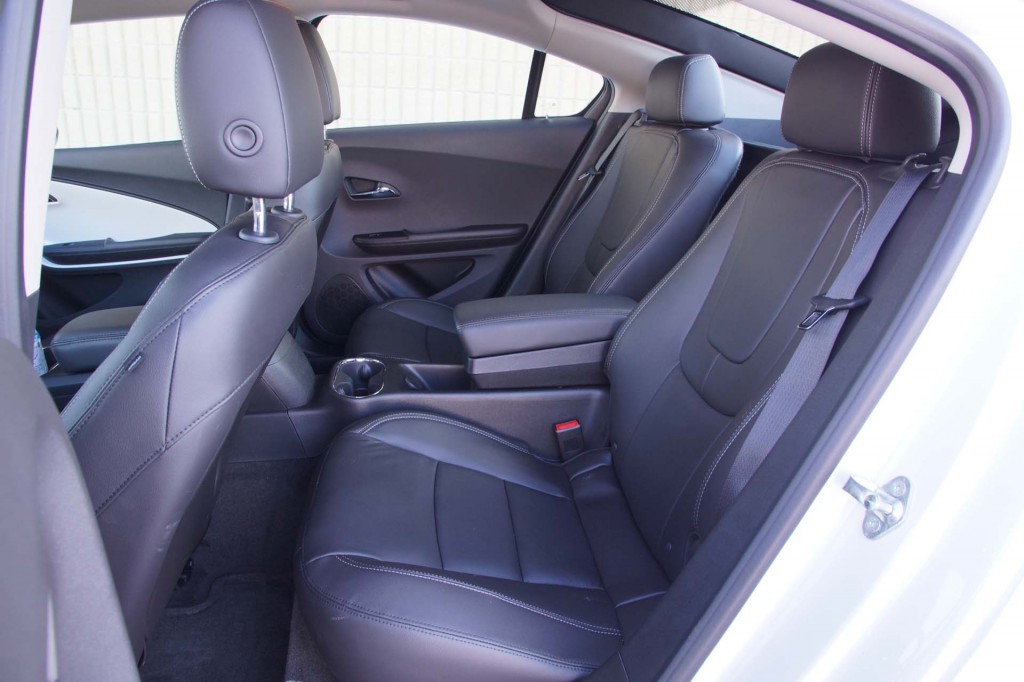 And to be honest, the Volt is not the most spacious car on the market, not at that price point at least. The rear seats are strictly for two, and those two can't be really tall. Also, the trunk, while adequate (300L) is not even the better in class.
What the Volt is really good at though is warm up times in winter as the car heats up really quickly. Despite testing the car in temperatures as low as -25C, the Volt never seemed to be affected, as everything worked like clockwork.
The biggest advantage of this car, is the astonishing refinement and zero vibration feel while driving on battery power. It is absolutely silent, pulls quite well and the rolling quality is incredible. In sport mode, it will hit 100km/h in 10 seconds and on to its top speed of 160km/h, not bad for such a car. Handling is pretty grippy and surefooted, but the steering has absolutely no feedback making it not interesting to drive fast through corners. Also, the brakes fade quite quickly which is a reminder that this is no sports car. From 100km/h, our first attempt scored 47m, which was the best one in these appalling conditions.
With 8 years warranty on the battery system and electric motors there is little to worry about. The Volt will be a trouble free vehicle to have as its great reliability records have shown so far. It is pricey and in some ways offers less than an equivalent regular compact sedan, but the serenity it fills your soul with is well worth it.
The Good
Quiet Ride
Comfortable Suspension
Conditionally cheap to run
Feels Futuristic
The Bad
Remote Starter fires up the gas engine even when plugged in
In extreme cold, the gas engine turns on
Slow charging times over 110V (10-17h)
Rear seats are too tight
If it suits your life style it is the most serene way to go about. If not, don't bother.