Fuel Consumption (City/HW) (lt/100km)
17.3/10.5
The word "Genesis" derives from the ancient Greek word "Gennisis" which was the title of the "Old Testament's" first chapter, only because it refers to the creation, the birth, the initialization of existence for the world. Hyundai clearly is trying to spread the word of their new spectacular line of cars branded as "the new birth".
The second generation Genesis sedan, is only available with the HTRAC All-Wheel-Drive system in Canada but with a choice between two engines. A mighty 311HP 3.8L V6 mated to the 8-Speed transmission is the entry-level powertrain available in three trim levels (Premium $43,000, Luxury $48,000, Technology $53,000). The top of the line "Ultimate" comes heavily loaded and with a V8 under the hood. That is right, a 5.0L V8.
It might seem a bit pricey at first, but $62,000 is significantly less than any other full-size sedan with a V8 in it. People would wonder how, so lets try to find out what potential owners will missing out on if this is what they get.
Is it smaller than others?
At 4,990mm long and with a wheelbase of 3,010mm, it is not the smallest in the class by any means. It has a generous trunk (483L), very spacious rear seats and royal sized front seats. So it is not less for less, that's for sure.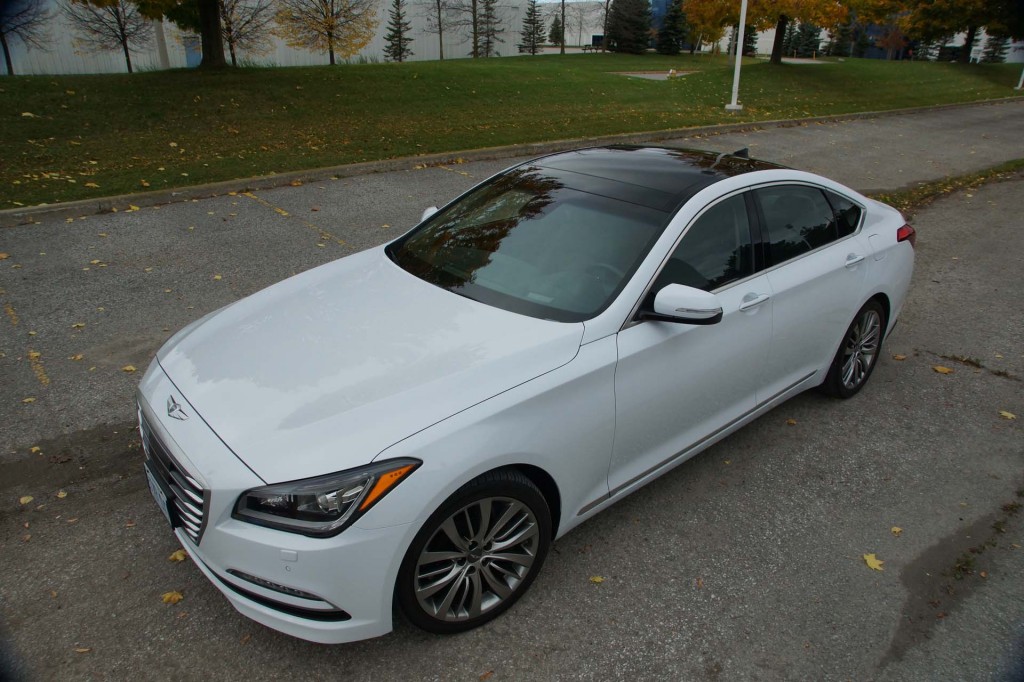 Is it cheaply made?
Acoustically reinforced glass has been used to create a quiet cabin, which in turn is trimmed in very high quality materials that are mostly soft to the touch and very well put together. Luxurious touches include very high quality leather, open pour wood and polished aluminum accents. All buttons, knobs and stalks feel very nice and even the doors produce a nice "thump" when closed. So no, it is not cheaply made at all.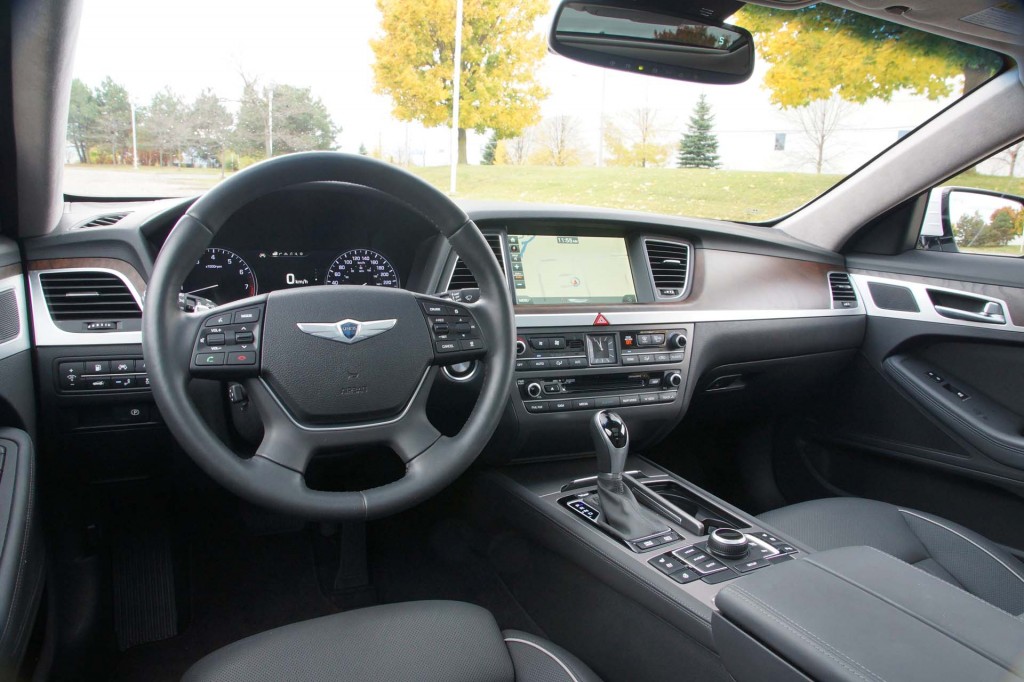 Is it down on equipment?
Oh boy, get ready for this; the list is really-really long. It comes with leather heated and ventilated seats, power adjustable seats and steering column, heads-up-display, adaptive cruise control, automatic climate control with three zones, sat-nav and radio, lane departure control, stability control, collision warning, blind spot monitors, rear view camera, power tailgate, a soccer team of airbags and so much more. So, no, it is actually much better equipped than its rivals.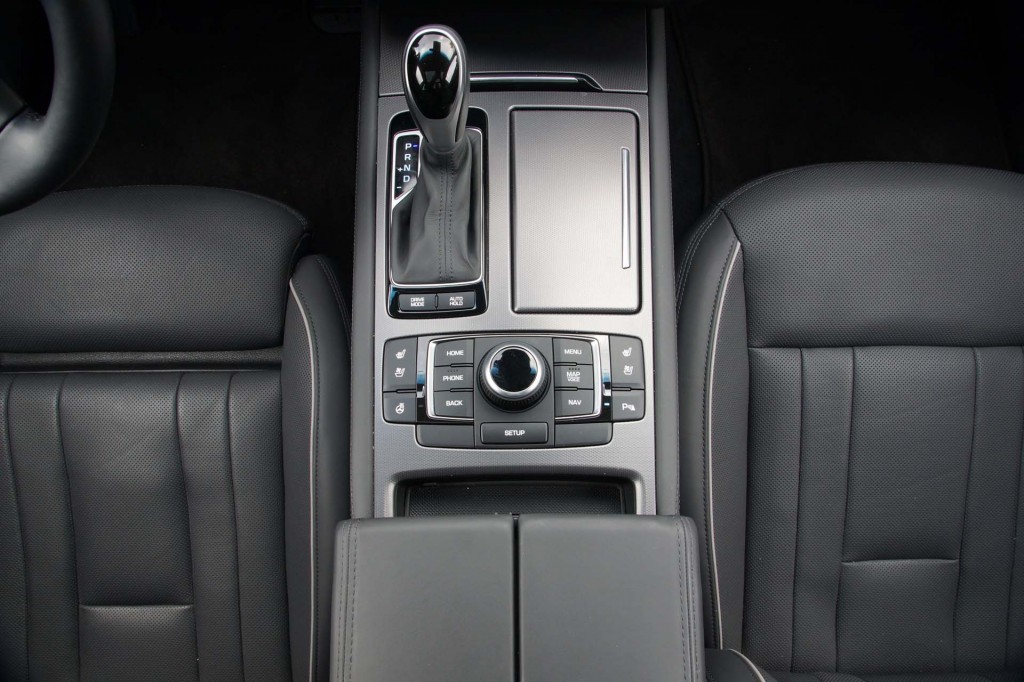 Is it not that good to drive?
Around town, in ECO or Normal mode, it is one of the most refined automobiles you can ever drive. Quiet above all, it takes you from A to B before you even know it. It feels like it has legs a mile long each, and each step it takes brings you so much closer to your destination. Effortlessly and with really elegant style, the chassis goes over bumps without breaking a sweat, even if there is a whole army of them lined up and ready to attack the shocks. The sense of plush comfort owes more to the silent damping than the soft setup. Switch the drive mode to sport and the active suspension firms up, allowing the chassis to showcase some very descent dynamics. The steering has a positive feel to it, turn in is sharp, willing and surprisingly athletic. Mid-turn, the body is controlled well, while the amounts of lean are moderate and do not put-off the driver. Exceeding its grip limits, which are pretty high, will immediately trigger the stability control that fires to the outer front wheel first, proof of preventing oversteer about to happen. We had the opportunity to test the RWD version on the track and found the dynamics very good, almost as good as a 5-Series BMW or Cadillac CTS.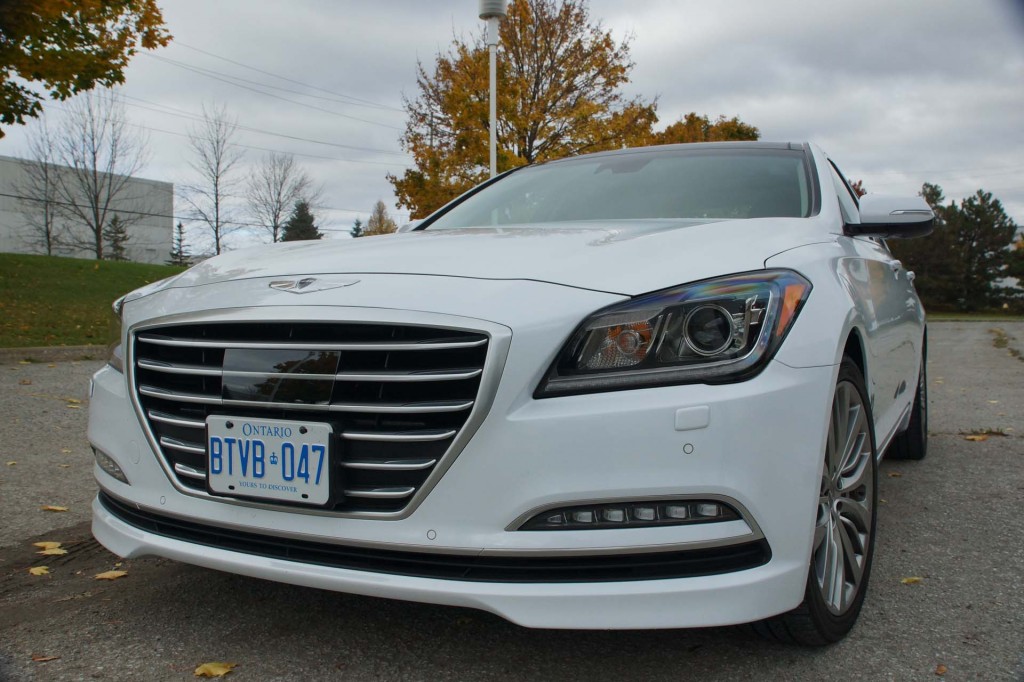 Is the drivetrain not as good?
The 5.0L Tau V8 is one of the quietest and smoothest V8 in the market today. It is quite powerful too, 420 HP is an impressive number, but the 383 lb-ft of torque is not. There is no active cylinder management, nor any auto/start stop system either. There is an ECO mode than numbs up the throttle, but that doesn't really help when you are idling in traffic. The result is a little higher fuel consumption numbers compared to the class leaders, but really, who cares? Performance is blistering, 0-100km/h comes in 6.6" and despite the 2,126kg the body weighs, it is safe to say that this sedan is a darn fast one. The 8-speed automatic gearbox comes with a set of paddle shifters behind the wheel and in general, it works very well. It might not be blazing fast but it is double cream smooth and always performs the desired way.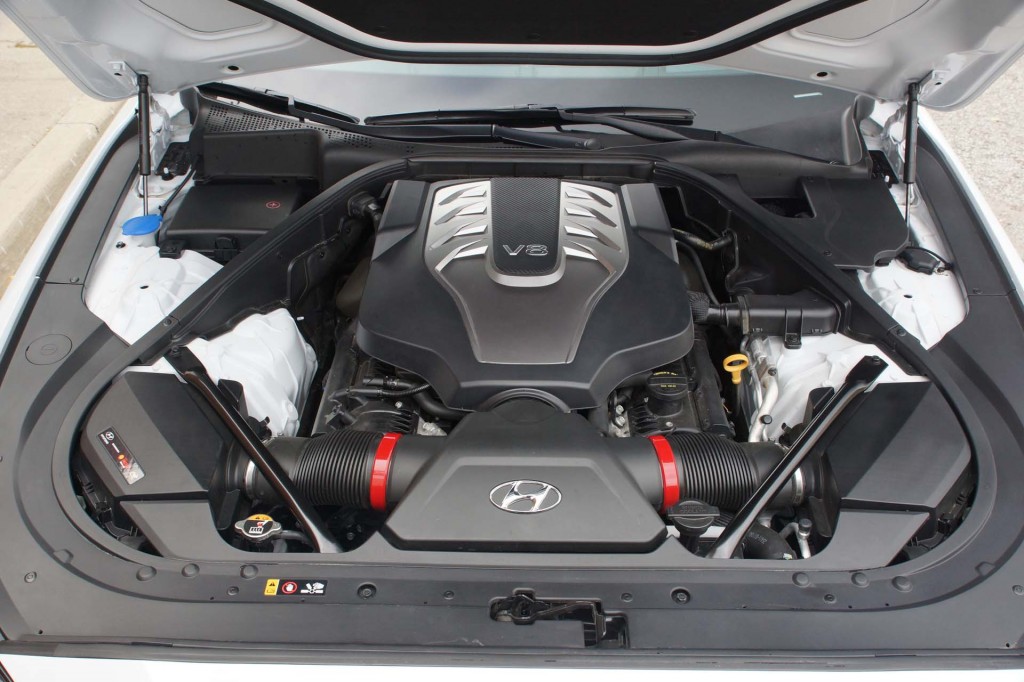 So you are telling me that this car is amazing?
Yes. It is. If you can convince your self that the Hyundai badge is a badge you can live with after spending quite a serious amount of money, this car will deliver and exceed all your expectations. It is only a matter of time till people learn about it. It is real. It is here.
It is our Car of The Year!
The Good
Luxurious Interior
Space
Comfort
Handling
Refinement
Build Quality
The Bad
Thirsty Engine
Heavy
2014 Car of The Year. Need I say more? Brilliant!