Horsepower
175 hp @ 5800 rpm
Torque
174 lb-ft @ 4000 rpm
Transmission
Lineartronic® CVT
100-0km/h (meters)
43 (winter tires)
Fuel Consumption (City/HW) (lt/100km)
9.0/6.5
One of the most discrete comebacks this year has been the replacement of the Subaru Legacy. It comes so drastically improved producing a bang heard by everyone. It was probably one "big bang" of the year.  And I refer to it as a "big bang" simply because the new model is so good, it was voted by AJAC as "best sedan below $30k". Our test vehicle might be more than $30k, but packed with every possible option it remains not far from that price point. At $32,395, our top of the line 4-cylinder 2.5i Limited Package with Technology Option is outstanding value for money.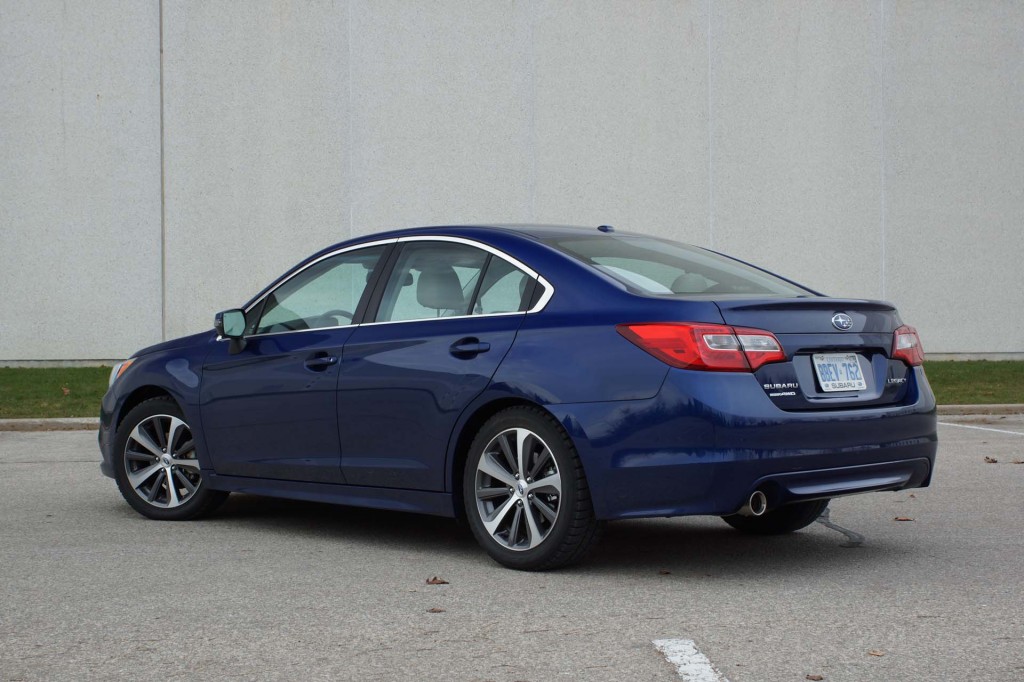 One of the biggest problems Subaru models have always had is that they felt old despite being brand new models. This one however, feels ahead of its time. In fact, it even got the "Top Safety Pick+" award from the IIHS.
Our top of the line 4-banger test vehicle, came with blind spot monitors, Vehicle Dynamics Control with Active Torque Vectoring, EyeSight® Advanced Driver Assist system that includes adaptive cruise control, pre-collision braking, pre-collision throttle management and lane departure warning. The cabin is trimmed in high quality leather, the front seats are power adjustable, while both front and rear seats are heated. Dual zone climate control with voice control is standard and right above it is the very good infotainment system with bluetooth, USB and navigation. Out of everything, surprisingly good is the navigation with the live SiriusXM traffic. It managed to route me around some horrible QEW traffic and saved me at least 20 minutes of travel time.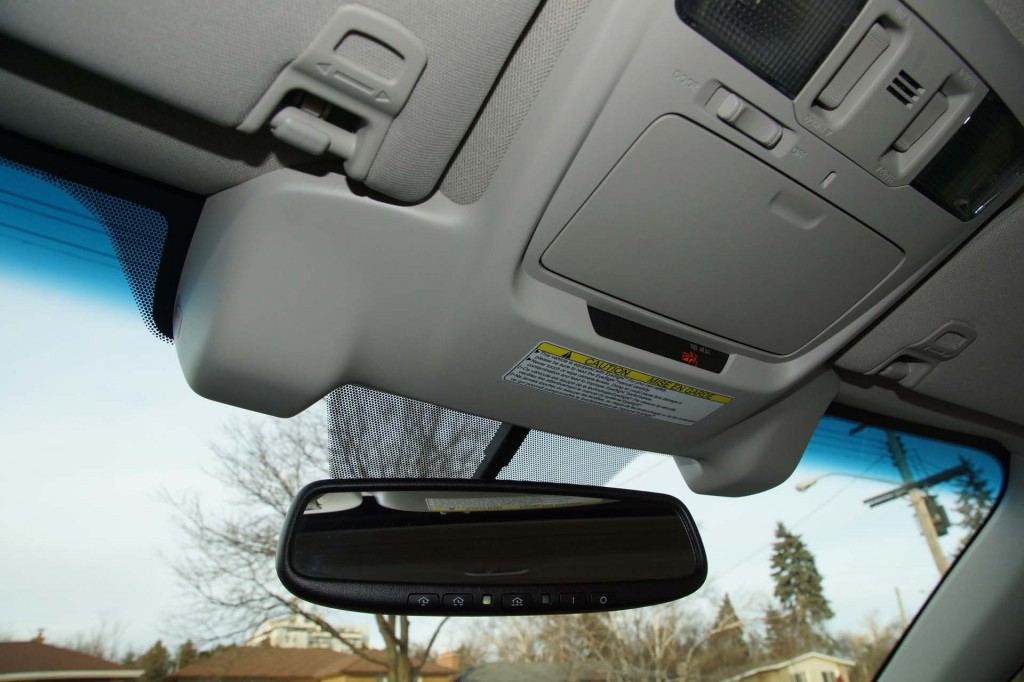 All that technology is packaged in a very good looking sedan, with a deep front grille and sleek side lines and slopped roofline. It kind of looks like the 2015 Hyundai Genesis, which I like very much, so when it comes to looks, I must say that it definitely agrees with me. Opening the door and making your self comfy in the 10-way power adjustable seat comes with another surprise. A very modern and good looking interior. "Finally!" was the first word that popped into my head coming face to face with the Legacy's dashboard. And it is not only pretty, it is very well made, with extensive use of soft to the touch materials, extra plush arm rests and tight fit and smooth finish. The round dials on the instrument cluster illuminate blue and surround a colour LCD display which shows all the useful things regarding your drive, like the trip computer readings, safety warnings and navigation. Subaru made this Legacy so modern, they even decided to fit it with the one touch turn signal stalk!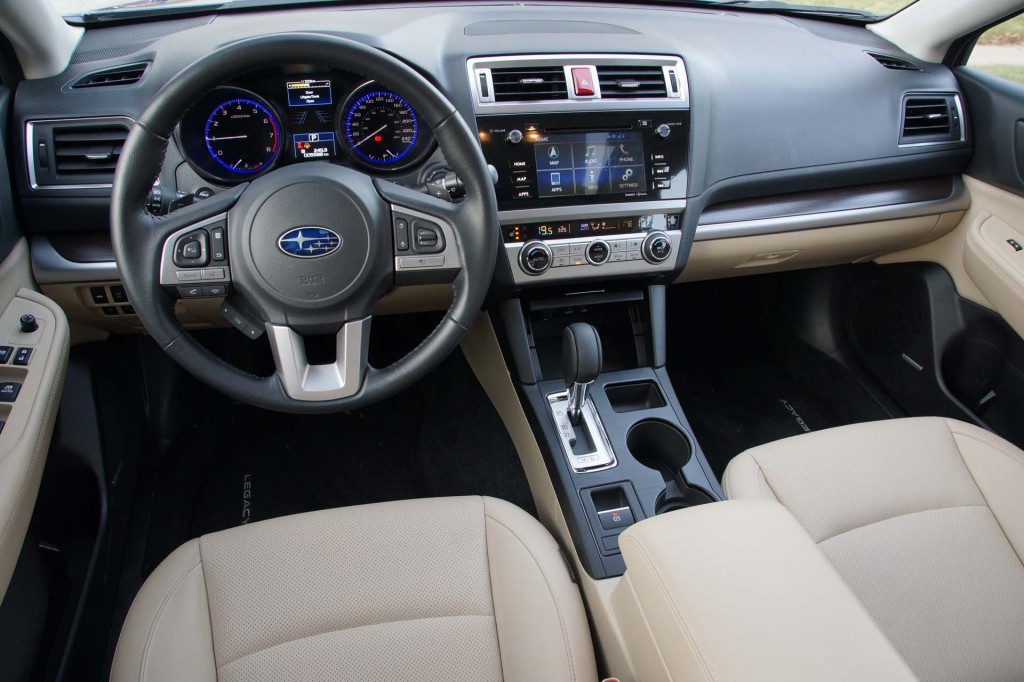 For all you family people out there, there is more good news to come, as the Legacy is one of the roomiest sedans in its class. Driver and passenger have plenty of room to their disposal, the seats are comfortable and supportive enough and the good visibility adds to the airy feeling up front. The rear, offers very generous legroom and more than adequate headroom, while the available width is capable of hosting three adults with minimal compromises. There is of course a centre tunnel as the rear wheels need to be hooked up to the drivetrain, but that is not enough to ruin the comfort of the back seats. The trunk has a really well shaped opening allowing easy loading, but at 425L it is only average for the class. Keeping in mind though that Subaru engineers had to also fit axles, differentials and the multilink suspension, i'd have to say that they did a great packing job still offering very descent cargo volume. Keep in mind, you can always fold the rear seat in a 60:40 configuration for extra loading space.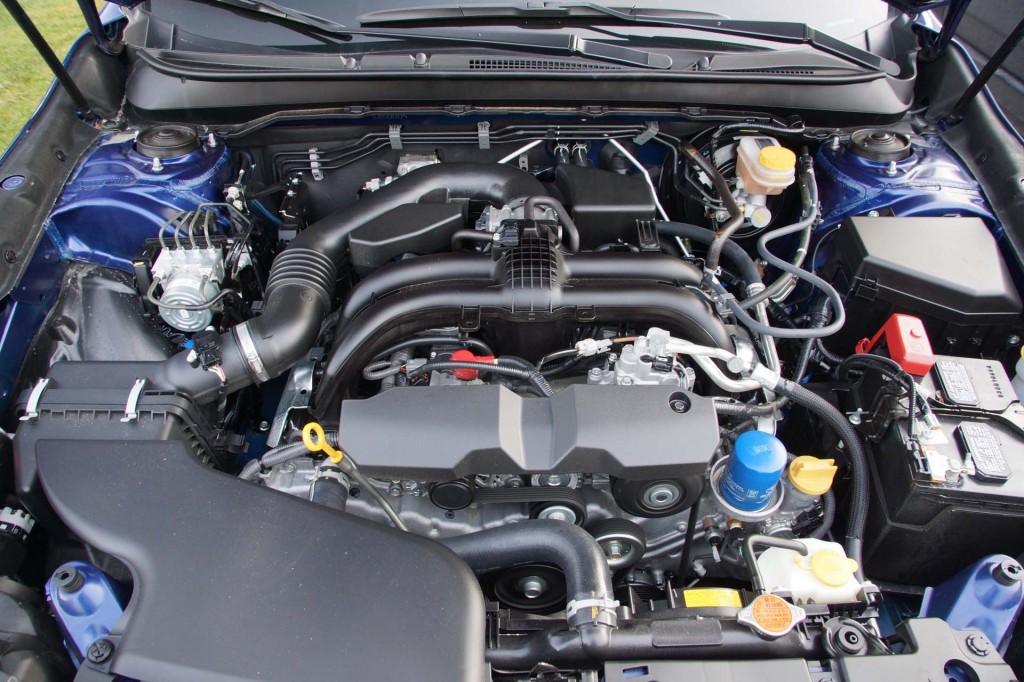 Power to the symmetrical all-wheel-drive is sent from a 2.5L H4 Boxer engine via the updated LinearTronic CVT transmission. The maximum output of 175HP and 174 lb-ft of torque is good to launch the car from zero to 100km/h in 10.1", while our average fuel consumption stuck at around 9.3lt/100km combined. Power is delivered promptly and the gearbox is very smooth and quick to respond to throttle inputs. Yes, the audible experience with the CVT is not the greatest however it is much improved compared to other recent attempts. With the help of the superb Harman/Kardon sound system though, it actually feels like a very good gearbox. In manual mode, it is not the quickest to shift through gears, yet it is not slow or sluggish either. Best thing about it is that it makes the car sound proper, so if there is nothing good playing on the radio, feel free to step into manual mode and dust off those paddle shifters.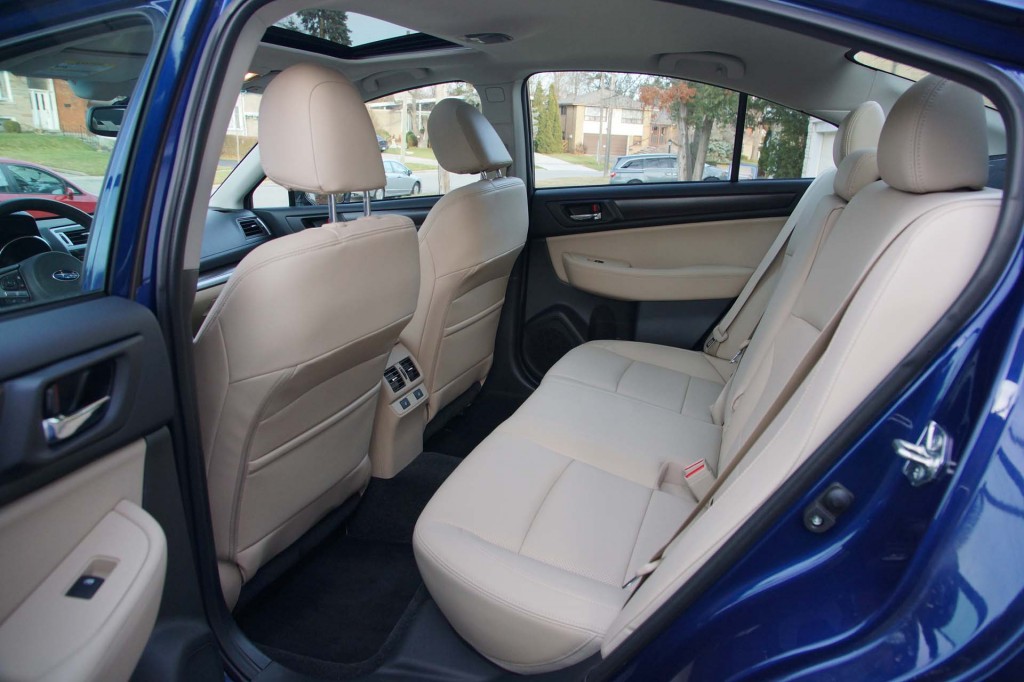 Of course, a family sedan can be no good unless ride comfort is good, and that is precisely what it is in the Legacy. Not excellent, but good. Bumps and pot holes are handled well, with little shock left to hit the passengers. It is stiffer than the Outback, but also must live with less suspension travel. What is taken away from the ride comfort is at least returned to the driving dynamics. Equipped with active torque vectoring, handling is progressive and neutral and a bit more engaging than in the past. Don't expect to pull any fancy power-slides, the AWD has been tuned to keep you safe by allowing only understeer when grip limits are exceeded. The steering returns more feedback than other electric rack and pinion systems we've tested, it is well weighted and pointing the nose feels responsive and light thanks to the aluminum hood used to reduce the weight. On the highway we noticed excessive wind noise and that when strong cross winds were blowing we had to constantly correct the heading; a problem that was less obvious at lower speeds or less windy days. Last but not least, the brakes work very well and have strong bite while the brake pedal feels not too spongy and mostly linear. From 100km/h the car came to a complete stop in 43m while on Bridgestone Blizzak WS80 tires (that are amazing by the way).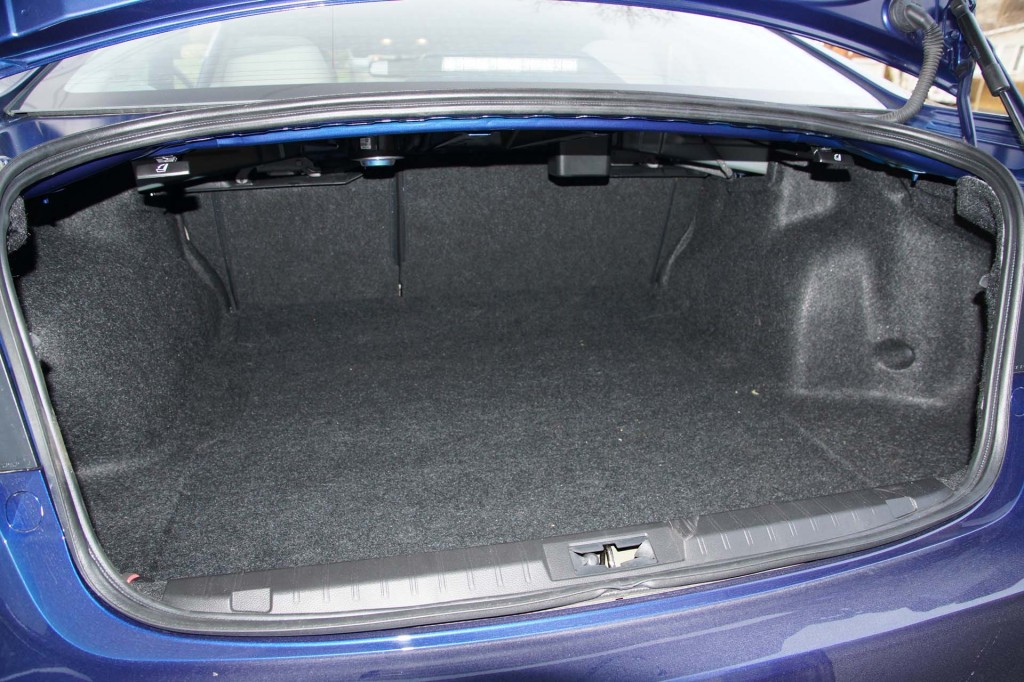 It's the first time a Subaru feels new, up-to-date with current technology trends and modern appealing design. It feels like a modern car, it is very safe and the brand has a good reliability reputation. Not really a surprise that it won it's category in the AJAC Car Of The Year Awards.
The Good
Roominess
Safe Handling
Safety
Technology
Value For Money
Interior
The Bad
Wind Noise
Vulnerable to Cross Winds
A really well thought through sedan that does everything well without any major complaints.