2015 Hyundai Sonata Limited
Engine
2.4L GDi I4 Theta II
Torque
178 lb-ft @ 4,000 rpm
Fuel Consumption (City/HW) (lt/100km)
13 / 9 (as Tested)
The new seventh generation Hyundai Sonata is the model that has changed my life forever. Why? Because it has put an end to my beloved phrase "what a long way the firm has come". Yes, Hyundai is amongst the most capable automakers and with every consecutive review that fact goes deeper under my skin.
Prices start where they left off, despite the improvements and extra gear available as standard with the new model, prices still start at $23,999. Our Limited model was $9,000 more, but gets a ton of features added, including a panoramic sunroof, leather trim, heated rear seats, heated and ventilated front seats, heated leather multifunctional steering wheel, adaptive cruise control, backup camera, blind spot monitors with cross traffic warning, forward collision warning, navigation, Bluetooth, USB and dual zone climate control. You also get a 6-speed automatic gearbox with manual mode, Auto Hold that keeps the car still after you release the brake pedal, ECO and Sport modes, stability control and seven airbags.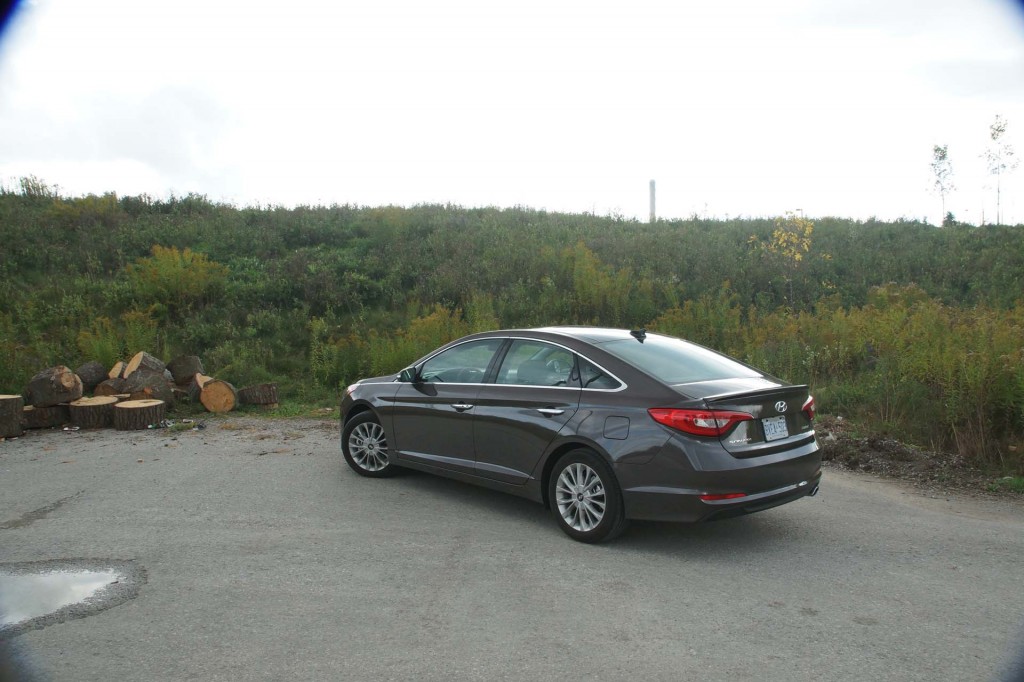 The new Sonata is the first product to follow the new exterior design language called "Fluidic Sculpture 2.0". Obviously the viscosity of the second gen fluid has increased as the flow has slowed down leading to more conservative lines with less aggressive curves than the outgoing model. It does look fresh, elegant and serious; it almost seems like Hyundai designers chose to play it safe.
Inside the cabin, that feeling continues as the dash layout suggests practicality all the way. The flat centre console with all the buttons and displays well laid out was easy to figure out and extra nice were the pop-ups on the dash confirming that the action you performed was the intended one. The materials used for the upper parts are soft to the touch and feel nice, but as you make your way down towards the floor, they get harder and feel cheaper. Fit is solid, finish could be better, but overall I did like the interior as it is way above average when it comes to functionality.
Roominess is really good and all passengers have plenty of storage compartments to forget stuff in. All seats are very comfortable to sit in while the rear windows come with manual privacy curtains, which are great especially if you have infants. Two car seats fit very easily, but I found the door height a bit low while trying to pull out the rear facing one. Clear of baby stuff, the rear seat offers good headroom and legroom and will keep tall occupants equally happy. The cargo area, at 462L is large enough but not ground breaking. Folding the rear seats is possible but the tunnel that opens up is rather narrow.
Responsible to move the new Sonata about is a 4-cylinder 2.4L Theta II GDI engine that outputs 185 HP and 178 lb-ft of torque. Predictable and dependable performance is the best way I can describe the way it works. There are no gaps in power and it pulls well from low revs. Performance is adequate and refinement only suffers at cold starts. The ultra smooth gearbox does a great job for smooth driving but even in sport mode, it decouples early and cuts off the power. From a standstill, 0-100km/h comes in 9.2" and fuel economy on our watch hit an average of 11.0 lt/100km which is higher than expected.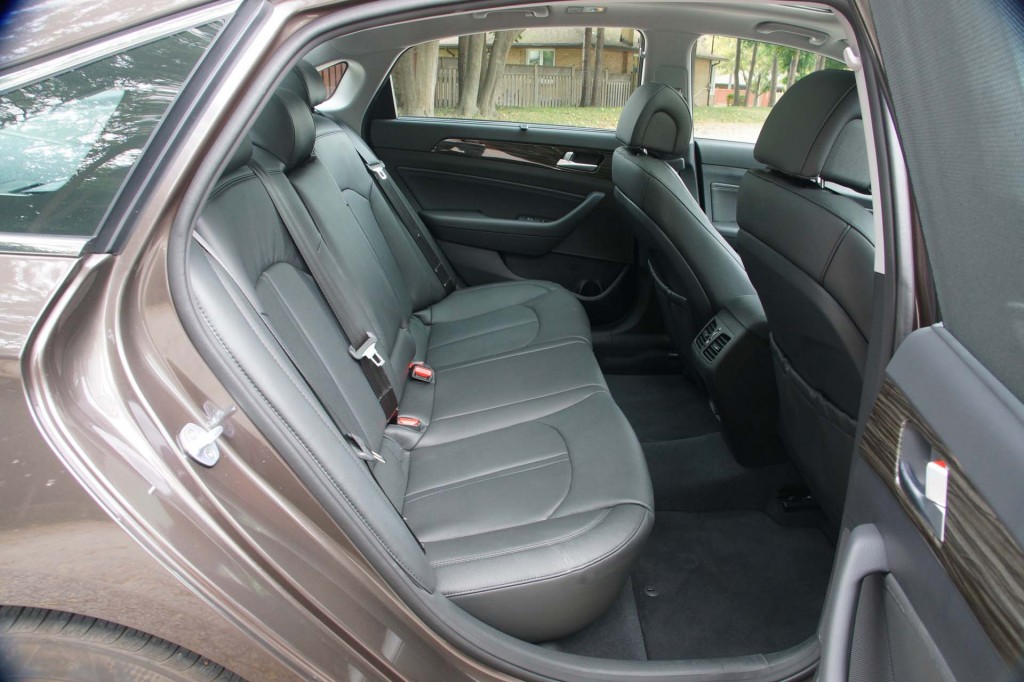 The new revised suspension, coupled with the meaty tires, provides excellent ride comfort over all surface qualities. On smooth highways it feels fluid and quiet, while on bumpy and poorly maintained streets it still manages to soak up even the meanest of bumps. Handling on the other hand is safe and predictable without going the extra mile. There is very limited feedback returned from the steering, but it is well weighted and nice to grab. Traction limits are not too high and if you push too hard, some understeer will appear before the stability system kicks in, which at that point, takes over a bit too hard. Switch it fully off, and you will find that lift-off oversteer is really easy to do and lots of fun, but in such a vehicle, it's pretty pointless. The brake pedal is sensitive and if you ram it hard while doing precisely 100km/h, it will require 43m to come to a stop. So while not really a driver's car, it is much better than the old model.
Competition in the segment is fierce, so picking your next family sedan can prove to be quite a pain. The new 2015 Hyundai Sonata brings to the table a great bumper-to-bumper warranty, outstanding comfort and good value for money. If these happen to be your top 3 requirements Hyundai dealers are always expecting you for a test drive.
The Good
Comfort
Interior Design
Features (Limited Trim)
The Bad
Fuel Economy
Rear Folding Seats Opening
A very comfortable ride with plenty of toys backed by great warranty. Great value.