Fuel Consumption (City/HW) (lt/100km)
12.6/9.1
Slightly upgraded for 2015, the Lexus IS remains the most aggressively styled sport-luxury sedan on the market. Offered with a choice between a 204 HP 2.5L V6 and a 306 HP 3.5L V6, both models are available in the F Sport trim, with or without AWD.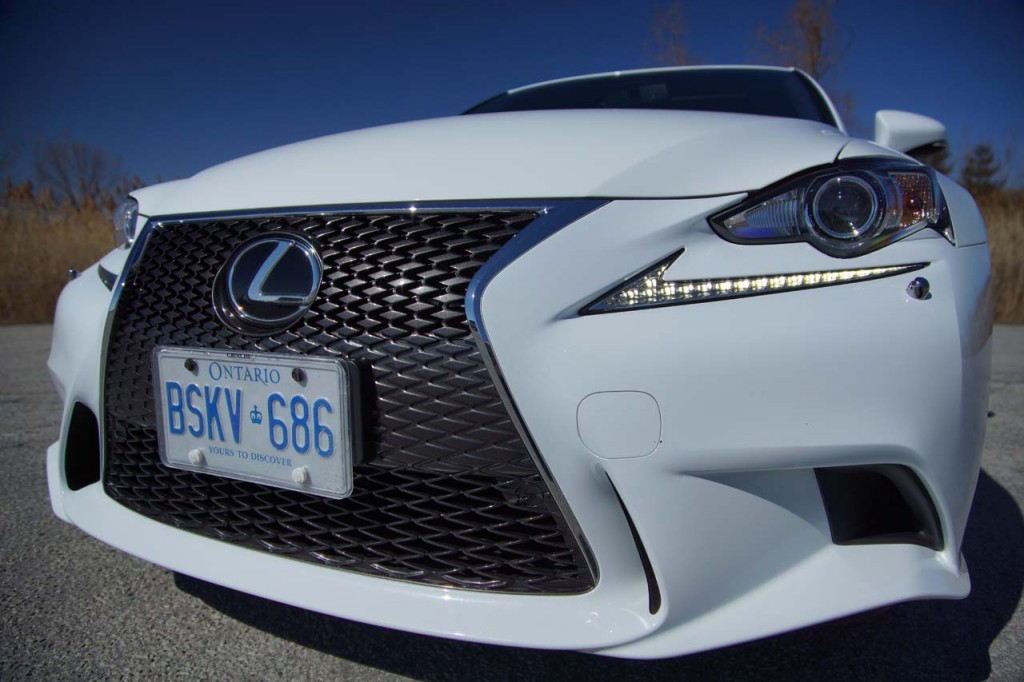 Prices start at $39,900 for the IS250 and top out at $47,400 for the IS350 AWD. Our F Sport IS350 AWD with the F Sport 3 package came to a total of $53,950 but the list of features was nothing short from impressive. The white paint job over the Rioja Red interior was stunning and complemented by the sport steering wheel, pedals and seats, the cockpit felt like it belonged to a true sports car rather than a luxury sedan. The LFA inspired instrument cluster is amazing and the way the fixed ring gives way to reveal the part of the LCD screen showing your info pages is utterly cool.
Lexus was very generous when spec'ing up this trim level, as standard features include stability control (VSC), traction control, Vehicle Dynamics Integrated Management (VDIM), Super Electronically Controlled 6-Speed Automatic Transmission (Super ECT), paddle shifters, Progressive Rate Electric Power Steering, steering wheel audio controls, ABS with electronic brake force distribution (EBD), dual zone automatic climate control, Bluetooth, AM/FM CD with MP3/WMA player, SiriusXM satellite radio, single In-Dash DVD, audio auxiliary input jack, USB audio input, 8 speakers, driver & passenger airbags, front seat mounted side airbags, front and rear side curtain airbags and driver and front passenger knee airbags.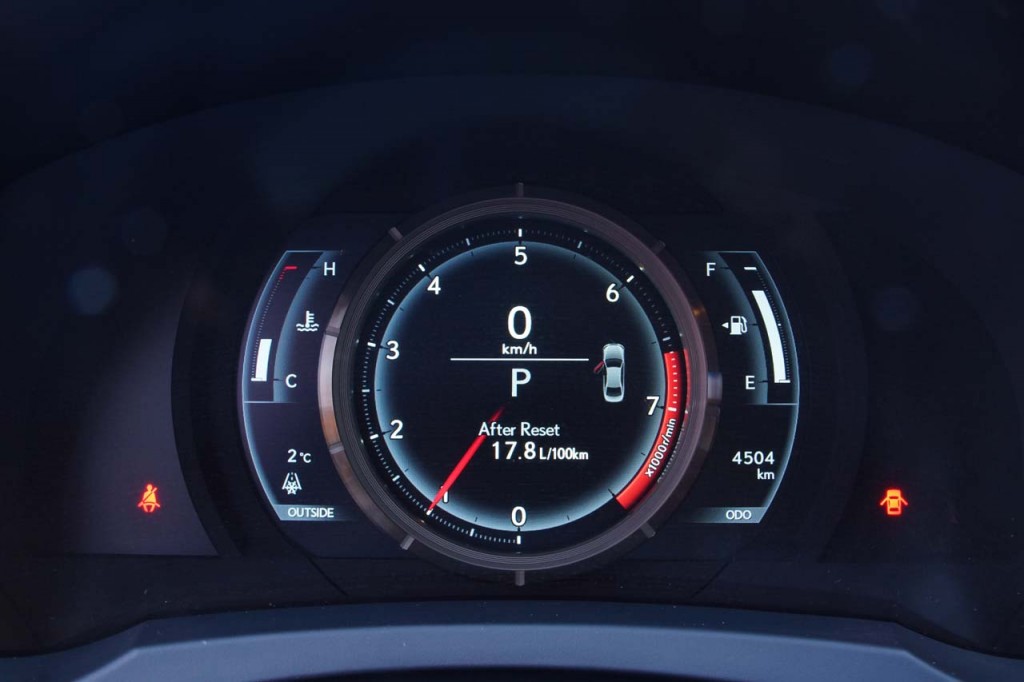 The F SPORT Series 3 kit that was $6,550 on top of the base MSRP and added drive mode select with S+ mode, heated steering wheel, 3-Spoke F SPORT steering wheel, adaptive variable suspension (AVS), a staggered tire setup with P255/35R18 (Rear) and P225/40R18 (Front), F SPORT center wheel ornament, 18″ F SPORT alloy wheels, 15-speaker Mark Levinson Surround Sound audio system, Pre-Collision System, rear seat side airbags , blind spot monitors, rear cross traffic alert, 8-way power adjustable passenger seat, adjustable head rest, 60/40 split rear fold down seats with centre armrest, heated front seats, dynamic radar cruise control, power rear window sunshade, voice-activated HDD navigation system with remote touch, backup camera, compass in navigation display, LFA style full TFT instrument cluster, power moonroof, F SPORT front grille, F SPORT aero package, F SPORT shift knob and F SPORT scuff plates.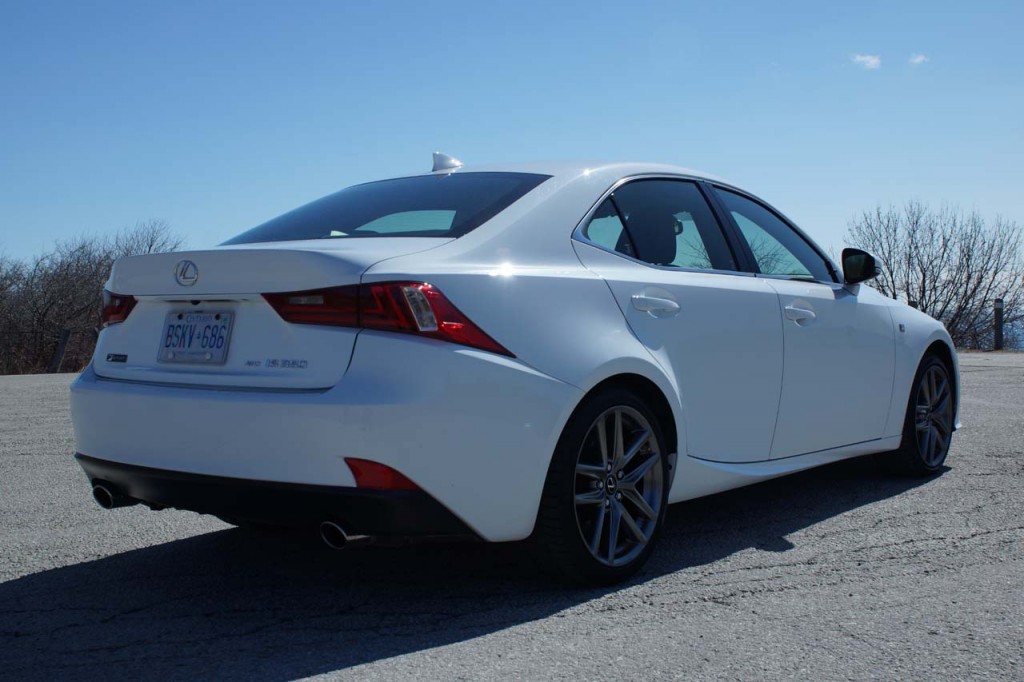 The exterior design is very radical, compared to the older Lexus designs it is very aggressive and way too complicated. The side panels curb so intensively, they almost turn horizontal before reaching the windows, which creates an immense sense of thickness for the doors, pushing all occupants towards the middle of the cabin. The tail lights look like they are melting from overheating anger and the front lights are pushed inwards creating a very futuristic front end. It is a love it or hate it design, but what I loved about it was how low the car seems to ride after experiencing how comfortable the suspension was. Once you know how comfortable it feels, it looks even more impressive.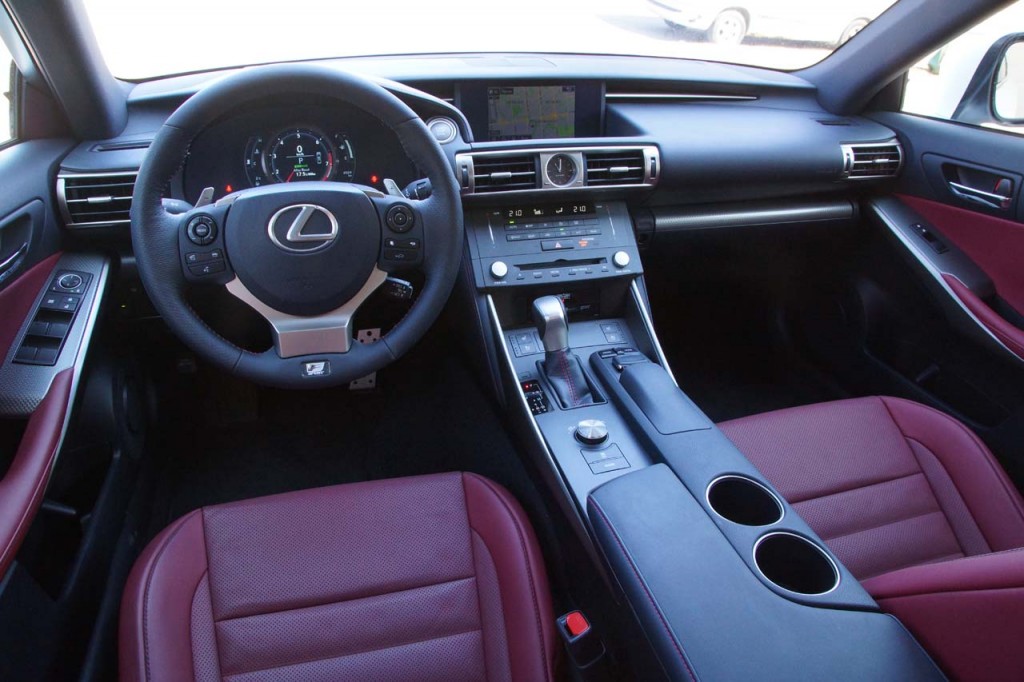 The interior design is a mixture of retro, modern, sport and classy. The leather sport seats are fantastic to look at and even better to sit in. Side support is great, without them hugging too hard, spoiling their comfort levels. The dashboard is partially covered in cushioned stitched leather and for the most part, very good materials have been used. Fit and finish between them is excellent and there are no rattles or squeaks coming from anywhere. The centre console is very well laid out, with the controls used more frequently being placed exactly where you need them and ergonomically the only complaint is the position of the cup holders that are right at your elbow.
When it comes to roominess, the IS is not the most spacious luxury sedan on the market, but being so sporty, wouldn't have been possible if the proportions were different. Driver and passenger will feel a snug fit in their seat, but by no means goes that mean that comfort suffers. Passengers in the rear however can and probably will complain if they are fairly built. Legroom is tight despite the inward carved backings of the seats while at the same time, headroom is also tight especially towards the side windows where the roof starts to curve down. Also, in the middle, there is a massive tunnel that fully prevents a third passenger sitting there. The trunk is also smaller than the class average as it too pays the price for the compact exterior dimensions. At 310 L it is about 200 L away from the class leader but at least the opening is nice and wide.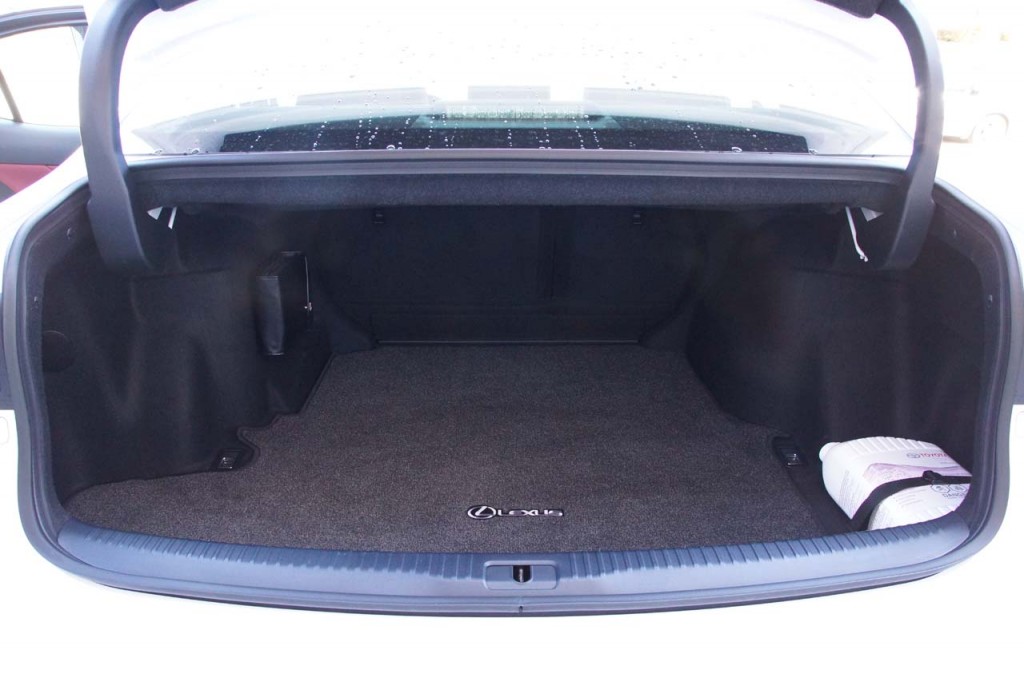 Power to the wheels comes from a sporty sounding 3.5L V6 that is good for 306HP and 277lb-ft of torque. Being AWD and having a transfer case didn't leave much room for the 8-speed gearbox that is available on the RWD models. As such, this one comes with a 6-speed automatic transmission, which might not be the quickest one in the world but does a descent job helping the car complete the 0-100km/h sprint in just 6.7 seconds. Throttle response is good and the motor is flexible enough from low revs so cruising with the ECO light on is pretty easy. Pedal to the metal, it pulls very well and produces a throaty soundtrack. It might not be as fast as a 335i or Q50, but it is not very far behind. Fuel economy was very descent, as at the end of our loan, our average score was 12.1 lt/100km.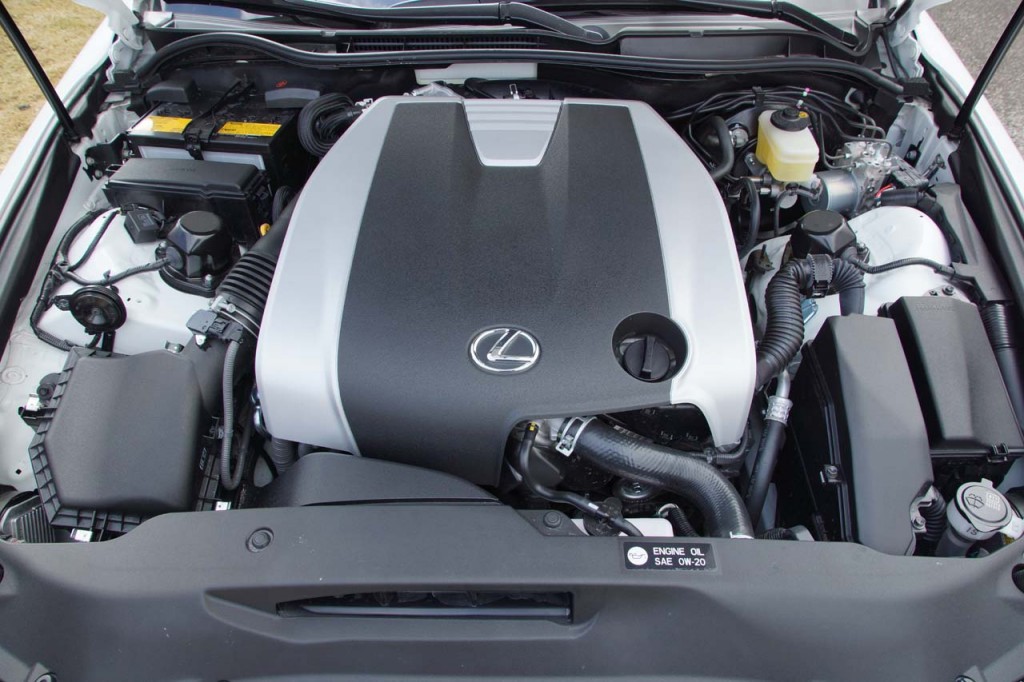 Where this car starts to shine is when it picks up some speed and ideally when the roads get narrow and twisty at the same time. The crisp and precise steering along with the snug fit in your seat make you feel like you are in total command of a sports car. The body follows your instructions without any hesitation and the way it reacts near its limits fully depend on your mood and skill. By default, it will start pushing the nose out, but take a more aggressive approach and you'll find it quite interesting how well balanced the body feels. That slight understeer can become slight oversteer once you ease off and go back on the throttle again to hit that sweet spot leading into a drift on "all four", hitting a peak lateral acceleration of .87g (.01g more than the V60 Polestar!). That number on its own is not an amazing thing, but the fact that it is achieved while delivering outstanding comfort levels over broken or uneven surfaces, truly is. The car rides so low that you'd never expect it to be so plush on the road. It seems as if there is no suspension travel at all, but somehow, it feels absolutely able to iron out the road. This recipe is not an easy one to attempt, so when the outcome is that good, congratulations are in order.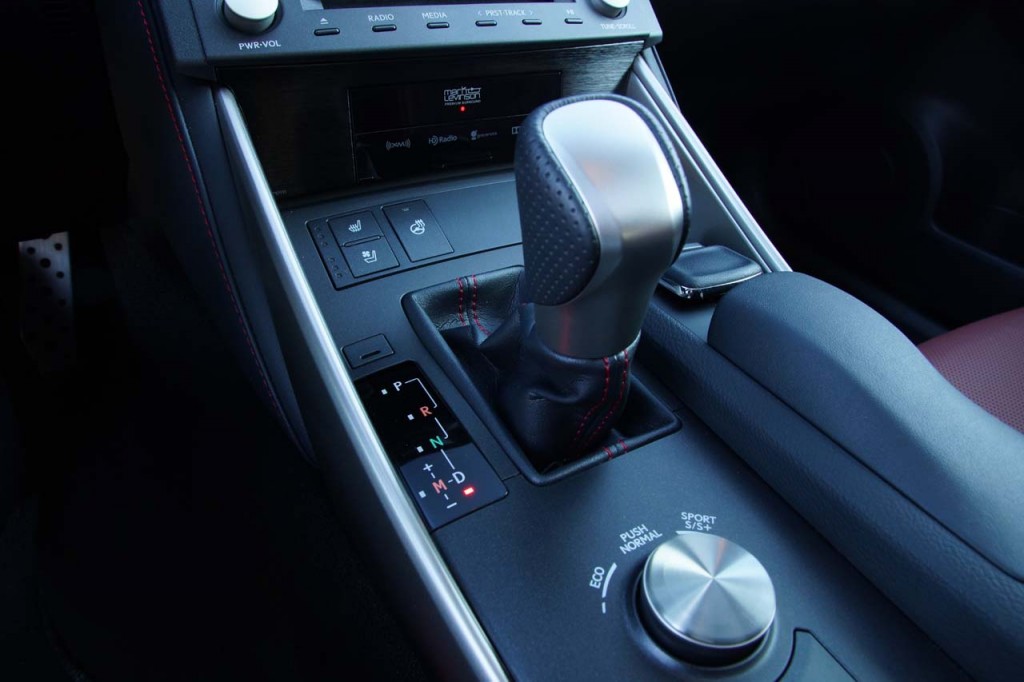 The 2015 Lexus IS350 AWD is great to drive and very good looking, and just like every other good looking thing on this planet, there are a few odd things about it that you just have to learn to live with. Also, it is not the roomiest sports sedan on the market or the quickest. It is however the sportiest super comfortable sexy one that is reasonably priced and should be bulletproof reliable. I would go for the RWD model however, because I personally value the 8-speed gearbox more than the annoying hump under my leg.
The Good
Design
Built quality
Performance
Handling
Ride Comfort
Technology
The Bad
Hump at driver's footwell
Cup holder location
No Auto Start/Stop
Tight rear seats
Small trunk
The sportiest luxury sedan at a price as comfortable as the ride.