Horsepower
200 @ 7,000 rpm
Torque
151 lb.-ft. @ 6,400 rpm
Transmission
6-Speed Manual
Fuel Consumption (City/HW) (lt/100km)
10.9 / 7.9
Toyota, as many of you might know, is a Fuji shareholder, which is the parent company of Subaru. In 2007, a joint venture was announced involving the production of an affordable sporty coupe if favor of the hachi-roku Corolla AE86 die-hard fans.
The resulting product was the Toyota GT86, or Scion FR-S for the Toyota side, while in the Subaru side it was the Boxer engine, Rear-wheel-drive Zenith driving pleasure (BRZ).
Prices start at $27,395, while the blue sky "Aozora" Edition was a $31,395 as it adds some coolness over the base model. The rally inspired 17" rims are black STi style and the body kit is STi aggressive too. The brake calipers are red and so is the start button, which believe it or not, is STi as well. Since you have push button start, you also get keyless entry and to make things over the top cool, and useful, the front seats are STi sport and lined in blue Alcantara leather. Standard features on all BRZ models are the HID headlights, sport suspension, sat-nav with SiriusXM traffic and radio ability. Safety gear is also impressive, as the BRZ scored top safety pick for 2014.
The exterior is very close to what the prototype was, which is always a good thing as concept prototypes usually carry a bit of futuristic lunacy. The hood sits very low thanks to the flat four engine being mounted just above the ground, the slippery roofline hovers over a wide body stance making this car recognizable from distance.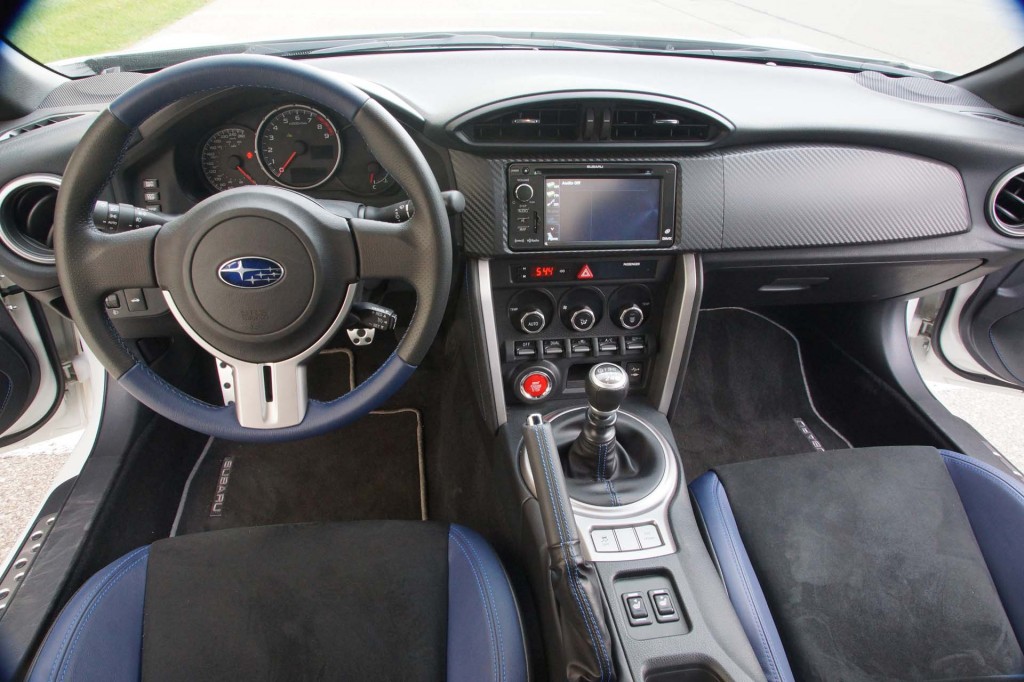 The interior is a snug sporty cockpit for two, as the rear seats can only be considered as extra storage space. The dashboard is very driver oriented, the switchgear is aggressively styled after fighter jets and the bucket seats are a great fit to most body types. The small steering wheel, purpose built instrument cluster and tightly positioned pedals, make for a very engaging driving position. It almost feels like sitting in an arcade. Roominess is not the greatest, but being tightly fitted to the car is part of the feedback process. Build quality is good, there are no fancy materials or accents used, but fit and finish are well appointed keeping the interior rattle free. Mind you, the infotainment system is not really the best, especially the navigation feels like last years news but it is a 2-din unit, thus you can swap it out for a better one in a couple of years.
On the bright side the trunk is a very descent size and shape, keeping practicality somewhat realistic. At 196 L, it is perfectly fine for a sporty little coupe and you can also fold the rear seats.
The 2.0L H4 Boxer engine outputs 200 HP and 151lb-ft or torque, but unless you rev it to the red line, is feels like a touring tuned engine. It is flexible, refined and purrs like a cat, just like it does in any other Subaru. And just like in any other Subaru, it is very frugal on gas when driven smoothly of course. It is only when you drop a gear or two and slam the pedal to the metal where it really comes to life and sparkles and shines. 0-100km/h comes in 7.7″ and for as long as you keep the revs high it feels justified for calling itself sporty. For the record, even though we were more interested in the performance figures, we still managed to average 8.6lt/100km, which was astonishingly low.
And now, the handling. In a word, yes, it is near perfect. The short wheelbase, light weight, low centre of gravity and sweetly tuned suspension, have lead to what car guys have been always dreaming about. It is the perfect execution of the simplest recipe for pure automotive stimulation. Front engine, rear-wheel-drive, limited-slip-diff and a 6-speed manual. Raw, uncensored, uncompromised driving pleasure. The steering is weighted perfectly and is as crisp as oven baked chips and feels great in your hands. Providing good feedback it is the perfect ally to the strong clutch and precise shifter. The chassis is extremely rigid and follows the driver's inputs just like a pet terrier would when fully excited and wagging its tail waiting for you to make your move. It is instant fun, even when you are going slowly. It keeps you engaged the whole time, even stuck in traffic it builds your hopes up for finding a gap that leads back to open roads. It keeps the rush going and for that, it is fantastic. Through it into a corner with a nice tight racing line and you 'll be surprised how well it grips and how hard it tries to keep the speed as high as possible. Get vulgar with it and throw it in kind of sloppy and get ready to catch the slide! The stability control can catch it for you if you have it partially disabled, so even if you are new to the sport, fear not. Just make sure you are on a racetrack and not on public roads.
In case you are wondering, the ride wasn't horribly hard or bouncy. It was actually very compliant; borderline comfortable. Even when you are drifting around totally sideways, it remains in such good shape your passenger could be reading a book.
If you consider yourself an automotive enthusiast and you want to get yourself a toy in which you can play safely and without breaking the bank, the BRZ is really the toy for you. It is endless fun, but without being scary, expensive or a hustle to maintain. It is the epitome of "simple pleasure", which seems to be getting rare to find now days.
The Good
Handling
Fuel Economy
Safety
Design
Fun to drive
The Bad
Average brakes
Outdated infotainment system
Fun, Fun, Fun and more Fun! 7.8 out of 10 is BS.