2016 Mazda MX-5 GS
Horsepower
155 HP @ 6,000 rpm
Torque
148 lb-ft @ 4,600 rpm
Transmission
6-Speed Manual
Fuel Consumption (City/HW) (lt/100km)
8.8/6.9
Few years ago, there was lots of heat around a possible partnership between Alfa Romeo and Mazda with the sole purpose of developing a light-weight rear-wheel-drive roadster. Needless to say, I was seriously excited with such prospect, especially if the combo was going to be a Mazda developed engine in an Alfa developed chassis. In 2014, both companies denied such a joint venture and in 2015 Mazda revealed the ND (fourth gen) Mazda MX-5. Recently though, and to everyone's surprise, FIAT revealed their new 124 Spider which is essentially a restyled MX-5 but with a Multiair FIAT engine. So thank you both for that back and forth; let's now focus on the MX-5.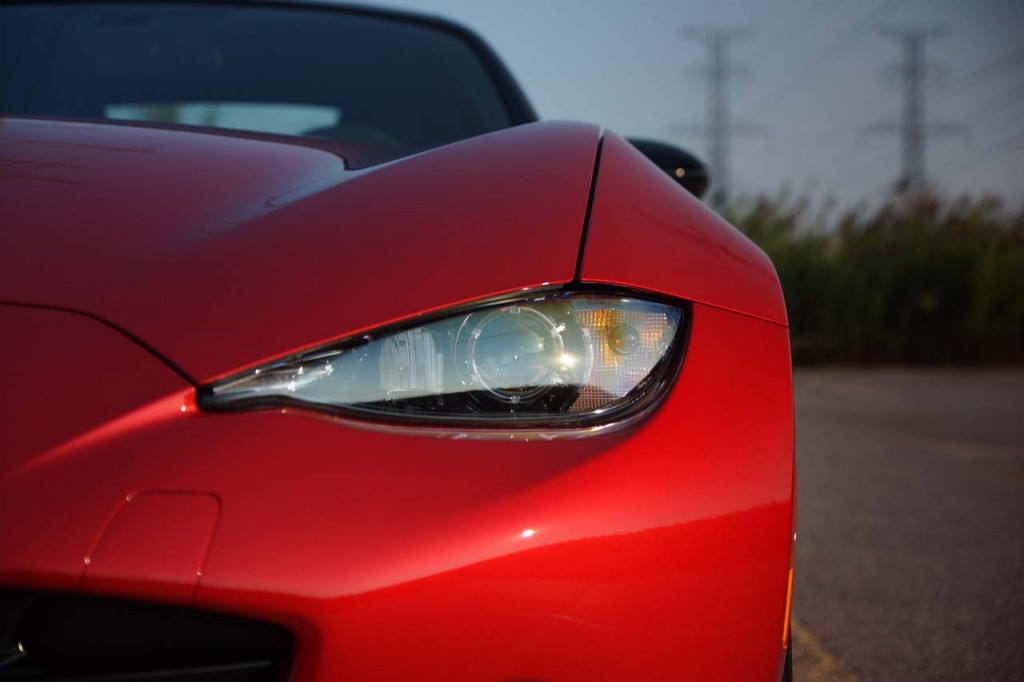 The latest generation is an implementation that started with a totally clean sleet, with the plan only dictating that it needed to be the best and most fun MX-5 ever made. So what followed was the result of the full-hearted efforts Mazda engineers put in to development. The ND Mazda MX-5 is now smaller and even lighter than before.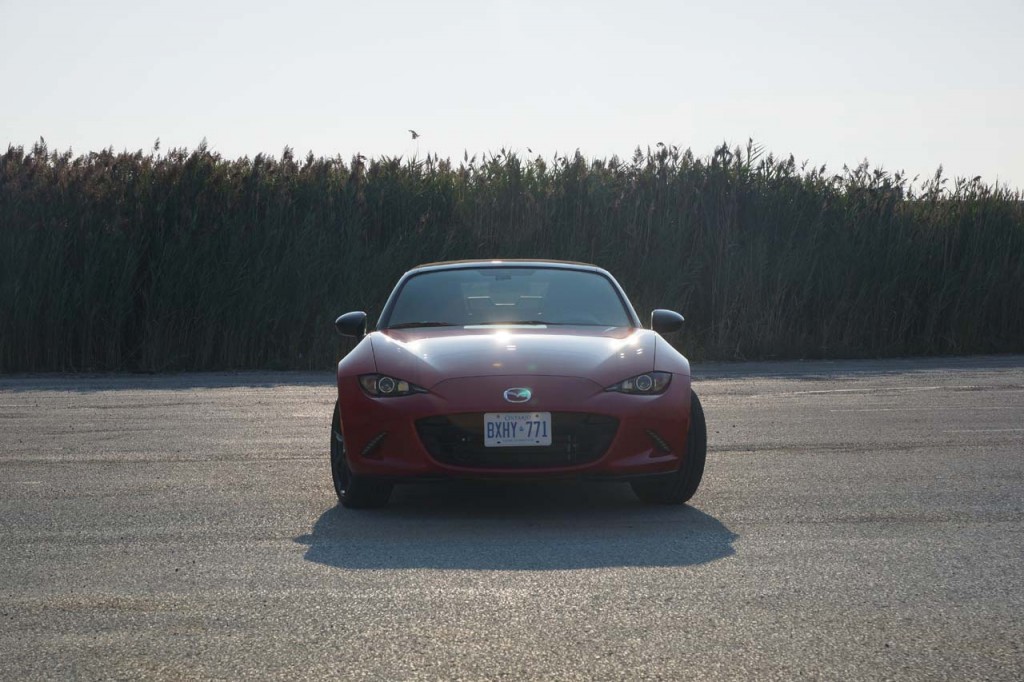 The new car is striking to look at; the front end looks like a Maserati Ghibli and the rear end carries elements of retro origin shaped to look very modern and dynamic. With a perverted mind like mine, one might say that the tail-lights look like gentlemen sausages, but most normal people don't even see why I would say such a thing. The design that is really spectacular is the way the exterior looks from inside the car. The curved windshield sits on top of a dashboard that follows the same line, leading to legendary designs of the past, like a Fiat Barchetta or even a Triumph Spitfire; clues that the joint venture was indeed going on from day one.
The dashboard fascia is modern and has an increased amount of complexity compared to the outgoing model. The instrument cluster may have an LCD screen for the info bits, but the speedo and rev counter are still analogue dials that suit the car perfectly. The steering wheel is small and nice to grab on to, the gear lever is small and has short throws, but most importantly it has been positioned perfectly. The pedal layout feels like a true copy of arcade machines to make heel-and-toe very easy. The top of the door panels are naked body-coloured panels, just like classic roadsters; nice touch Mazda, for real.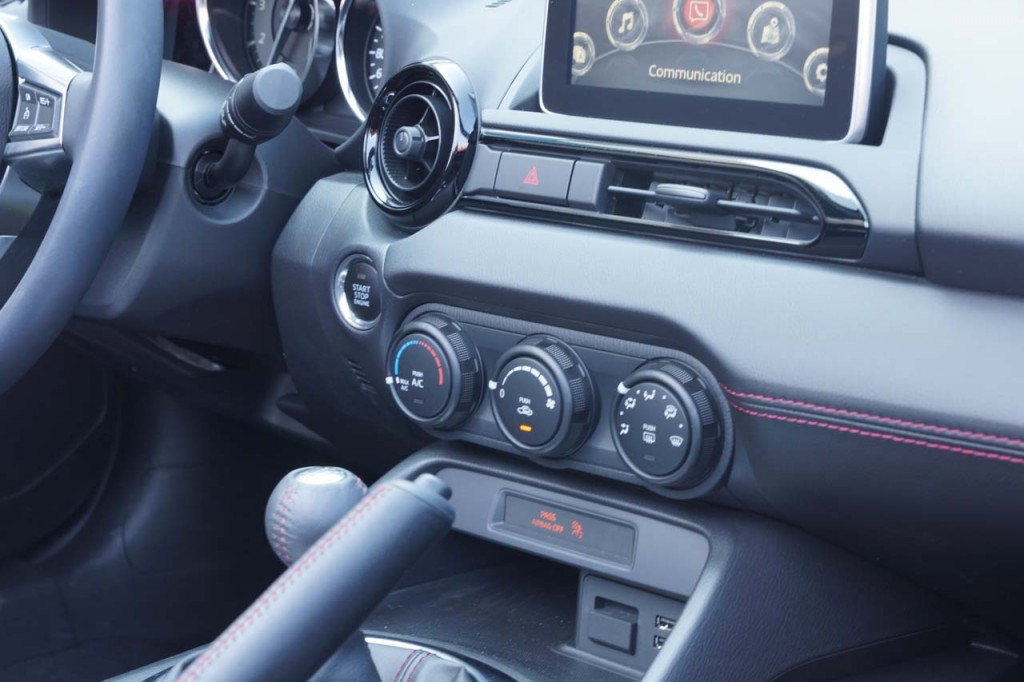 Getting in the driver's seat immediately reveals the decrease in size the new model has undergone. It is a tight car; my chunky body and average height barely fits, at least in a comfortable driving position. If you are taller than six feet, expect a very upright driving position to properly accommodate your legs. So if you are short, be happy; this car is perfect for you!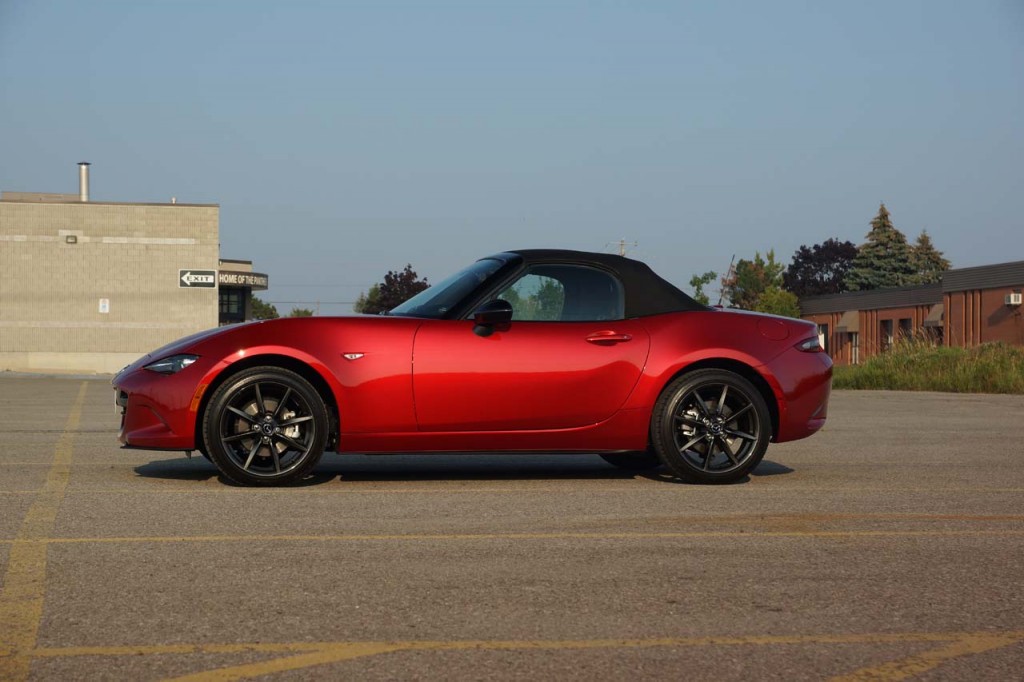 The roof is now exclusively soft top and manual in operation and quite frankly, they have made it as simple as possible. It requires the least amount of effort; all you need to do is release the latch, push the roof back and then push it down till it clicks in place. The reverse procedure requires you to pop the roof free by pulling the release lever, then lift the roof up, which can be done using one arm and buckle the latch. Job done.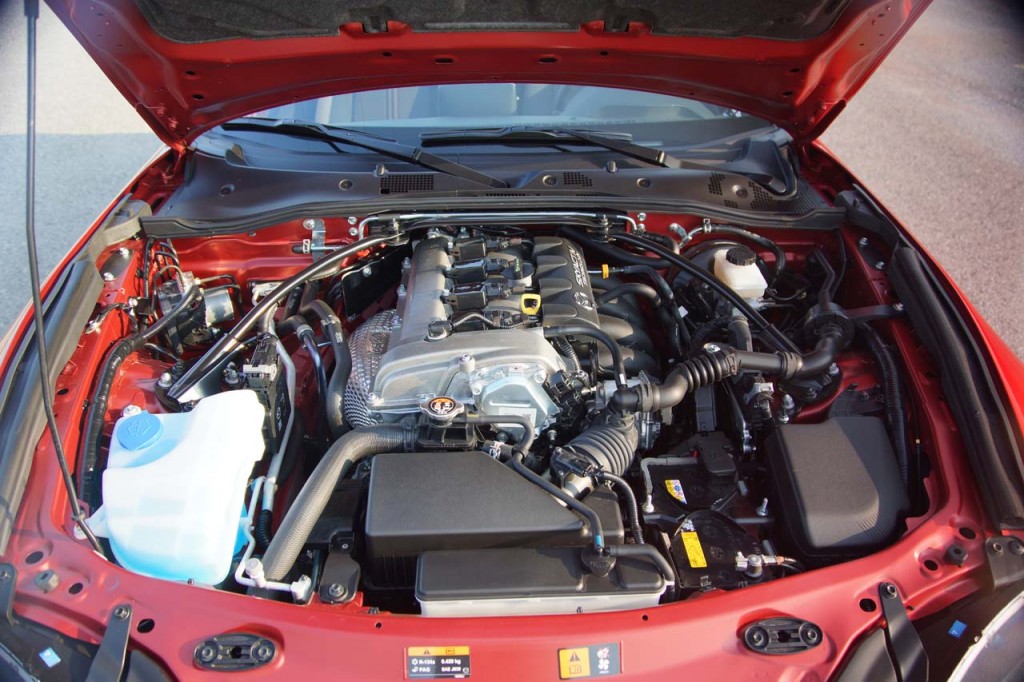 Under the hood, there is still a 2.0L Skyactiv engine, but this time the maximum output has dropped to 155 HP, while torque has increased by 8 lb-ft for a total of 148. It might not sound like much, but with the extra weight loss it feels faster than before. In reality, without knowing those numbers, you'd be guessing that there is a lot more power. The exhaust note is brutally loud and throaty and the way it instantly reacts to throttle inputs makes it super fun to drive. We found the claimed 6.1 second sprint to 100km/h very optimistic; on regular roads we couldn't even get close. Our best try found the clock stopping at 8.1 seconds. Pulling power is generally good, and if you are in the right gear it is very happy to rev all the way up to the red line. It does get loud and shaky, producing vibrations similar to a classic sports car, but that just adds to the thrill. It feels like a modern classic car, and from the driver's seat, it surely looks like one. In a higher gear, the engine feels very flexible and much more refined, and will still pull without complaining or hiccuping. Driven quite hard over the course of the loan, we averaged 9.8 lt/100km combined, but cruising on the highway we observed around 6.5 which is incredible.
The gearbox is very short, and the speed you end up going through all the gears is incredible. You can zip through all six gears by the time you are still under the speed limit within the city limits. Honestly, it is so much fun you'll have to drive one in order to believe me. The shifter feels precise and has very short enough throws, but best of all, the clutch pedal is pure perfection; this car is probably the easiest and most exciting manual car you can get your hands on today.
Due to the short wheelbase and firm Bilstein shocks, the ride is not very comfortable as it gets pretty bumpy, especially on roads paved by the city of Toronto. But once again, I must confess that I didn't really mind it. The driving experience is simply so raw, it would've been compromised if the ride was any softer. Bottom line, this car is all about handling and I am all for that.
The steering is a bit lighter than I'd want it to be, leading to a slightly mushy feel around the centre, but other than that, it is quick, direct and returns relatively good feedback. Most importantly, the nose follows steering inputs like a natural reflex; it is that quick. Speaking of speed, one of the reasons the MX-5 is really fun to drive, is because speed feels exaggerated. It feels like you are going much faster than the speedo says, which is a great thing cause you can have tons of fun without risking your car your ass pounded and your car impounded. The down side is that there is a lot of grip; stay with me on this one. The suspension is too well tuned, making it impossible to skid around at slow speeds, so if you want to have some sideways fun you need to gather some serious speed. It really flies through corners and gets back on the straights before you know it. Taking a good racing line, there is no lean, no drama, no nothing. Just precision turning. If however you try to unsettle the rear end by shifting the weight, it will go sideways quite easily, but will require very quick reactions on the driver's part to catch the slide and keep it under control. If only all that could happen sooner, it would've been so much more fun. The brakes feel strong and won't fade easily, while from 100km/h it took 43m to stop.
The 2016 MX-5 GS we tested has an MSRP of $35,300 and it includes all the necessary amenities for a comfortable time in it. You get manual seat adjustments, manual A/C, power mirrors and windows, height adjustable steering column, a 7″ touch enabled infotainment system similar to the Mazda 3's that includes navigation, USB ports, two removable cup holders that you can switch around and a glovebox between the seats. You also get LED daylights, 17″ alloys and a limited slip diff.
Many will argue that for the money they are better alternatives, and that could be conditionally true, depending on what you are looking for. This thing is the real deal, it has been built with the enthusiast in mind, but the kind that will invest in improving their driving ability before adding any stupid mods to make it go faster. It is a brilliant machine for the purist and that is that.
The Good
Handling
Exhaust Note
Design
Genuine Roadster Feel
Infotainment System
Manual Transmission
The Bad
Interior Materials
Firm Ride
Lack of Storage Compartments
A brilliant machine for the purist and that is that.