2015 Mini Cooper S Countryman ALL4
Engine - Transmission
1.6L I4 Turbo
Torque
177 (192 o.b.) lb-ft @ 1,600 - 5000
Fuel Consumption (City/HW) (lt/100km)
8.7 / 6.5
100-0km/h (meters)
47m (winter)
Low-Range/Diff-Lock
No/Auto
Through the World Rally Championship (WRC) the world became familiar with some of the best cars in the world. The Audi Quattro, the Lancia Delta and let's not forget the Mitsubishi Lancer and Subaru Impreza all became famous because of their legendary performances on the demanding rally stages. Interestingly, a vehicle considered to be a lifestyle accessory is now bashing through mud and snow at the WRC, smudging dirt all over its designer lines.
Originally designed for "trendy" people with an active lifestyle, Mini released the Countryman so it can be driven to work directly from the ski resort or vice versa. It definitely looks like a Mini, only blown up a bit to blend in better with the higher ground clearance and all-wheel-drive drivetrain (ALL4), classifying it as a crossover. Compared to the regular two-door hatch, it is wider, longer, taller and it also has a longer wheelbase and two extra doors. Yes, it is also heavier, but thankfully not in a catastrophic way.
Prices start at $29,950 for the Countryman S ALL4, while the only trim level upgrade is to the John Cooper Works package. Our test vehicle, was priced at $36,710, equipped with a few extra packages featuring a Glass Sunroof, Heated Front Sport Seats, Sport Button, LED Fog Lights, Keyless entry and start button, Front Centre Armrest, Rain Sensor with Auto Headlamps, Automatic Climate Control, White Turn Signals, Voice Recognition, Integrated Visual Display, Bluetooth and USB Audio, Smartphone Integration, MINI Connected Drive, MINI Navigation System, Combox controller, 6-Speed Auto Transmission, Sport Leather Steering Wheel w/Shift Paddles, Black Headlights, Anthracite Roofliner, Electric Front Window Defroster and Park Distance Control .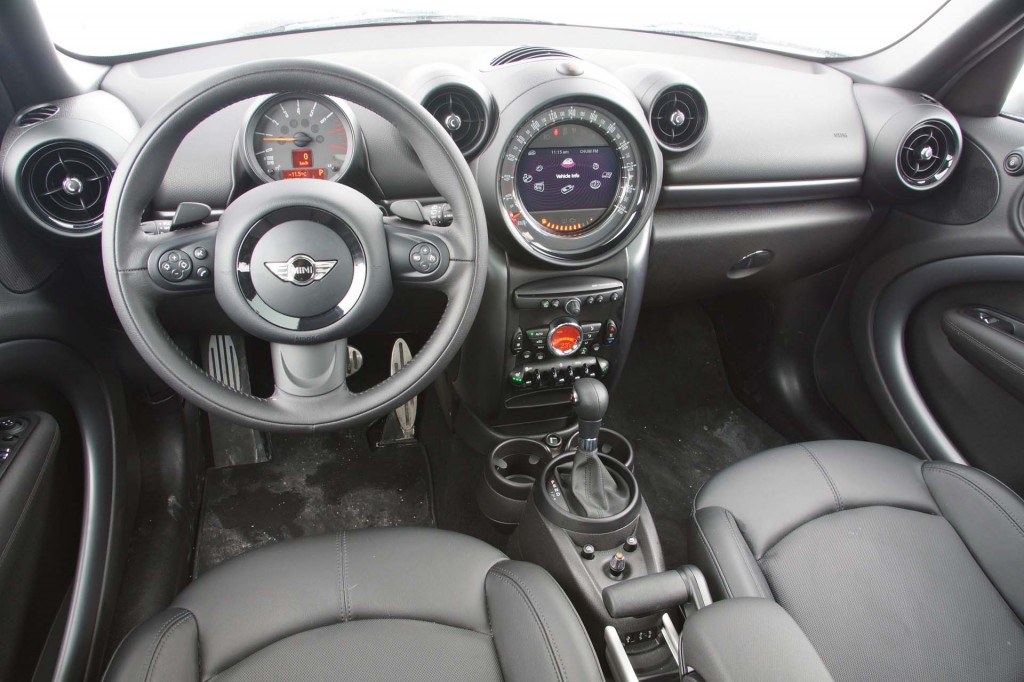 The easiest thing to like is the exterior design and at the same time the hardest thing to get used to are the controls inside the car. The interior design is trademark Mini and very retro. A blend of round dials, aircraft style switches, push-buttons and an odd looking joystick is what owners will have to get used to, but it does grow on as within the week, I was already loving it. The build quality is better than average, soft to the touch materials have been used for the top of the dash and door panels but even though they feel nice, they don't really look as good. Fit and finish are well done and once you've set-up all your auxiliaries, the fun begins.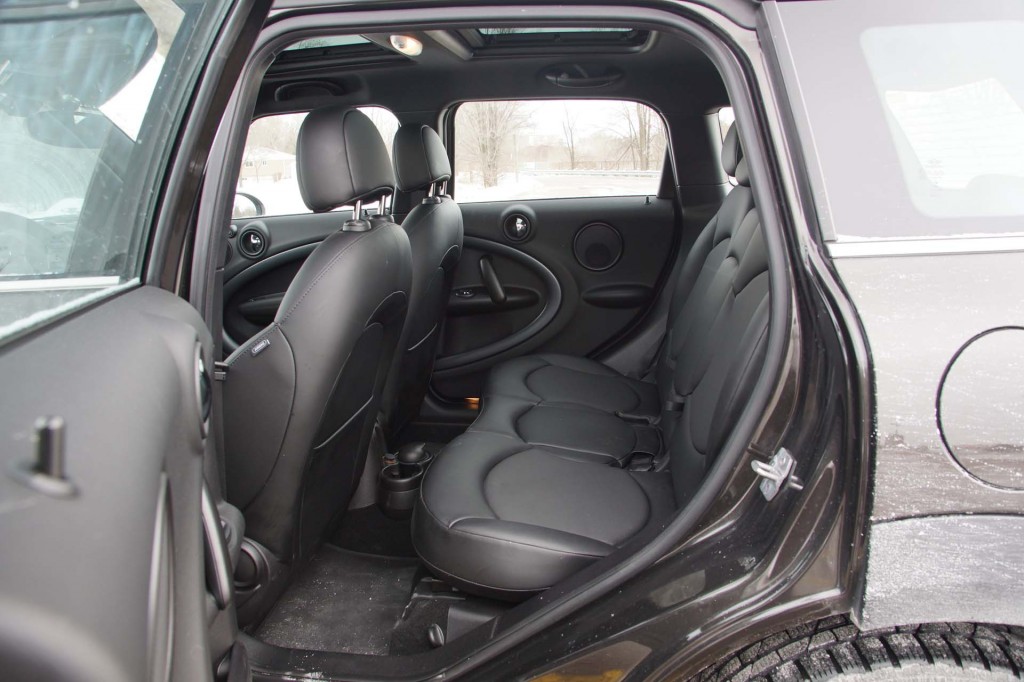 Behind the wheel is a very funky and fun place to be, the Mini feels as small as it is and the boxy windscreen and retro interior make you feel like you are racing away in the Italian Job. Yes, I just had to make reference to that movie. The odd note is that only the three quarters of the right side mirror are visible as it's too low and the door blocks the bottom part of it. Other than that, visibility is good, the driving position is great and the steering and pedals have a sporty feeling to them which constantly pushes you towards driving with your right foot planted.
The 4-cylinder 1.6L Twin-Scroll turbo engine kicks out 181 HP and 177 lb-ft of torque, while for a short period of time, in overboost, it can produce 192 lb-ft. These numbers can get you going from 0-100km/h in 8″ dead and on to the top speed of way over double the speed limit. It doesn't feel as explosive as the two-door hatch, mainly due to the weight increase, but trust me, it is almost equally as fun to drive. Pulling power is good, even with the non ZF autobox, speaking of which, the paddle shifters are identical and do the exact same thing. Pull to upshift and push to downshift. Fuel economy doesn't suffer that much, even with a heavy foot on most of our drives, we managed to average 11lt/100km which is pretty good for the winter months (-10C).
The steering is tight and precise, the brakes are strong and resist fading very well, and with the body staying as straight as it can, handling is very pleasing in this little crossover. It can turn at speed with excitement and a playful attitude to it, the ALL4 all-wheel-drive system can send great amounts of power to the rear wheels if necessary, so if you really want to, you can find some slippery roads and drift your heart away. The best part is, that all this does not come to the expense of ride comfort. It is soft enough to deal with urban road challenges while stiff enough to feel rugged and capable.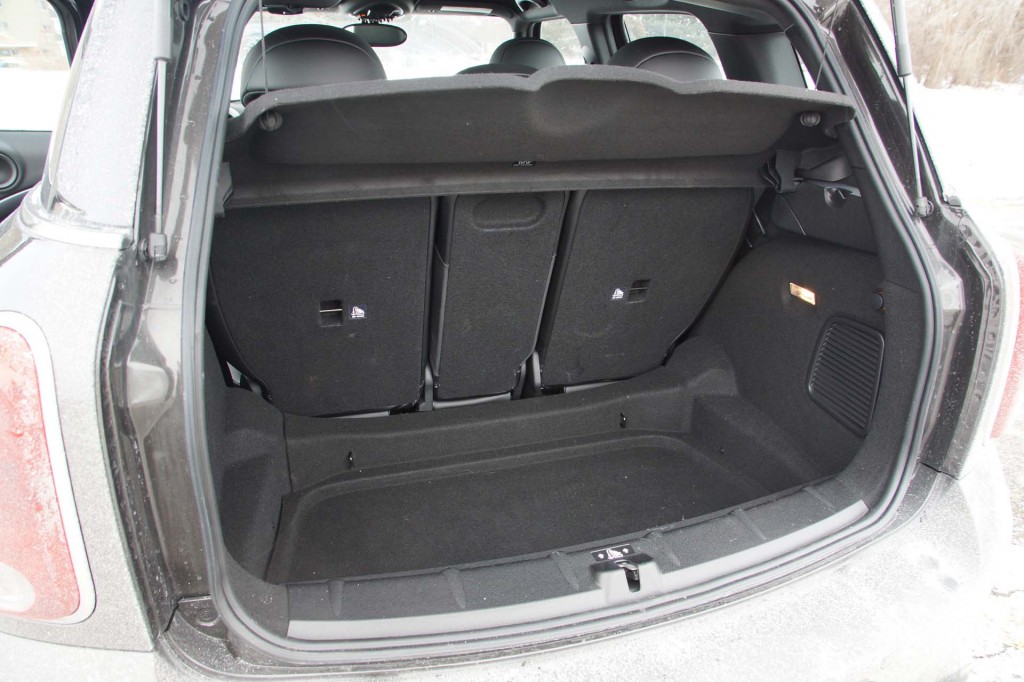 This is by far the most usable and practical Mini ever made. It can fit four adults with their luggage, or if you already have a family, two adults plus child seats and a stroller. Folding the rear seat transforms this CUV into a practical haul wagon, so IKEA trips are not only possible but can be done with some style.
THE GOOD
Handling
Style
Practicality
Performance
THE BAD
Price
Rough cold starts
The most practical Mini, yet equally stylish and fun as the original.