Engine - Transmission
6.2L V8 with ACM
Fuel Consumption (City/HW) (lt/100km)
16.2 / 11.4
100-0km/h (meters)
50m (damp)
Cargo Area (L)
430 - 1461 - 2667 L
Low-Range/Diff-Lock
No / Auto
"Same Same but Different"
This very popular Thai expression is perhaps the best way to describe how the 2015 Cadillac Escalade compares with its siblings; the Chevy Tahoe and GMC Yukon.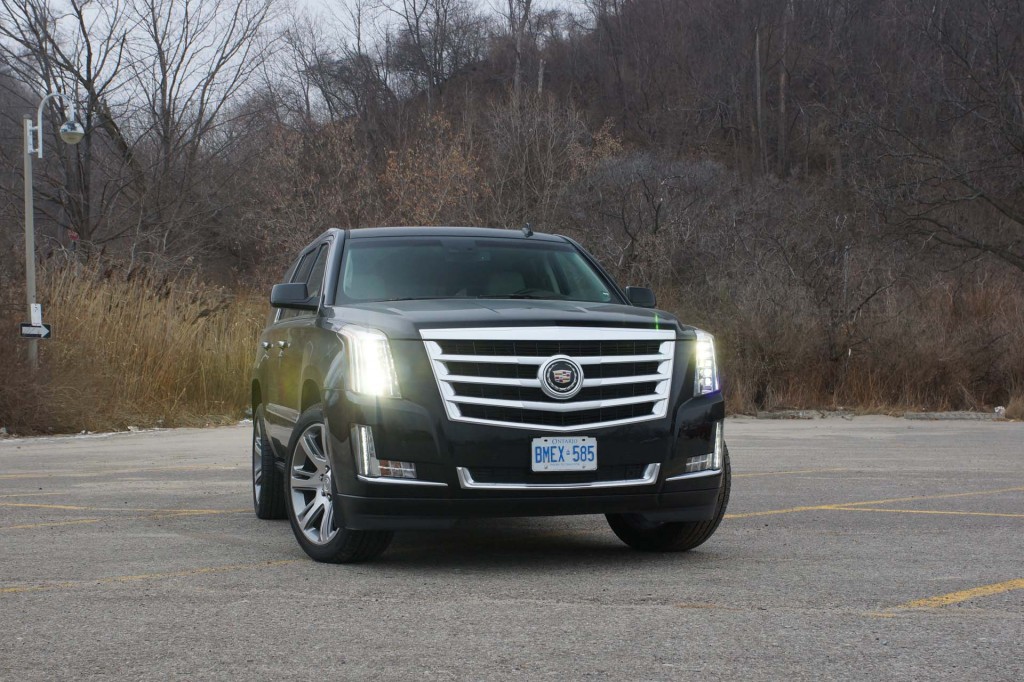 First of all, the Escalade is not camera shy as it makes the news quite often. The most recent examples include Rob Ford's Escalade being involved in a DUI incident, Tiger Woods and his ex-wife had a dispute with some bad news for his Escalade, American football tight end Kellen Winslow Jr. was caught pleasuring himself in his Escalade and Paris Hilton was busted while sniffing stuff of the crest on the steering wheel in hers. However, Cadillac is looking forward to being a less attractive douche-mobile since the new truck is more like an American Range Rover rather than a bling-bling-ding-ding-ka-ching kind of thing.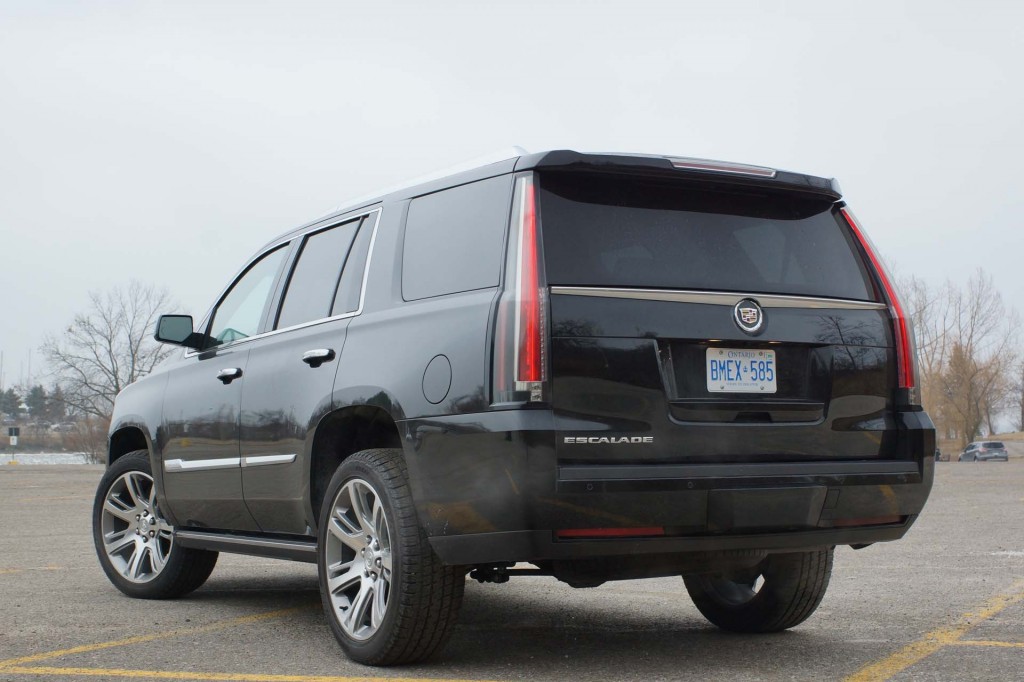 Prices start at $81,345, the Premium is $90,500 while our test vehicle also came with the adaptive cruise control, automatic collision detection (front and rear), automatic seat belt tightening, rear seat entertainment system with a 9" screen, blind spot monitors, lane change alert and departure warning, 22" wheels, power retractable assist steps, power sunroof, heads-up-display and power release 2nd row seats, reaching the price of $93,025 before taxes and fees. Standard equipment on the Premium model includes power adjustable heated and ventilated leather seats, heated power adjustable leather steering wheel, three zone climate control, navigation with Bluetooth and voice control, satellite radio, BOSE audio system, 6-speed auto transmission, magnetic ride control, remote starter that works from really far away, keyless entry with start button, fully digital  and reconfigurable instrument cluster, LED headlamps, adjustable pedals, 110V outlet, tire pressure monitor and more.
The exterior styling is less of a screamer, but damn right good looking. So good looking, it has the Range Rover looking its way with a sense of insecurity. It is very big and very bossy, dominating its surroundings by imposing its physical dimensions rather than the using the mystery element regarding its occupants. The straight line – trademark Cadillac – lights are found on all four corners making this truck very easy to recognize and at the same time very different than its siblings.
Inside the large cabin, all real materials have been used, meaning that there are no imitation wood or leather. Very high quality materials have been used for the rest of the trim bits, the majority of which are soft to the touch and candy to the eye; I guess that steering column mounted shifter, while fine on the other two trucks, looks totally out of place in this one. Other than that the cabin is very well done. And there is room for everyone!
For absolute comfort you are looking at six full grown adults and not one more,  to be loving the ride. Seven will be a little cramped at the third row. King chairs instead of a bench are found in the middle row, they are heated and come with arm rests built in. In between them, there is space for bags, jackets and legs from the third row if there is a third occupant squeezed in. Air vents are available for all passengers and the rear seats have the third zone of climate control all to them selves. Entry and exit is very easy for the third row as the middle row king chairs fold and lift upwards creating a large opening for access to the back. Nice touch.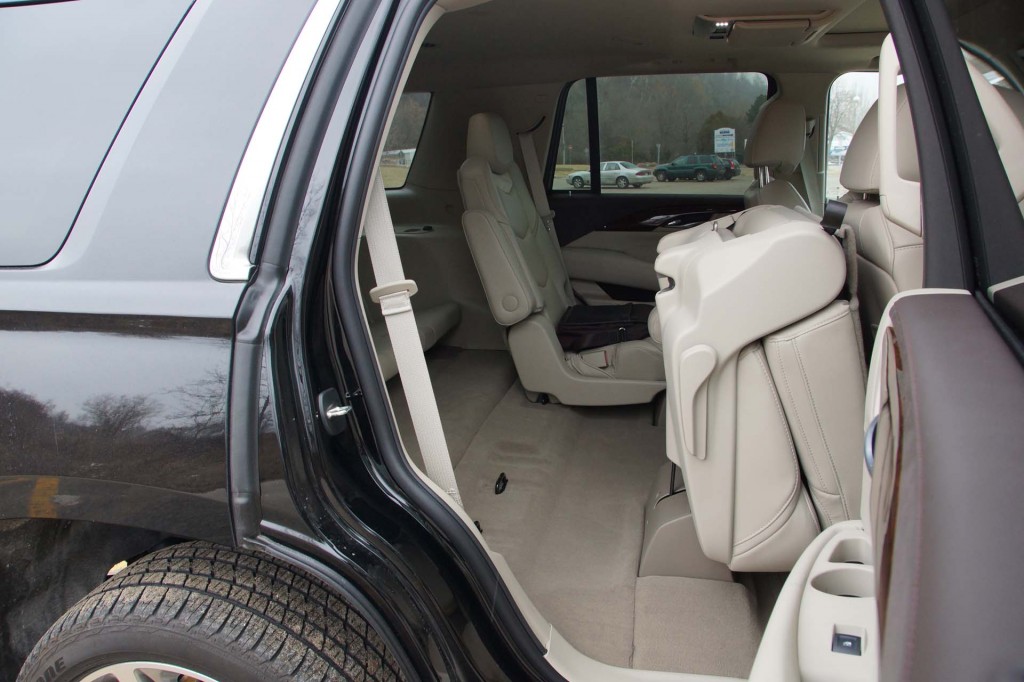 Cargo space with all seats up is good (430L), but becomes really impressive once you stow away that third row (1,461L). Total capacity can reach 2,667L when all rows are stowed away. Maximum payload is 662 kg (1,460 lbs) and if you ask me, there is enough space to challenge it.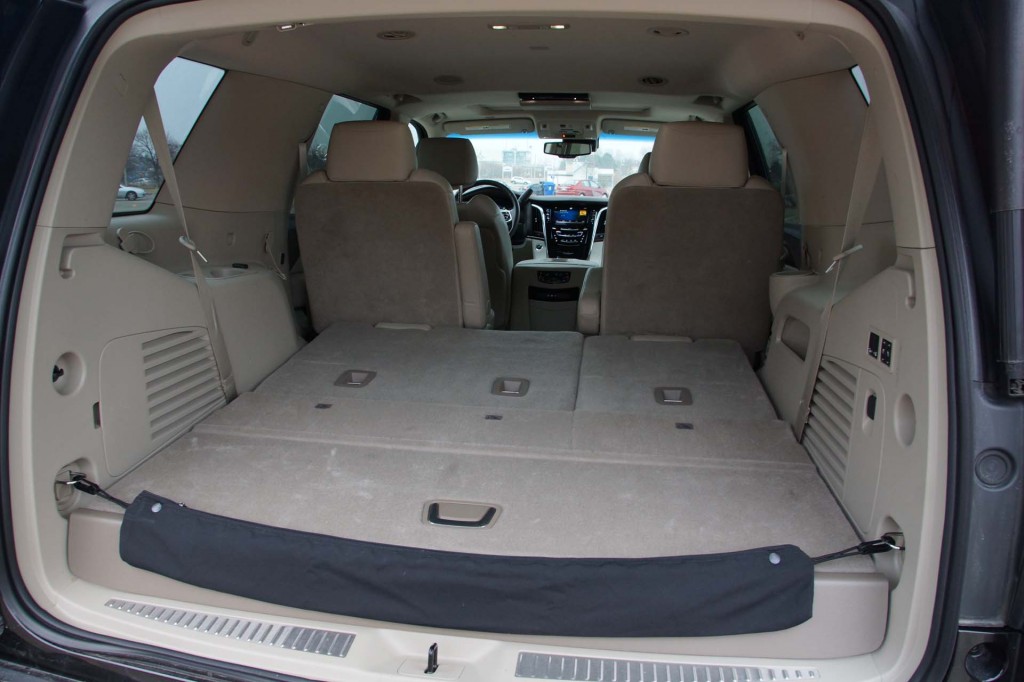 Cruising along in the Escalade is nothing but cool. Catching its reflection off any glass surface fills the soul with a reassuring warmth of how lucky you are being inside. Comfort levels are tremendous when the ride control is set to TOUR and the rolling quality is very refined. As a matter of fact, it is so refined and quiet it is probably among the best you can get from an American product. It will take a pot hole the size of the Grand Canyon to upset the occupants listening to the stereo that has been tuned to perform best when playing classical music. LOL.
The 6.2L V8 engine, comes with active cylinder management, meaning that it cuts-off half of them when not needed, and as such when cruising at regular speeds you can barely hear or feel it working. That is a good thing when it comes to fuel economy as 16.7lt/100km on average is what you can expect if you take it easy. Considering that the truck weighs 2.7 tons, I'd say it's rather decent. Impressive is the fact that it feels like a rocket when you plant your foot! The 420 HP and 460 lb-ft that come out of that smooth V8 at full blast are more that enough to get you smirking and all excited. It makes a good noise too. From a standstill, 0-100km/h is a matter of 6.7″, while the brakes are able to pull off the really hard job of bringing all this mass to a halt. In damp conditions, 50m were required for a full stop from 100km/h which is not bad at all. One thing is for sure; if the brakes had a voice, they'd be cursing every time you use them.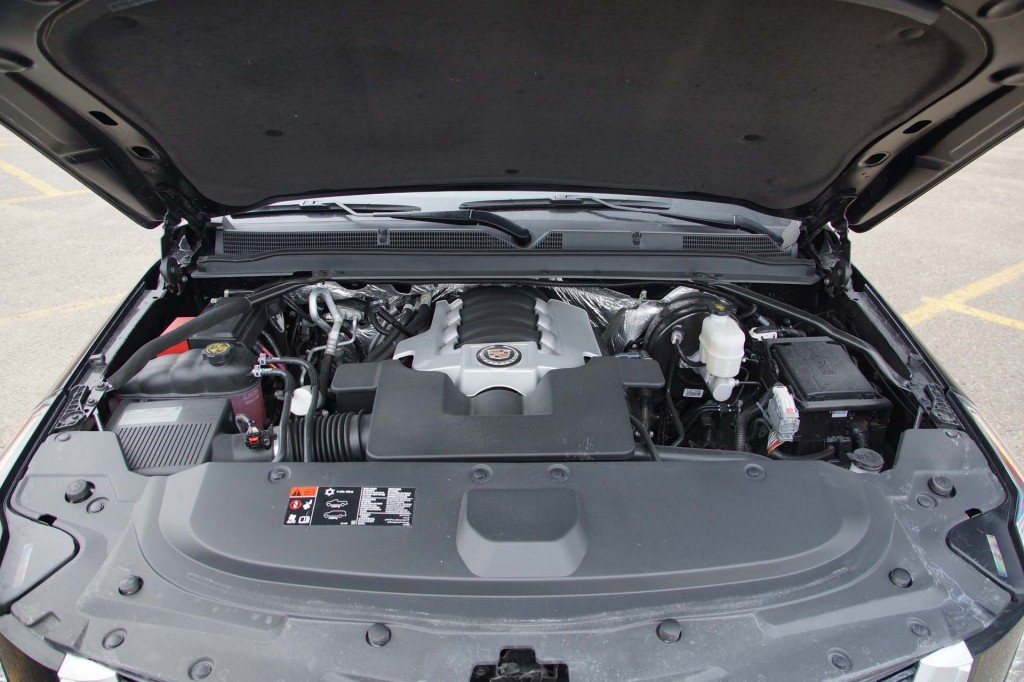 The biggest drawback of the Escalade is the absence of the low range transfer case. It is a shame having such a truck with no 4L mode. You'd probably never use it, but body on frame construction kind of goes with it. There is an Auto mode for the 4WD which you can set and forget, or set to 4H for permanent 4WD in severe weather conditions. On the highway you can set it to 2WD (2H) to save some fuel. So since you won't be doing much off-roading, on road manners matter more than ever, and despite being a huge improvement over the outgoing model, it is still very heavy and requires moderation when going around bends. Considering its weight, it handles well, meaning it is surefooted and safe, but it is nowhere near "fun to drive". Special note versus its siblings, it is much stabler on the highway with way less corrections required. It just feels more planted in a straight line. The sport mode on the suspension is absolutely useless as it only makes the ride worse.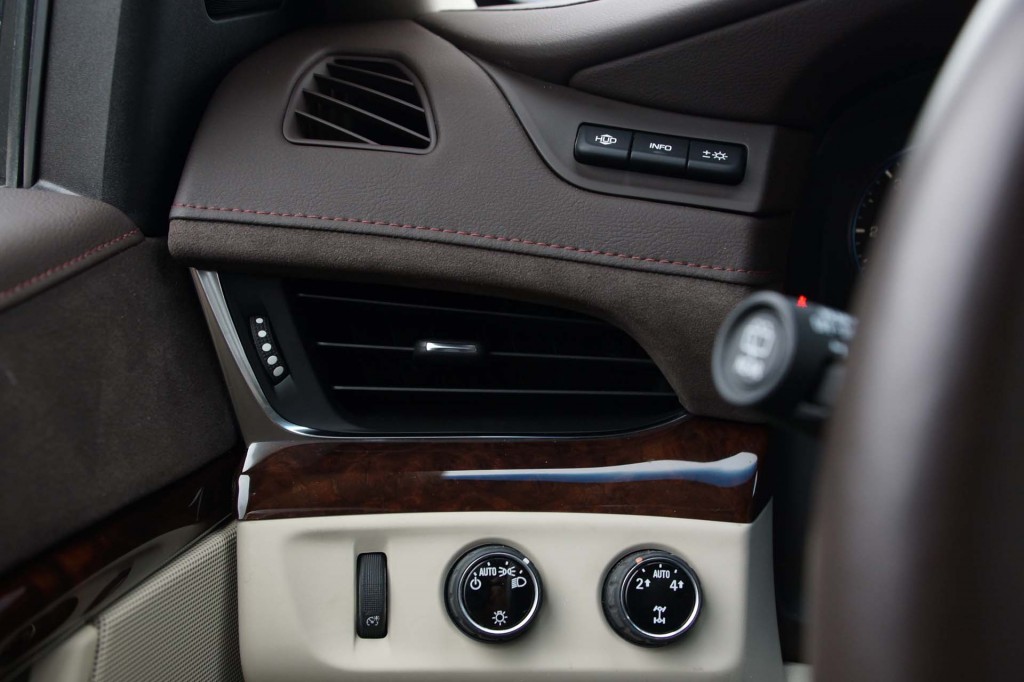 There is so much to like about the latest generation Escalade and since it is significantly cheaper than anything potentially better, I call it a successful recipe for a product that will find its place in many homes. Yes, it is heavy on gas but if you can afford to buy one, you probably won't mind, and yes, it is not as good as a Cayenne around the bends but if you ever find yourself chasing after one you'll probably have someone else deployed further ahead so the Porsche will be driving straight into an ambush, so no problem there either. All jokes aside, it can tow like a king and cruise like a boss so if any of this sounds like fun to you, this is probably your next ride.
Approach angle (deg): 15.7
Departure angle (deg): 23.1
Payload maximum (kg / lb): 662 / 1460
Trailer towing maximum (lb. / kg): 3674 / 8100
THE GOOD
Image
Luxurious Cabin
Space
Comfort
Refinement
Towing Ability
THE BAD
Fuel Consumption
Gear Lever out of place
Despite the size its only for six
Catching its reflection off any glass surface fills the soul with a reassuring warmth of how lucky you are being inside. Enough said.