Engine - Transmission
3.5 V6 - CVT
Horsepower
260 HP @ 6,000 rpm
Torque
240 lb-ft @ 4,400 rpm
Fuel Consumption (City/HW) (lt/100km)
11.2/8.3
Cargo Area (L)
1,121 - 1,979
Low-Range/Diff-Lock
No/Auto
Sexy, Stylish and a pleasure to drive were the first words that came into my head as I drove off on day 1 of my review of this newly revised 2015 Nissan Murano Platinum edition. Yes, I am excited to be writing about this crossover but can you blame me? From the first generation, Nissan that debuted for model year 2003, it was one of the first crossovers to come out on the market. Nissan has given this crossover a fresh new look and premium features without the high price tag.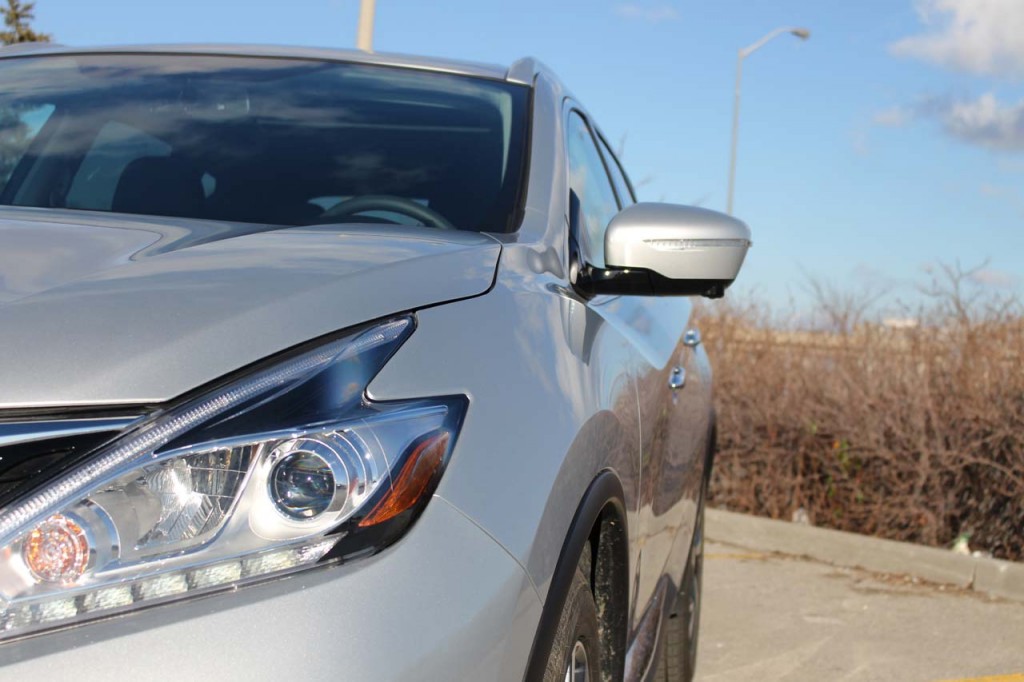 The new trim levels starting from the S trim brings you to a price point of $29,988 and offers you a solid set of basics like the Nissan Connect system, Bluetooth hands free, heated front seats, rear view camera, handsfree text messaging assistant, the comfortable Zero Gravity seats and more. All trim levels have the same 6-cylinder motor but the platinum model comes with a mildly exciting XTronic all-wheel-drive CVT transmission. This year, Nissan was able to further reduce the cost of the base Murano on the S line by $4,500 making it even more affordable and giving you more bang for your buck. You're really not slumming it in the entry level trim but in the Platinum level trim ($43,498), they really add onto the list. The main features that really stand out are:
All Wheel Drive XTronic system
7-inch Advance Drive-Assist™ Display
heated AND cooled seats
Intelligent cruise control
Blind spot monitor
Power lift gate
Power panoramic moon roof
Around view Monitor with blind spot warning
Rear cross traffic alert
20" rims
LED headlighting system
BOSE 9 Speaker system with Dual Sub woofers
The new front end follows Nissan's new V-Motion design with LED headlights and rear tail lights combined with 20" wheels that give the car a luxury class feeling. The interior is leather stitched with soft to the touch materials all around as well as wood trim accents on the door panels, center arm rest and dash. The leather is nice and soft and doesn't feel like cheesy pleather but the nice part is that the dash and console match up well with a solid fit and finish overall.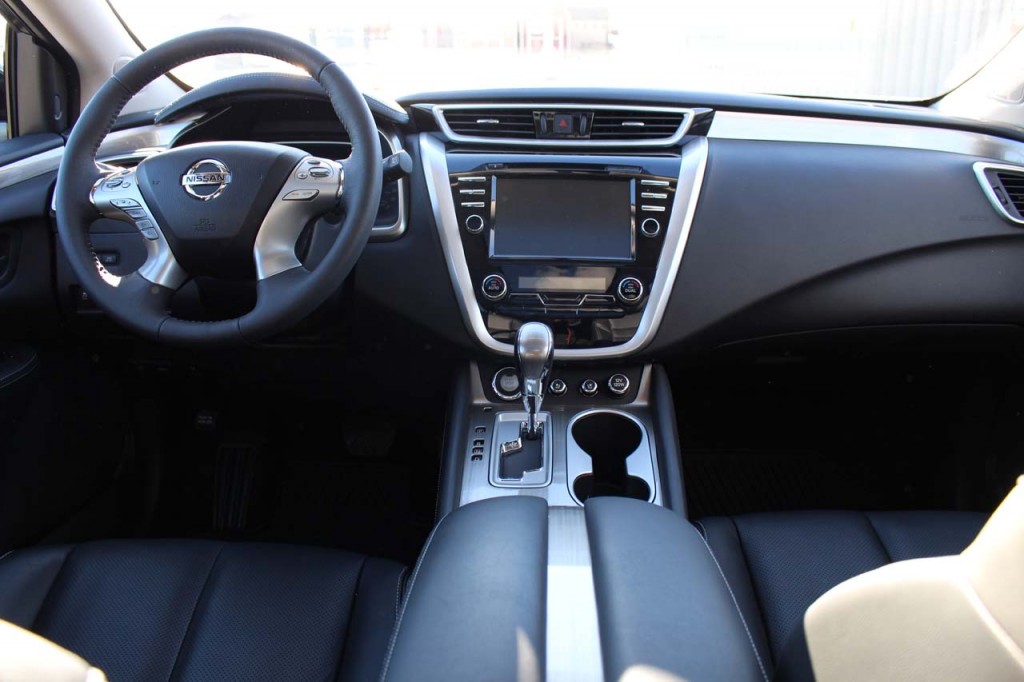 The dash is actually one of the simpler layouts I've seen as there are multiple easy to use menus in between your RPM and speedometer. You can easily chose what to look at such as your navigation directions, or travel statistics.
Now that you started to hear about all the nice toys in this car, its about time I get to talk about how its like on the road. If you like sitting in a nice tall car overlooking the road and looking above the other scrap on the road then you will be glad to hear that this is nothing like driving a truck and that the ride height seems to feel like its at the right spot (nicely in-between a car and a truck). The even better news is that it is pretty comfortable with those Zero Gravity seats and you wont be sitting in traffic slouching in your seat to get comfortable again. Adjusting your position will take only a few seconds to find your drivers sweet spot but once you're there you have all the room to stretch out no matter how you adjust it, while giving the back seat driver ample room to be comfortable.
To add to this experience, I couldn't believe how well Nissan was able to filter out all the external noises and really iron out any rattling or major road noise while on the main roads or highways. I almost felt like sleeping in the back seat and locking the doors so even when my wife wanted to come out and yell at me for forgetting to take out the trash, I couldn't hear her… okay well maybe a little.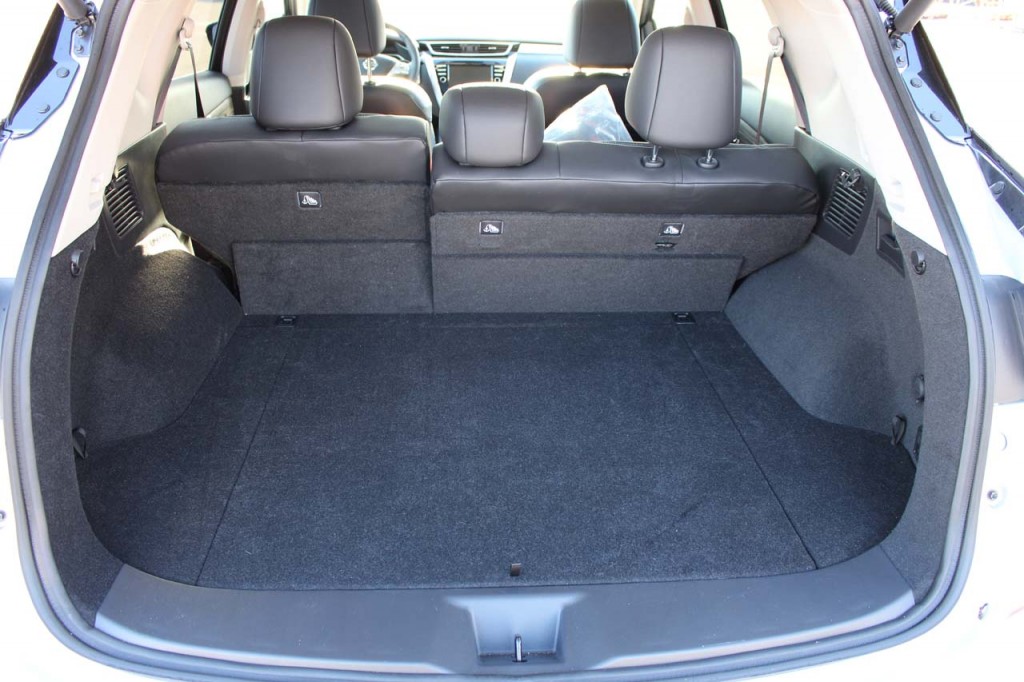 For all you parents out there wondering if this car is family friendly, here is the scoop; it is! I am a father of two and I have one forward facing seat and a booster seat with plenty of room for both kids and a stroller as well as supplies for visits away from home in the rear storage. Visits to Costsco were a breeze and grocery shopping left me with plenty of space to add more items to add with the rear seats up. There is lots of trunk space and plenty of room to put your groceries, alcohol, soccer balls or whatever your life may need you to carry in your journeys but just to be specific, there's a whole 1,979L of trunk space with the seats folded down and 1,121L with the seats up. Best of all, the kids couldn't reach each other and cause a fighting match to distract you further.
Safety isn't a space where this car is lacking either as once again Nissan has done a great job in making sure you can stay alive after an accident and still make those payments on your lease or purchase. The intelligent cruise control, Forward Emergency Braking (FEB), Predictive Forward Collision Warning (PFCW) works well and is almost instant at identifying any obstructions in your path and will slow down and speed up when a car moves into another lane from out front. The car will brake to a complete stop if you somehow forget to press the brake in the event you have a brain fart but fear not; if you did fall asleep at the wheel, you will get beeped at indicating that you are an idiot and need to pay attention to the road.
Some things to note are things like the arm rest that feels almost perfect but oddly it felt like my forearm kept slipping into the center groove while at rest but wasn't really bothersome at the same time. Visibility is very good and blind spots aren't too bad even without any tech to help you.
Driving the Murano I quickly came to realize that this 260 HP motor did have quite a bit of pull but for some reason it felt like a bit less. Its probably due to the Xtronic CVT that Nissan uses as it doesn't really have shift points like a traditional transmission but acceleration is more gradual and not as sudden when shifting at high revs even with 240 lb-ft of torque. Nevertheless, the car was able to pass traffic on demand and effortlessly but keep in mind that this is probably the best CVT I have driven to date however the noise (or any transmission that uses CVT technology) just set me back on my driving experience. You will be glad to hear that through the entire test of this car that I had driven 420km with an average fuel consumption of 13.5L/100km which is really not bad for an all wheel drive vehicle.
The handling is what I would expect in a crossover yet doesn't pretend to feel like a performance crossover with the suspension of sponge bobs tricycle. Steering was very responsive both on the highway and main roads yet felt very light with minimal feedback no matter how or where you drive. Throwing the car into a quick turn gave way to very little lean and confidently brought you through a hard turn without fear as the front and rear ends of the car maintained their composition throughout. Although the suspension was firm, bumps in the car were hardly noticeable yet still felt very comfortable. The 12.6" front and 12.1" rear vented disk brakes stop on a dime and does a good job in stopping distance for such a large car. Brakes engage quickly and feel tight but not enough where your head flies into the windshield when tapping the brake pedal.
I have always felt that Nissan has been one of those manufacturers that gives you a solid bang for your buck stemming from the Nissan line all the way to its luxury class Infinity line. The Nissan Murano starts at $29,988.00 and starts to offer premium features from the get go all the way up to the Platinum line. The fact that it takes regular gasoline (no premium here folks) also helps you save on the pocketbook so you're not paying that 16 cent premium on 91 octane gas.
THE GOOD
Handling
Fuel economy
Space
Family friendly
Features
Styling
THE BAD
Noisy Transmission
Heated seats don't heat up well
Excellent all-rounder, packed with tech.