2016 Hyundai Tucson 2.0L AWD Luxury
Engine - Transmission
2.0L GDI I4 - 6-Speed Auto
Horsepower
164 HP @ 6,200 RPM
Torque
151 lb-ft @ 4,000 RPM
Fuel Consumption (City/HW) (lt/100km)
11.0/9.0
Low-Range/Diff-Lock
No/Yes
The oldest vehicle in the Hyundai lineup was the Tucson, so it comes as no surprise that the company has just released an all-new model, redesigning it ground up, in an attempt to squeeze itself further in to a very crowded segment.
Facing fierce competition, the new 2016 Tucson comes with a few aces up its sleeve, making it a serious option for anyone shopping around for a roomy yet compact crossover. As expected, lots of toys is what you will be getting even in the base trim, and as Hyundai likes packing options into trim levels, the Luxury model that we tested was quite rich in terms of features.
Priced at CAD $33,099, our 2.0L AWD Luxury tester sits on top of the range with the base engine; featuring a 2.0L GDI engine, 6-speed automatic Transmission with SHIFTRONIC manual mode, all-wheel-drive, six airbags, ABS with EBD, downhill brake control, stability control, hill start assist, remote keyless entry with start button, blind spot monitors, dual zone climate control with clean air ionizer, heated steering wheel, heated front and rear seats, windshield wiper de-icer, leather interior and top dashboard, rear-view camera, 8" touchscreen with navigation, satellite radio and bluetooth, premium audio, power adjustable driver's seat, tilt and telescopic steering column, split-fold and reclining rear seats, panoramic sunroof, power smart tailgate, 17" alloy wheels and projector headlights with LED accents.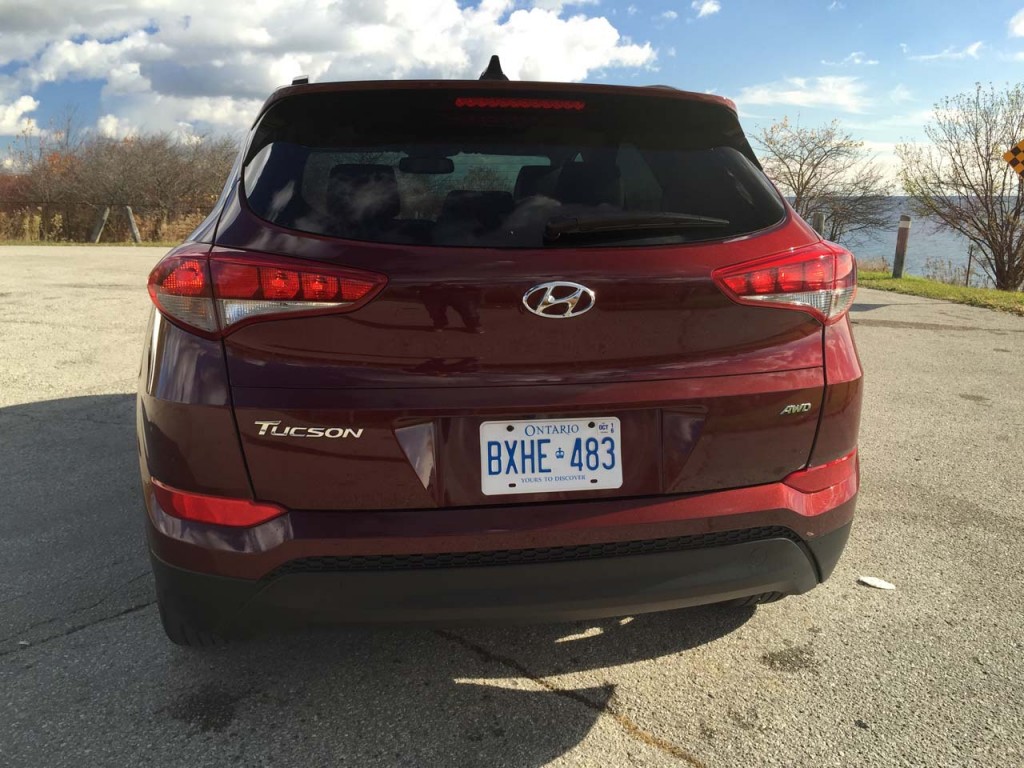 The exterior design builds upon the previous model but all lines have been tweaked to be much more aggressive and dynamic. The front and rear taillights follow the Elantra's fluid design with the narrow and long proportions. It is a good looking thing, and especially in bright colours, it looks great. The Ruby Wine on our test vehicle was a bit dull; not complimenting the design much.
The interior is a lot nicer versus the old model, despite the extensive use of hard plastics. Soft to the touch plush materials have only been used for the top of the dash and it is quite unfortunate that they don't extend to the top of the door panels. Fit and finish however is really good and no rattles are heard when hitting harsh bumps. Ergonomically it is very easy to figure out and operate and visibility is generally really good. The instrument cluster is simple and functional and the infotainment system is well thought through and works really well without any lag.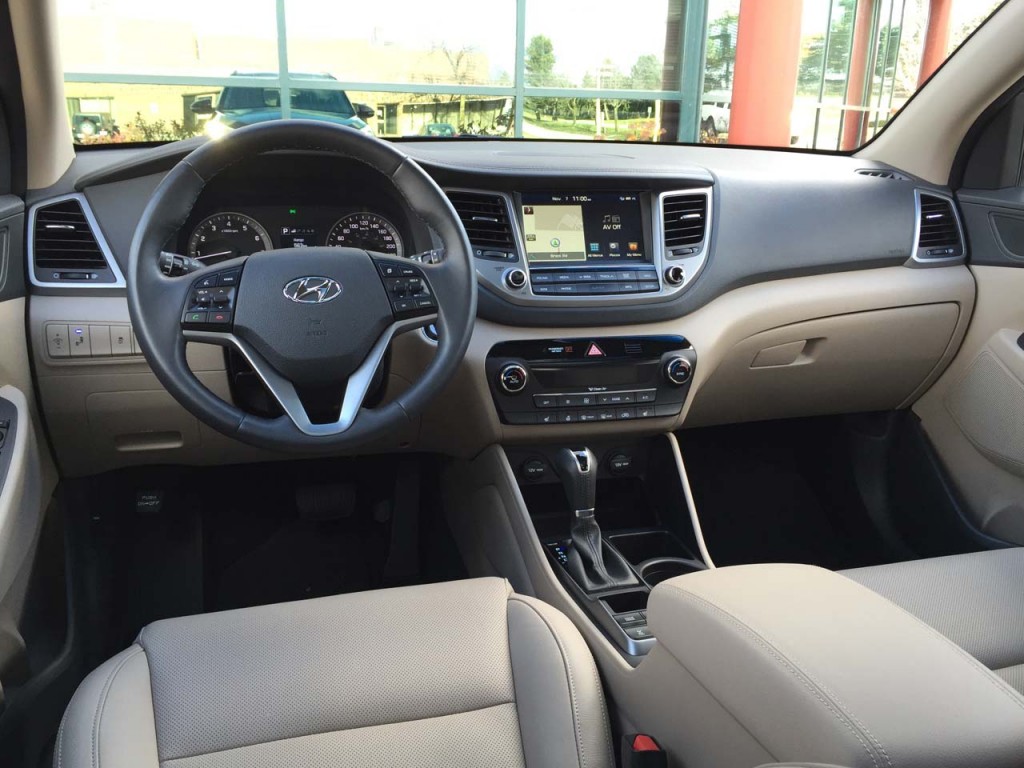 Roominess is really good in every corner seat, leaving the middle back seat a bit behind, but only if the capacity is maxed out. Both headroom and legroom are great and all seats are plush and comfortable. The front seats don't provide a lot of side support, but in this type of vehicle it is not really required. The trunk is also quite large, rated at 877L without a tonneau cover (floor to ceiling).
The 2.0L GDI engine outputs 164 HP and 151 lb-ft of torque and it is absolutely fine with running on regular gas. In general, it is quiet and refined and especially in ECO mode you can barely hear it running. In SPORT mode, or when revved hard, it gets a bit loud and harsh, but that is not something you'll be doing often in the Tucson. Pulling power is enough for the typical commute and the occasional family trip to the cottage, even when loaded, but in terms of sheer performance, there are quicker crossovers out there. The sprint to 100km/h takes 11.9 seconds, so if you need more speed, you can opt for the 1.6L Turbo with the 7-Speed Dual-Clutch automatic gearbox. Being naturally aspirated helps it achieve a very consistent fuel economy average and on our watch we observed a fair 9.7lt/100km combined.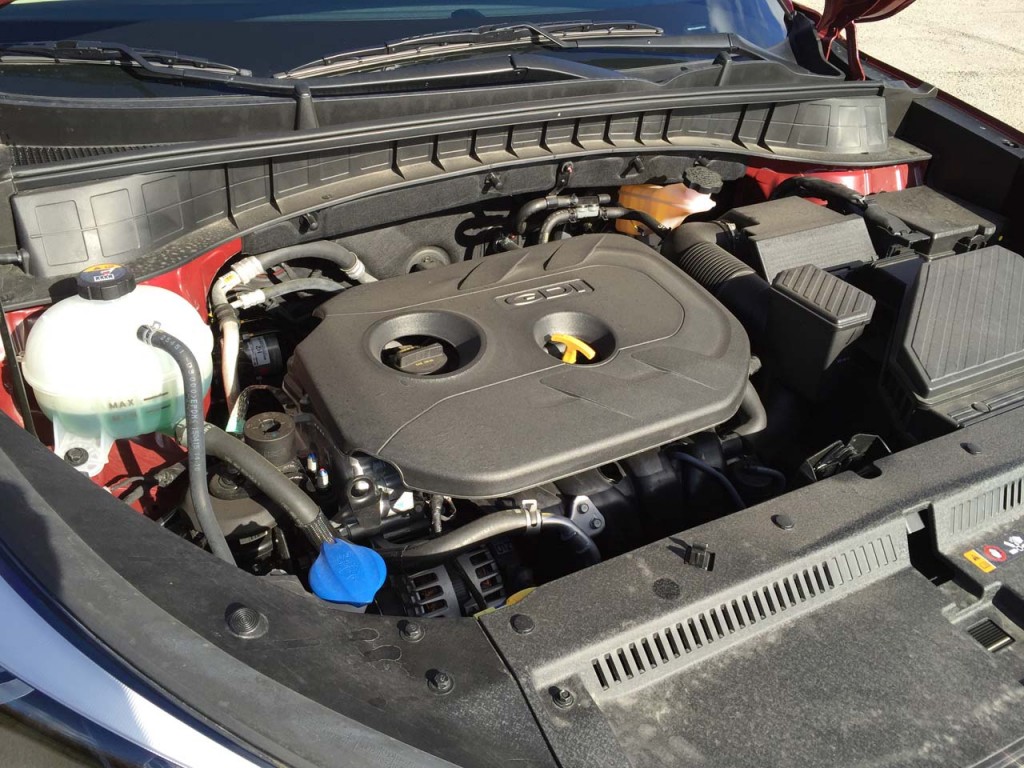 The complete redesign allowed a total rework on the suspension components and their tuning, and the result is a very balanced ride that perhaps slightly favours comfort. A decision that makes total sense, as you won't be racing on track days with your Tucson; but it can surely tow your go-kart to one. Over bumps and broken pavement, the suspension tries really hard to take the beating without disturbing the occupants that much. It does a really admirable job and is also rather quiet while doing so. On the other hand, when the road surface is good and perhaps a bit twisty, you can charge towards the corners with a fair amount of speed as the turn-in and steering feel aren't bad at all. The steering is well weighted and through corners the Tucson remains planted and predictable. If pushed too hard, it will start to understeer and the stability control will wake up to slow you down and it all works very well. The only real complaint I had was the minimum speed of the hill descent control. While I was off-roading and going down a steep hill, I tried to set it to the slowest speed but that was still too fast, leaving me with no other choice than to take over.
With comfort and equipment being its strong selling points, the Tucson will surely sell really well and will leave future owners happy with their choice. It is a good looking crossover with reasonable off-road ability and a great warranty; characteristics that should put it on your "must drive" list.
THE GOOD
Roominess
Ride Comfort
Equipment
Infotainment System
Technology
THE BAD
Hill Descent Control
Some Materials Look Cheap
Not the most exciting drive on the planet, but comes with lots of things to get excited about.