Engine - Transmission
3.0L V6 Turbo Diesel
Horsepower
249 hp @ 3400 rpm
Torque
457 lb-ft @ 1600 rpm
Fuel Consumption (City/HW) (lt/100km)
10.8 Combined As Tested
100-0km/h (meters)
45 (winter)
Low-Range/Diff-Lock
No/Auto
It took eight years, but finally, the BMW X6 has a direct competitor! It is the 2016 Mercedes-Benz GLE 350d Coupe, and by the looks of it, it seems like the rival from Stuttgart means war.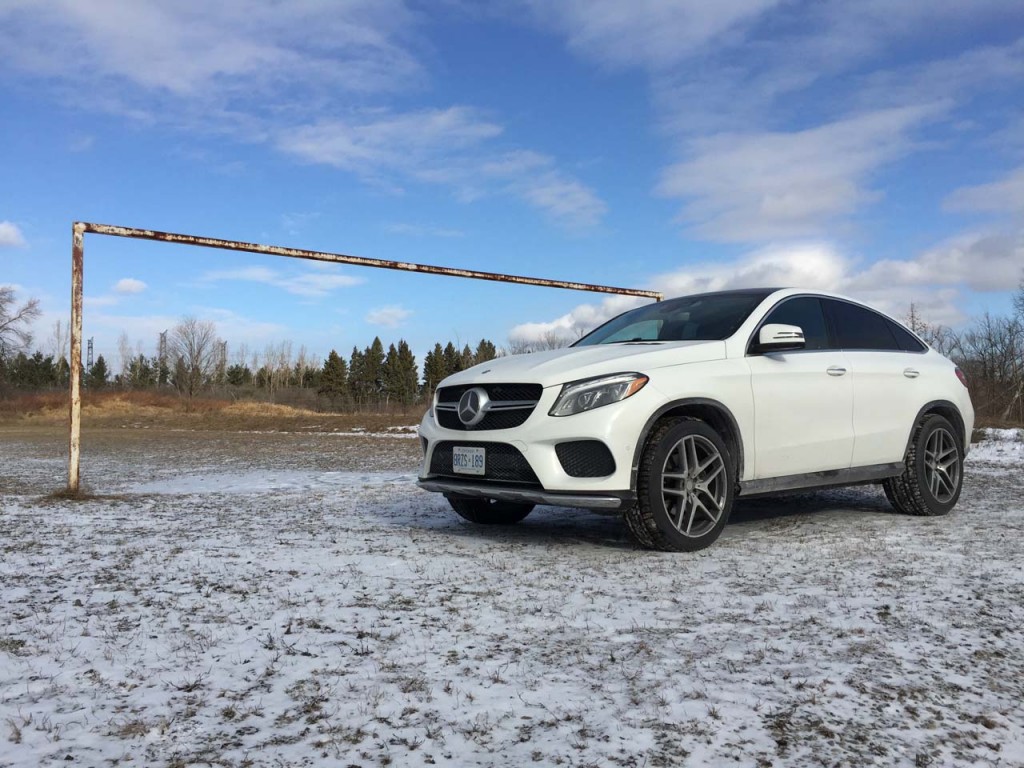 The base model is the 350d, starting at $72,300 and equipped with a V6 3.0L Turbo Diesel engine mated to an excellent 9-speed automatic transmission. As you would expect, the gear found on the vehicle is pretty impressive even without any options added. For the occasion, our Polar White beauty came with AMG Styling, SIRIUS Satellite radio, Bluetooth connectivity, a Harman/kardon LOGIC 7 sound system, COMAND Online Navigation with Apps, Panoramic sunroof, dual zone THERMOTRONIC climate control, the amazing climate controlled cup holders, interior ambient lights, power memory seats and steering column, heated front and rear seats, active parking assist, torque vectoring control, high beam assist, 7 airbags including driver's knee, attention assist with pre-collision warning and assist, adaptive DISTRONIC cruise control, blind spot monitors, crosswind assist, rear view camera and 360-view, ECO start/stop system, AGILITY SELECT with 4 driving modes (slippery, comfort, sport, individual), AIRMATIC adaptive suspension, Diesel Particulate Filter (DPF), Magic Vision Control, keyless entry, hill descent control, power tailgate and heated sport steering wheel. Our test vehicle was fitted with the interior sports package, sport package, intelligent drive package and premium package, reaching a total price of $85,125.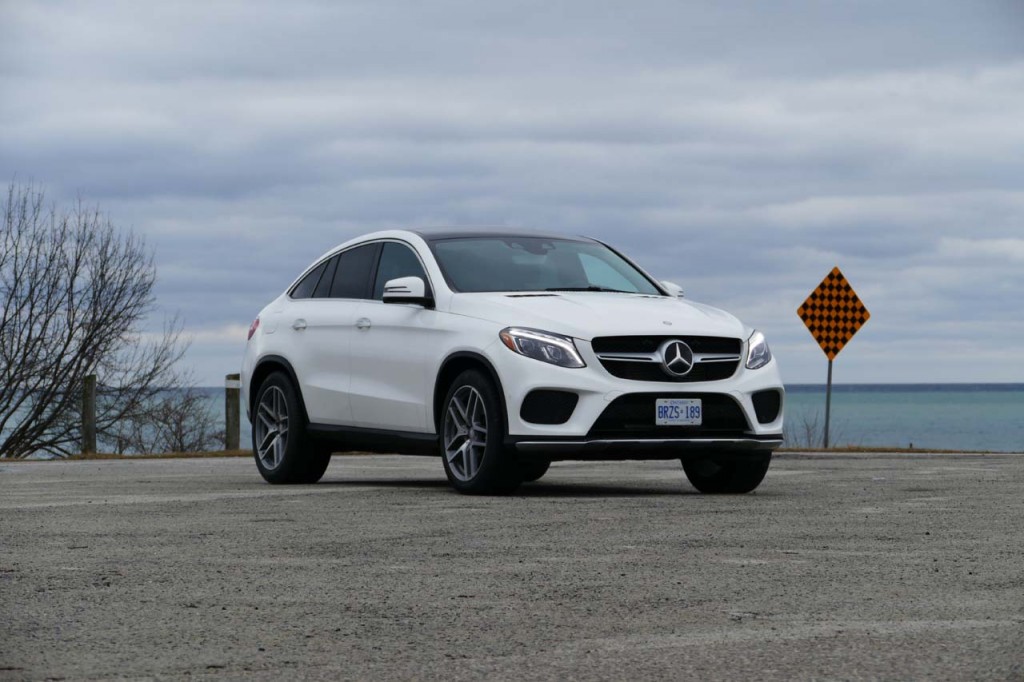 The exterior design is one that will attract a lot of attention, and sure enough, during the week we spent with it, we were followed numerous times by drivers wanting a closer – second look. You can't help but notice the beasty analogies; it is tall, round and athletic, kind of like a football player with four wheels. Despite being so muscular, it doesn't forget to look elegant. The front and rear really took after the S-Class Coupe, and together with the 21" AMG wheels, it makes it look very proud on the road.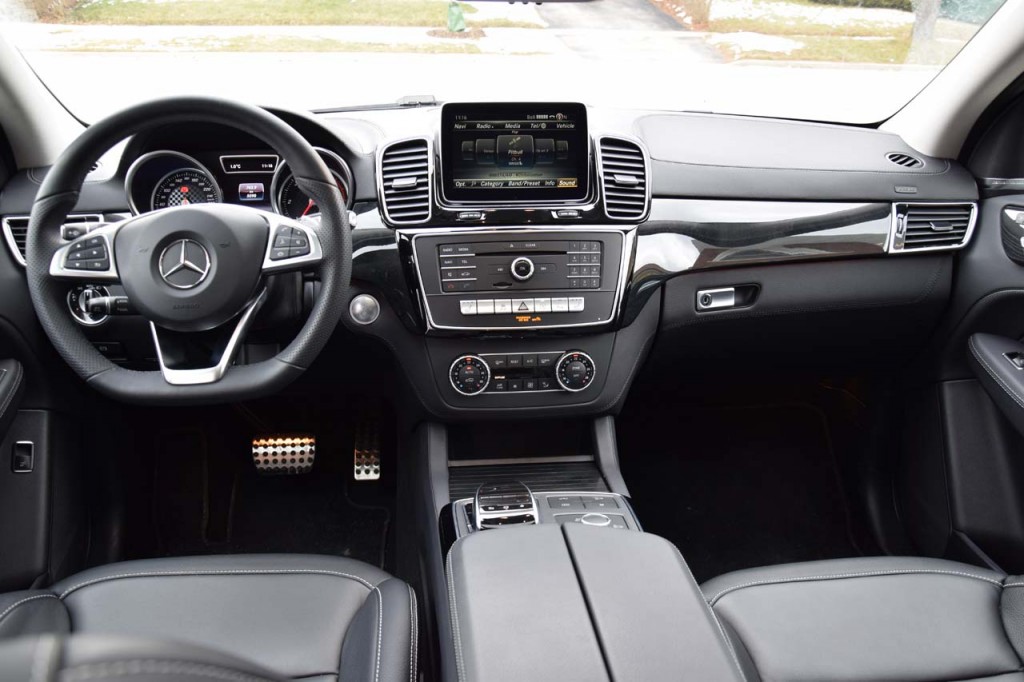 Behind the wheel is a very nice place to be as the dash is a bit conservative but ergonomically sound and structurally solid. It slightly disappoints in terms of styling compared to the exterior; it is not as daring or radical. It also falls a bit short in terms of what is found in the Bavarian rival. The materials used are all high grade and you even get luxurious stitched leather on the dash, but it is too serious and dark, having no contrasting design cues to brighten it up. Of course, many prefer this type of interior, so overall it cannot be held against it.
On the other hand, it is very roomy up front and the rear seats are much roomier than in the X6, but still, they are not as good as in their non-coupe versions (X5 and GLE). Five adults will sit comfortably and the large trunk (650L) will easily fit all of their stuff; but only after you have lifted them as high as the stratosphere to get them in. You see, the trunk lip is so high, it made me feel as short as Danny DeVito the first time I opened the trunk.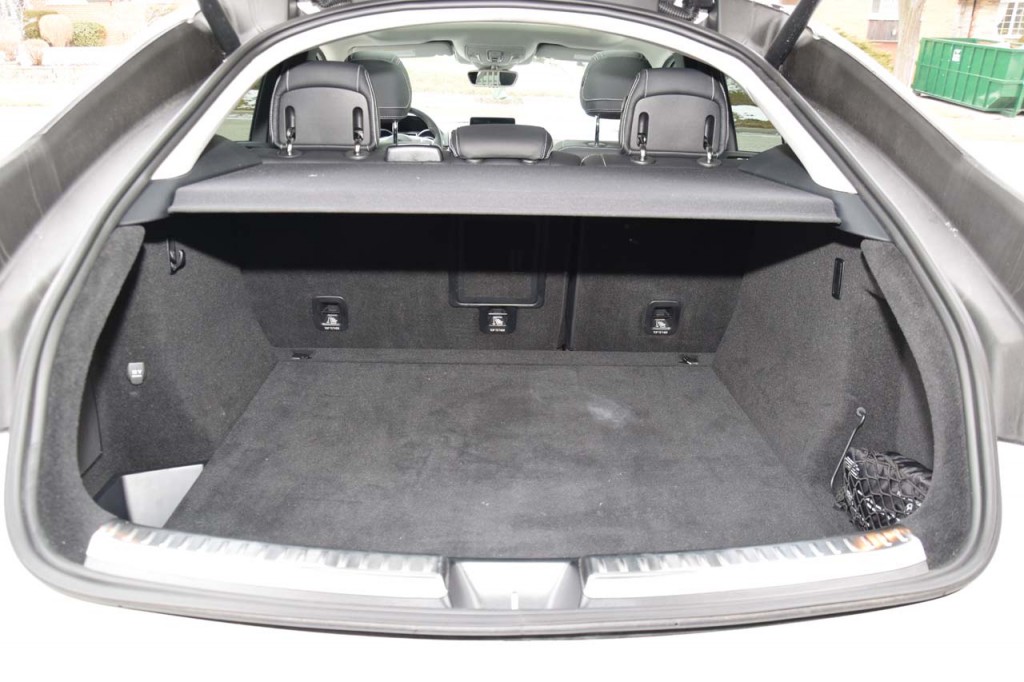 Under the sexy hood, lives a very refined and powerful 3.0L V6 Turbo-Diesel motor, outputting 249 HP and 457 lb-ft of torque. These figures are enough for the firm to claim a top speed of 226km/h and a 0-100km/h time of 7 seconds dead. In the middle of the Canadian winter and with massive snow tires on it, we measured 8.1 seconds for the sprint to 100km/h but nevertheless in terms of performance, it is good enough to stare at the gasoline turbo X6 right in the eyes. Throttle response is very good in sport mode and thanks to the tremendous torque, it always feels powerful and ready to go. The 9-speed 9G-Tronic automatic transmission is really quick and on the highway it is possible to slightly accelerate even in top gear. The only complaint would be speed of the transition between Drive and Reverse as it isn't as fast as I would like it to be. The brake pedal felt very linear and had a very positive feel to it, and despite the winter tires and salty roads, from 100km/h it came to a complete stop in 45m, which is a solid performance. Where this one has the rear end of the X6 whopped is when it comes to fuel economy, as 10.8lt/100km combined are very easily achieved despite the size and weight. You can't go wrong with a diesel, especially one with the Mercedes-Benz logo on it.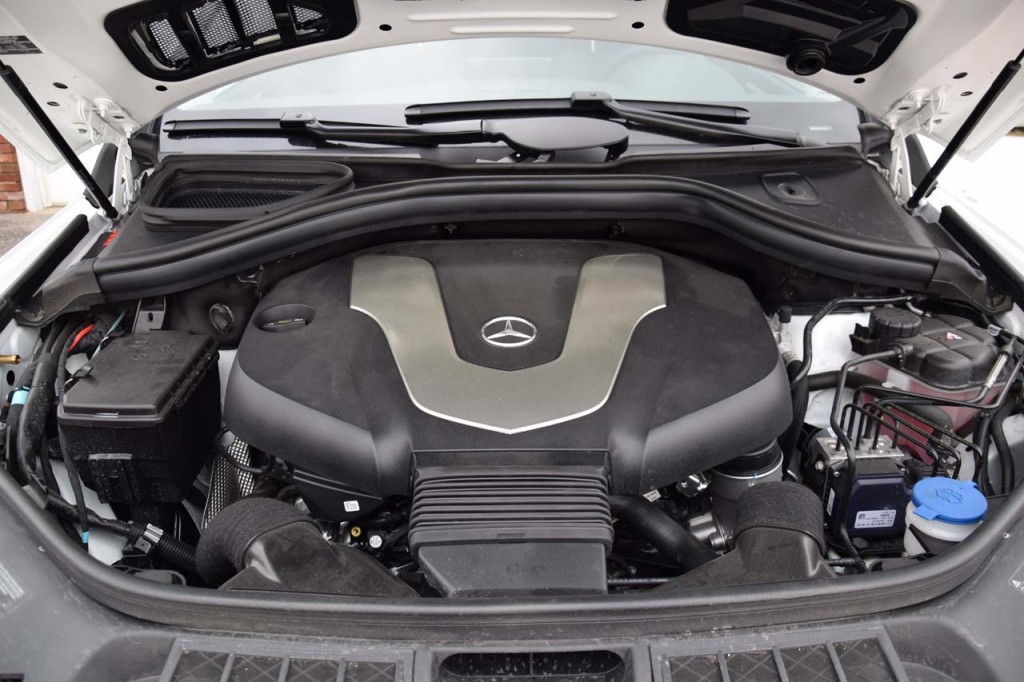 Interior comfort might be good, also thanks to the great seats, but the ride comfort is surprisingly poor. Very surprisingly, as we have loved all other applications of the AIRMATIC suspension, this truck is very stiff even in comfort mode, bouncing off bumps with its huge tires struggling to follow the shocks. Some bumps can seriously unsettle the rear end that hops and jiggles back into place, which is something you wouldn't expect in comfort mode. Flick the switch to sport mode and things get even harder, but at least knowing it is set to sport, you tend to drive it harder, which then makes ride comfort insignificant as handling starts to shine.
Keeping in mind that this thing weighs two tons and a quarter, handling is impressive as in a straight line, it feels sturdy and keeps its line very well, while in the corners it tries its best to remain level, predictable and progressive. It grips really well and the steering in sport mode is well weighted and delivers good levels of feedback. The diesel model runs on a 50:50 power split between the two axles, so it is generally very well balanced and forgiving. At that point, you start forgiving it for its hard ride and when cruising at low speeds you tend to focus on showing it off as heads turn everywhere you go.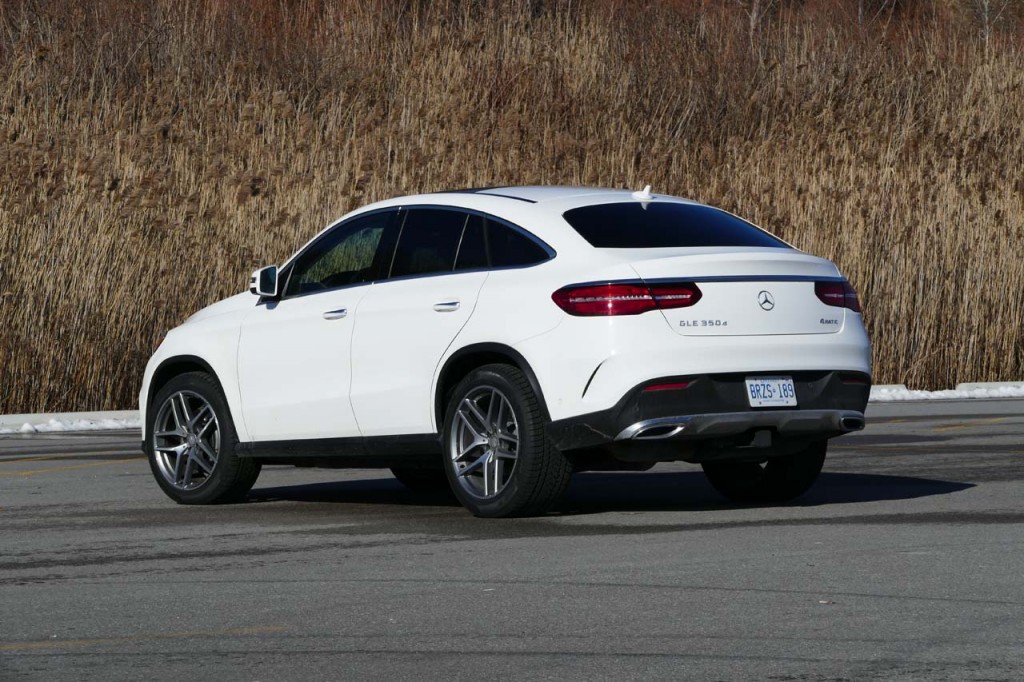 Also, note that we had the opportunity to test this thing on a mild off-road course where it shined and impressed with the perfect hill descend control and extra ground clearance once raised. It felt just as much at home doing up and down muddy hills with the 4MATIC all-wheel-drive system showing no signs of trouble.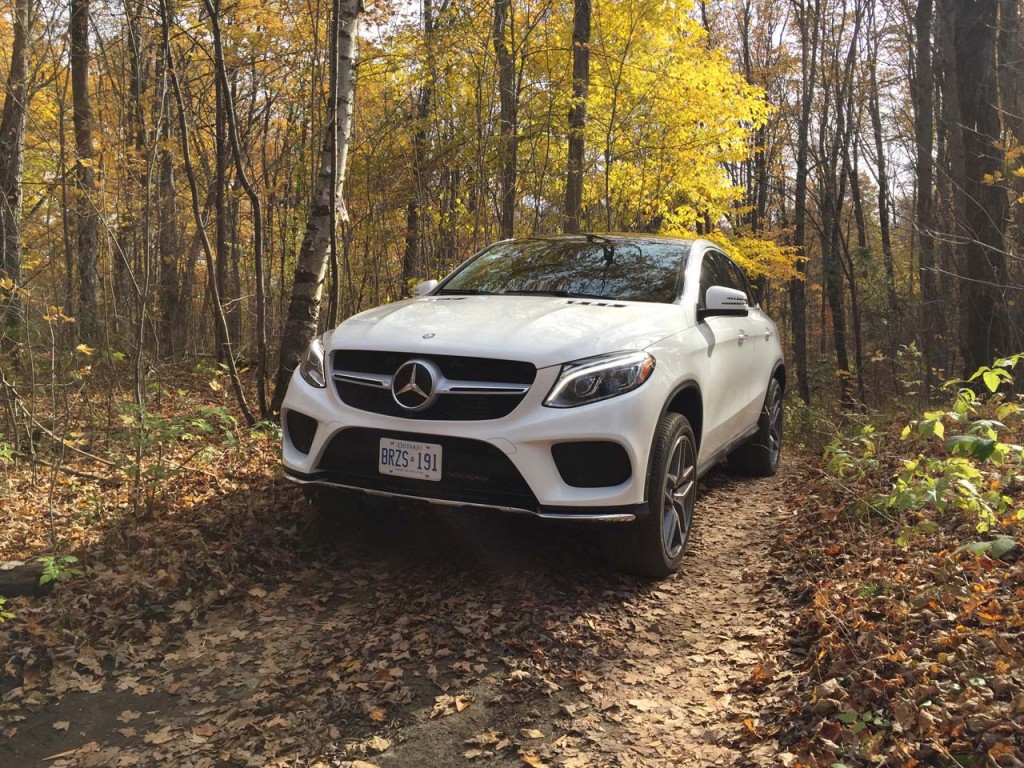 Overall, Mercedes-Benz struck at the right time and with a roomier and more practical alternative to the X6, it will have a great share of the market, which is vastly growing in popularity. Thanks to the available diesel drivetrain, your wallet will suffer less in the long-term.
THE GOOD
Design
Interior
Features
Rear Legroom
Trunk Capacity
Handling
Fuel Economy
THE BAD
Ride Comfort
High Loading Lip
The X6 is losing some sleep, for a very good reason. This is more practical and cheaper to run.