2016 Range Rover Sport SVR
Engine - Transmission
LR-V8 Supercharged 5.0 - 8-Speed ZF Auto
Fuel Consumption (City/HW) (lt/100km)
17.3/12.2
Cargo Area (L)
784 - 1,761
Low-Range/Diff-Lock
Yes/Yes
When Land Rover's Special Vehicle Operations department took the second generation (L494) Range Rover Sport Supercharged into their labs, everyone knew that the end result would be nothing less than spectacular.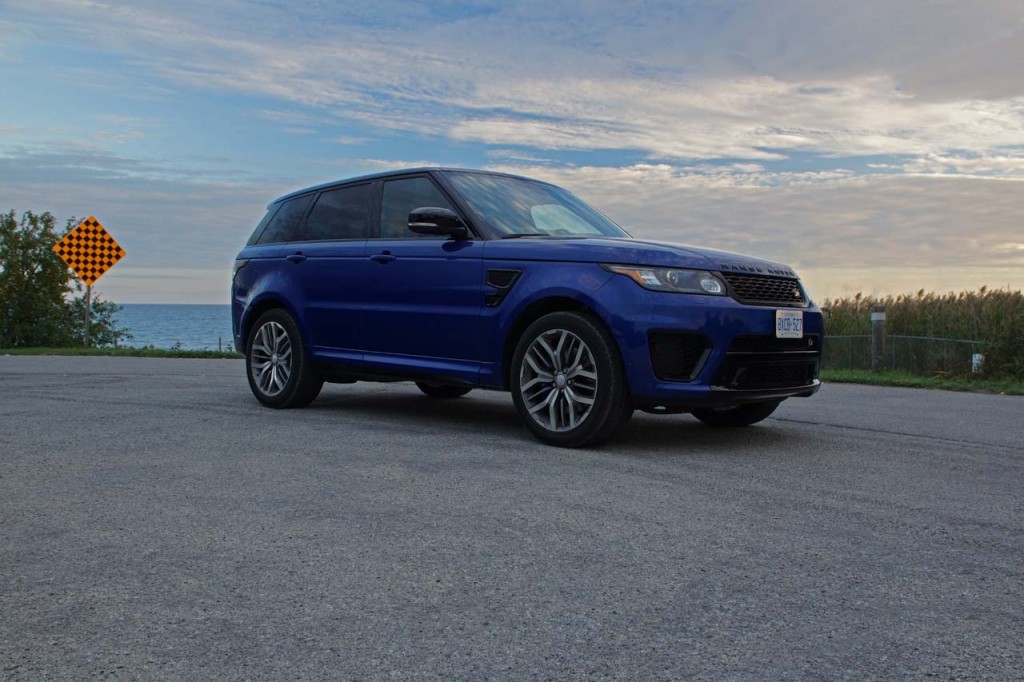 What rolled out of their production line, was a Range Rover Sport injected with "more" in every possible area and some SVR badges. Visually, the bumpers are fully revised and much more aggressive, the grille is now black and so are the side fender vents and the alloys are now 21″, fitted with all-season tires.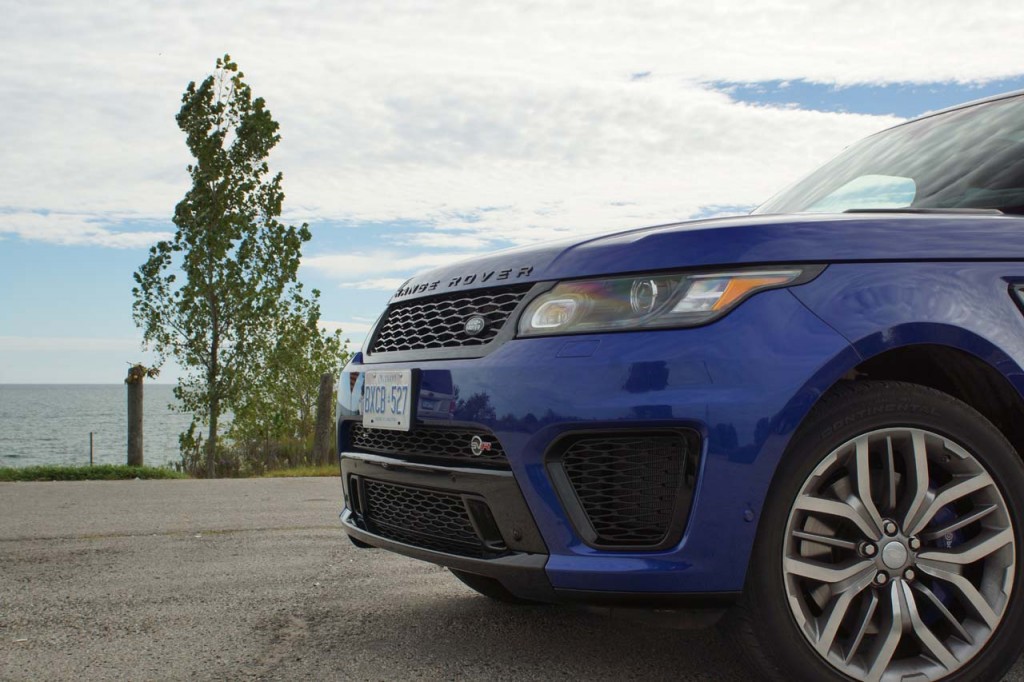 In terms of toys bolted on to the glorious chassis, expect to find a list that is nothing short of impressive. Unique SVR front and rear bumpers, grille and bonnet vents, unique SVR fenders and fender vents, unique SVR rear spoiler, gloss black diffuser with quad exhaust pipes, 20-inch blue Brembo® brake calipers, adaptive Xenon headlights with LED signature daylights, automatic high beam assist, heated windshield with heated washer jets, rain sensing windshield wipers, speed proportional Electric Power Assisted Steering (EPAS), Dynamic Stability Control (DSC), Hill Descent Control (HDC®), Four Corner Air-Suspension (FCAS), Reactive Grounding Response, twin speed transfer box (High/Low Range), Terrain Response® 2, Adaptive Dynamics, Dynamic Response®, Torque Vectoring, Intelligent Stop/Start System, Gradient Acceleration Control (GAC), Gradient Release Control (GRC), Switchable Active Sports Exhaust, unique Oxford perforated leather SVR sports seats with integrated head rest & de-bossed SVR logo and 14-way power adjustable, heated front and rear seats, heated leather steering wheel, Three-Zone Climate Control, Surround camera system, Blind Spot monitoring with closing vehicle sensing and reverse traffic, Driver and Passenger Airbags (side, seat-front, thorax, pelvis), Roll Stability control (RSC), Adjustable Speed Limiter, 21-inch five split-spoke alloy wheels, Tire Pressure Monitoring System (TPMS), Meridian Surround Sound System (825 W) with 19 Speakers, Navigation System, Bluetooth® Phone Connection and Audio Streaming, TFT Virtual Instrument Panel, 8-inch touch-screen, USB port, refrigerated cubby-box and Sirius Satellite Audio System.
Inside the luxurious cabin, you'll immediately notice the fixed-bolster sport bucket seats with the SVR logo imprinted on them but other than that, nothing else really stands out. You have to look for small details that set it apart. Once again, the materials used are mostly real leather, nice soft plastics and aluminum trim bits that have been put together extremely well. Ergonomically, the touch screen is a bit far and requires the full reach of the arm to get to it, but other than that, it is one of the nicest interiors out there.
Roominess is fantastic for 5 adults and the trunk will fit anything you please with no issues, as at 489 L under the luggage cover, it is large and well shaped. There is a hidden compartment under the floor you can use, since there is no spare tire (you get a repair kit) and on the sides, there are hooks your grocery bags can hold on to.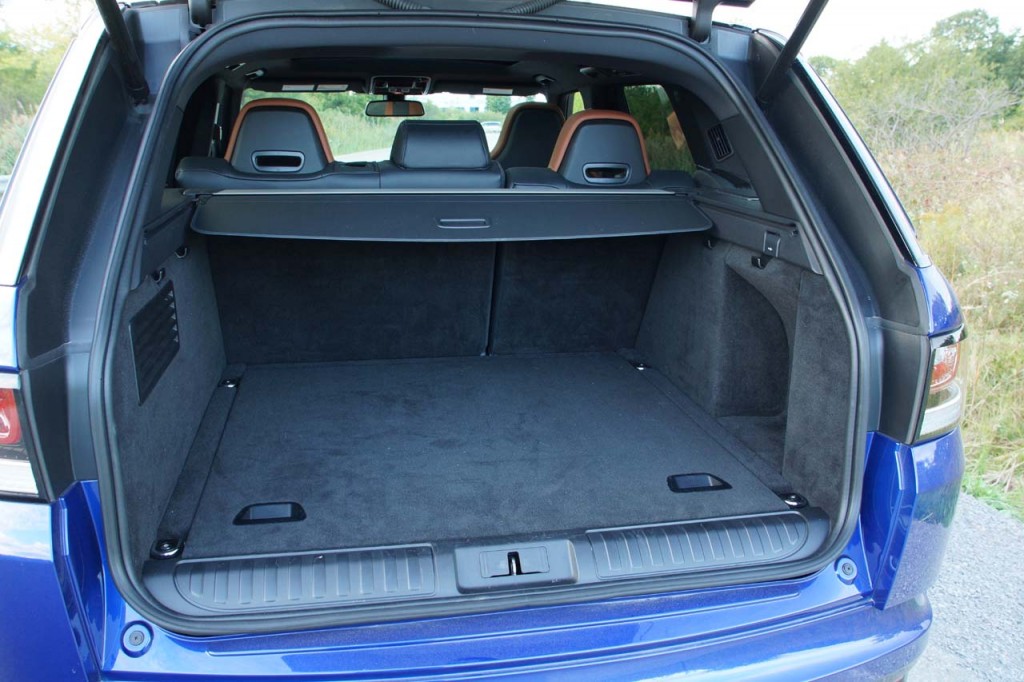 The SVR comes with quite a bit more power, so it is essential that passengers and luggage sit tightly in place. The 5.0L V8 Supercharged engine has been tweaked to now output 550 HP and 502 lb-ft and it is mated to an 8-speed ZF automatic gearbox that has also been tweaked to shift up to 50% faster. The result is a 0-100km/h time of less than 5 seconds and needless to stay, speed changes at breakneck pace. In dynamic mode, throttle response is immense, snapping into gear within the blink of an eye, while cracking and popping the exhaust non stop. Despite its 2.335kg, the SVR is blazing fast. Take it out of dynamic mode and you will experience a nice, subtle ride, that calms down and becomes civilized, almost blending into traffic a bit too well. Follow the eco guide that shows you how to save the planet's ecosystem and your fuel consumption average can drop to a very reasonable 13.4lt/100km.
The greatest news is that Land Rover honoured all the elements that define a Range Rover and as such, the SVR still comes with a low range transfer box, which you can switch to whenever you feel the need for off-road adventures. Its off-road ability has been kept undiluted, the Terrain Response system is the full version with all the off-road modes and the tires not being super-sport are able to grip quite well no matter the surface. The air-suspension is still adjustable for access hight, normal height and off-road height but the list of changes is extensive, including reinforced rear subframe bushes, adaptive dampers, bespoke wheels and tires and the ability to send 100 percent of its power to either axle.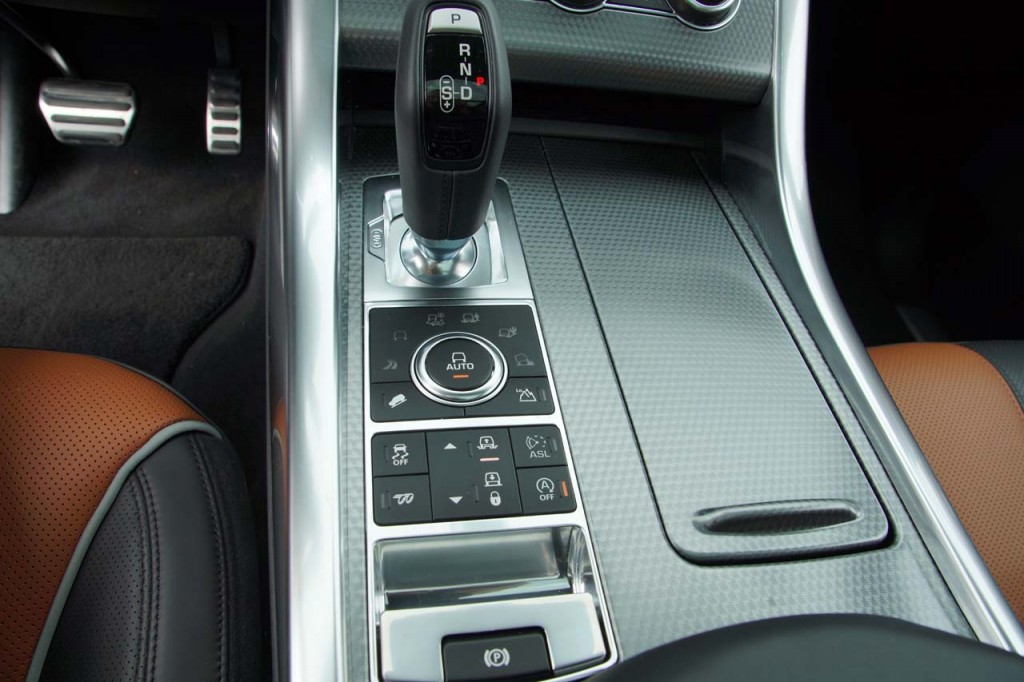 The fastest Land Rover ever made, is not only fast in a straight line. Attacking corners at speed reveals the great work done by the SVO team. There is virtually no body-roll, the heavy body follows steering inputs with eagerness and precision and if it wasn't for the high driving position, you'd never guess you are driving an SUV. The "gripping well" has no bottom, you'll have to go way too fast to break it loose, but even then, there is a nice progressive drift that can be controlled very easily. It might not be as hard core as a Cayenne Turbo S or BMW X6M, but remember, this SUV can go from the race track to the top of the mountain, while the other two stay cosy at the resort.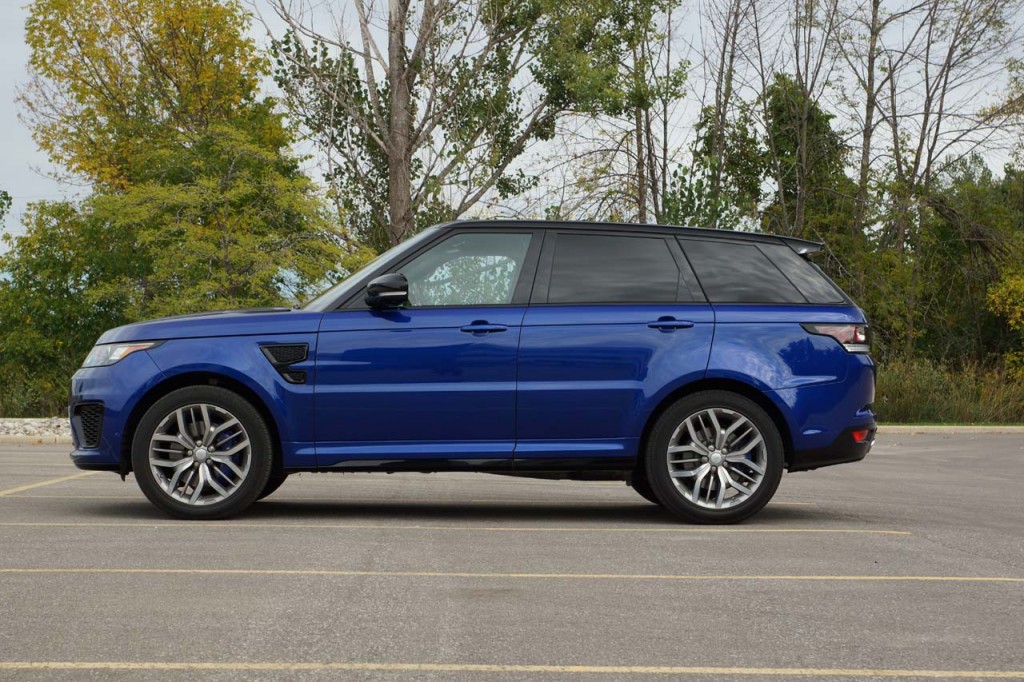 The most incredible thing about this vehicle is the way it boosts your confidence to do anything. It's like that pair of running shoes that made you feel able to run like Usain Bolt, or those hiking boots that made you feel you could climb mount Everest in a jiffy. The difference is, that the SVR is both those things at the same time. The only problem is the price; at CAD $136,000 as tested I can't help but think, that the regular Range Rover Sport Supercharged is almost as good, but quite a lot cheaper.
OFF-ROAD GEOMETRY
Approch Angle: 30.0°
Ramp Breakover Angle: 27.0°
Departure Angle: 27.3°
OBSTACLE CLEARANCE
Off-road Height: 27.7 cm / 10.9 inches
Standard ride Height: 21.3 cm / 8.4 inches
CARGO SPACE VOLUME LITRES (cu.ft)
Maximum behind row 1: 1,761 (62.2)
Maximum behind row 2: 874 (27.7)
Under Luggage Cover: 489 (17.3)
THE GOOD
Limited Edition
Performance
Handling
Luxurious Interior
Comfort
Prestige
Overall Ability
Exhaust Sound
THE BAD
Minor Ergonomic Issues
All-around, the most complete and capable SUV we have tested to date! It's our SUV Of The Year for 2016.