2016 Nissan 370Z Base Coupe
Horsepower
332 HP @ 7,000 RPM
Torque
270 lb-ft @ 5,200 RPM
Transmission
6-Speed Manual
Fuel Consumption (City/HW) (lt/100km)
13.0/9.0
The Nissan 370Z is not exactly a new car. What is new though, is something very important about it; its base price! For 2016 the cost per horsepower has dropped to just $90.35. That means, you can make this 2016 370Z Base Coupe yours, for just CAD $29,998!
That is a 25% drop in the entry level price versus last year, and for that money you get a genuine sports car with a 6-speed manual and power sent to the rear wheels. Before you get all excited though, there is a catch; the word "Base" in the model description really means bare minimum. This sporty ride is not only spartan inside, but it lacks a few features you'd really want.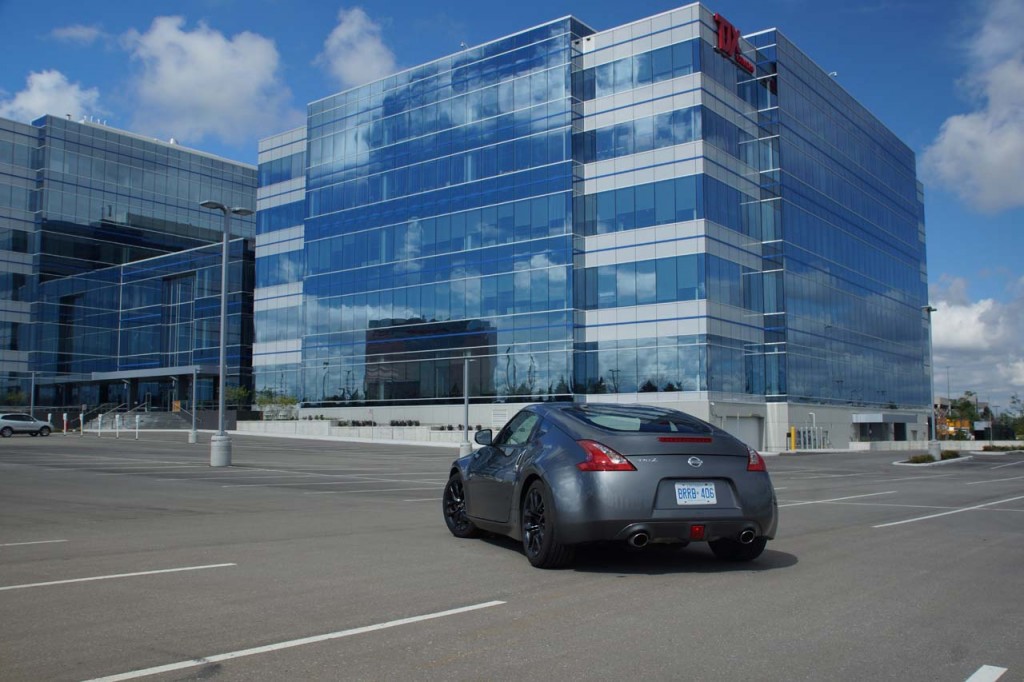 First things first, the exterior is a well known shape, that we all love and still look at each time one of them passes by. We subconsciously think about it as a star in an action movie packed with drifting scenes. In a nutshell, the 370Z does not go unnoticed. This one, fortunately has LED daylights, HID headlights and very nice looking 18″ wheels, so visually, it is all game.
Once you open the door, your expectations might be shattered like a bullet going through a crystal vase. The seats are cloth, manually adjustable and each time you rest your head against the headrest, you feel the rods inside the seat push against your back. Also, the number of blank buttons (that are not available) will keep reminding you that you bought the "cheap version". They didn't even bother using nicer looking caps for them.
The dash is well made but poorly designed, and most importantly, it's not aging very well. The good news is that little should you care about that, since the whole point of driving such a car is driving it. You won't be wasting your time playing with high tech toys either, as none of that is present. The instrument cluster moves along as you adjust the steering column, which is only adjustable for height. This makes it a bit tedious to find your ideal driving position and have the cluster in the proper line of sight. The storage compartment in the dash's prime spot isn't the greatest idea, but it can fit your glasses, cell phone and wallet, so from a practicality point of view, it works.
With a little bit of effort, the driving position can be good, and once you get it right you can remove all the adjustment knobs so no-one can ever mess with your settings. Forward visibility is good and there are no blind spots at all when it comes to the rear corners. Instead, there are massive blind ZONES that are big enough to hide an eighteen-wheeler. So make sure you set your mirrors nice and wide, and learn to move your head around while checking the lane next to you. Also, use your indicators in time to at least give a chance to the other guy to move away.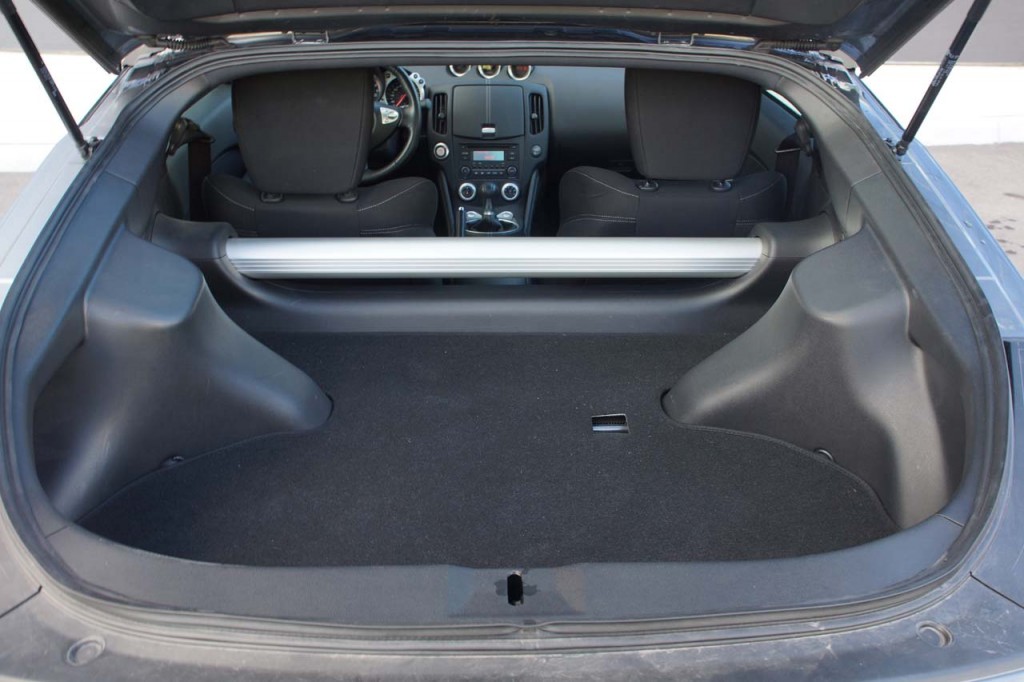 Roominess is not that bad, in contrast to the trunk that is not just terribly small (195L), but it's an "open concept" kind of thing that raises safety concerns when items come flying towards your head. Thankfully, the brakes are not that strong, as from 100km/h it came to a complete stop in 51m; a poor performance thanks to the small brakes and mediocre tires fitted. At least the brake pedal feels great, with excellent modulation.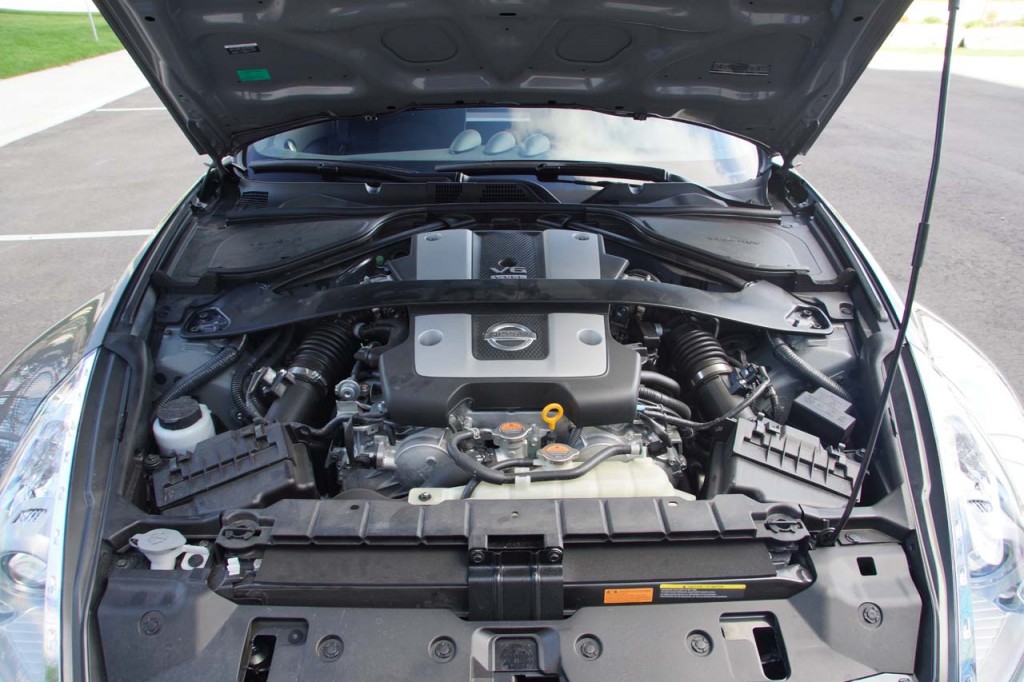 Under the hood, the good old 3.7L V6 engine is good for 332 HP and 270 lb-ft of torque, making the 370Z a serious performer. The "Toybaru FRZs" will be eating your dust as you hit 100km/h in just 6", and on to a top speed of who knows how much. Performance is no issue in this car and surprisingly, fuel economy isn't either. Driven quite hard, we averaged 12.8lt/100km, and for a powerful V6, that is very reasonable. The only downside is the clutch, that feels the complete opposite of what a clutch should feel like. Also, the shifter, despite the nice short throws, feels a bit rubbery.
The steering is a bit light and not extremely quick, making highway highway driving easy by limiting the number of corrections required. It keeps its heading very well and when turning at speed, the feedback carried through it is adequate to evaluate traction. Despite the lack of a limited-slip-differential, the Base 370Z is a joy to attack corners with and a smooth partner when it comes to catching those slides. In dry conditions, handling is progressive and fun, but as conditions get slippery, the attention required increases exponentially. So respect it and fun is guaranteed.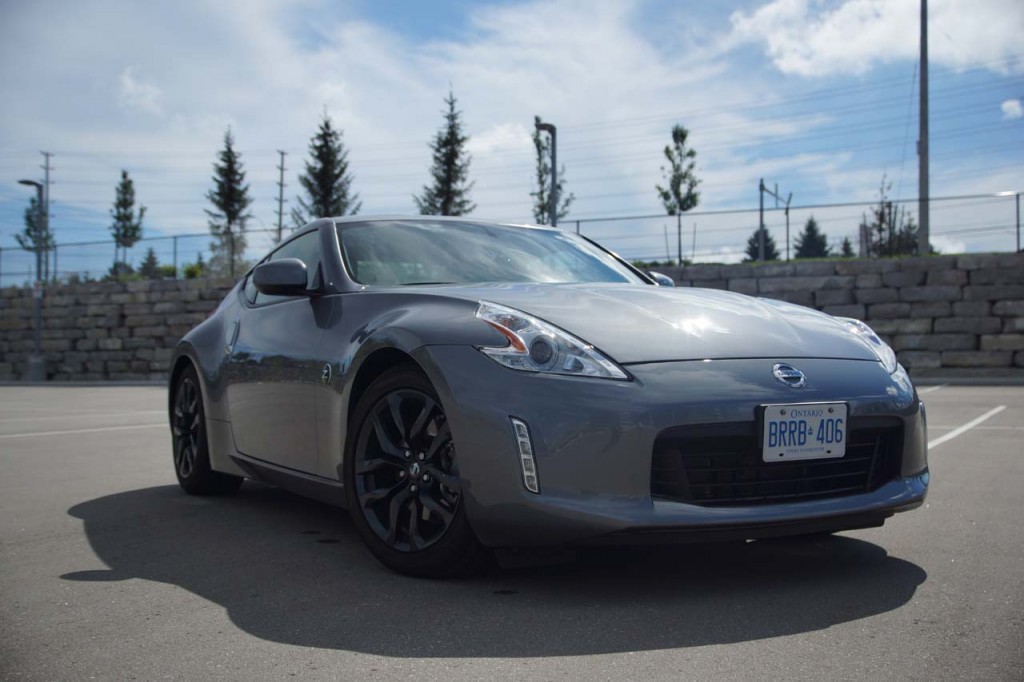 One of the biggest surprises is how well it rides, as it feels very comfortable over bumps and vibrations from the engine are only felt at high revs. The chassis feels extremely rigid, and as such, good handling and a composed ride can easily co-exist.
If you are looking for a sports car that can be your worry free daily driver or if you are looking for a good place to start building your dream track car, the 2016 Nissan 370Z Base Coupe is absolutely unbeatable since it is affordable to buy and the aftermarket world has all the parts you can ever dream of, for it.
The Good
Handling
Performance
Ride Comfort
Price
The Bad
Blind Spots
Cheap interior
Equipment
OE Tires
The best place to start building your dream track car.