2013 Ford F-150 EcoBoost Lariat
Engine
3.5L V6 EcoBoost DOHC 24-valve
Fuel Consumption (City/HW)(lt/100km)
14.9 / 10.5
Cargo Area (L)
Inside Length (at floor) 2002mm
Width between wheelhouses 1270mm
Inside Height 569mm
In the past 30 to 40 years I have gone from sperm to man to father of two which is quite a change. The only thing that remains exactly the same is the name of the truck that still outsells its competition within Canada; it is the Ford F-150.
It has earned the solid reputation and many consider it the reliable go-to partner. And when facts like these come from hard working professionals, it must mean a lot.
You can choose between three different cabin sizes; regular cab, super cab or super crew and combine either one with the long or short bed, 4×2 or 4×4 and you even have the ability to select your rear diff ratio depending on what you are planning to use it for.
Being a workhorse implies that you'll be spending endless hours with it so it tries to be as comfortable and convenient as possible. Remote starter, adjustable foot pedals, well-built luxurious cabin, large-sized controls so you can operate them while wearing gloves, all weather edge-to-edge mats, under the arm rest there are slots for both your MP3 player and cell phone, rear seats with enough legroom to stretch after a hard working day, heated and ventilated seats, Bluetooth connectivity, navigation, a practical footstep on the tail gate and a handlebar to pull yourself up while carrying heavy loads on your shoulder.
Other well thought through features you can have are extendable mirrors for towing larger trailers, tow braking control, sway control assist, low ratio transfer-case for demanding terrain and heavy duty leaf spring rear suspension for durability and maximum payload.
Available engines are a 3.7L V6, a 5.0L V8, a 6.2L V8 and the most advertised one, the 3.5L V6 EcoBoost which in theory is the most fuel efficient of the lot. Priced at $52,649, our Lariat 4×4 SuperCrew test vehicle with the 6.5 ft bed came rather fully loaded since it is $10k more than the base XLT.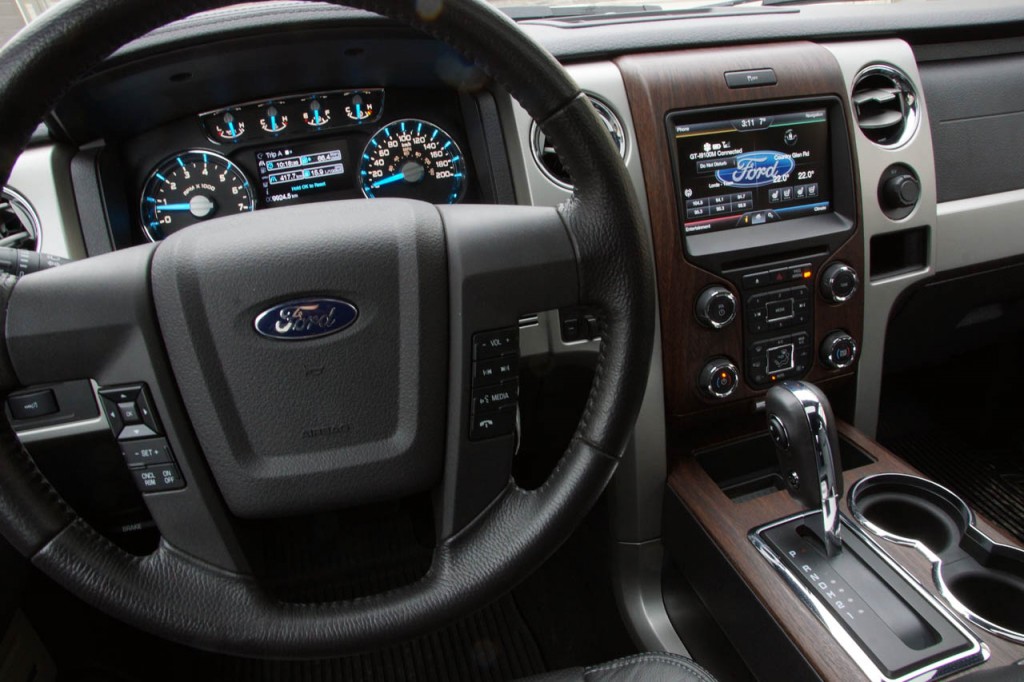 The cabin is very spacious and ergonomically adjusted to suit the pro. Hard durable plastics are used everywhere except the dash trim for which good looking wood has been used adding a splash of luxury. The driving position is relaxed and the seats are adjustable to help you find your ideal position. The steering column is also adjustable and so are the foot pedals. Visibility is really good as the big windows and large mirrors allow for a true 360o view. The rear foldable bench can easily fit three adults but when stowed away, there is room for large toolboxes or any other items you need to secure inside the cabin.
On the road, the F-150 is soft and refined and if for a moment you forget that there is a 6.5 ft bed right behind you, you could easily think that you are in a large SUV instead of a truck. It is very civilized on the highway and will cruise at speed surprisingly well, while over bumps and broken pavement it feels a bit bouncy but nice and soft. With the Heavy Duty Payload Package it is good for a maximum payload of 2,300 lbs which in my mind is very useful. At the same time, the extra strong suspension does not destroy the handling as it is more than capable around the bends. The steering lacks the feedback to inspire the driver but that is really not the point here. Safety first, it is no horror story if you push it around corners, it will just oversteer a bit and make a lot of noise. However, it is more at home in the mud of a construction site where the low range can also be put to the test.
Towing is a breeze as the base towing capacity is 9,500 lbs, which becomes 11,300 lbs if you add the optional "Max Trailer Tow" package. Transmission cooling with a temperature gauge for it and trailer brake control also come in the same package. The low-range transfer box will help accessing demanding work-site areas but the approach and departure angles will be your delimiters. At 25.8 and 24.7 degrees respectfully you will need to plan your route a bit carefully.
Other really important features are the trailer sway control and the AdvanceTrac® stability control that can make a difference in risky situations. The brakes feel strong but braking distances are not impressive as from 100km/h the truck came to a complete stop in 51m.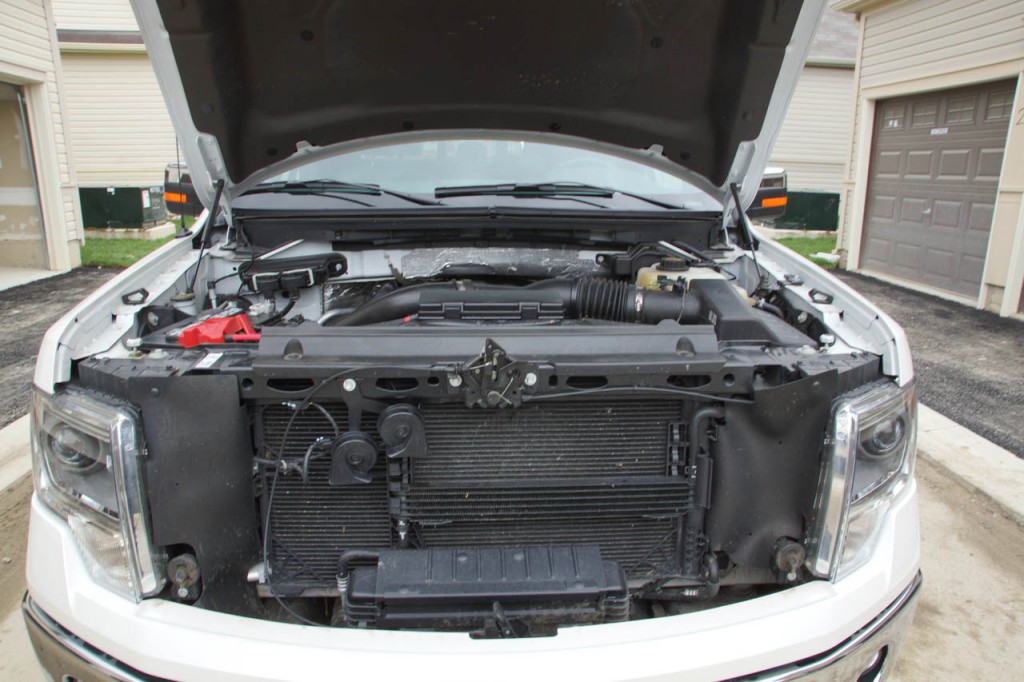 The 3.5L V6 EcoBoost engine is good for 365 BHP and 420 lb-ft of torque and can move the heavy truck with decent agility. Mated to a very smooth 6-speed automatic gearbox, performance is great for light workload. Ford introduced this engine as the best engine option for those that occasionally do heavy duty tasks. Proof to this is the good fuel economy of 14.4 lt/100km combined when used just to commute. Start utilizing that payload and you will soon find yourself very near the 18lt /100km mark.
Overall the F-150 is a very impressive truck. It can be customized to suit your needs and it is easy to live with. You won't fit in a single NoFrills parking spot but that is not where the F-150 was meant to be. It's just too bad there is no diesel option in this otherwise great overall package.
THE GOOD
Powerful engine
Comfortable Ride
Large Cabin
THE BAD
Approach Angles
Fuel Economy
Braking Distances
The F-150 is the best selling truck. Need I say more?