2013 Honda Accord Sport Sedan
Engine
2.4L I4 DOHC 16-valve
Fuel Consumption (City/HW) (lt/100km)
9.4/7.5
The ninth generation Honda Accord was launched in September 2012 and has already managed to win the "2013 Canadian Car of the Year" award. The Accord has always been one of the most important cars for Honda alongside the Civic and this particular one, is Honda's big attempt to make a loud comeback in the family sedan segment. The all-new 2013 Honda Accord is a bit shorter than the outgoing model but Honda engineers worked hard to get the most interior space out of it, making it one of the roomiest Accords ever made.
The chassis utilizes new extra strength light materials and the front double wishbone suspension has been replaced with MacPherson struts. It is available in LX, Sport (like our test vehicle), EX-L, Touring and EX-L V6 and prices start at $23,990. Engine options are the brand new direct injection "EarthDreams" 2.4lt DOHC i-VTEC® four-cylinder and the 3.5lt SOHC i-VTEC® V6. Both engine options come with a standard 6-speed manual transmission. The four-cylinder can be mated to an optional CVT automatic transmission while only the V6 can be equipped with a "conventional" 6-speed automatic.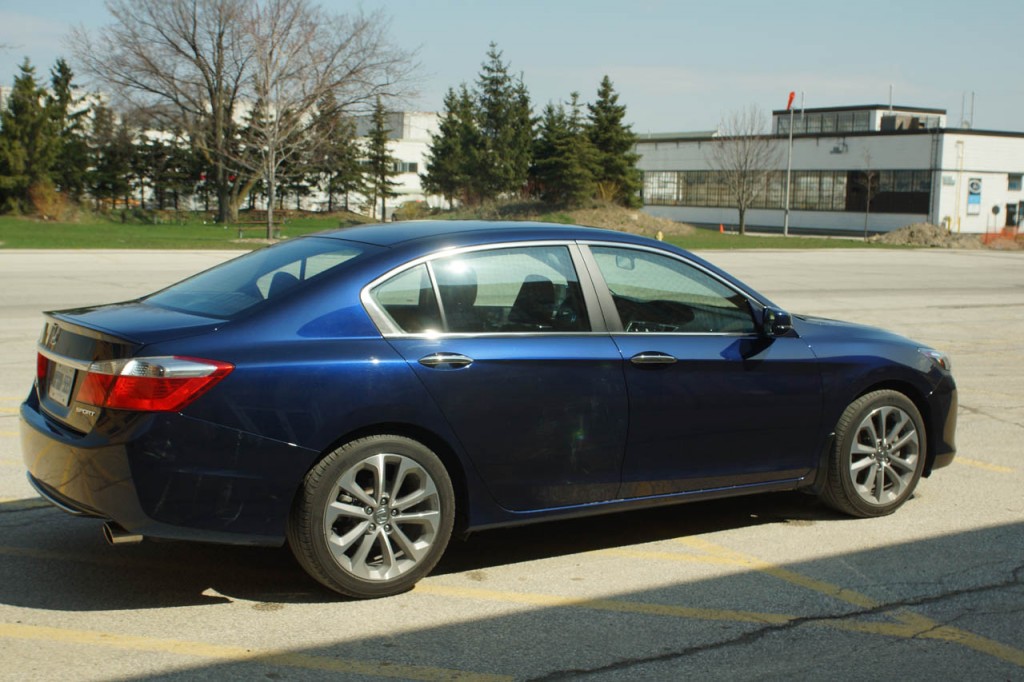 The exterior design showcases the conservative efforts of Honda designers not to make this car too extravagant, but at the same time, make it look up-to-date and modern. You can immediately identify that it is an Accord, but the new styling adds elegance and a fresh fragrance to it. The most obvious being, some chrome details and the dual exhausts.
Inside the cabin, the new age Honda design is much more apparent. The instrument panel is well sized and very clear to read. Surrounding the speedometer is a fancy illumination that goes green when you are driving efficiently, which otherwise, is white. The dashboard looks modern and all buttons are big in size and have been placed higher up to minimize eye movement while driving. On the top, there is a massive 8" colour LCD screen which is the main display for all convenience functions and vehicle settings. The fit and finish are excellent and soft to the touch materials have been used for the upper trim of the dashboard and top door panels. Amongst the many storage compartments available, the joint cup holders in the centre console are now square shaped but can still hold a cup with a handle. My only complaint is that there is no backlit gear lever position indicator but you can always see which gear you are in displayed on the little info screen within the speedo. Ergonomics are well thought through as everything is within reach and self-explanatory.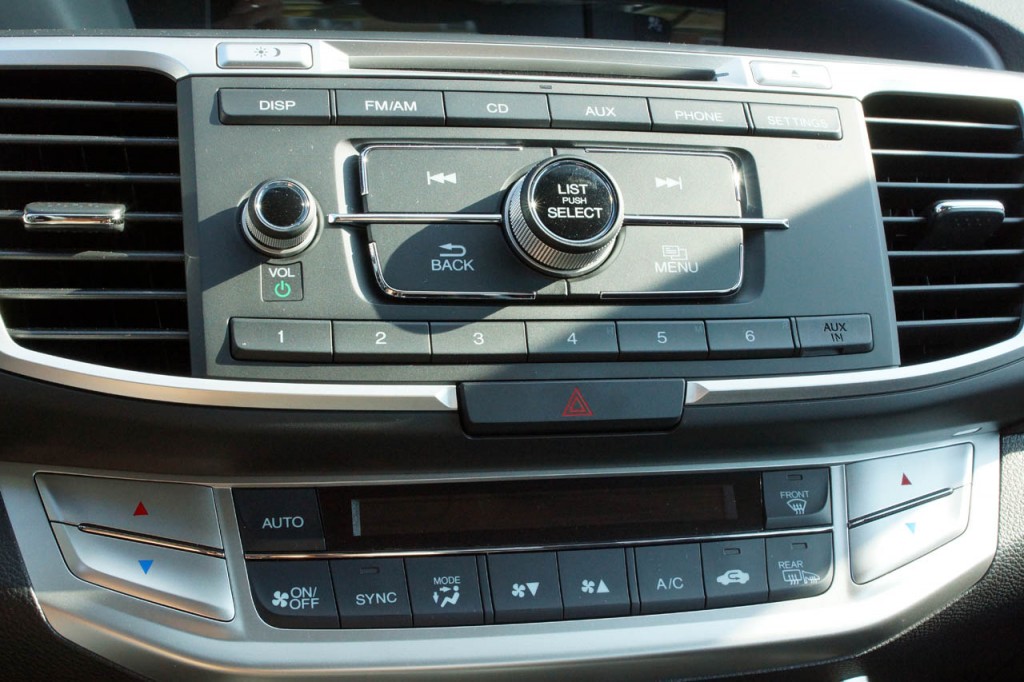 The Ideal driving position is easy to find as the driver's seat and steering wheel are adjustable for height and reach and visibility is beyond excellent, also thanks to the wide angle side mirror on the driver's side and perfectly positioned rear view camera. The front seats are very comfortable and the cloth upholstery feels good. The driver's seat also provides lumber support but at least in this Sport trim level more side support would have been nice.
The rear seat is very spacious, offering lots of legroom and headroom and can accommodate three adults without them having to fight over whose elbow goes on top. The trunk is a good 447lt and is well shaped, so its full capacity can be utilized. Folding the rear seat creates even more space for loading longer items and is unusual to have in a sedan.
Our Sport trim level test car, came with an MSRP of $26,775 and was equipped with an ECON button, hill start assist, paddle shifters with the optional CVT transmission, 18" alloys, ABS with Brake Assist, front, side and curtain airbags, tire pressure monitoring system, Vehicle Stability Assist (VSA), Active Noise Cancellation, Dual-zone climate control, Bluetooth connectivity, rear view camera, cruise control, heated front seats, leather steering wheel with audio controls, CD player with MP3 playback and a USB port, and finally, fog lights.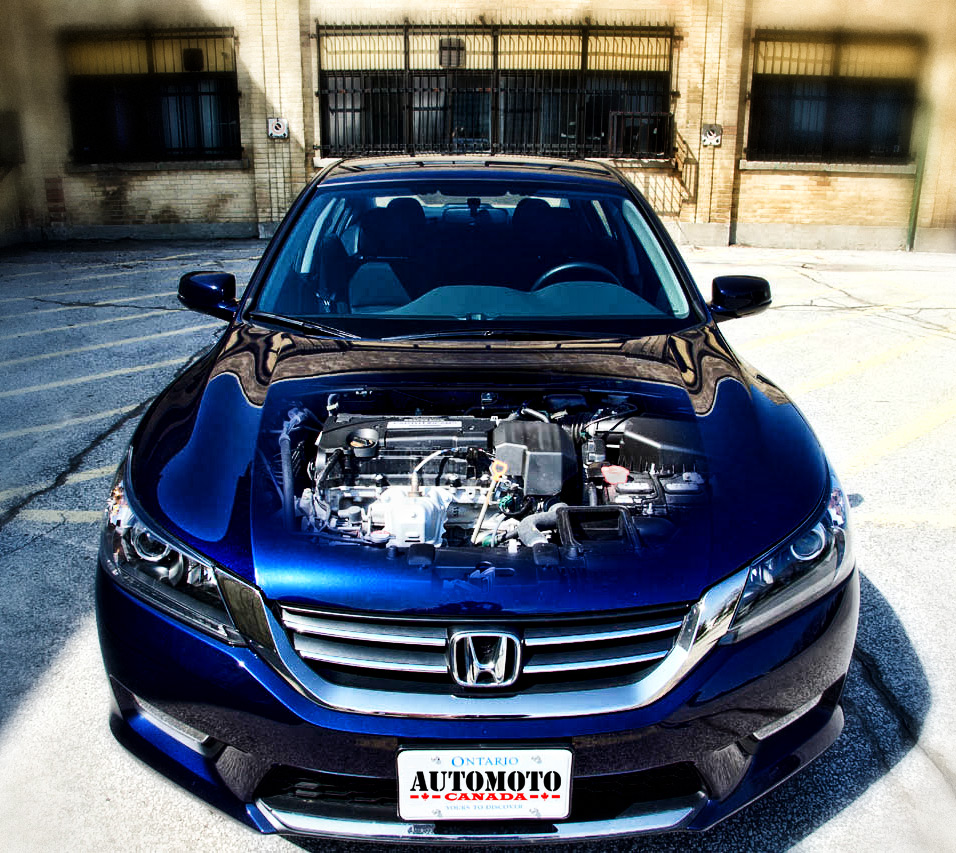 The 2.4lt direct injection engine is the first of the "EarthDreams" series and is as smooth as ready to spread butter. Rated at 185BHP and 181lb-ft of torque it is capable of decent performance constituting the existence of the V6 unnecessary for most. From a stand-still, the first 100km/h are reached in 8.7 seconds which is very good for a family sedan. Fuel economy is great and the best part is that the "EarthDreams" engine, despite it being bombarded with sophisticated technology, does not dream about premium unleaded. During our test, we averaged 9.4lt/100km in the city and 7.5lt/100km on the highway. Pressing the ECON button reduces the otherwise excellent throttle response to help you save more fuel but I found a better reason to use it. It is really nice in traffic as it further smoothens the ride.
For many years, I believed that CVT stood for "Catastrophic Vehicle Transmission" instead of "Continuously Variable Transmission" and that was because they made cars horrible to drive. Any car I have driven with a CVT sounded like a scooter and the gearboxes were continuously hunting for the best gear ratio. Our test vehicle was equipped with Honda's new CVT transmission which in a nutshell, works really well. You still need to get used to the sound, but it reacts instantly to throttle input and 99.9% of the time knows exactly what to do. I honestly believe that with it, the Accord is faster than what it would be with a conventional automatic transmission as I often caught myself exceeding the speed limit without realizing it. It allows seamless acceleration and is perfectly optimized to the engine's characteristics as it quickly works its self to the optimal torque band and then changes gear ratios to get you going instead of revving up the engine. The Sport trim also offers paddle shifters which further demonstrate how good the transmission is. Shifting is done as fast as you can blink and the 7-preset gear ratios available are distanced very well. So if you can't live with the 6-speed manual, fear not the CVT.
On the road, the Accord is quiet and refined, and will smoothen out pot-holes and bumps quietly, without wobbling or compromising body control. It might be just a bit on the stiff side, but the suspension bushings are so quiet it feels softer than it really is.  The new front suspension with MacPherson struts led to an immediate improvement on steering feedback and directional reactiveness. Even though the electrically assisted steering is on the light side, the feedback is good and this is precisely what you need in such a car. The rear multilink independent suspension keeps the rear stable and even mid-turn bumps won't disturb its dynamics. On twisty roads the Accord seems surprisingly agile and athletic. It turns in fast with little body roll and remains flat enough through the bends. Traction limits are high but in the event of excessive understeer occurring, the VSA will help you re-gain control and get you back on track. The brake pedal feels light and doesn't travel too far before braking starts, but continuous really-really hard braking can make it sink as deep as the Titanic. Considering the nature of this sedan though, I guess such activities are not part of the daily itinerary. From 100km/h, the Accord comes to a complete stop in 44m which is better than average and the Michelin Primacy MXM4 tires it comes with do a great job.
Overall, the all-new 2013 Honda Accord is a very well balanced car and deserves its money. It can do virtually everything and sucks at nothing. Facing competition as capable as the all-new Ford Fusion and Mazda 6 is not easy to deal with, but this generation Accord will not only keep it's buyers but for sure will win over new ones.
Best Accord yet. V6 is even better.