Horsepower
201 hp @ 7000 rpm
Torque
170 lb.-ft. @ 4400 rpm
Transmission
6-speed manual
100-0km/h (meters)
50m (winter)
Fuel Consumption (City/HW) (lt/100km)
10.8/7.4
If you're a Honda lover and you're looking to upgrade that 2000 Honda Civic Sedan that just isn't cutting it for you anymore or you're past the stage where the basics really aren't enough, there's a solution for you. Buy a nicer Honda. In fact, if you want to go for something without compromising your current standards then I have three letters for you; I-L-X. The Acura ILX Dynamic is something to look into if you're on the market for a premium car but don't want to sacrifice the reliability you're used to along with the fuel efficiency you would expect in a 4-cylinder motor.
Acura has done a really nice job with the ILX giving it a sporty yet luxurious exterior with 17-inch rims standard from the base model all the way up to the Dynamic model (the hybrid model comes with 16-inch rims). The black interior with both chrome and gunmetal accents through the cabin really does make the car feel elegant and classy but I really didn't get why the exhaust note was so sporty in a luxury car. The body is nothing shy of being pretty sexy as it really does nail down that sporty car feeling; it's just smothered with sleek and sexy lines from back to front. Equipped with fog lights on the dynamic model the additional bumper and moulding trim add to the sport car look and feel. Fit and finish is top notch using soft to the touch material in many places.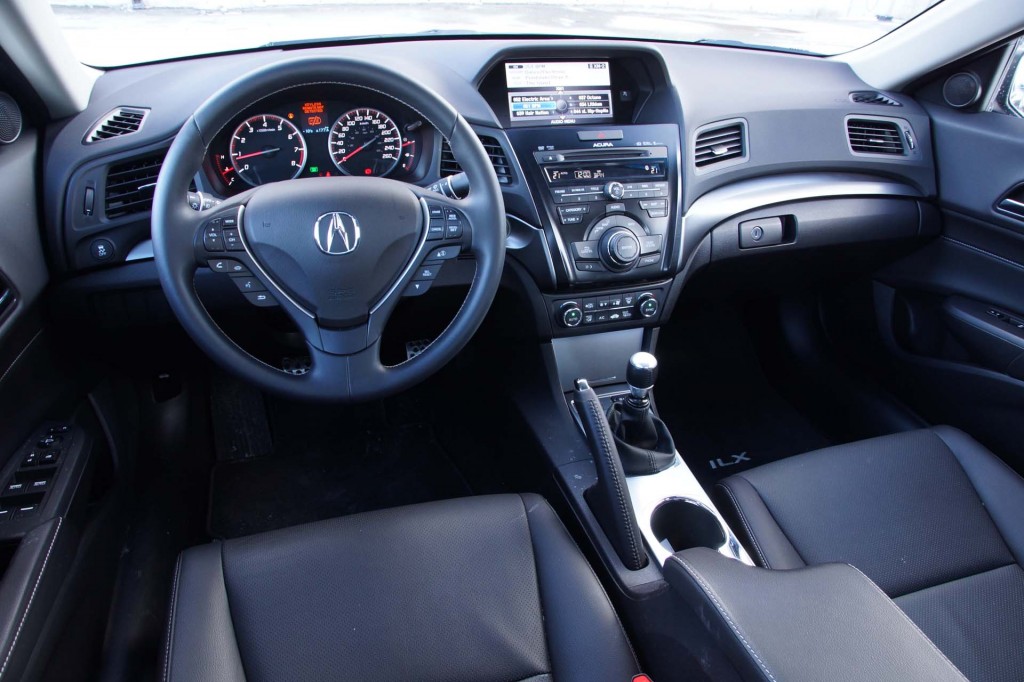 If I was the size of "Mini Me" from those Austin Powers movies I would say the ILX is the roomiest car I have ever driven but reaching the pedals was a challenge. Unfortunately I'm a very tall person and I quickly realized that this car wasn't really designed for tall people. I really couldn't even order a cup of coffee comfortably at a Tim Hortons drive thru without pinching my head to the side and getting a neck cramp out the window when paying for my coffee. The seats were comfortable while driving but getting in and out of the ILX was not easy and not something I looked forward to at the end of a drive. If only the seat would go down a bit more.
Visibility in general was great. I could find who was beside my car without a second look to maybe find a driver on the phone while in my blind spot. Reversing did seem to challenge me as I couldn't get a confident feeling while I was backing up. I really needed to pay extra attention to make sure nobody was behind me or cross traffic approaching.
If you were planning to drive a few of your closest friends to a party in the ILX, I would think about who you're going to drive there because the rear seats were limited in space. And with me in the driver seat, it was even worse. This car was not made to drive around guys who were above average height. I fit my 5 year old inside and it wasn't even comfortable for her in her booster seat. I didn't even want to try and put a baby seat in since I was pretty confident I would have caused some damage to either my skull or the roof liner ( or whatever came first).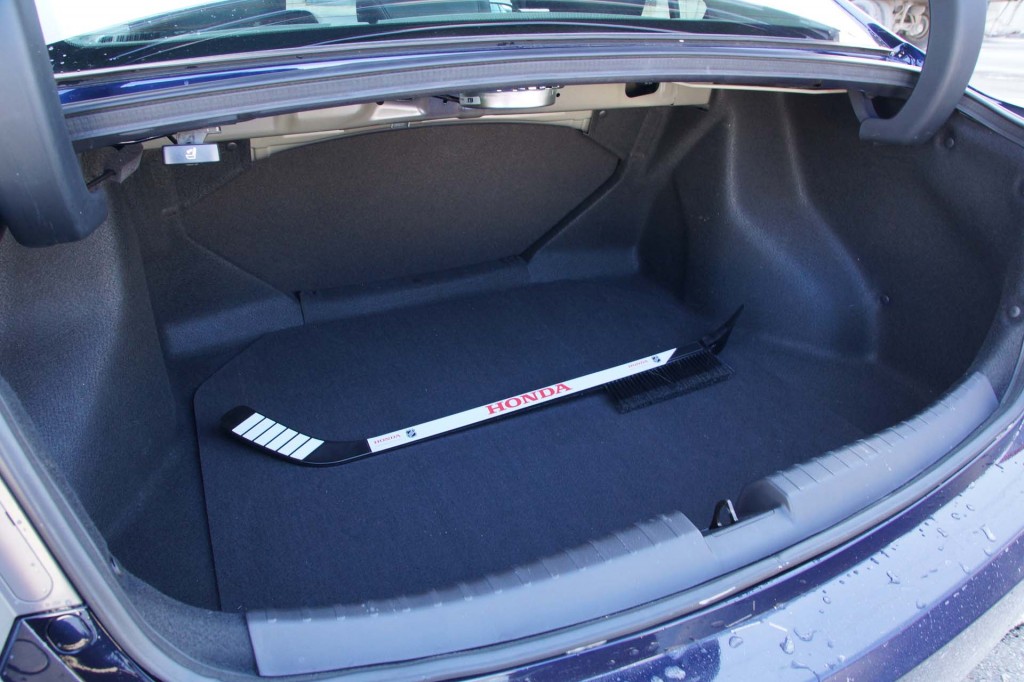 Trunk space in the ILX was average as I could probably fit the groceries and some child gear in the 348L trunk. I don't think the trunk was very small but it wasn't extremely large either but overall a decent size.
The ILX dynamic doesn't sell itself short in the feature list though as the car does comes with the following (just to name a few):
Auto Day/Night dimming mirror
Driver seat with 8 way power adjustment (including manual Lumbar support)
Fog lights
Heated front seats
8 inch display
Keyless entry with push button start
Comfort access (basically if you're carrying something you just pull the handle and the door opens without dropping everything that you are carrying while you find the key in your pocket)
Growing up in Scarborough came with the stigma that I had to have a good sounding sound system with subwoofer and all. This ILX dynamic does come with the upgraded 7 speaker sound system (upgraded version of the base 6 speaker system) that wasn't too bad but I think for those who want a car with that extra BASS, I wouldn't count on the sub to impress you too much. The sound system was ok but you really need to tune it if you want it to sound a bit more lively and crisp but that's all a matter of opinion.
Safety is by no question a set back as the ILX comes with the 3 point seatbelt, 4 wheel ABS, childproof rear door locks… etc, so let me get to a few of the cooler safety features that the ILX has. I like to call the hill start assist feature in the Acura ILX a God sent feature to those new comer manual transmission drivers who cant drive off in first gear on a steep hill. Gone are the days where you need to hang onto the parking brake so you don't roll into the person behind you as this car doesn't let go until you start moving. Acura doesn't classify this feature as a safety feature but I think that should change.
Occupant Position Detection System (OPDS) can actually tell if the passenger behind the front seats are a child or adult based on size and can make decisions on whether to deploy the airbag in an event of a collision or not.
Dual stage multi pressure airbags are capable of being inflated at different rates depending on the type of crash and how severe it is, if you are wearing your seat belt and/or other reasons as to why the airbag may deploy and not accidentally punch you in the face.
This starter Acura doesn't have the most impressive specs compared to its bigger brothers but it can definitely hold its own. The 2.4L 4-cylinder with 201 HP felt really peppy on the road and delivered power to pass when needed with the drive by wire throttle; however its not the most exciting thing to be honest. The 174 lb-ft of torque was more than enough to get you past other drivers on Sundays while at higher speeds on the highway. Driving on both highway and main streets was effortless and surprisingly quiet since the engine was only slightly noticeable for a 4-cylinder motor (that sport tuned exhaust only got loud with a heavy foot).
The overall ride was quite smooth and comfortable. Sudden bumps on the highway were definitely felt but the majority of the shock was filtered out. The rack and pinion steering really needed you to keep yourself on the ball especially on windy days it was challenging to keep the car in the lane. The steering wheel felt a bit disconnected despite its reasonable weight.
The 6 speed manual transmission was more than a pleasure to drive as it felt like butter going all the way from first to 6th gear. The clutch would immediately grab while not feeling heavy at all. It made the car very easy to drive while keeping the ride very smooth and responsive and would help you hit 100km/h in 8.1 seconds (as tested). It was quite cold during the test and the car was on winter tires, so don't take those numbers too seriously. Braking wasn't too bad with a stopping distance of 50m from 100km/h on a thick layer of salt. Overall fuel economy I think was great at 9.5L/100km because I really wasn't driving miss daisy in this car. I really did play with it quite a bit and Acura was pretty honest with these fuel economy numbers in my opinion.
The ILX was no slouch in the cornering department because it really nailed the corners on a tight turn with a bit of lean but one thing I really couldn't get myself thrilled about was the steering. Driving felt very comfortable but I think they could have done better in the steering feedback department. Handling into a corner had some understeer but I'm betting that with sport summer tires it would improve. The back tires would always follow the front tires in a sharp turn with zero oversteer on lift off. Keep in mind that winter doesn't give you a chance to really push any car on the road without killing yourself and this journalist reviews responsibly.
The brakes in the ILX gave me confidence that I could stop on short notice and was smooth yet firm with some play in the brake so it didn't feel as if you were slamming on the brakes each time you tap the pedal.
Overall, Acura really should have spent more time considering the price point here and I am hoping that the soon to come 2016 model will address that. The Honda Civic SI starting at $26,850 MSRP gives you a lot of the same features as the ILX such as the racing pedals, exhaust, infotainment, 205HP with 6 speed manual shifting… At $32,290, the ILX however really gives you the UP and over on class and luxury and doesn't give you the feeling that you're in a boy racer like the Civic Si does. The price difference is for refinement and luxury but I had a hard time thinking of reasons to buy the ILX over a Civic Si. The ILX is much better looking (in my opinion) however it feels like it is having trouble identifying itself. The 2016 model is very promising, so since it will be out soon, just wait.
The Good
Fuel economy
Performance
Beautiful and classy interior
Handling
Features
The Bad
Roominess
Busy infotainment system
Small trunk
The aluminum shifter knob might be stylish but it will either freeze your hand in the winter or burn it in the summer.
Nice little car, with good performance (Dynamic) but down on space and steering feedback.