Transmission
6-Speed Auto with Sequential Mode
Fuel Consumption (City/HW) (lt/100km)
11.1 / 6.9
Very few full sized sedans have a nameplate that is more than 56 years old. The iconic Impala has gone through some incredible changes during its half century long life and now, for 2015 it returns revamped and looks like yet another promising best-seller built in Oshawa, Ontario.
Affordability is still a priority and as such, prices start at $28,645 for a 1LS with the 2.5L ECOTEC engine. To get the V6 engine you need to step up to the $33,345 2LT, while our LTZ 2LZ might start at $39,845 but as tested it was $4,690 more.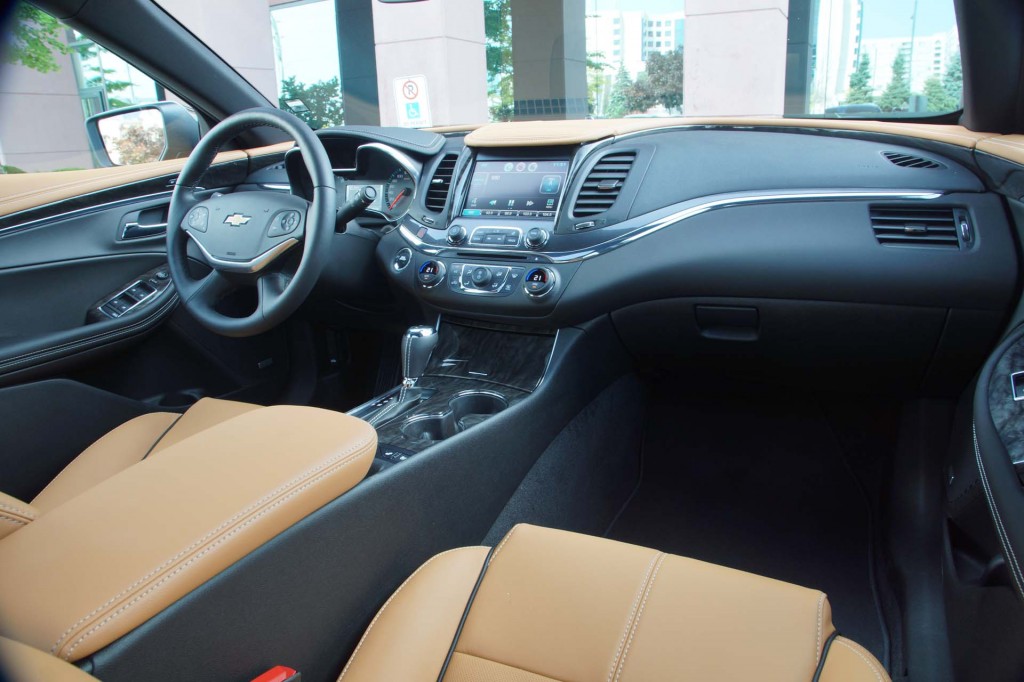 The LTZ 2LZ model feels upmarket and justifies its money the moment you look inside. The interior is fancy, luxurious, well put together and with details like the double stitched leather on the dash and hidden ambient light give away the hard work GM did. Standard equipment includes an 8" colour touch display for the MyLink infotainment system with Bluetooth and voice activation, 3 USB ports, remote starter, front/side/curtain/knee airbags, Stability Control, Rear Cross Traffic Alert, Forward Collision Warning, Lane Departure Warning, Audible Park Assist, Rear View Camera, Blind Spot Monitors, Sunroof, LED daylights and HID headlamps, Dual-Zone Climate Control, keyless entry with start button, leather trim and heated front seats with power adjustments. The upgrade package included ventilation and memory for the front seats, heated steering wheel, navigation, Bose surround sound, 20" alloys, a 120-Volt power outlet and Adaptive Cruise Control with full braking capabilities.
The handsome exterior design borrows some elements from the Camaro, which are then blended into a large sedan body with a smooth sloped roof and raised bum. The result is prestigious and should withhold time well.
Inside the cabin is where things get even better. The yacht oval shaped top cut is similar to the Jaguar XJ series but in this occasion it is coupled with both dark wood and extensive use of leather and chrome, behind which ambient light strips are hidden. The majority of materials used are soft to the touch and are very well fitted together creating a very upmarket atmosphere. Ergonomically sound and with clearly labeled buttons, getting familiar with everything is a quick procedure also thanks to the power steering column and seat adjustments.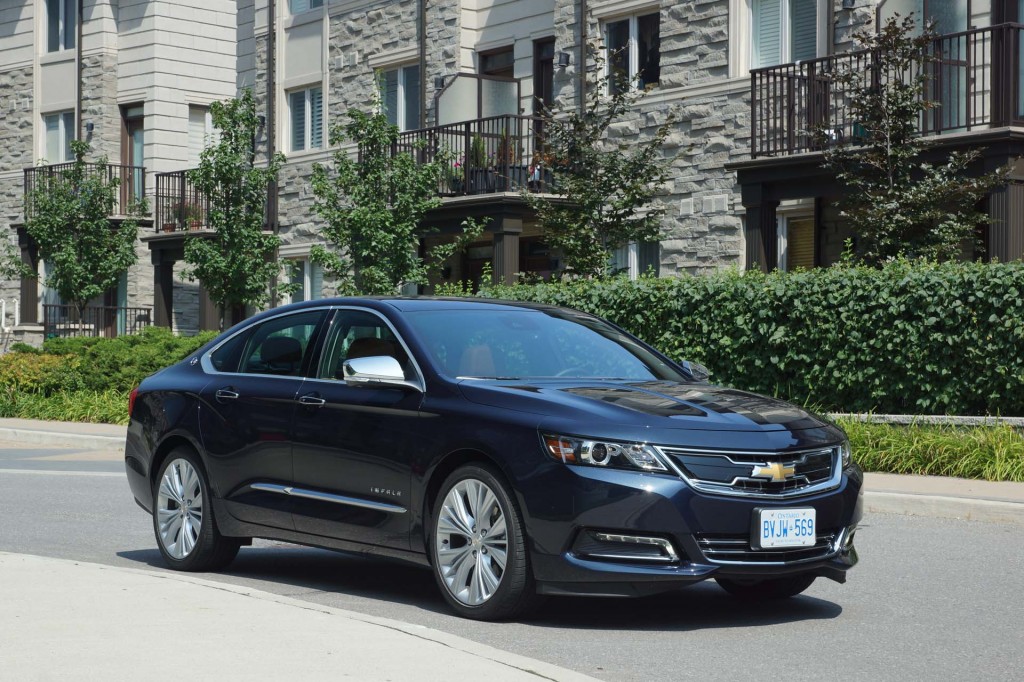 Roominess is outstanding and five adults will sit very comfortably thanks to the headroom and legroom being very generous. The front seats lack side support but are very comfortable and plush. The driving position is relaxed and visibility to the sides is good. Unfortunately, the raised rear blocks most of the useful view so if a Lotus Elise is following you, you'll never know. Also, the leather trim on the top of the dash looks great when you look at it directly, but its reflection off the windshield can be pretty annoying.
The trunk size is impressive as at 532L it is above class average and the straight shape makes loading to full capacity easy. The rear seats are also 60:40 foldable to accommodate longer items.
Under the hood, the 3.6L V6 DI VVT FlexFuel engine pushes out 305 HP and 264 lb-ft or torque but most importantly, it does so in an extremely refined way. Silky, quiet and vibration free, the engine provides the desired pull off the line and keeps the cabin serene at highway speeds. Performance is not exactly breathtaking, as 0-100km/h comes in 8.2" and despite the reasonable weight performance figures are probably let down by the long final drive. The 6-speed automatic gearbox comes with a totally useless and impossible to use manual mode but in "D" (drive) it does a descent job. At the end of our test, the average fuel economy indicated was a respectable 11.5lt/100km.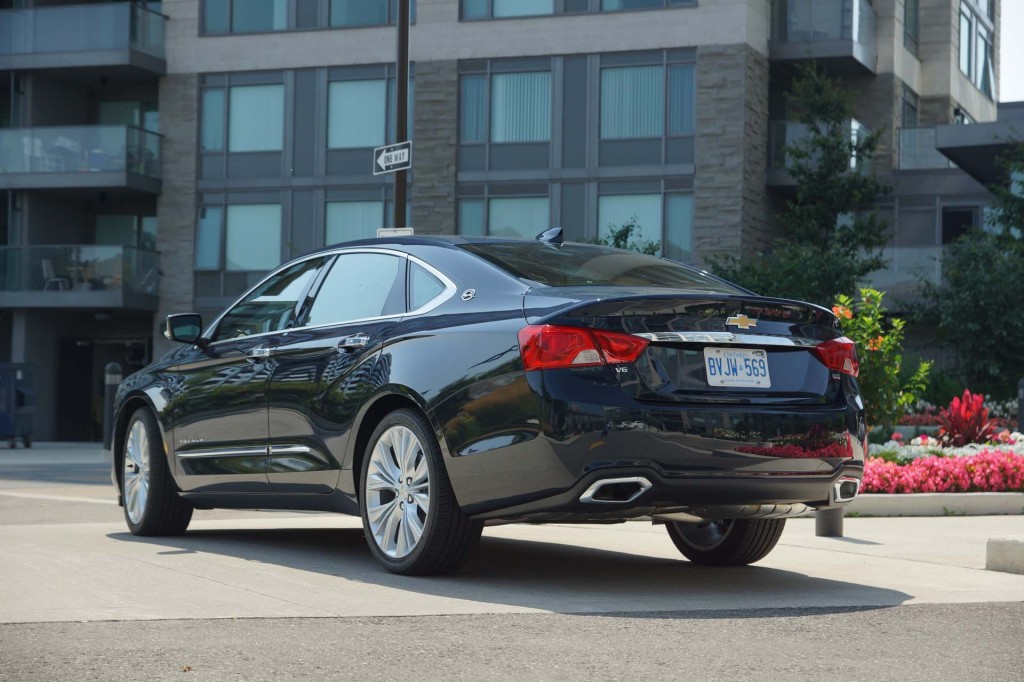 The impala holds the road well but while doing so, there is nothing holding you in place, so discovering its grip limits is a little bit tricky. Once you exceed the high grip limits, progressive understeer appears, which is easy to control by easing off the gas. There is very little body roll which explains why the car is not as comfortable as you'd expect. At highway speeds it hovers quietly over any form of textured road demonstrating ultimate long distance travelling capabilities. At slower urban driving paces, the suspension doesn't really soak up the usual city road traps but the 20" wheel upgrade should probably be the thing to blame. The steering is incredibly light when standing still and starts gaining some weight as you go faster. Unfortunately, feedback is filtered out completely but I am not sure if it really matters. The brake pedal on the other hand feels near perfect as it is sharp and linear. The brakes themselves are strong but somehow struggled to bring the car to a complete stop since from 100km/h it required 44m.
Roominess, comfort, and refinement are the top selling features of the Impala, and what a surprise that it. Actually, the only real surprise is how luxurious the interior feels. It is not cheap to go for the top trim but you do get a lot of car for the money, so if driving engagement is not on the top of your list, you need to test drive one of these.
The Good
Highway Comfort
Luxurious Interior
Refinement
Roominess
Quiet Cabin
The Bad
Seat Support
Manual Gearbox Mode
Backward Visibility
As a typical Impala, it's big, plush and not for enthusiasts. This time though, it is truly luxurious.