2014 Mazda MX-5 GS 6MT
Torque
140 lb-ft @ 5000 rpm
Transmission
6-Speed Manual
Fuel Consumption (City/HW) (lt/100km)
9.7/7.1
You've heard it before and here it comes again; the best British roadster is actually Japanese. Yes, it is true. Since 1989, over 900,000 Mazda MX-5s have been made which is pretty crazy for a roadster. Capturing and delivering the true essence of what a roadster is, is what made the MX-5 what it is today.
It doesn't need a V8 under the hood and it doesn't come with lots of equipment either. Keeping it small and light is the fundamental principal and has never changed. Keeping it also affordable is part of the secret, as prices start at just $29,450. For owning a fine example like our GS test vehicle, you will need $36,045.
The MX-5 is a driver's car and if you think it is a girl's car it is only because you haven't driven one yet. In my eyes it looks like great fun; long hood, low profile, wide stance and deep wheel arches all contained within such a short body length.
Inside the cabin, the simplistic design philosophy continues as lightweight hard plastics have been used to construct the most straightforward dash you've ever seen. All controls are placed in the most logical order; they are well sized and clearly labeled so that you can start driving immediately without wasting time figuring stuff out. Fit and finish are very good helping you forget about the hard interior materials.
Space-wise, I am 5ft 11" and I am literally an inch away from saying, "I don't fit". Even if I was a lot taller though, I would still make an effort to fit because this thing is so much fun, you just have to fit.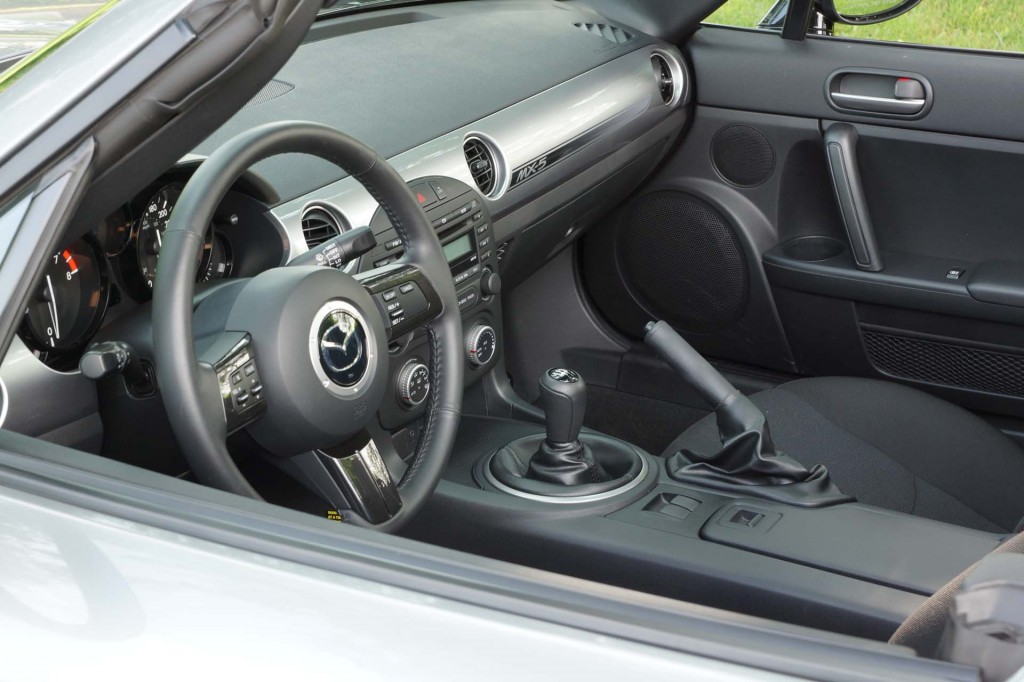 The power roof opens in just a few seconds, but only after you manually release the latch, get out of gear and stay put. It is not the most sophisticated mechanism but it is simple, fool-proof and it works. Just like the whole car. The hardtop version provides extra warmth, a quieter ride and increased safety and security.
I remember back in the day, massive wind deflectors were required to stop the wind from turning around and blowing you away, but now, a tiny little thing that sits between the headrests keeps the cabin very serene even at fast highway speeds. So in case you were wondering, long distance cruses can be done open top worry free.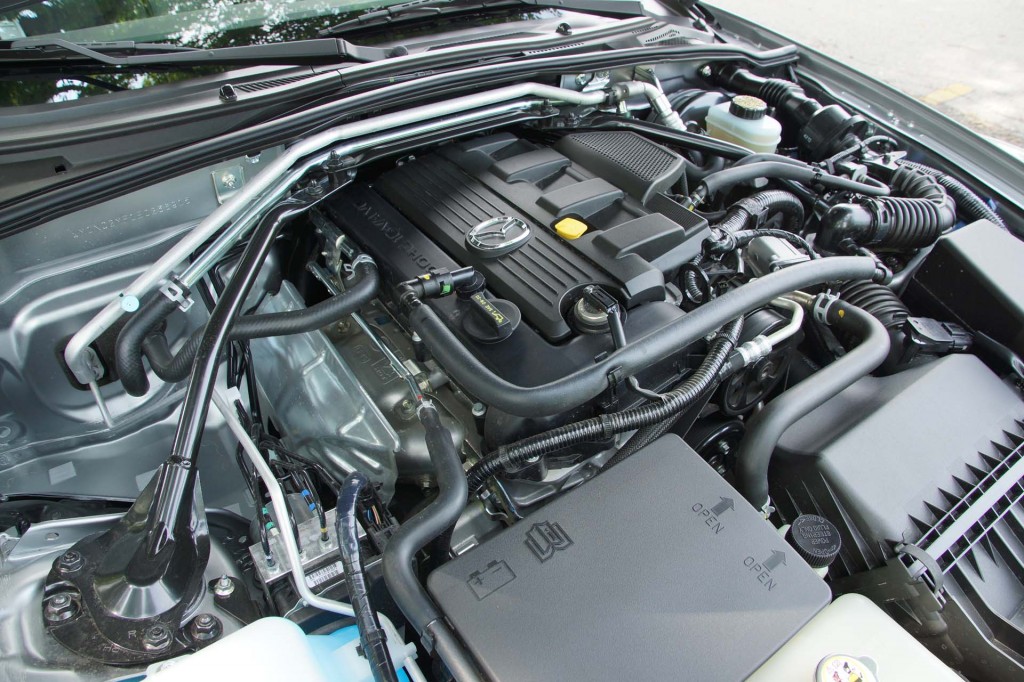 Under the hood, the 2.0L 4-cylinder motor is all you need. 167 HP and 140 lb-ft of torque are more than enough to enable fun mode. 0-100km/h comes in just 8.6" while the exhaust has been tuned to add a little drama and funny enough, it does! The red line is above 7000 rpm, which means that revving this baby hard is more than appropriate. Being light weight has other advantages too. Thrashing it around all week long, it still returned 9.2lt/100km average fuel economy but premium unleaded is required.
Where the MX-5 really starts to thrill is when you decide to tackle back streets, especially if they are twisty. The steering is fantastic, the shifter is not far from perfect and the communication levels between your body and the chassis are intense. And all that with the sun in your face is an unbeatable experience, not to mention affordable.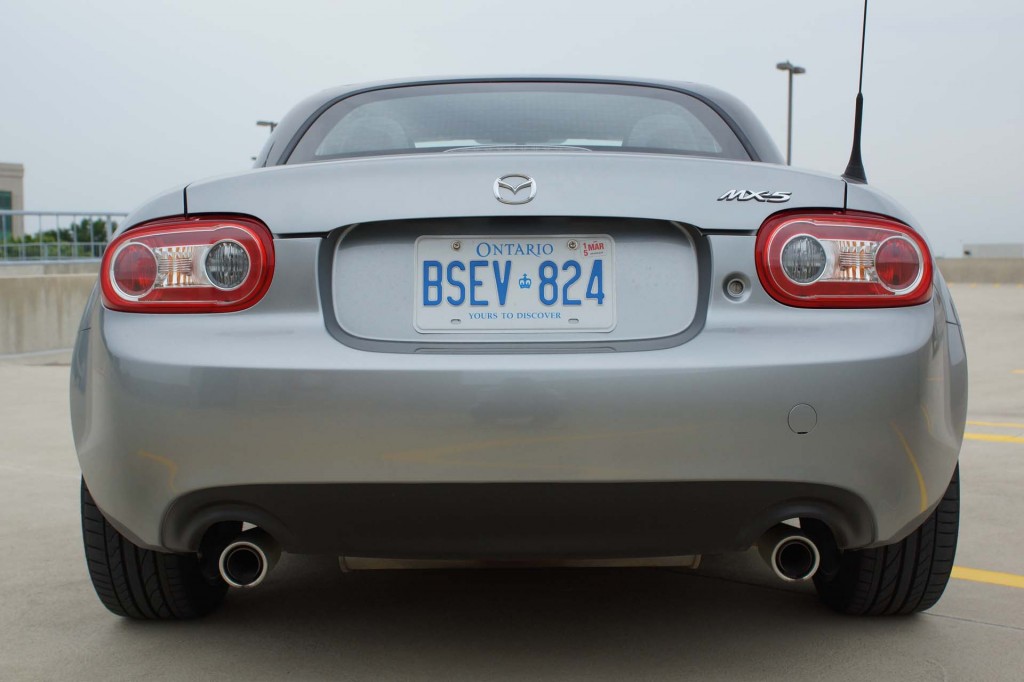 Every next generation, the MX-5 becomes grippier and more powerful and that has resulted in a car that won't power-slide as easy as it would in the past, and that has made having fun a bit riskier; for your license that is. Still though, the amount of fun you can have in this car is limited only by your biological need to rest at some point.
It is still the most affordable rear wheel drive roadster on the market and in fact, it is worth every penny. Keep it simple as it was meant to be and just as an old friend once said "once you own an MX-5 your relationship with driving will never be the same again."
The Good
Handling
Price
Fuel Economy
The Bad
Not for tall people
6th gear could be longer for quieter highway driving
The MX-5 is still what it was 25 years ago. The most fun to drive roadster.