2014 Jeep Cherokee 4×4 North V6
Engine - Transmission
3.2L V6 Pentastar - 9-Speed Auto
Horsepower
271 @ 6,500 rpm
Torque
239 lb-ft @ 4,400 rpm
Fuel Consumption (City/HW) (lt/100km)
12.3/8.7
Low-Range/Diff-Lock
No/Auto
The legendary Cherokee name is back but don't expect to see a boxy off-road warrior. Instead, this sexy looking SUV type of thing is it!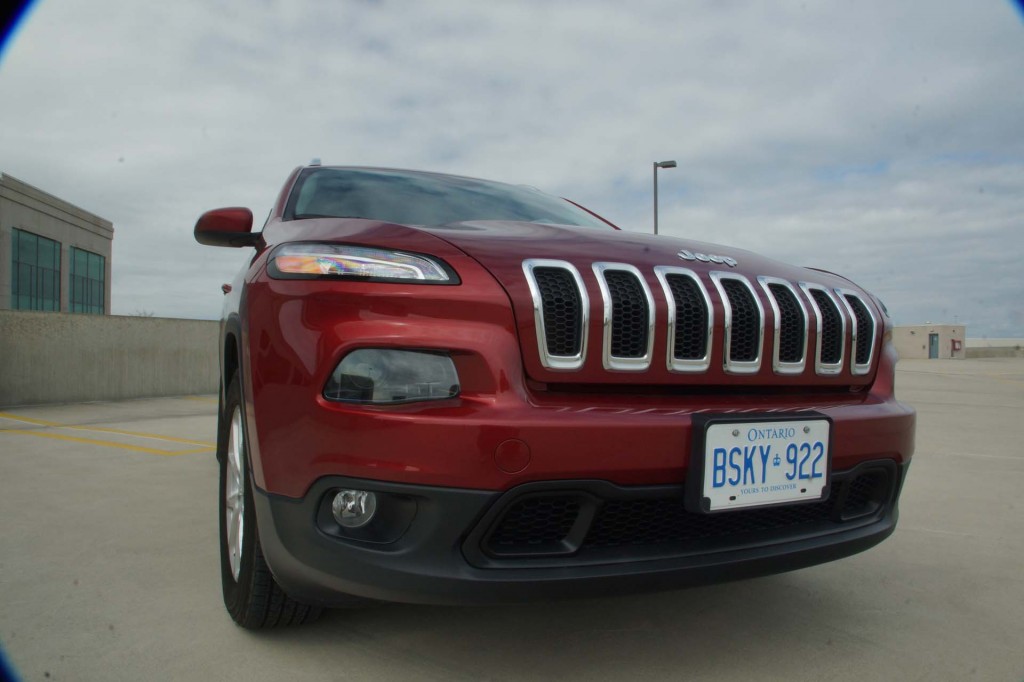 The new model comes in a wide variety of editions that can be equipped with a choice between two power plants that are exclusively mated to the new ZF designed 9-speed auto gearbox. Our test vehicle was a middle grade "North 4×4" but came with the more powerful 3.2L V6 Pentastar Engine.
Prices start at $23,695 for a Sport FWD and go all the way up to $32,395 for a Limited 4×4. The model forecasted to dominate sales is the mid grade North 4×4 just like our test vehicle that has a starting price of $28,885 but add the V6 motor are a few goodies and as tested ours was $33,160.
For your money you get quite a lot; ten (10) airbags, stability and roll mitigation control, anti-lock brakes, hill start assist, Selec-Terrain System with the fully automatic Active Drive I AWD system, dual zone climate control, heated front seats and steering wheel, USB port, Bluetooth, tire pressure monitor, keyless entry, remote starter, power liftgate, projector headlights, fog lamps, LED daylights, windscreen de-icer, navigation, rear view camera and a kick-ass stereo.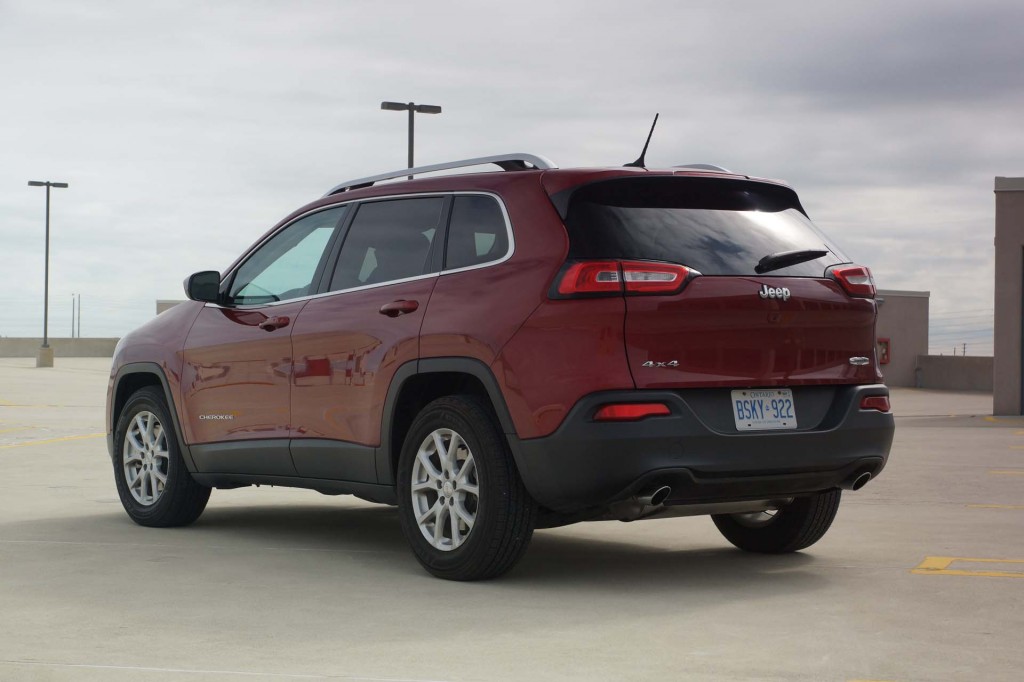 Photogenic is something this new design is not but in person it looks much better. The radical design is contained to the front since the rest of the vehicle is appears not to be as eccentric. The rear and profile views are both very modern but not ground breaking.  The TrailHawk version looks the best and has me thinking that it was the one they had in mind when designing the whole thing. One thing is for sure, it is a love it or hate it design.
A more sensible design approach has been taken for the interior. The dashboard is modern and laid out with practicality in mind. The instrument cluster is clear and nice to look at and the U-Connect 8.4" touchscreen serves as the major attraction on the dash. All switches and knobs are easily accessible and have a high quality feel to them.
The finish between the interior bits is truly convincing, the fit though could have been a bit tighter since minor rattles appeared over very rough surfaces. Quality-wise, very good materials have been used and especially the soft ones on the top dash and door panels are very nice to feel.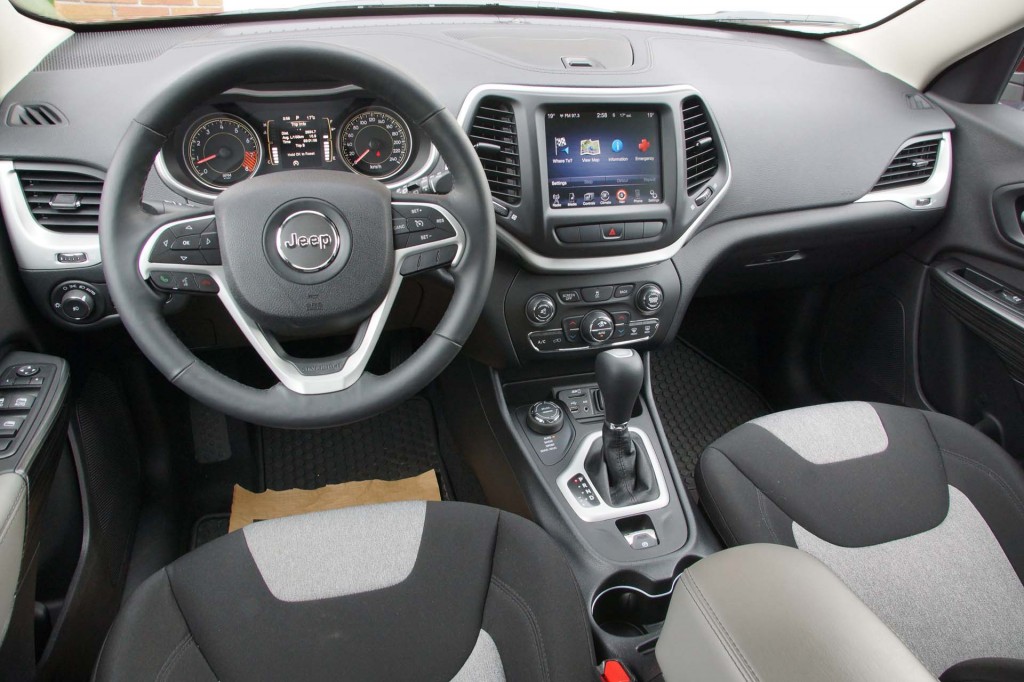 Getting comfortable is a pretty quick procedure given that the driver has a large number of adjustments to his disposal. The seats provide excellent comfort and adequate support and space up front is more than plenty. The back seats are not as roomy and legroom can get kind of tight if a tall person is sitting in front. Also, the center tunnel is a bit intrusive forcing the middle occupant to spread'em.
The trunk on the other hand features 700L of capacity and an extra compartment for smaller items underneath. The hooks on the side are fantastic and able to hold all my shopping bags in shape till I got home.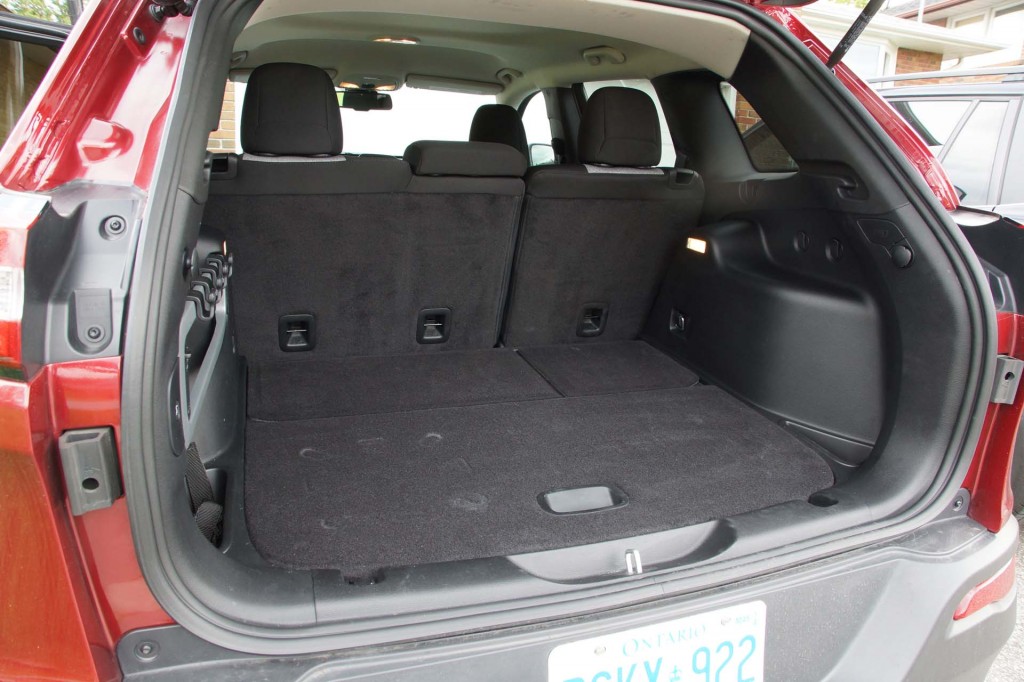 The rear seats fold flat to increase capacity to 1,555L and at the same time they create a very practical loading bed. Top in its class, towing capacity can reach 4,500lbs with the V6 engine and the "Tow Package".
The 3.2L V6 Pentastar engine is one of my favorite engines. It outputs 271HP and 239lb-ft or torque and feels lively and powerful all the time. The purr from the engine sounds sweet and comes with a nice firm push on your back. Put your foot down hard and 0-100km/h can be done in 8.3 sec. Apart from strong and refined, it is also quite frugal, 10.8lt/100km combined is a number lots less powerful 4-cylinder competitors would wish could return.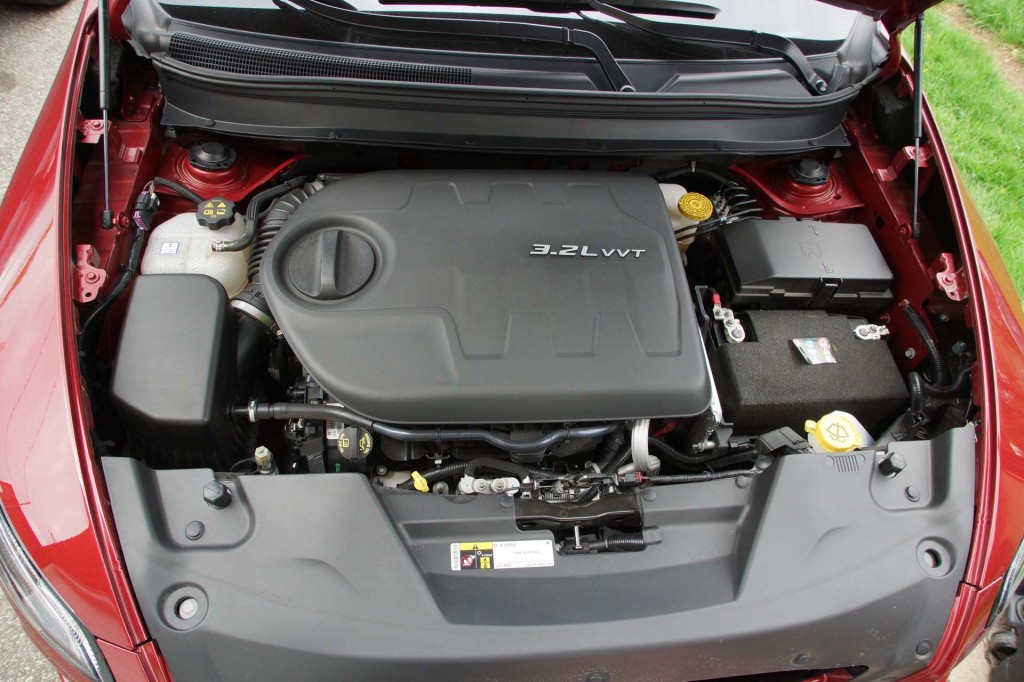 The all round independent suspension has been Italian treated which means that the sweet spot between ride comfort and dynamic handling has been hit bang on. No bump will hurt your spine but no road texture will go unnoticed, the levels of involvement communicated are very near ideal. The Steering is quick, well weighted and provides pretty good feedback. The brake pedal also feels crisp, doesn't travel too long and seems to hold its strength well. Through our cone slalom it demonstrated high grip levels and minimal body roll, even with the stability control OFF the chassis reacted excellently against our brutal weight shifts. Braking power was equally impressive as from 100km/h it came to a complete stop in 41m.
Don't be fooled by the sequential mode the gearbox seems to offer and go asking for paddle-shifters. The sequential mode is essentially the way to just set the highest gear allowed to improve situations like towing heavy trailers up-hill. Off-road, the fully automatic 4WD system has no problems dealing with terrain that does not exceed its ground clearance ability. Canadian winters seem like a very easy task and if that is all you are planning to put it through then there is no need to go for the better 4×4 system.
It won SUV of the year for two solid reasons. It is just really good to drive and that Pentastar engine is exactly what its name suggests; Five Star.
Approach Angle, (with air dam) (degrees) 29.9 4×4 Lock; 18.9 4×4 I, 21.0 4×4 II; 16.7 4×2;
Breakover Angle (degrees) 22.9 4×4 Lock; 19.5 4×4 I; 21.7 4×4 II; 17.7 4×2;
Departure Angle (degrees) 32.2 4×4 Lock; 25.0 4×4 I; 27.3 4×4 II; 24.6 4×2;
THE GOOD
Great to drive
Very capable on and off road
Looks stand out
Very nice interior
THE BAD
Rear seats marginally tight
Gearbox shifts hard when cold
The boxy old Cherokee has been replaced by a very good all-rounder. Actually, it is so good, it won SUV Of The Year 2014.