2014 VW Touareg TDI Highline R-Line
Engine - Transmission
3.0L V6 TDI - 8-Speed Auto TipTronic
Horsepower
240 @ 3,500–4,000
Fuel Consumption (City/HW) (lt/100km)
10.8 / 6.7
Low-Range/Diff-Lock
No / Auto
The greatest chefs in the world swear by the quality of their base ingredients, which is what defines the success of a recipe. The VW Touareg is in a way the base ingredient to the Porsche Cayenne's recipe and that alone is a pretty big thing. Even though there are very significant differences between them, the common denominator is that very good platform.
The VW implementation is the most sensible one, still luxurious but built with better balance between features and price. Starting at $50,975 for the 3.6L FSI model it seems to be great value considering what it is up against. Our Highline TDI test vehicle had a base price of $61,475 but came equipped with the optional R-Line package on top of that, which is $3,475 more.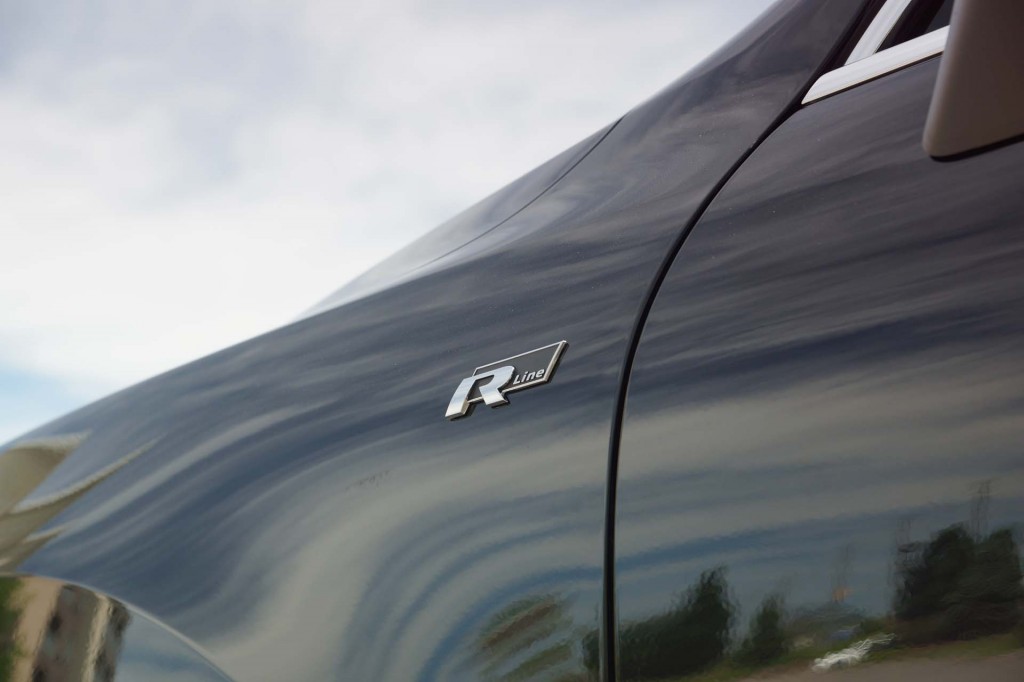 Equipment levels are impressive, keyless entry opens the door to the Vienna leather saddle brown interior that features dual-zone climate control, a massive panoramic sunroof, power heated front seats, cruise control, trip computer with digital compass, selectable off road mode that enables hill descent control, leather heated steering wheel with audio controls and paddle shifters, tire pressure monitor, rear view camera, power tailgate, sat nav, satellite radio, Bluetooth and automatic wipers and lights. Exterior features worth mentioning are the bi-xenon headlights, LED day lights, 20" alloy wheels and R-Line body package.
The large body has a muscular stance, especially with the 20" R-Line rims it looks like a Tiguan on steroids. The dual exhausts and diffuser make it look even sportier but stand right next to it and you will realize its large size.
Equally impressive is the interior. The design lines have been kept simple but the materials used and fit between them gently pushes the interior towards an upmarket classification. Luxurious and very appealing to the eye, the interior is ergonomically sound and extremely spacious. The plush environment is reinforced by remarkable low noise levels making this ride very impressive on the go.
The driving position is upright which benefits visibility but it might not be to everyone's liking. The seats are firm and support the body very well while the front heated ones have a plethora of adjustments. The rear seats can be reclined or folded but do not slide. Roominess and comfort is guaranteed no matter which seat is assigned to you. Even five very tall adults will fit without wiping the smile off their faces. The cargo area is also ample, 900L is the minimum capacity while folding the rear seats will increase it to 1800L. It is well shaped and easy to access thanks to the power lift gate and quick fold buttons. Towing capacity is 3,500kg which is impressive and enough to pull a big boat.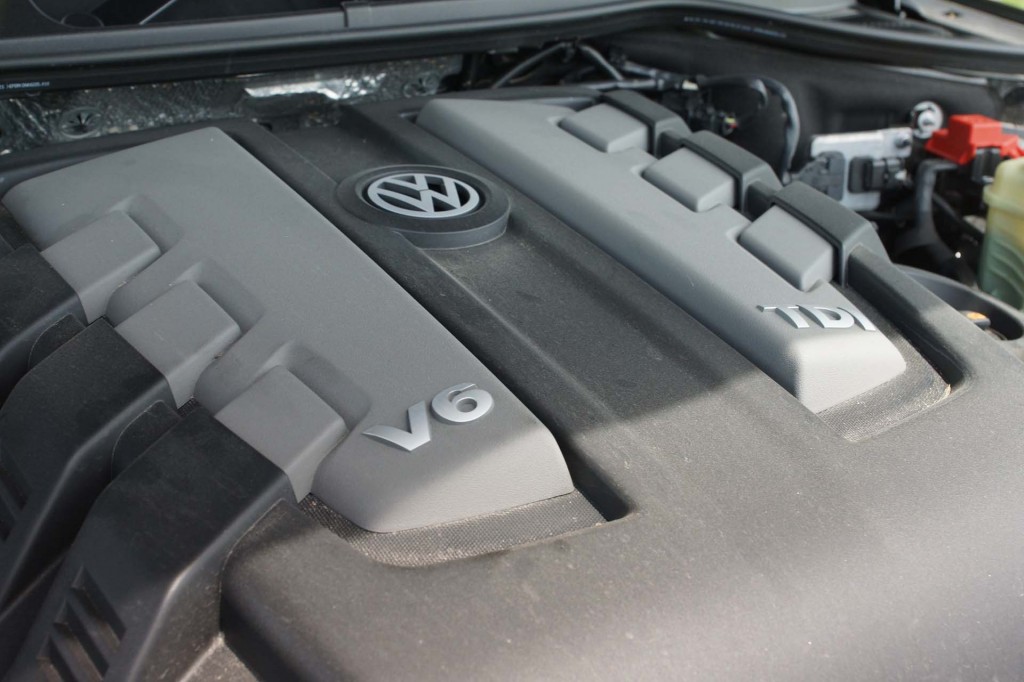 There are only two ways to tell that this SUV runs on Diesel. The TDI badge on the back, or pop the hood open. The 3.0L TDI engine is so refined and quiet you would've never guessed it was a Diesel. It outputs 240HP but the torque is insane; 406 lb-ft. Taking off from a stand-still might not be its best skill, but it still completed the 0-100km/h sprint in just 8.6". Truly impressive is the pulling power on the go, it feels much more powerful than it is and the 8-speed automatic gearbox does a terrific job at all times. Diesel engines are all about torque and fuel economy, 10.3lt/100km was our combined average, which for an SUV that weighs 2,227kg it is pretty damn good.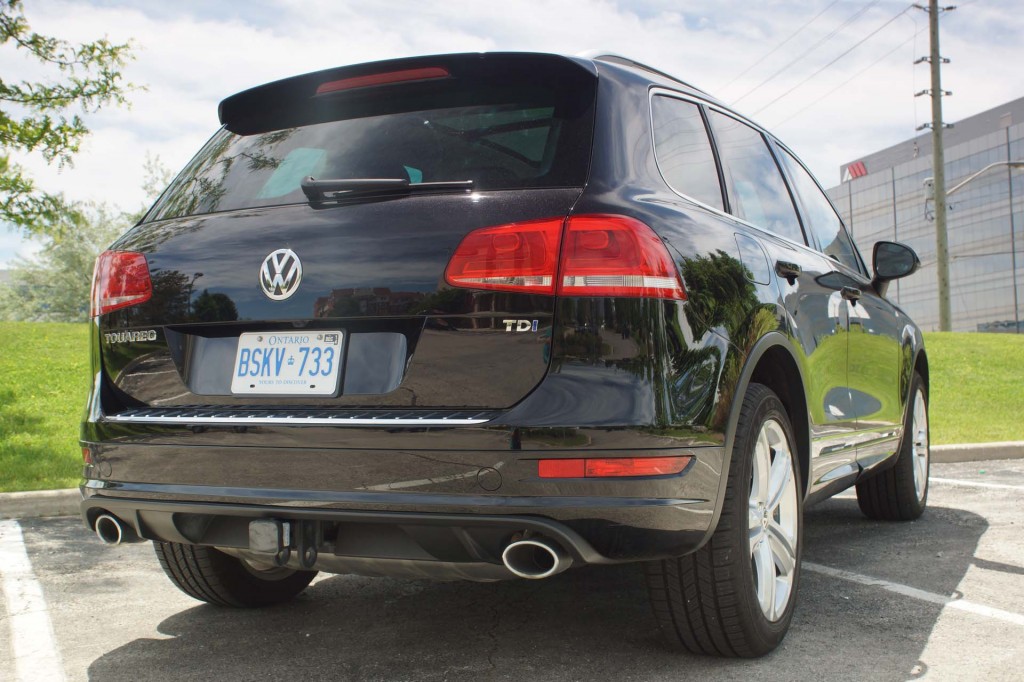 There is no low range transfer case but there is an off-road mode that makes the 4Motion AWD system more aggressive, enables hill descent control and numbs up throttle response a bit. With the massive wheels, adequate ground clearance and hefty torque, off-road activities should be an easy task for this. On the road, the independent suspension brings predictive handling and the R-Line sport tuning makes it even more agile and athletic. The steering has good weight to it but returns limited feedback, the brake pedal needs a bit more force than I would like, but still, from 100km/h it came to a complete stop in just 39m. I do love the way the sport suspension makes this otherwise heavy SUV handle, but I think it is an option I would avoid in favor of comfort. Over bumps and potholes there is a good amount of force that is not cushioned and in a luxurious large SUV it just doesn't feel right. Rolling quality is very good, so stick with the normal suspension for a more refined experience.
When it comes to large luxury SUVs, the Touareg plays most of the cards right and balances features against value in a very interesting way. The TDI comes with the most attractive price tag amongst its limited competition and that makes it a top shelf choice.
THE GOOD
Build Quality
Space
Rolling Refinement
Performance
Gearbox
Practicality
Fuel Economy
THE BAD
Ride Comfort
Brake pedal feel
When a great product is also great value there is little to argue about. Superb drivetrain.