2015 Subaru WRX
Horsepower
268 hp @ 6,500 rpm
Torque
258 lb-ft @ 2,000-5,200 rpm
Transmission
6-Speed Manual
0-100km/h (sec)
6.8" (tested) / 5.5" (claimed)
Fuel Consumption (City/HW) (lt/100km)
11.1/8.3
I've always had respect for the Impreza WRX but the styling never really cut it for me. It always seemed behind of its time but for 2015, it's back and this time it comes with a very pretty face.
I am astonished that Subaru offers this rocket for only $29,995. What a bargain! You don't get much in terms of gadgets, but you do get what you really need to focus on driving. For starters you get an amazing boxer engine with a massive turbo, a very sophisticated all-wheel-drive system, sport suspension, 17" alloy wheels, ABS, six airbags, stability control with TRAC mode, auto-climate control, cruise control, a stereo with Bluetooth connectivity and a USB port, rear view camera, racing bucket seats, leather steering wheel with audio controls and an information screen for fuel economy and driving info. Seriously, what else do you need?
The exterior design is finally fresh, it still remains within the realm of Subaru so it is immediately identifiable, it sits very low to the ground and with that quad exhaust system the message is sent; "bring it on!".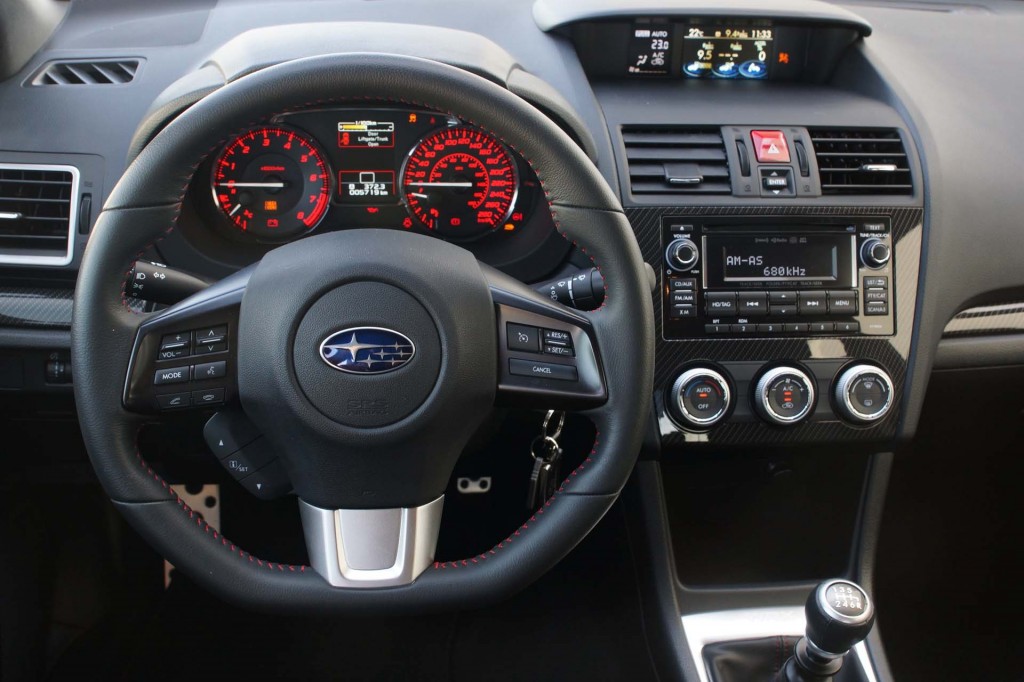 Inside the cabin, the very upright driving position, the hard bucket seat and the carbon fiber imitation trim set the mood to race mode right from the get-go. The flat bottom steering wheel with the red leather stitching feels like a weapon in your hands and the red instrument cluster illumination matches the color in which your eyes start to see. All you want to do is turn that key and awaken the petrol-inhaling ponies.
Fit and finish are very well appointed, soft to the touch materials have been used for all the higher up surfaces and ergonomically the simplistic interior design pays off well. Everything is in reach and very easy to operate. Despite being a mighty racer, this sedan offers very decent amounts of space. Driver and passenger have plenty of room to their disposal and thankfully the center armrest has been placed low, so your elbow can move backwards when you shift. The rear seat is very comfortable, headroom and legroom are really good and if the width was any wider three adults could sit very comfortably. The trunk, at 340L is very descent and the ability to fold the rear seats just reinforces the ability of this car to be a daily driver even for a family of four.
Setting off is a quick procedure, the seat and steering provide the necessary adjustments and visibility is great. The rear view camera is displayed in the tiny information screen, which is not really easy to see, but I'd take that over nothing at all. Also, the seats feel more like you are on them instead of in them.
Being a WRX what really matters is the drivetrain and what a package that is. For starters, the 2.0L horizontally opposed (H4 Boxer) engine is a gem, outputting 268HP and 258 lb-ft of torque, it feels like it never runs out of breath and at idle produces a very distinctive shake. It just pulls and sounds great at the same time. In theory, 0-100km/h takes 5.5", but achieving that can be quite a challenge as according to my measurements, my best sprint was 6.8". The clutch is strong and engages with performance in mind, making city driving a task to master. With red eyes, it feels good but with tired eyes it can be a handful. The gearbox also feels up to the job and with its short ratios and quick shift distances it is addictive. The shifter itself is a bit disappointing to use, as it feels a bit clunky. The steering and brakes pedal feel are near perfection. From 100km/h, the WRX threw out the anchor and stopped in just 39m. Fuel economy, in case you are wondering, is impressively good; 9.5lt/100km was the average on my watch that was 55:45 city over highway.
The task of taming all that power and making the car drivable is a job Subaru is traditionally very good at. This time is no exception as the independent front and rear suspension provides good comfort levels considering that it can turn like it's on rails. It is firm but no bones will shatter if you hit a bump and no rattles or squeaks will appear either. Little does all that matter once the road becomes curvy. All you need to do is steer, keep your floor on the right pedal and trust that it will go around. Obviously within reason, but the AWD system combined with the sticky sport tires can pull you out of the corner with serious speed. Push too hard and understeer is what you will have to deal with but adjusting your throttle and steering angle gets rid of it quickly. For the record, 0.96g was our peak side acceleration measurement.
For the first time ever I ask my self why do I not own one; the price is right, the drive is outstanding and it also turns lots of heads, unfortunately of the wrong gender, but still, it makes me feel cool. And for that, thumbs up.
The Good
Handling
Performance
Steering
Brakes
Space
The Bad
Front seats are uncomfortable
Not smooth to drive in traffic
Shifter feels clunky
First time ever I want a WRX. As mature and complete it will ever get.